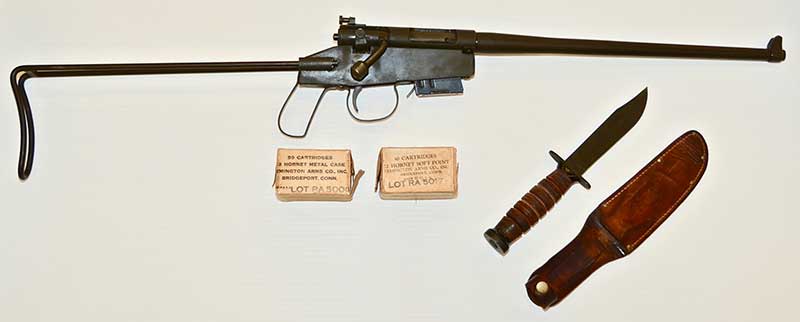 When I first became interested in firearms over half a century ago, there weren't as many gun magazines or gun books as there are now. As a result, I read every article in the American Rifleman and other magazines. I checked out the few books in my local library on guns multiple times. I must have read that library copy of Keith's Sixguns at least half a dozen times before I bought my own copy in college.
I remember reading a couple of articles on the .22 Hornet cartridge and its use in varmint hunting. My .22 shooting was limited to rimfire cartridges then, but I found the .22 Hornet interesting. I still do in a way, though I doubt if I've fired more than a dozen of the rounds in my life, if that many.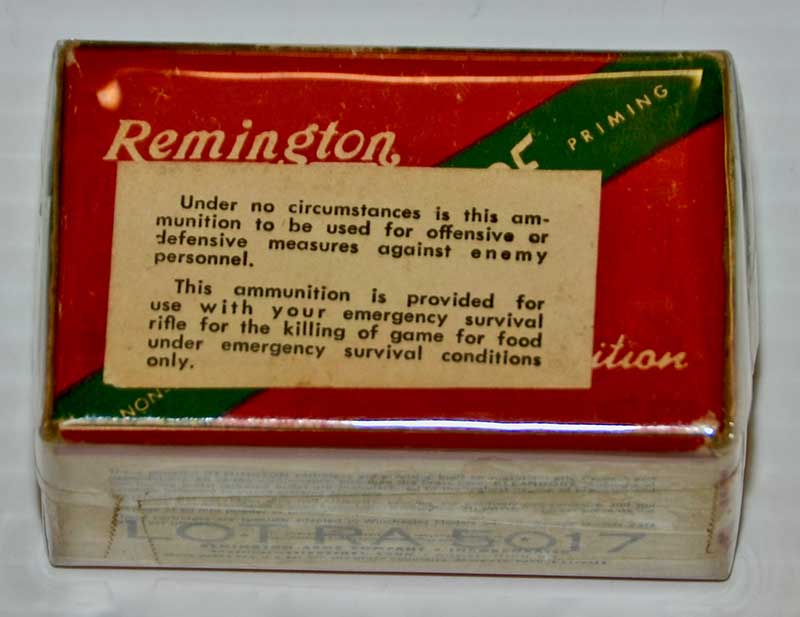 I got much more interested the first time I saw a USAF M4 Survival Rifle. Developed to give bomber crews a weapon they could use for hunting should they go down in the wilderness, the M4 was chambered for the .22 Hornet round. It was ostensibly not designed for combat.
Nevertheless, it was issued with full-metal-jacketed ammo. Later the Air Force determined that soft-point ammo could be issued for survival usage. Boxes of cartridges were clearly marked with a warning that the ammo could not be used for "offensive or defensive combat"! For self-defense, aircrew would be armed with the S&W or Colt revolver.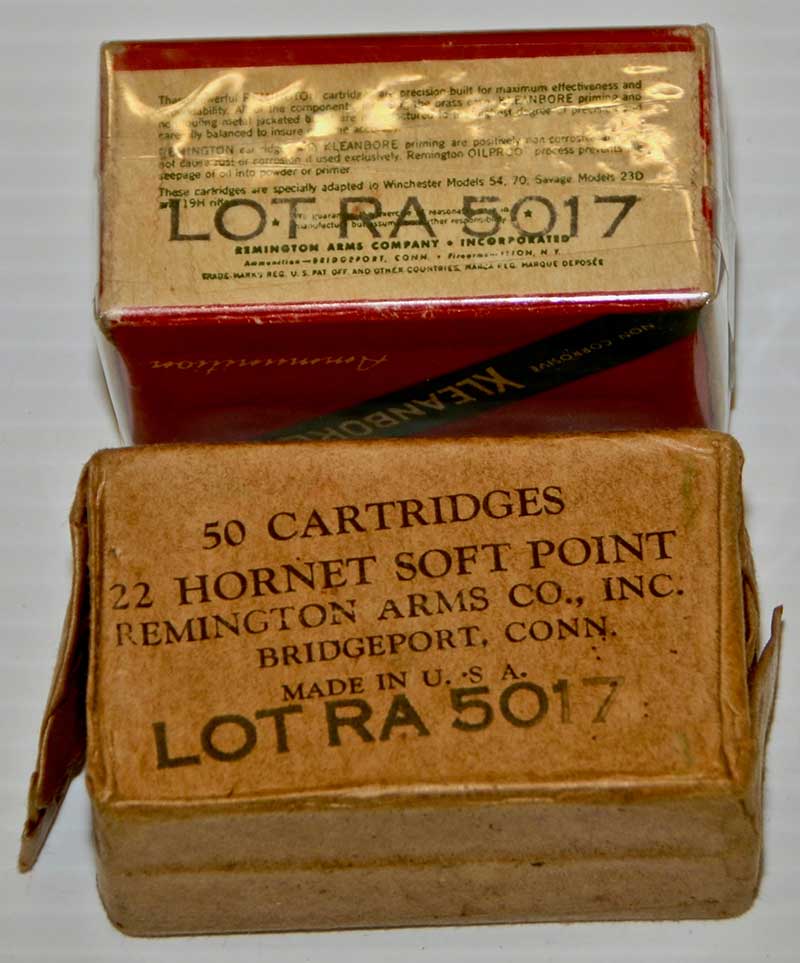 The M4 was based on the Harrington & Richardson bolt-action M265 sporting rifle—at least the action was. The M265 had a wood stock, while the M4 had a sheet metal receiver with a telescoping stock of M3 "Grease Gun" type. As a military weapon, the M4 was not subject to the National Firearms Act, so the detachable barrel was 14 inches in length. When the barrel was separated from the action, total overall length was 14 inches, allowing easy stowage in a cockpit.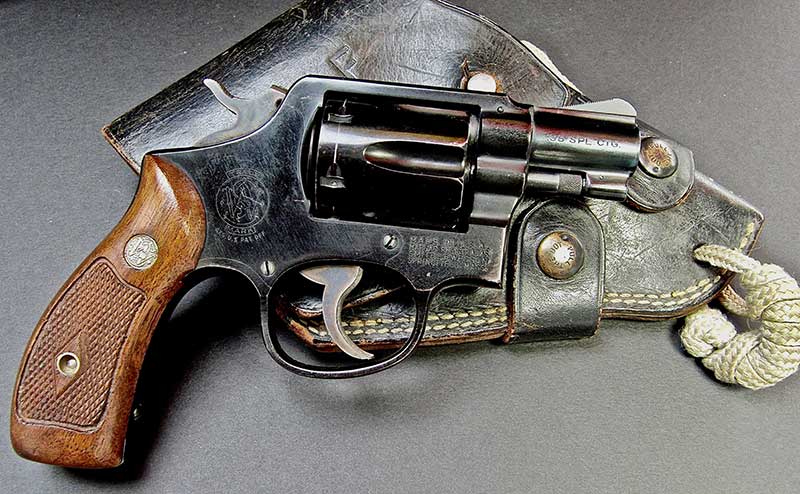 The M4's magazine was co-opted from another commercial rifle: the Savage Stevens M23D in .22 Hornet caliber.
The M4 was introduced in 1949 during the early days of the Cold War, when large numbers of U.S. bombers were earmarked for long-range strike missions in Arctic conditions. In fact, the large bolt head of the M4 is indicative that it was likely to be operated while wearing gloves.

It was replaced by the M6 Aircrew Survival Weapon, which was introduced in 1952, though M4s often remained in the survival kits of earlier bombers until they were retired. Reportedly, some remained in B-52 survival kits as late as the early 1960s. As the M6 combined a .22 Hornet top barrel with a .410 lower barrel, it was better suited to survival hunting.
Harrington & Richardson manufactured the M4 Survival Rifles at their Drummondville, Quebec, Canada facility. While under development, the survival rifle was designated the T-38, but it was adopted as the M4. Markings on the rifle as issued were "RIFLE, SURVIVAL, CAL. 22 M4/US PROPERTY." Early examples of the M4 had a leaf rear sight, but later versions had a rear peep sight adjustable for windage and elevation.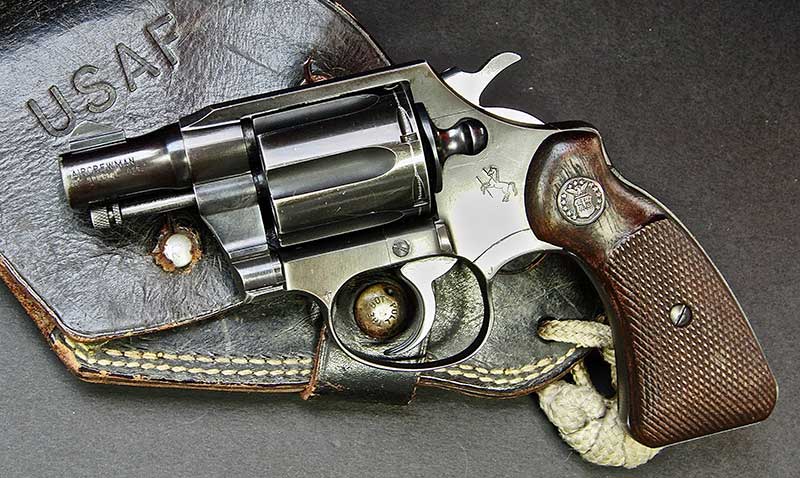 I've never fired an M4 Survival Rifle, though I've always found them interesting. However, in the day, I did talk with a former B-47 pilot with SAC who told me he used to take an M4 hunting around the base with some success. If I remember correctly, that was at Whiteman AFB in Missouri.
Curtis LeMay, who commanded SAC and later become Chief of Staff of the Air Force, was an avid shooter and hunter. I always wondered if he ever hunted with the M4.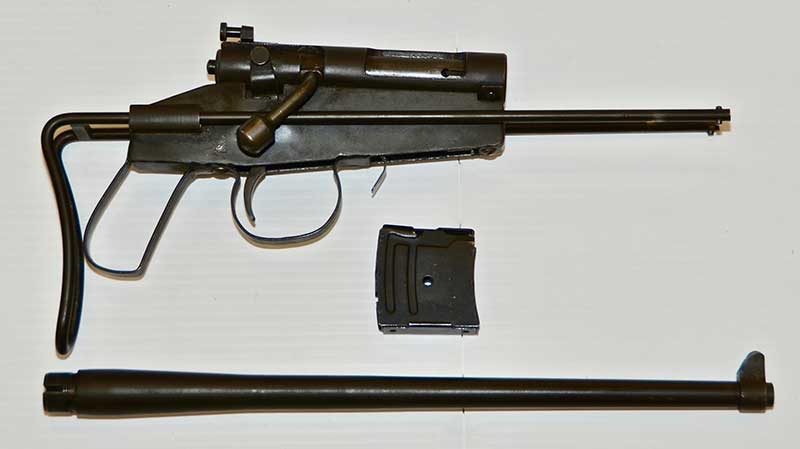 Because of the 14-inch barrel, the M4 is an NFA weapon and has to be registered as a short-barreled rifle. Because some "flew" off of Air Force bases in the past, they will occasionally be carried into gun shows or gun shops. But beware: Those will normally not be registered weapons and hence would not be transferable and are illegal to possess.
Many collectors of U.S. military weapons would like to see an amnesty to register M4 or M6 Survival Weapons or even to see them removed from registered status. There are a few registered examples around that are transferred among serious collectors. As a rifle, the M4 isn't that impressive, but as a reminder of the men who were on constant alert during the Cold War, it is an excellent symbol of heroism and patriotism.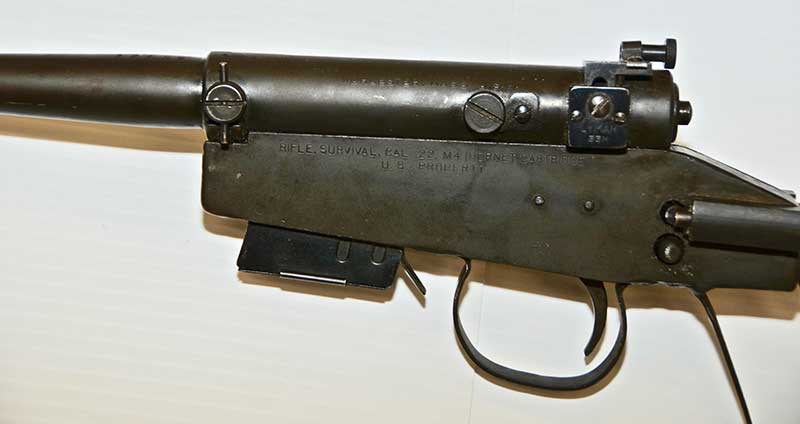 An interesting twist on the M4 rifle is that as of 2018, the USAF was "converting" standard M4 Carbines to be broken into two parts and stowed in a cockpit survival kit. It is unclear if the conversion is just removing the takedown pin. Presumably, the War on Terror has illustrated that pilots who eject may have more need for a survival rifle to deal with two-footed beasts than with four-footed beasts!