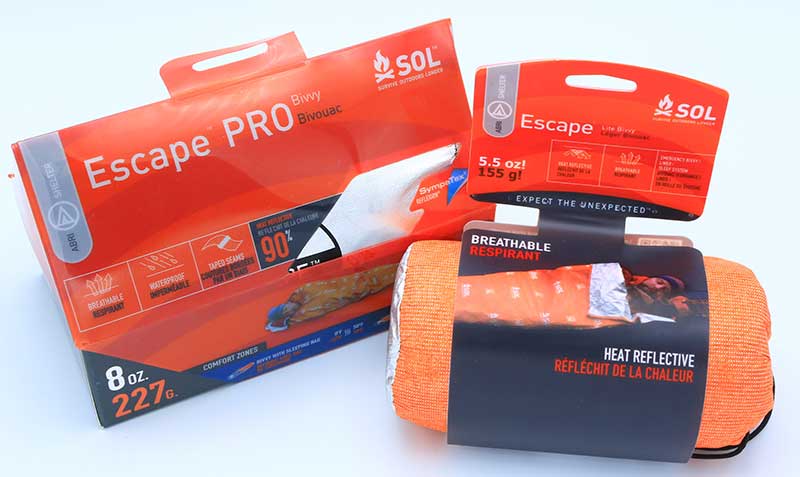 SOL (Survive Outdoors Longer) has come out with their newest offering to the bivvy market—the Escape Pro Bivvy. Although SOL is not new to the bivvy market, the newer Pro series makes some subtle changes to the existing line-up. Throughout the warmer season, I used the Escape Lite Bivvy, so I could evaluate two options from SOL.
ESCAPE LITE BIVVY
The SOL Escape Lite Bivvy is constructed with SOL's proprietary Escape fabric, which lets moisture escape to keep you dry from the inside, and is weather resistant so you stay dry in any conditions. Plus it reflects about 70% of your body heat back to you. The minimalist design of the Escape Lite Bivvy enables you to go light and fast. It weighs only 5.5 ounces and packs extremely small.
The versatile Escape Lite can be used as a liner to enhance the warmth of your blanket, quilt, or sleeping bag; as an ultralight summer bag; or as an emergency bivvy.
I received the Escape Lite Bivvy in the dead of winter—an especially cold one. It wasn't the best time for this bivvy, so I waited. But when spring hit, the first chance I had to camp, I grabbed the Escape Lite Bivvy as my main shelter. I picked a day that wasn't forecast to rain, though one never knows in the Eastern Woodlands.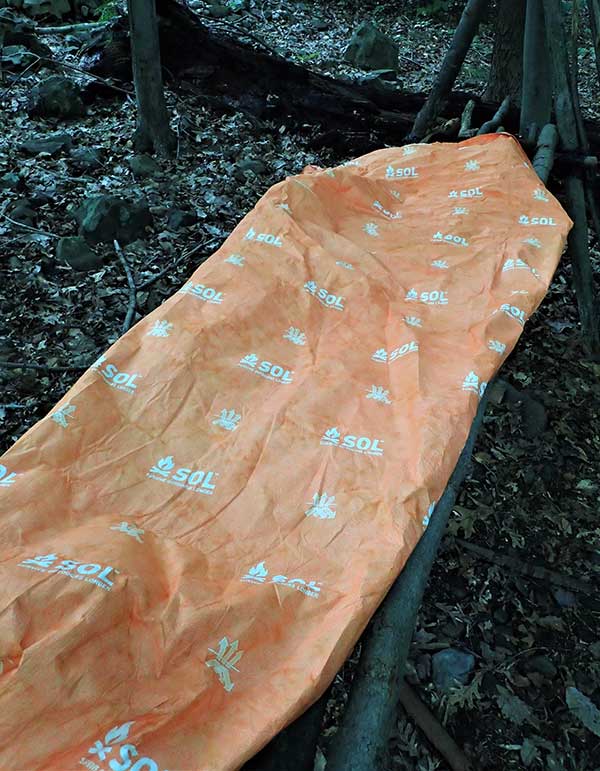 I took my chances and went to my regular camp spot, with a pole bed next to the fire and a lean-to tarp. This is great in the cooler months, but is not ideal after May. Sleeping with my layers inside the Lite Bivvy was my plan. The low was about 50 degrees Fahrenheit, which isn't bad. I have a swamp bed set up, supported by two large tripods, cross-bars at the head and foot area, then about six long poles to make up the bed. It has some spring, but I added a torso-length foam pad for more comfort and insulation.
I crawled into the Lite Bivvy with my clothes and realized how much heat it retains. A fair breeze was kicking up every now and then, but I needed to pull the bivvy down once in a while. The Escape Lite does not have a mummy design (covering the head with a cinch strap) but rather is squared and has an extension to allow the user's head to be on the material and not on the ground or pole bed. It also allows for venting and pulling the front portion down a little too. As a warm sleeper, I appreciated this feature.
The SOL Escape Lite Bivvy is the lighter, faster version of the famous Escape Bivvy. But if you want more instead of less, SOL now offers the Escape Pro Bivvy.
ESCAPE PRO BIVVY
I often use a plastic garbage bag as a backpack liner to keep my gear dry. SympaTex is a waterproof yet highly breathable material, so it doubled as my backpack liner, adding value for weight and multi-use.
The Escape Pro Bivvy has taped seams and claims to retain 90% of your body heat, which is more than any space blanket or bivvy on the market. SOL also claims the Escape Pro Bivvy will add 15 degrees Fahrenheit to your regular sleep system or sleeping bag, due to its reflective qualities. In warmer months and environments, this bivvy could be used as a stand-alone sleep system if sleeping in clothing layers a hiker already has.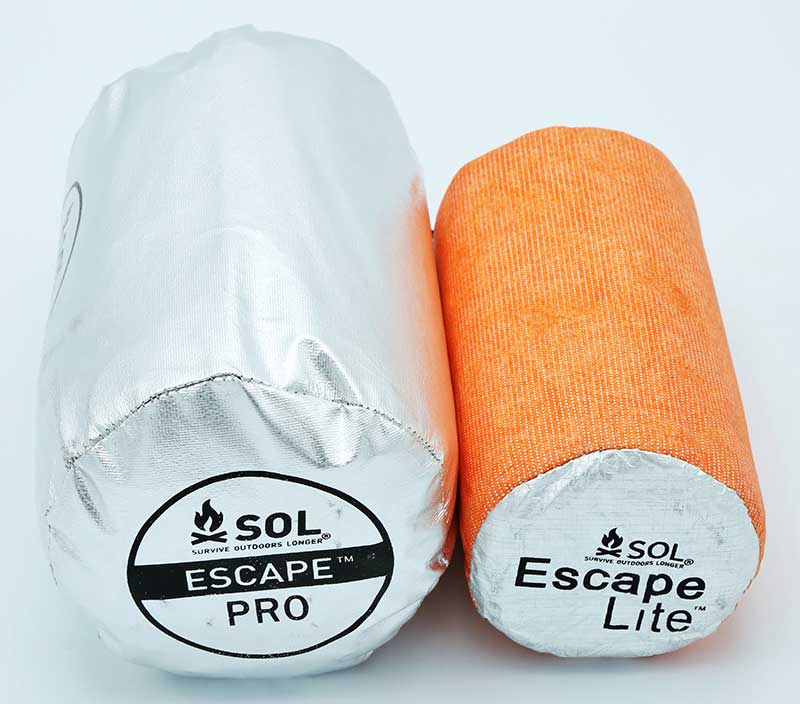 I am accustomed to sleeping in a bivvy, so for me there were no issues of feeling confined. I normally use a bivvy that is breathable yet only water repellent on top, but waterproof on the bottom. It weighs about six ounces. The idea of having a waterproof top and bottom bivvy that remains breathable for about two ounces more was very intriguing to me.
I don't own a sleeping bag. I made my own backpacker's quilt or blanket, which is like a sleeping bag sewn up to calf level and turned sideways like a blanket. It also doesn't have a zipper and only goes up to my chin. This eliminates the weight of a full bag with heavy zipper, yet allows me to use my existing clothing to cover my head for warmth. Being inside a bivvy traps all the heat in, especially when the bivvy is a mummy style.
This is a common ultralight hiker's sleep system for thru-hikers doing the long trails for weeks or months at a time.
I set the tarp up, then my sleep system, just as I would do in any overnight camp situation. Setting up was easy because all I needed to do was pull the bivvy out and put it on my pole bed, and then put my blanket inside with my torso-sized closed-cell-foam sleeping pad. It's good to do this early just in case the weather turns bad and you need to just climb in and hunker down.
Since I was in a lean-to shelter, there could possibly be some blown rain or snow, so having a bivvy really helped keep me dry and protected. A bivvy cuts wind too, much better than a sleeping bag alone. The Escape Pro Bivvy comes with a small stuff sack that is made from the same materials and can be used to put a small camera, phone, or wallet in to keep dry. I stuffed it with poplar bark and leaves to create a pillow, truly making it multi-functional.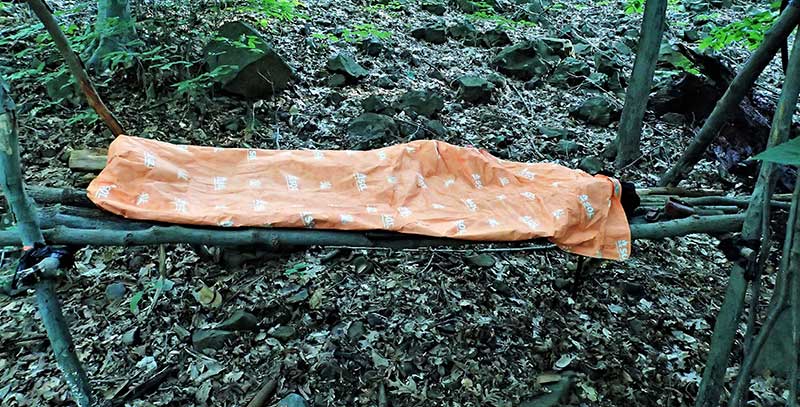 The night had plenty of cold wind, but when the temperatures dipped into the high 20s, I was toasty. Cold nights are when campers experience condensation the most. I am guilty of hunkering down with my face in the bivvy, always a recipe for condensation. To my surprise, I experienced zero condensation, perhaps because I was also covering my face with a neck gaiter made from merino wool.
A month later, I used the bivvy without a tarp over me in the Utah desert on a clear night that had little chance of rain. It was a good experiment to see how it would handle the wind without any additional coverage from a tarp or tent. Plus I wanted to sleep under the stars. With the wind chill factor, the temps were down to freezing. I made sure to keep my head covered and stay hunkered down as I usually do, perhaps all night because I found a small amount of condensation in the morning, yet it was less than I ever experienced with other bivvy bags. Success in my book!
No matter which bivvy you choose, you won't be disappointed with SOL's quality and performance. In future, I hope to see the Escape Pro Bivvy offered in OD Green. But as currently offered, I can't think of better bivvies for their weight and price. Now you really can go farther and explore longer!
SOURCE
SURVIVE OUTDOORS LONGER
(800) 258-4696
www.surviveoutdoorslonger.com