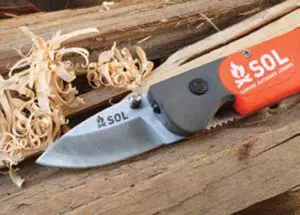 These products are designed not with just one type of environment in mind, but three: land, water and air. They rely on the expertise of authorities in survival techniques and wilderness medicine in the development of their products.
SOL CORE LITE
The acronym SOL stands for Survive Outdoors Longer.
Sized at 3.5"x.875"x.5", the SOL Core Lite is a no-nonsense multi-function survival tool based around a pocketknife with features built into the handle. The 1.85-inch knife blade is made of AUS-8 (Japanese made) stainless steel and features a hollow grind.
Adventure Medical Kits lists the blade shape as a drop point. In reality, it leans more toward being a spear point.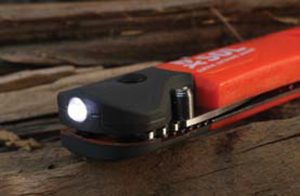 Regardless, it has a super-sharp point perfect for a small utility knife. AUS-8 is a medium-carbon high-chromium stainless steel. It offers a good balance of toughness, edge sharpness and corrosion resistance. When a knife is clipped on the inside of a pocket, it may be exposed to body perspiration, which can stain even AUS-6 stainless steel. I have had better luck with AUS-8 when it comes to corrosion resistance.
There is a stainless steel liner lock that can be operated one-handed with a small, but generously prominent, thumb stud. The liner lock is textured for added security when the knife is in an open position. It also aids in disengaging the lock and closing the blade.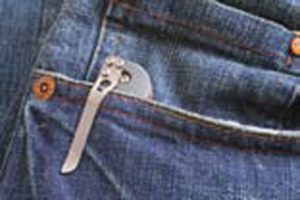 HANDLE COLORS
The handle of the SOL Core Lite is bright orange and gray. It's made from ABS plastic with 30% glass fiber, for an unbeatable strength-to-weight ratio. In recent years, the introduction of color to survival and outdoor gear has swept the market, and rightly so. Hunting gear, as well as search and rescue equipment, has used color for decades.
One point regarding the two-tone handle color is the gray top portion near the blade pivot/pocket clip area. When clipped to a pocket, the part of the knife that is visible to the public (about one inch) is gray in color so as not to attract any unnecessary attention. This was recently confirmed when I was talking to two police officers, who asked me if I was carrying anything.
When I showed them the compact package, they asked if they could see it. Soon after, they were asking where they can get one and how much they cost. I had never seen such enthusiasm about any one piece of gear, especially one so small. The officers were quick to see its potential. The people at AMK have definitely paid attention to detail.
OTHER FEATURES
For this type of multi-function tool, strength is paramount because it holds two other tools in addition to the knife blade—an LED light and a whistle.
Signaling is always a priority in a survival situation. The SOL Core Lite features a Rescue Howler pea-less whistle. It's rated to 100 dB and won't freeze in cold weather because there's no pea. It's a fact that the human voice can't compete with the shrill sound of a whistle, which is why AMK has included it on the handle of the SOL Core Lite.
A ten-lumen LED light is also included in the handle. The light is located where it can face the blade in case it is needed for cutting in the darkness of camp. The metal clip for pocket carry also enables easy attachment to a hat for headlampstyle use or a sleeve when working with your hands. There is a removable battery cover for easy replacement.
TESTING
One of the first things I do when I get a knife is see if it will shave hair off my forearm out of the box. This was no problem for the Core Lite. Unfortunately for small utility blades like this, they get all the mundane tasks like package opening, tape cutting, and other boring household jobs.
In a survival situation where fire is a necessity, the SOL Core Lite may need to be used for making fuzz sticks. I don't really favor hollow-grind knives for wood work, but then again, most hollow-grind knives put out by production companies are on the thick side. Luckily, this blade is thin and easy to resharpen. Making fuzz sticks and traps and cleaning fish and game are what this knife is limited to mainly due to its size.
In my opinion, it is sufficient for outdoor survival use in the same way I would use a small Swiss Army Knife.
The light was nice and bright and exhibited no signs of dimming or showing spots. It was a full constant beam easily activated by a small rubber button on the side of the scales.
My final test was just that, the finale, because if the Core Lite didn't pass this test, there would be no tool for the rest of the article. So, when the pictures were all taken and the article was nearly completed, I had to try something else just to satisfy my own curiosity. I wanted to see if the SOL Core Lite could withstand being run over by a vehicle.
This happens in camps and even peoples' own driveways. Being that it is solely made of ABS plastic, I was hopeful because ABS is known for its strength and durability. The Core Lite survived with no damage to the tool or the tire.
SUMMARY
Weighing in at 1.38 ounces, the SOL Core Lite is truly an ultralight survival item. For a knife this small, it's loaded with functions without being too gimmicky. The next time I go out backpacking, the SOL will be clipped to my pocket and remain there until I return.
Even if you like to gear up to the max, it will be hard to resist throwing the Core Lite in your pack or clipping it to your pocket.
You won't regret it.