ONE of the things we've always admired about the fluid nature of American society is the way it allows the best men and ideas to float to the top.
Of course, horse biscuits float too, but in the free marketplace of ideas, they are quickly winnowed. The idea of floating to the top implies that some, if not most, of the best men start with humble beginnings, and some of the best ideas for weapons and tools come from grunt level—from GIs and mechanics and firefighters and cops who know what they need.
Such was the origin of the Hinderer knife designs made by Gerber/Fiskars. Rick Hinderer is a firefighter/EMT and also was a custom knifemaker when he came up with these two designs.
This proved to be a doubly good background, because designing a knife or other tool made for emergency use is not just a matter of stuffing all the desirable features into one envelope. Equally important is making sure those features will function in a worst-case scenario and in the hands of a first responder who is working (pick one or several): in the dark, in thick smoke, underwater, upside down inside a mangled minivan with raw fuel dripping on him and his patient … you get the idea. His tools need to be strong, sharp, simple, ergonomically presented to a gloved hand— and with no unlikely features that will get in the way.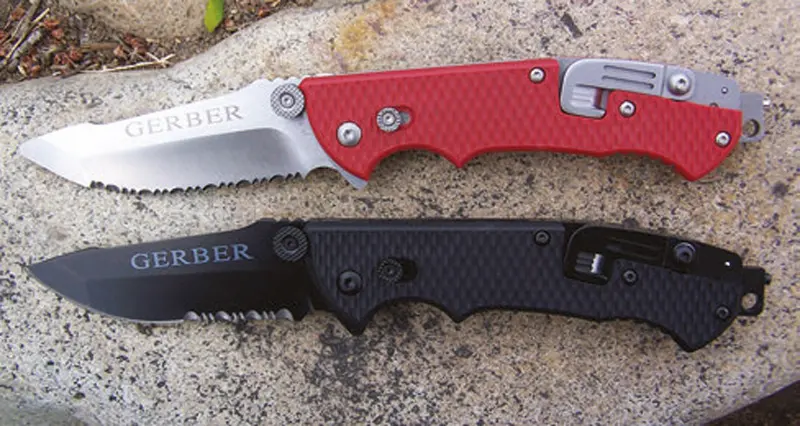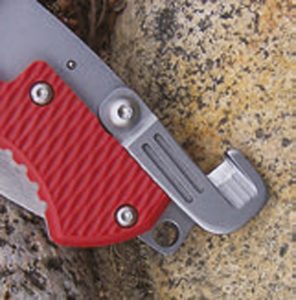 HINDERER RESCUE
Enter the Hinderer Rescue. The Rescue is a full-size, strongly built tool for professional use. Let's review its salient features in the probable order a first responder might use them.
On the right side is a wide and sturdy spring clip to keep this tool where you know it will be when needed. On the butt is a hardened-cone auto-glass breaker. Right next to that, folding out from the spine, is a larger than usual belt/textile cutter, held open or closed by precise detent balls.
Forward of that are ambidextrous thumb studs that open a robust 3.5-inch 440A stainless blade. The blade is fully serrated and wickedly sharp, but with a blind and rounded tip to ensure you cut only belts, fabric, cordage or clothing and not the client. It might even be handier if the tip were a flat screwdriver, like the blade on a TL-29 lineman's knife.
There is an oxygen-tank wrench inlet into the left grip scale and liner, and a discrete lanyard hole in the butt extension mounting the glass breaker.
One final item I like very much is the thumb-activated liner-lock release on the right grip scale. In scenarios where such a knife is likely to be used, the operator doesn't run around with an open knife—he deploys the knife for its purpose, then puts it away and gets right on to the next thing he has to do. This is not the time to fight with cute and tricky knife-closing gimmicks. This liner lock is very robust, and the release that allows a one-handed wipe to close the blade is excellent.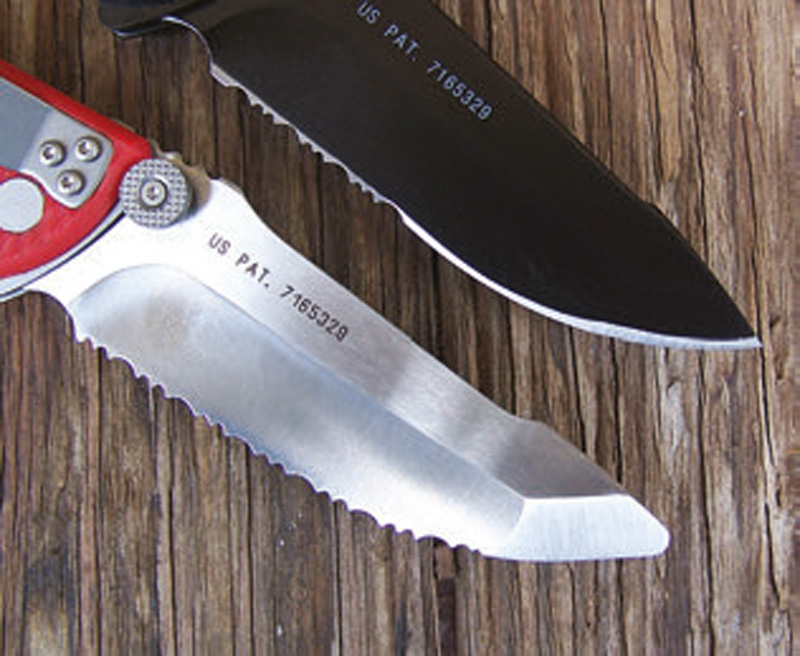 The Rescue comes with safety red scales and has an overall length of 8.5 inches, blade length of 3.5 inches, and closed length of 5.1 inches. It weighs 5.6 ounces and none of that is wasted.
Auxiliary to, and separately carried where it can be used without getting in the way of the knife's primary functions, is a minimalist and clever set of drivers. Comprising simply an L-shaped tool of hardened stainless that will hold a hex adapter at the end of either leg, it comes with three each square-bar (flat) hollow-ground screwdrivers, three Phillips ® (cross-head) and three Allen-head (hex-drive) bits. These are retained on the adapter by a strong magnet, which also holds the adapter to the tool.
These come in a rubber caddy and could be swapped out for the squaredrive or Torx® bits of your choice as well. The tool set, and the knife if you choose, can ride snugly in a provided black Cordura pouch.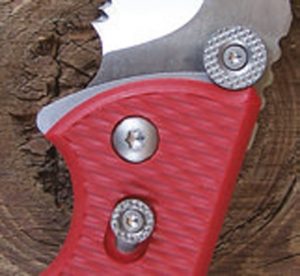 HINDERER CLS
Close kin to the Rescue is the Hinderer CLS (Combat Life Saver), designed more for first responders in blue or military or police tactical operators. The immediate difference noted is the black epoxy powder coating and black grip scales as opposed to the brushed and blasted stainless finish and safety red scales of the Rescue.
This is not just because black is more tacti-cool looking than safety red. It is because the blade of the CLS has a sharpened drop point and partial serrations, making it a useful defensive as well as rescue tool. Therefore, to preclude a drunk, punk or adventurous felon from noticing and attempting a lucky snatch of the CLS from a cop's duty belt or pocket, discrete black is a more practical color.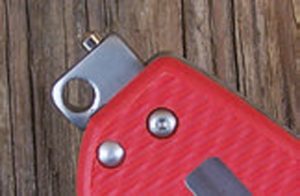 Conversely, a synthetic coating on an EMT's tool that will probably be autoclaved after use may not hold up, no matter how good it is. Regarding cleaning, both the Rescue and CLS have an open design that facilitates blowing them free of particulates with compressed air before further cleaning—a good first step in cleaning knives with many moving parts.
Except as noted, feature for feature the CLS matches the Rescue: liner lock and release, belt cutter, glass breaker, oxygen wrench, clip and lanyard ring. The CLS is 0.1″ shorter folded. The texture of the grips and configuration of these folders, location of the opening studs and blade release all work together to make them very user-friendly and excellent for their purpose.
Suggested retail price of the Rescue is $100 and the CLS $80.