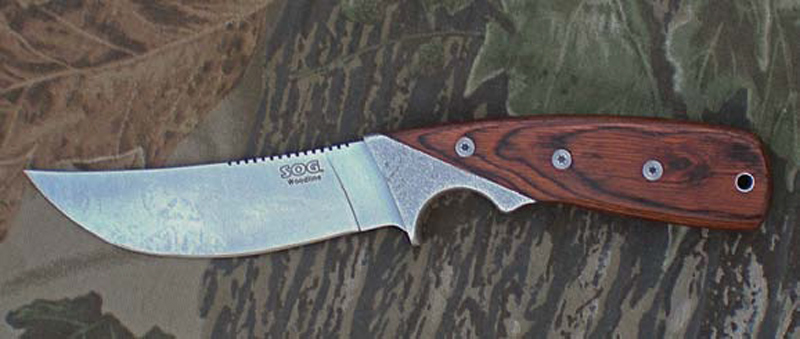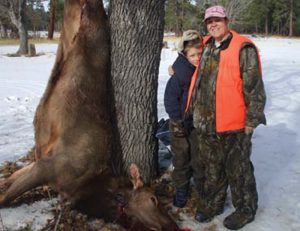 The knife was the Small Fixed Blade Woodline with four-inch blade. (The Woodline is also available with a fixed 4.8-inch blade and as a folder with a 3.4-inch blade.)
I chose the shorter Woodline with the specific idea of using it as a skinning knife during hunting season for several reasons.
First, I prefer a fixed blade to a folder for skinning. Stainless steel bolsters hold the Woodline's blade between the hard wood handles. Finish on the blade is a polished satin.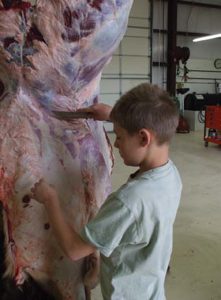 The Woodline has an upswept blade that is preferred over a straighter blade for skinning. The generous choil allows one to choke up on the blade for more precise work, and the grooves cut on top of the blade allow its user to apply downward pressure and still be able to maintain good control of the knife.
In addition to skinning game, the Woodline is large enough to handle most camp chores and survival situations.
So why twin knives? Sure, I could have cut rope and whittled on some wood with just one knife, but with several members of my family getting drawn for elk, I figured that having two knives in the field would increase the chances of being able to put the Woodline through its paces in an actual field setting. Also, for those who don't know, elk hide is fairly tough and the coarse hair will quickly dull a blade that's not up to the task, not to mention what using the knife to get through the tough breastbone will do to the knife's edge.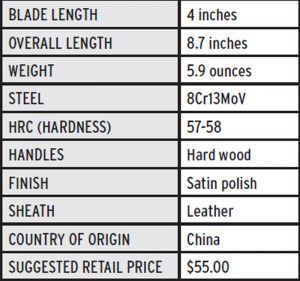 Since I did not get drawn for the hunt, I asked family members who did to take the knives and report back on how they performed.
As it turned out, the Woodline knives were used on two occasions.
The first was when my daughter Ashleigh's fiancé, Stephen Hackleman, downed an elk in the area of Camp Verde, Arizona. After field dressing his elk, Stephen said the Woodline's blade, while obviously not as sharp as it had started out, still had a working edge.
The second incident occurred when my son Flint filled his tag near Clint's Well, roughly 30 miles from where Stephen had killed his. Hunting the same area as Flint, my daughter Joanna killed her first elk as well.
Flint field dressed his elk with the SOG Woodline. Later, when they had the elk home and had them hanging, he skinned his and then Joanna's with the Woodline. He reported that he did need to resharpen the knife after getting about halfway through Joanna's elk.
No, we did not cut through a length of hemp rope or do any whittling, but a combined effort in the evaluation of the SOG Woodline showed that it can stand up to real-world hard use and come back for more.