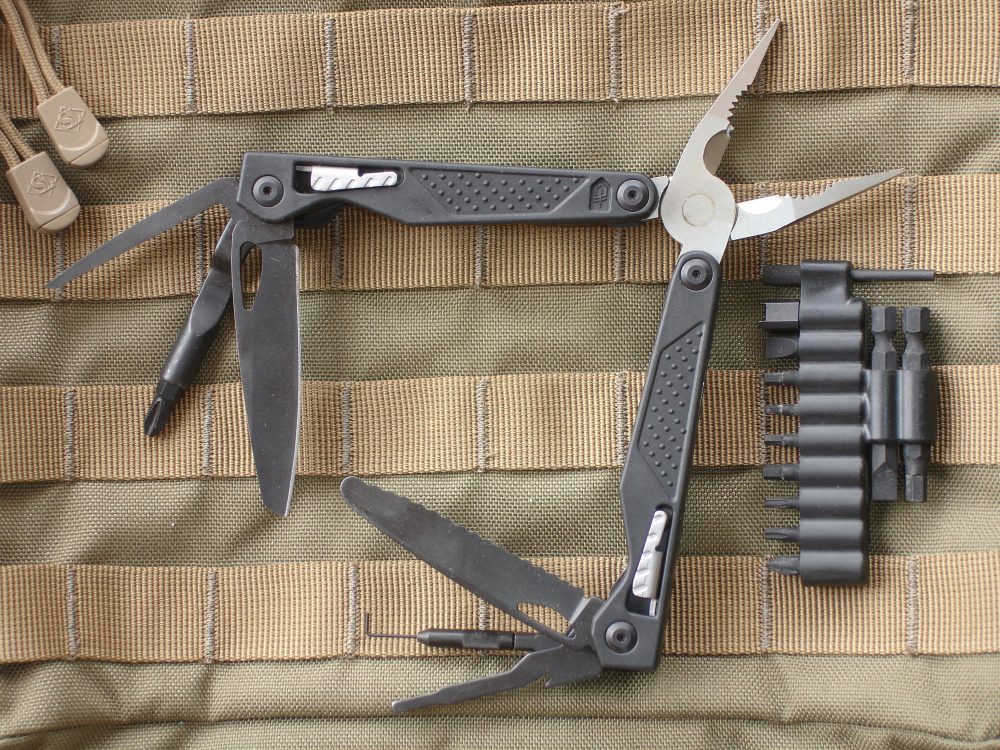 MP1-AR is next evolution of Gerber's weapon-specific multi-tools. It has all necessary tools to simplify cleaning and maintenance and handle everyday tasks.
---
Gerber introduced the first military-grade multi-tool designed specifically for the AR-15/M4/M16 weapon system in 2008. Developed with direct input from U.S. military personnel, the eFECT® weapons maintenance tool is still a popular go-to tool for shooters.
The MP1-AR™ Weapons Multi-Tool is described by Gerber as "the next evolution of the eFECT." It's that and more. The MP1-AR is a full-size multi-tool that has all the tools you need not only to simplify cleaning and maintenance of your weapon system, but also to handle everyday tasks.
The MP1-AR features an extended magnetic bit driver that can reach the grip screw in an AR. It uses standard ¼-inch bits. By default, it comes with a versatile #2 Phillips already inserted.
In addition to the Phillips, the MP1-AR comes with a 12-bit kit that includes flat, Phillips, hex, and Torx® bits commonly needed for adjusting optics and accessories, plus a four-prong A2 front sight adjustment tool and a pin punch for trigger assemblies. The bits are secured in a polymer holder when not in use.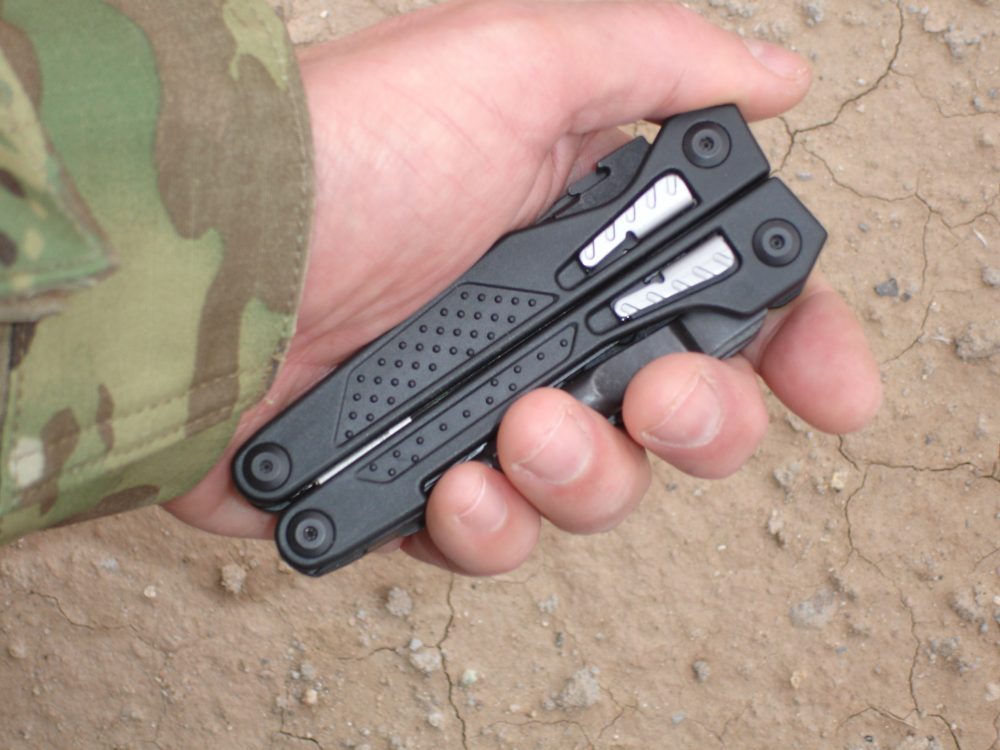 MP1-AR is compact, lightweight and has excellent ergonomics. Handles have pebble-like texturing that provide a good grip.
---
The MP1-AR also features two full-size blades (plain edge and serrated), spring-loaded forged-steel combo jaw pliers (needle-nose and regular pliers functionality, wire cutter and wire stripper), a contoured carbon scraper, dental-style carbon pick, and takedown pin punch.
The carbon pick makes cleaning the bolt's ejector area and other hard-to-reach spots in the weapon a breeze. The carbon pick may be unscrewed to allow standard 8-32 threaded cleaning rods and Otis Technology cleaning kit components to be attached.
The two blades are designed to provide maximum utility. The plain-edge blade features a traditional V-grind. It's best where precise control and clean cuts are necessary. The serrated blade is best for cutting through tough fibrous material such as rope or webbing. It features a rounded blunt tip for safety in rescue applications.
The butterfly-opening combo jaw pliers make handling a variety of tasks a breeze. Although the wire cutters don't employ replaceable cutter inserts, they have proven to be quite tough and up to any reasonable task this type of multi-tool may be expected to perform. The spring loading reduces hand fatigue by eliminating the need to adjust and readjust your grip during use.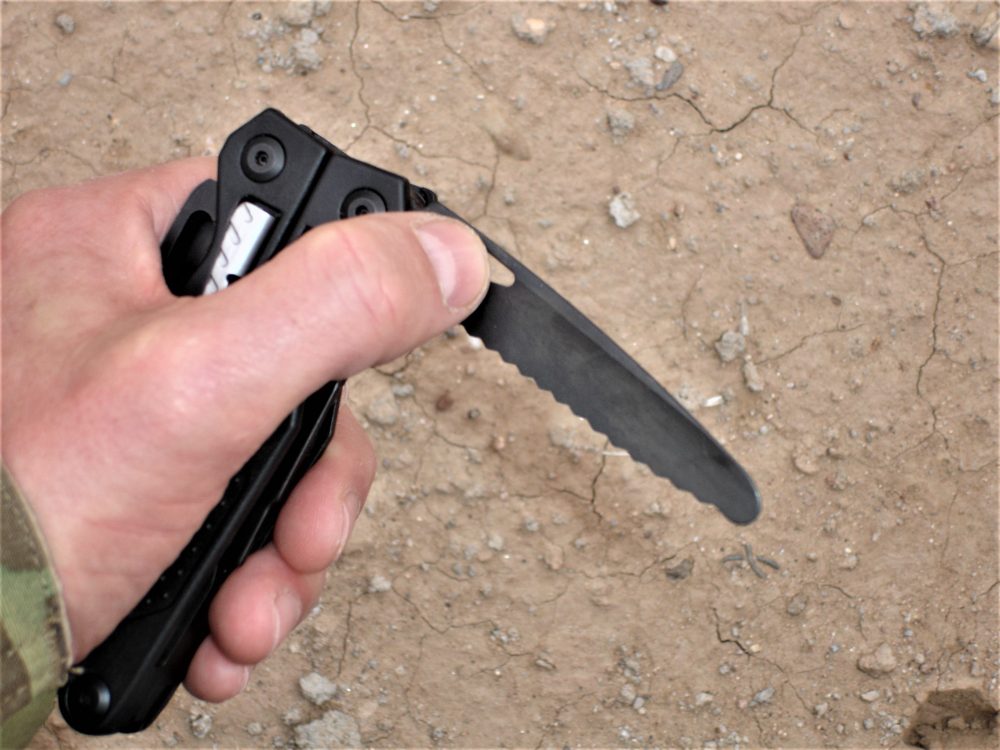 All blades and tools lock securely in place and are outside-accessible for one-handed employment.
---
Although the MP1-AR lacks a castle nut wrench, a screwdriver bit and hammering device could be employed in a pinch. That being said, I have never had a properly staked castle nut loosen.
The blades and tools lock into place and are outside accessible for one-handed employment. The MP1-AR features Gerber's patented Saf-T-Lock® slide-locking mechanism that locks the tools securely in place when they are fully opened. The spring-loaded locking system has proven to be exceptionally strong and secure, despite my abuse.
The MP1-AR is of stainless steel construction. Both the fine-edge blade and the serrated blade are made from heat-treated 420HC stainless steel. 420HC alloy is different than 420. The HC stands for "high carbon." The higher carbon means it can be brought to a higher hardness than 420. Tools made from 420HC are tough and durable. 420HC also has good corrosion resistance.
The pliers' jaws are made from forged steel for maximum strength, instead of weaker, cost-saving investment castings.
The punches, scrapers, and blades have a powder-based black oxide coating that reduces glare and enhances corrosion resistance and lubrication of the blades and accessories.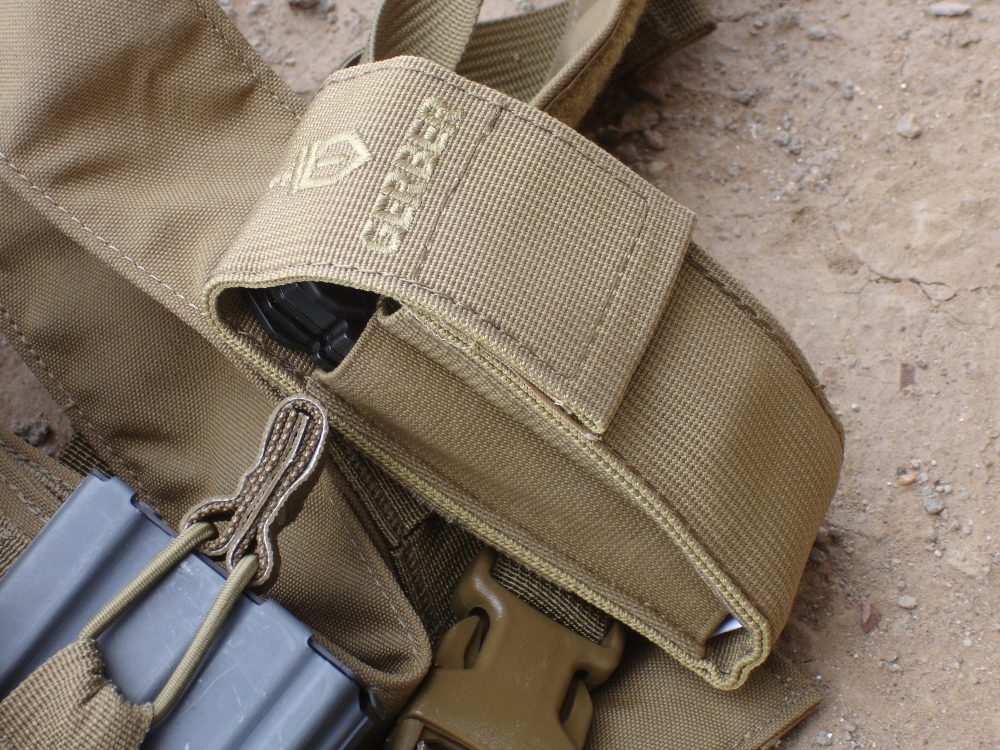 MP1-AR comes with coyote MOLLE/PALS-compatible sheath with separate internal compartments for MP1-AR and bit kit.
---
The handle material on the MP1-AR is 33% Glass Fiber Reinforced Nylon Type 6. This material offers excellent strength, stiffness, creep resistance, and dimensional stability, as well as low thermal conductivity. The handles have a pebble-like texturing that provides good traction and enhances grip. The ergonomics are excellent.
Considerable effort was clearly put into the design, quality, and craftsmanship of the MP1-AR. It's tough, lightweight, user-friendly, and very practical. Closed length of the MP1-AR is 4.3 inches, with an overall length of 7.3 inches when opened. Blade length is 2.75 inches. Weight with sheath is 9.7 ounces.
The MP1-AR comes with a MOLLE/PALS-compatible coyote heavy-duty nylon sheath with Velcro® flap closure. The sheath has a separate internal compartment for the bit kit.
Another option is Gerber's new patent-pending adjustable heavy-duty black nylon CustomFit™ Dual Sheath. Sold separately, it's designed to hold two items plus a pen. It features new Velcro Quiet Deploy™ Tech and vertical and horizontal belt carry. It's also PALS/MOLLE-compatible. A quick-access back panel allows the user to customize it to perfectly fit a variety of tools, including folding knives, multi-tools, and flashlights. Gerber also offers a CustomFit Quad Sheath. Berry-compliant versions are available.
A good multi-tool is an indispensable part of everyday kit. Selecting the right multi-tool is about finding the set-up that best fits your individual needs. The MP1-AR is an excellent choice for any shooter or armed professional. The MP1-AR has a suggested retail price of $176 and comes with a limited lifetime warranty.
SOURCES
GERBER GEAR
(800) 950-6161
www.gerbergear.com
OTIS TECHNOLOGY
(800) OTISGUN (684-7486)
www.otistec.com