Ask any cop what they use a knife for at work and you will get a variety of answers. Some will talk about how they used it to pry open a small window on a building search or some mope's glove box during a car search. Maybe they scraped a license plate tag off to see the real numbers. Occasionally they will tell of cutting someone's seatbelt on a vehicle rescue, but that's rare.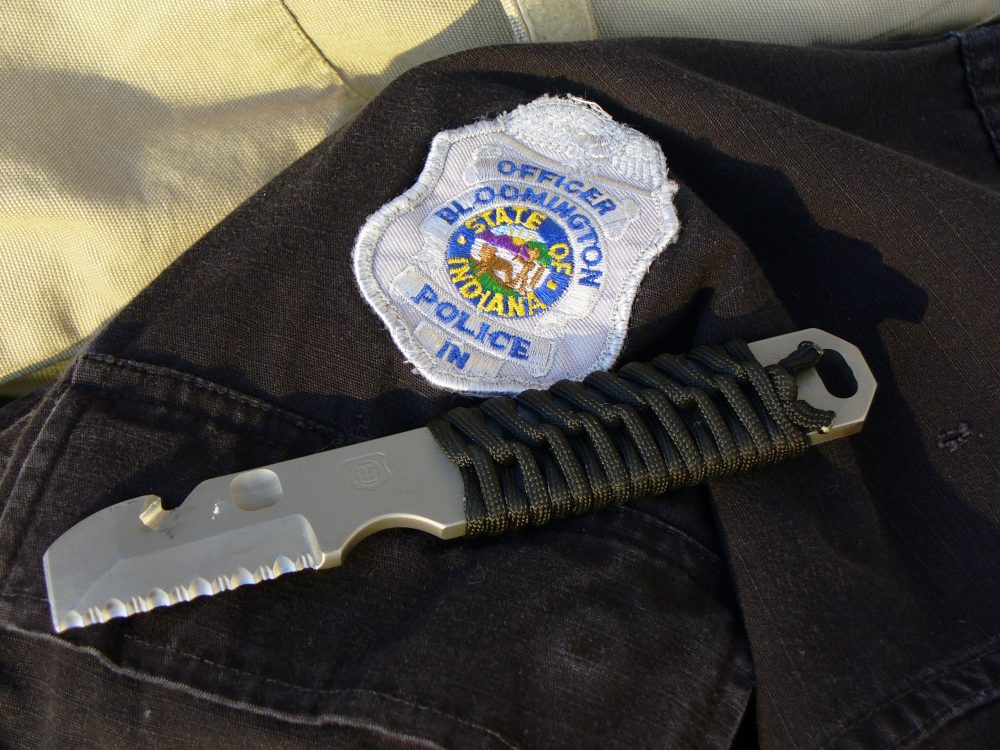 Cop Tool after taking on a Monte Carlo.
---
Cops use knives as tools to break stuff and for utility tasks. That isn't to say that cops don't think about knives as defensive tools, but the vast majority of the time we use them as utility tools. Ryan Wilson of Wilson Tactical and retired cop Roy Huntington have come up with a utility tool that is built to do what Roy saw cops doing with knives during his career.
The Cop Tool is designed for uniform patrol officers to carry on duty. While there are many quality edged tools that have similar design features for breaching and utility cutting, they are big fixed blades. They were often designed around SAR missions or SWAT operations and are too big for patrol carry without an administrator having a cerebrovascular accident.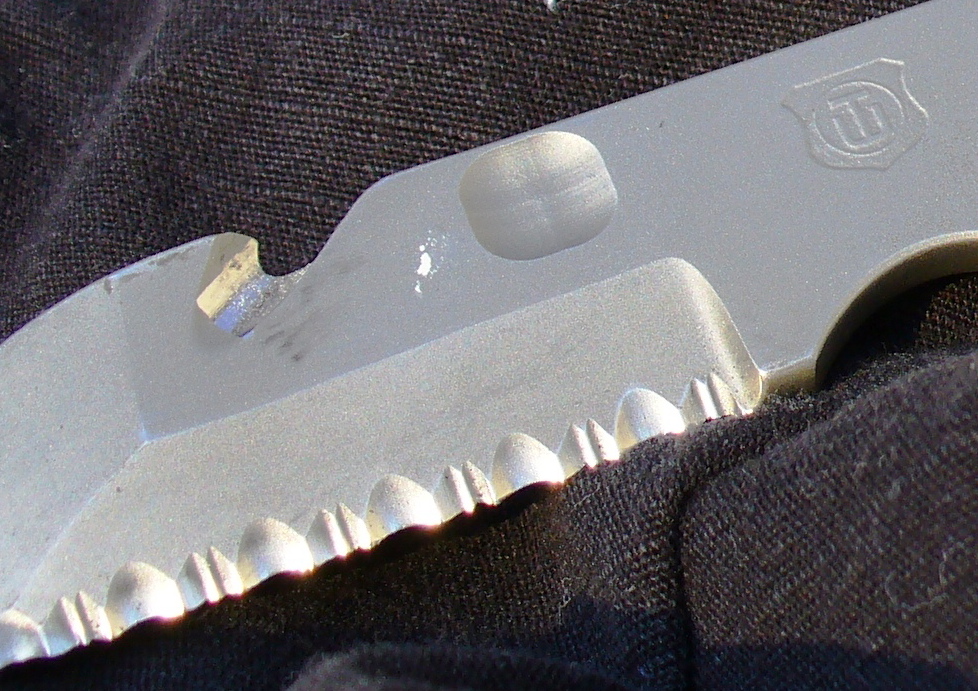 Indent on side of blade is for thumb placement during scraping and prying jobs.
---
The Cop Tool is a breaching tool for the patrol officer and is sized for the uniform and jobs they encounter. It has an overall length of 6 inches, with a cutting edge of 1.75 inches. The cutting edge is serrated for cutting through harder materials. The chisel tip is straight edged, as the primary uses of this front edge are prying and scraping. The Cop Tool is made from 3/16-inch thick D2 to handle those tough prying jobs. D2 is a high-carbon tool steel well suited to this type of work, with good edge retention.
The spine of the Cop Tool has a line/seatbelt cutter notch in it. This works well on small lines (550 cord, tubular nylon, etc) and seatbelts, but not for bigger line (use the primary for that). For seatbelts, because the notch isn't very big, you need to line up and catch the edge of the belt for the best cutting. The exposed tang can be used for pounding and works very well as a glass breaker. The handle is 550-cord wrap, which I have always liked on edged tools. 550 cord is an economical material that provides a positive grip wet or dry and makes the handle flat. Also, because end users who learn to rewrap the handles can easily replace 550 cord, it is perfect for the Cop Tool. Often we expose our tools to chemical agents, oils, gasoline, blood, etc., and stripping the cord handle and rewrapping it is the quickest way to decontaminate the tool and get it back to work.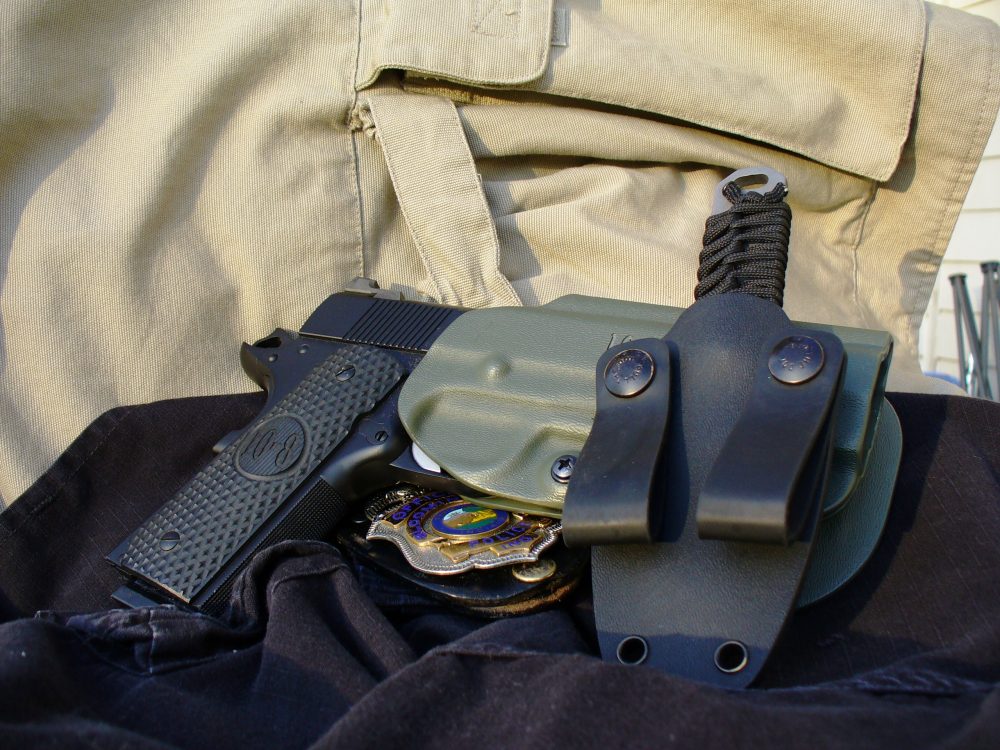 Cop Tool works for plainclothes carry too. Kydex sheath can be carried inside the waistband.
---
Shortly after I received the Cop Tool for T&E, we taught a vehicle assault class in which we were using a junked-out Monte Carlo. At the end of the day we put the Cop Tool to work on it, just to see what it would do. I first broke out the rear passenger side window with the exposed tang. Then I used the primary edge to finish cutting away the edge of the glass and seal. Next we used the chisel tip to pry other window seals, which was not a problem for the Cop Tool. I wanted to know how much leverage for prying I could get, so we decided to use it on the closed door. While the doors on junked Monte Carlos do not seal like they did fresh out of the factory, the heavy doors did secure. I pounded the Cop Tool in by hand between the column and the door and gave it a pop. The door came open with little effort—the leverage I got from the compact tool honestly surprised me. All the accompanying photos were taken after this and other practice sessions with the Cop Tool.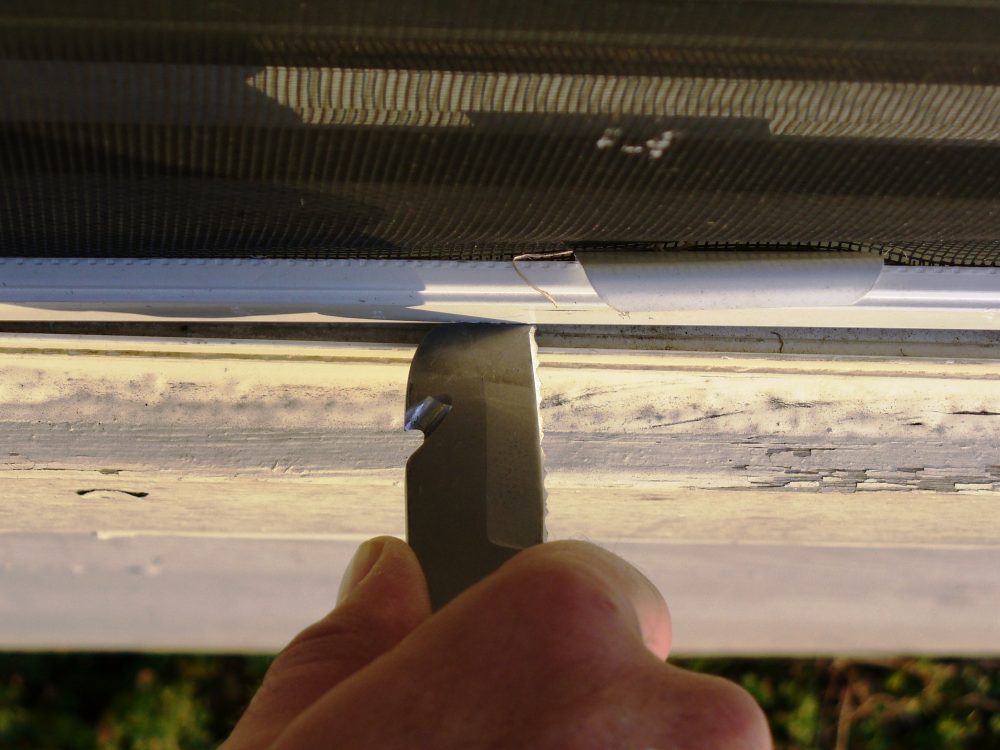 What cops really use their knives for…
---
The flat Kydex sheath of the Cop Tool is designed to attach with belt loops (similar to IWB belt loops) to the inner trouser belt, and the sheath sits between the trouser belt and the duty belt. You can also carry it as an IWB set-up. This is a low-key, comfortable way to carry a fixed blade. The Cop Tool comes with a lanyard, which is good for pulling the knife out of the sheath even if you can't fully get the grip, and is quite stylish. However, I would prefer a loop lanyard that I can put on my wrist to help retain the tool.
At $99.99 retail, the Cop Tool is a great value. It works as a go-anywhere breaching and cutting tool for cops or anyone else who wants a tough, compact tool. A friend once said, when referring to a knife he had built, that cops basically need a good B&E tool. The Cop Tool meets those needs very well.
SOURCE:
Wilson Tactical, LLC
Dept. S.W.A.T.
3989 Hwy. 62 West, Suite 3
Berryville, AR 72616
(870) 423-3319
www.wilsontactical.com