Gerber Covert Auto is an auto-opening version of the Gerber Applegate Combat Folder, which is based on the Applegate-Fairbairn Combat Knife designed by Col. Rex Applegate and William E. Fairbairn during WWII.
---
The Gerber Covert Auto is an evolution of the Gerber Applegate Combat Folder designed by the late Colonel Rex Applegate in conjunction with custom knife maker Bill Harsey, Jr. It's based on the Applegate-Fairbairn Combat Knife (a variation on the famed Fairbairn-Sykes Fighting Knife) designed by Col. Applegate, who was recognized as America's foremost authority on close-quarters combat with and without weapons. During World War II, he was recruited by General William J. "Wild Bill" Donovan to oversee close-combat training for the Office of Strategic Services (OSS). His book Kill or Get Killed is considered one of the most influential books on close-quarters combat ever published.
Since its introduction, the Gerber Covert Auto has become an extremely popular automatic-opening knife. For 2017, the Covert Auto line got a new Tactical Grey model, with a full fine-edge blade available with either a Stonewash or Black Oxide finish. Gerber provided me with the Tactical Grey Covert Auto with Fine Edge Stonewash Blade (Item #30-001307) for evaluation.
The Covert Auto line features a CPM S30V stainless-steel double-bevel spear-point blade with swedge; milspec Type III hard-anodized 6061-T6 aerospace-grade aluminum handle; and deep-carry stainless-steel clip for discreet right-hand tip-down carry.

Gerber Covert Auto balances size and weight with concealability. It has a deep-carry pocket clip for right-hand tip-down carry.
---
The blade is etched with Applegate and Fairbairn's signatures.
CPM S30V is a martensitic (hard crystalline structure) powder-made (sintered) wear-resistant and corrosion-resistant, U.S.-made high-chromium premium-grade stainless steel that also contains molybdenum and vanadium.
Developed by Crucible Industries for knives, CPM S30V performs like a high-end tool steel with a corrosion resistance better than 440C. CPM S30V has a very refined grain microstructure that allows it to take a fine, consistent edge. It has superior edge retention—better than D2 and 154CM.
The blade on the Covert is 3.78 inches in length and 0.13 inch thick. Depending on the model, it's available with either a fine edge or partially serrated ComboEdge™. The spine has thumb jimping for better control. The sample knife came with a razor-sharp factory edge.
The Covert Auto features a sleek symmetrical handle. Longitudinal grooves and serrated dual index-finger grooves provide a secure grip. All edges are chamfered for comfort. The handle has a lanyard hole.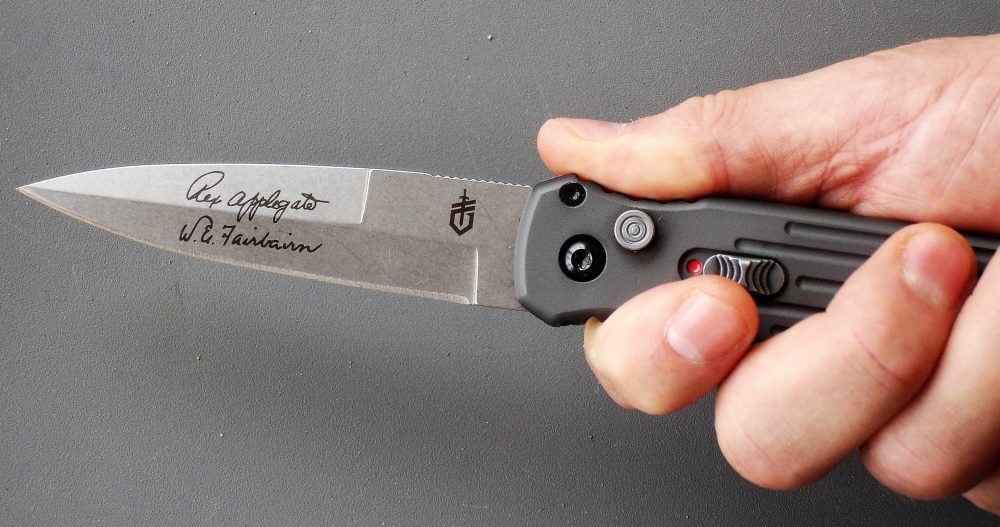 It has an oversize firing button/push-button lock (plunge lock). It's augmented by front-mounted oversize slide-safety that locks the blade in place, open or closed. A powerful coil spring provides smooth, fast, and reliable blade deployment. The blade opens with authority and locks securely. There was absolutely no blade play in the sample knife.
The Covert Auto has an overall length of 8.7 inches when open. Closed length is 4.92 inches. It has a 0.48-inch thick handle and weighs 5.0 ounces. It's large enough to get the job done, but compact and lightweight enough for comfortable everyday carry.
The Covert Auto excels as a fighting folder. Its ergonomics are outstanding: It's exceptionally well-balanced and feels good in the hand, not surprising for a knife that had its genesis with Col. Rex Applegate.
The workmanship on the Covert Auto is excellent. It's made in the USA and comes with Gerber's Limited Lifetime Warranty. Suggested retail is $176.00.
GERBER IMPROMPTU TACTICAL PEN

GGerber Impromptu Tactical Pen was developed with input from law enforcement professionals. It's an outstanding writing instrument with features that could literally save your life.
---
Gerber sent its Impromptu™ Tactical Pen with Tactical Grey finish (Item #31-0032270) for evaluation along with the Covert Auto.
Many tactical pens are obviously designed primarily as weapons loosely "disguised" as pens, and they will be regarded as weapons in some venues, which defeats the purpose of a tactical pen in the first place.
Gerber took a different approach with its Impromptu, which doesn't scream "weapon!" Yes, it can be used as an effective defensive tool, but that's clearly not its primary purpose.
Developed for First Responders, the Impromptu is a heavy-duty multi-use pen. It has an ultra-strong machined stainless-steel body with a tough Cerakote® ceramic coating, integrated tempered-steel glass breaker, and black-oxide-finished stainless-steel pocket clip.
Of push-button design for one-handed deployment, it uses pressurized Rite in the Rain® and Fisher Space Pen® PR ballpoint pen cartridges that write in all weather conditions (and even underwater) and at any angle. It comes with a black ink cartridge.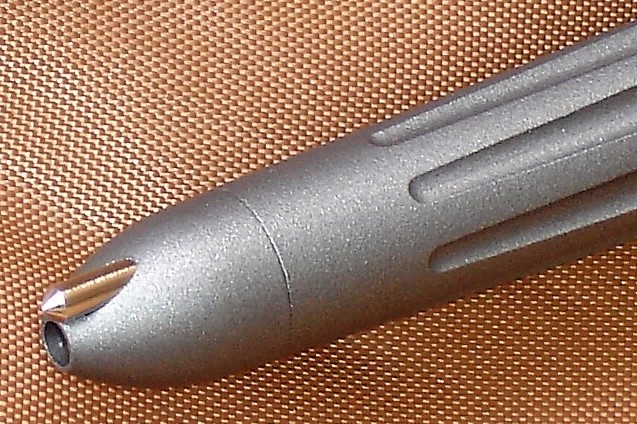 The integrated glass-breaker tip is designed to shatter tempered car windows in an emergency. It also enhances the defensive capabilities of the pen. It doesn't interfere with writing when the pen is held normally.
The Impromptu has an overall length of 5.59 inches, weighs 2.4 ounces (with ballpoint pen cartridge), and is 0.5 inch in diameter.
It's a hefty pen, but well balanced and comfortable. The machined grooves on the body not only look stylish but also ensure a positive grip. Workmanship is first rate.
The Impromptu is available in your choice of Black, Grey or Flat Dark Earth Cerakote finish. It's also made in the USA and comes with Gerber's Limited Lifetime Warranty. Suggested retail is $72.00.
SOURCE:
GERBER GEAR
(800) 950-6161
www.gerbergear.com