National anti-terrorist units are among the most highly trained military/LE units in the world. Armed with advanced weapons, body armor, entry tools, surveillance and communications equipment; trained constantly under realistic conditions; and deployed when lives and national prestige are on the line, Tier One anti-terrorist units are justly models for other tactical units.
But because of their sophisticated equipment, it is easy to lose sight of the fact that even the most elite units often need a low-tech tool such as a knife or multi-tool. And the fact that a blade may be low tech does not mean it can't be carefully designed.
I've recently been evaluating the Extrema Ratio Glauca B1 developed in conjunction with the Groupe d'Intervention de la Gendarmerie Nationale (GIGN)—France's famed anti-terrorist unit. I have been extremely impressed with the thought that went into the development of the Glauca B1, though I am not surprised, as I have evaluated blades developed by Extrema Ratio for other elite military units and found them equally well designed.
First, I am impressed with the Glauca B1's versatility. It comes in a sheath and at first glance appears to be a fixedblade knife. However, it is not. It is a folder, with both a liner lock and secondary sliding blade lock. Therefore, when carried as a fixed blade, the blade is doubly locked in place. But operating the two locks allows the blade to be folded, creating a compact knife. This suits GIGN's mission especially well.
When deployed on many of GIGN's tactical missions, the sheath allows the Glauca to be strapped to the thigh or attached to web gear, though it can also be carried folded and tucked into a pocket of the web gear. As GIGN often has plainclothes missions, including dignitary protection, they can carry their Glauca as a compact folder.
Many other features accommodate the variety of missions assigned to GIGN. The point is specially designed to maximize penetration. Very useful are a glass breaker point on the hilt and a special device for cutting flex cuffs on the handle. GIGN operators are extensively trained in hand-to-hand combat, and the handle shape, combined with the glass breaker, allows use as a skull crusher. There is also a serrated edge of about .75 inch for cutting lines when rappelling, parachuting, or working underwater.
There are two methods for quickly deploying the blade. It is equipped with a dual thumb stud to get it started. The crossguard also protrudes enough to allow the forefinger to get it started. In either case, the blade may be easily deployed with one hand. I tried both methods and found using the forefinger on the part of the crossguard that protrudes when folded worked best for me.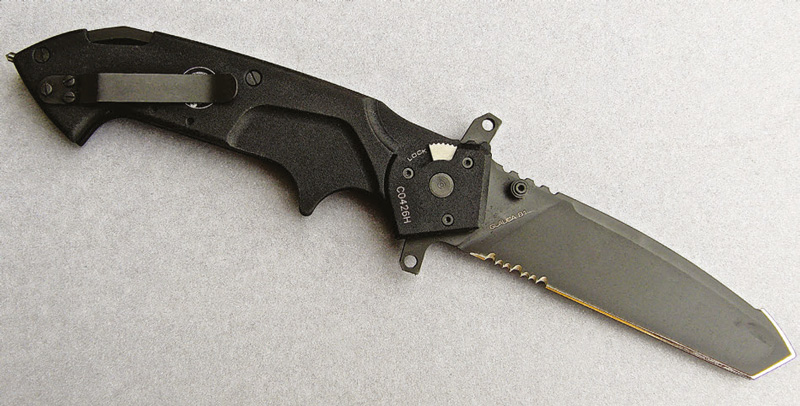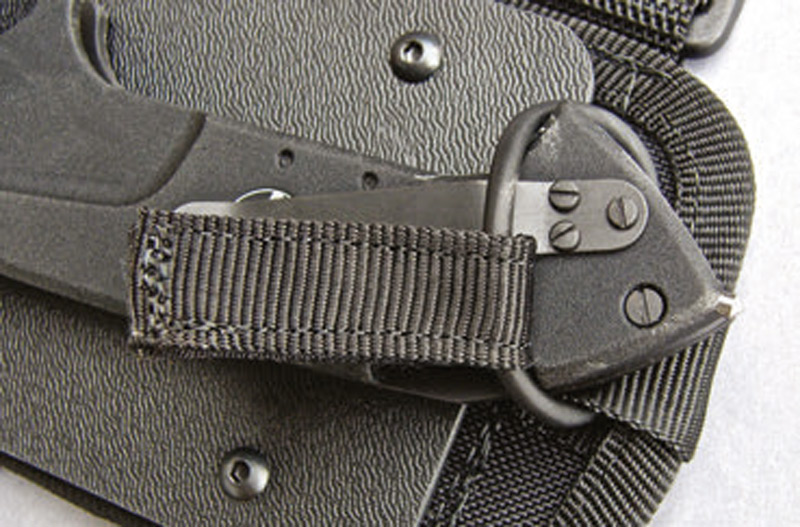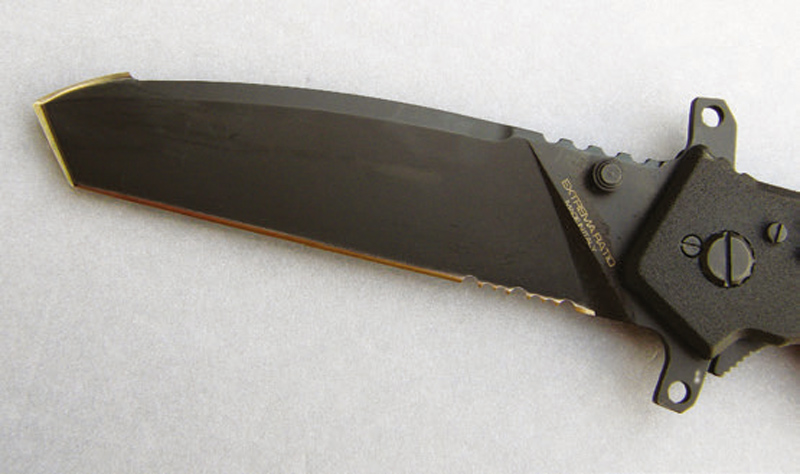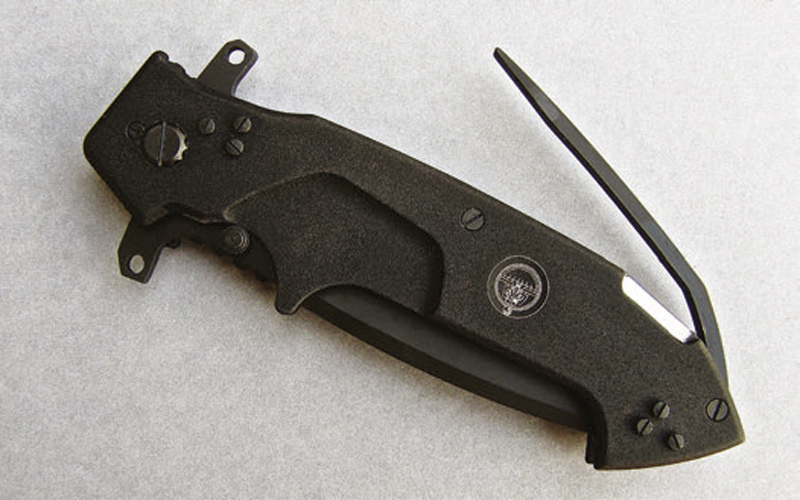 For carry using the pocket clip, it is movable to either side of the handle. The GIGN logo is on both sides, so it shows no matter which side the clip is attached to.
Extrema knives have a reputation for sturdiness. I once left one in a pond for what I planned would be a week to test corrosion resistance. However, events transpired such that I didn't return for three weeks. I took the knife out, shook it off and stuck it in my truck for a couple of days before I got around to oiling it up. Even prior to oiling, it opened and closed smoothly.
The handle is made of what ER terms "Anticorodal," an alloy of aluminum, magnesium, copper and manganese, and is anodized. The blade is of N690 stainless steel, which is cobalt enriched for ease of sharpening and good edge retention, burnished and MIL-C-13924 black oxide coated.
As mentioned above, my experience with ER knives, a couple of which I use a lot, is quite good for durability. I have also had some contacts from deployed troops who purchased an ER knife after reading my columns about them, and their reviews have been good.
Overall length of the Glauca B1 is 6.2 inches with blade folded and 10.5 inches with blade deployed. The blade is 4.5 inches in length and .2 inches thick.
I tried cutting a couple of sets of flex cuffs with the cutter, which operates by lifting a handle/lever and sliding it under the flex cuff, then pushing down against the cutting edge. It worked well. I also tried the serrated edge on paracord and rope, and it cut both very efficiently.
The Glauca B1 is one of the best tactical ops general-purpose knives I've evaluated—maybe the best. GIGN operators obviously gave real input into the features they would find useful.
The flex-cuff cutter, for example, fits a real tactical need. SOP is often to flex cuff hostages when they are removed from the incident site to make sure there isn't a terrorist hiding among them. As soon as they are cleared, the flex cuffs are removed. Incorporating the cutter on the Glauca B1 means that already traumatized hostages don't have to wait around while someone looks for a cutter.
For rappelling and parachuting, the Glauca B1 sheathed as a fixed blade has double retention: friction in the sheath and a quickdetach O-ring that fits over the handle.
I recommend the Glauca B1 for tactical units, but should note I don't think the one with the GIGN crest as shown here will be available. Otherwise the knife will be exactly as discussed.