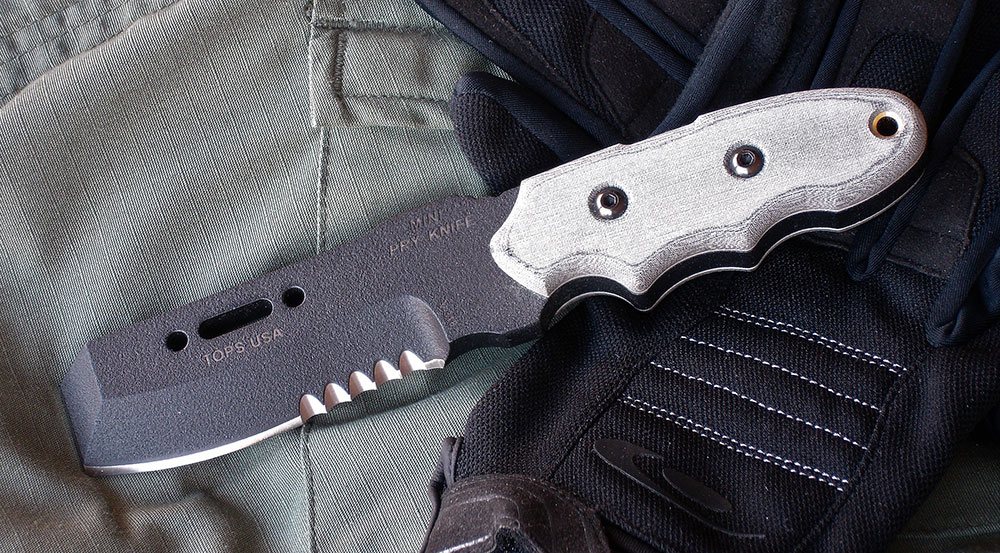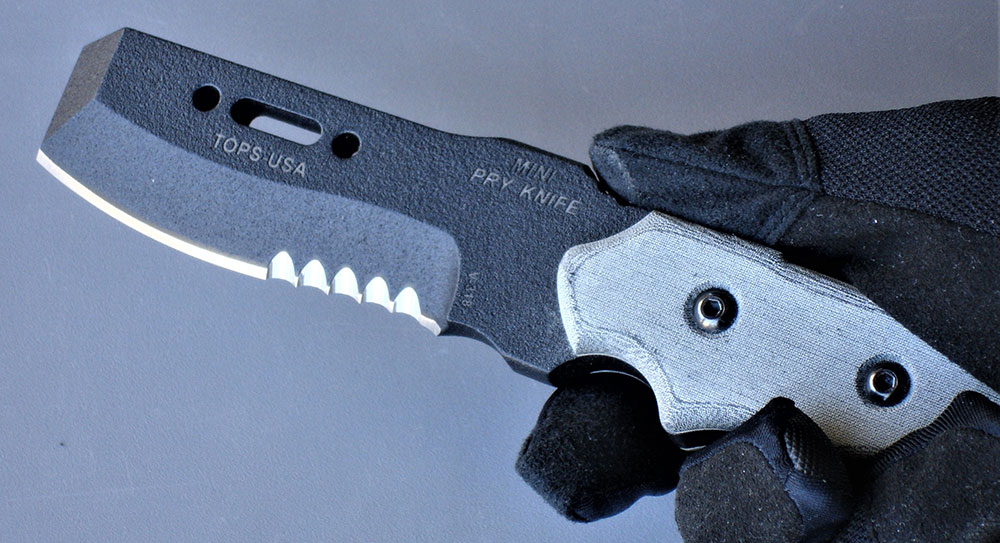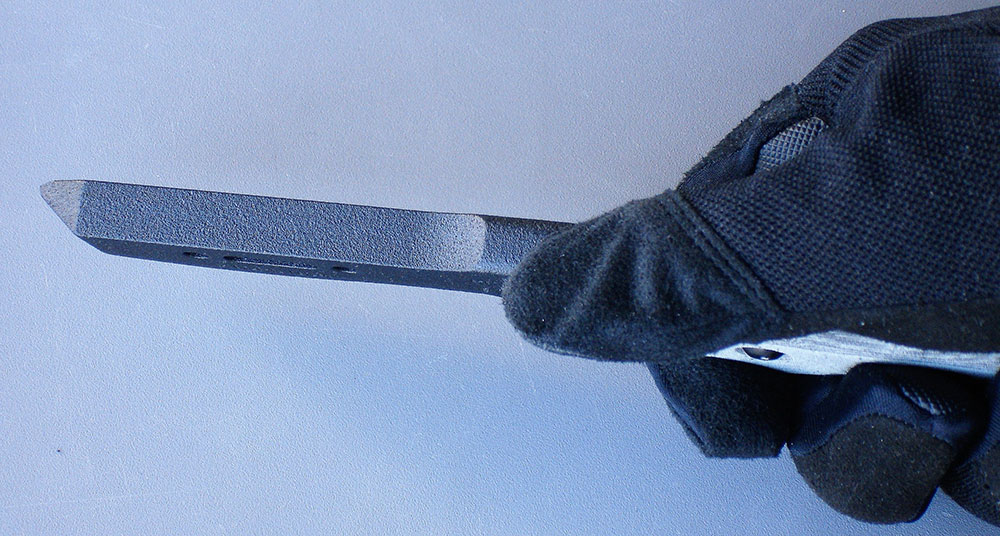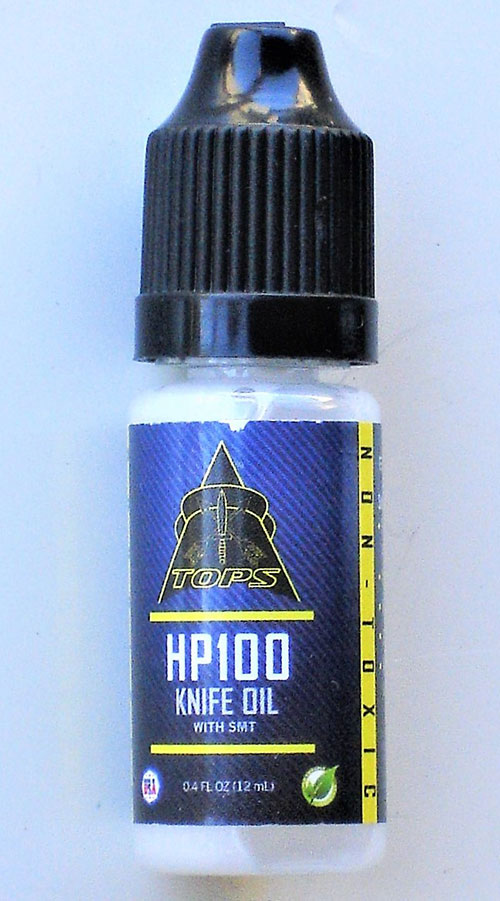 TOPS Knives Mini Pry Knife (MPK-01) is a hardcore tool for hardcore tasks. It was designed at the request of a group of law enforcement officers, many of whom were involved in high-risk warrant service and fugitive recovery. They weren't looking for a team tool but a smaller pry knife for individual carry that could be carried close to the body and not be easily distinguishable from a multi-tool when in its sheath.
Not all breaching operations are planned. Many situations are encountered in which a breaching capability becomes necessary. In these instances, a larger breaching tool may be unavailable or impractical. This is where the Mini Pry Knife comes into play. It's easy to carry and easy to use, with capabilities that belie its compact size.
The Mini Pry Knife has a multitude of tactical and rescue applications. It can be used to open windows, pry interior doors and transoms, lift flanges and hinge pins, create the first gap in a security door or gate for insertion of a Halligan or other entry tool and maintain the gap when tools need to be reset, force security gates, punch holes in interior walls, secure doors, break glass, cut rope and webbing, and open containers. Of course, it can also be used as a weapon of last resort should the need arise.
The Mini Pry Knife is an outstanding tool for inclusion in any urban survival kit. In a disaster, you may need to pry open a door or window, move barriers and debris, hammer out glass, rake a broken window, or bust open a lock. The Mini Pry Knife is certainly up to the tasks, whether it be entry, escape, rescue, or even self-defense.
The Mini Pry Knife is a compact powerhouse and nearly indestructible. It features a 3½-inch partially serrated 5160 spring steel blade with chisel pry-bar tip that's great for prying or scraping, thumb ramp jimping on the spine for added control, and matte Black Traction Coating® textured protective powder coating. The full-tang blade is a whopping 3/8-inch thick to handle those tough prying jobs.
The Mini Pry Knife has an overall length of 8 1/8 inches and weighs in at 16.3 ounces. The amount of leverage that can be generated from this compact tool is surprising and more than enough to handle the tasks for which it's designed.
The Mini Pry Knife has contoured Black Linen Micarta® handle slabs with finger grooves that provide a positive and comfortable grip and prevent your fingers from slipping, wet or dry and with or without gloved hands. The handle slabs are secured with black-oxide coated stainless steel hex socket screws. The handle has a lanyard hole.
TOPS went with forged 5160 spring steel for the Mini Pry Knife instead of its mainstay 1095. This is an excellent choice. 5160 is a medium/high carbon and chromium alloy spring steel. It has a combination of outstanding toughness, a high level of ductility, and excellent fatigue resistance, making it well suited for a tool of this type.
Although it takes a sharp edge and is easily resharpened, 5160 can be difficult to machine, making it costlier for manufacturers to work with. It's not a stainless steel and will rust if not properly cared for.
How a blade is heat treated is as important as, if not more important than, the steel itself. TOPS prefers to do a differential heat treat on its knives to provide a harder edge (56-58 RC) with a softer spine. This makes TOPS knives stronger and capable of withstanding the sideways stresses that many other knives cannot.
The Mini Pry Knife comes with a black Cordura® ballistic nylon fold-over sheath with Kydex® insert and ITW Fastex® buckle. The sheath fits belts up to 2¼ inches wide and is PALS/ MOLLE compatible, allowing it to be worn either on the belt or vest/rig, as your mission and personal preference dictate.
In addition to the fold-over flap, there's a Velcro® strap that secures the Mini Pry Knife in the sheath. The sheath also features a pocket that can be used to house a folding knife or smaller tool, such as the TOPS Pry Probe Punch Tool (PPP-01). The sheath comes with a length of 550 cord (paracord) that can be used as a dummy cord or wrist lanyard.
TOPS also makes a Coyote Tan version of the sheath that's available separately. Other than the color, it's identical to the sheath that comes with the Mini Pry Knife.
In conclusion, the Mini Pry Knife is an outstanding go-anywhere breaching and cutting tool that's easily carried and very capable. The design, materials, and workmanship are all top notch. As with all TOPS fixed-blade knives, it's made and hand finished in the Rocky Mountains, USA.
TOPS fixed-blade knives are guaranteed to be free from defects in materials and workmanship for life. TOPS sheaths are warrantied for one year from the date of original purchase. The TOPS Mini Pry Knife has an MSRP of $180.00.
SOURCE
TOPS KNIVES
(208) 542-0113
www.topsknives.com
SPECIFICATIONS, TOPS MINI PRY KNIFE
| | |
| --- | --- |
| MANUFACTURER | TOPS Knives |
| MODEL | TOPS Mini Pry Knife |
| KNIFE TYPE | Fixed blade |
| OVERALL LENGTH | 8.13 inches |
| BLADE LENGTH | 3.50 inches |
| BLADE THICKNESS | 0.38 inch |
| BLADE TYPE | Partially serrated with pry-bar tip |
| BLADE STEEL | 5160, RC 56-58 |
| FINISH | Black Traction Coating |
| HANDLE MATERIAL | Black Linen Micarta |
| SHEATH MATERIAL | Black Cordura ballistic nylon |
| SUGGESTED RETAIL | $180.00 |