When a tactical operator reaches for a blade, he obviously needs to cut something (or somebody). Odds are, he needs to cut sooner rather than later, and the advantage of a dedicated fixed blade on his duty belt is that as soon as he touches it, there's a blade in his hand—without opening it and without selecting the blade from among other functions.
Work habits, preferences, and even agency policy may dictate otherwise, but those who carry a tactical blade because they will need a tactical blade often prefer it to be a fixed blade—substantial and suitable for its purpose.
With any Bear & Son knife or tool I have examined or tested, "substantial" was a given, so let's examine how suitable the Constant is as a tactical knife.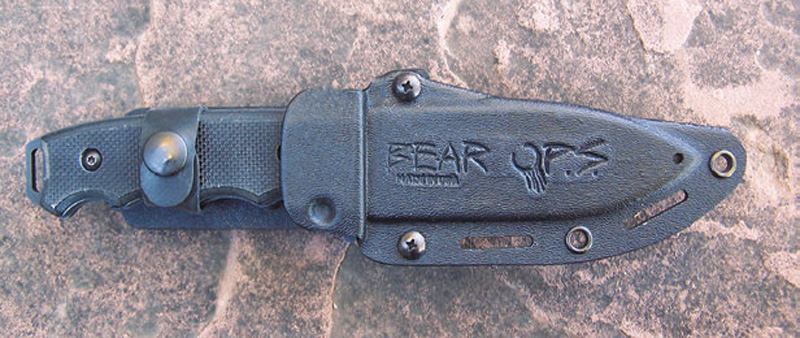 We palmed it over to a chopper jock, and he immediately began figuring ways to mount the Kydex sheath to his boot. For grunt military applications, even more length might be welcome, although it is about the length of the most common unit-procured commercial knives for military use.
But with constant-carry blades for those serving in a blue uniform, blade length is an important consideration. There are large-blade carry options for military and SWAT-type uniforms, but for regular uniformed patrol, a blade is almost always obscured among the cuffs, radios, lights/lasers/Tasers, sprays, pistols, batons, and other modern curios on the duty belt.
A Crocodile Dundee-size knife not only makes a felon-tempting target there (and may look bad in court) but it will also ride up every time you sit down in a patrol vehicle, which is the very reason the old-style baton has largely been replaced by better living through chemistry.
Obviously, a well-made, well-designed shorter blade that you can have on your belt when you need it will cut more seatbelts, flex cuffs and felons than will a long blade that you cannot carry. Other emergency service personnel such as firemen and EMTs will also find good use for such a robust fast-response blade, and where they choose to mount the adaptable sheath that comes with the Constant can vary with their uniform, LBE or mission.
For its size and purpose, the Constant has a lot going for it. Reviewers of tools shouldn't get all wrapped around the axle over esthetics, since it's performance we're looking for, but this blade is not just business-like, it's blessed with the "elegance of functional design." Its sculptural design is not for looks, however. The recurved blade presents a more efficient cutting angle to the work piece, and a bit more of it for the blade length.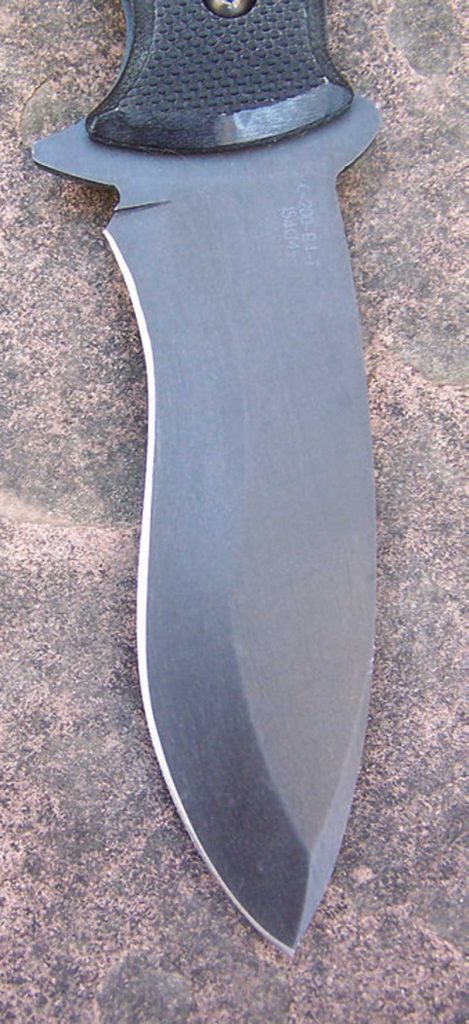 The modified drop point of the precisely hollow-ground 4⅛-inch blade is suitably positioned for a thrusting cut, and the grip scales of textured G10 and the tang itself have finger grooves for a good-as-it-gets grip. There is a thumb rest and a vestigial hilt opposite, to keep an operator's fingers off the blade.
The blade is of full-tang construction, .140" thick of 154CM steel, which is a carbon steel with good heat-treating properties, enough chrome to be stainless, and enough molybdenum to be workable.
In this application, Bear heat-treats it to 58-61 Rockwell C and gives it a titanium coating. A polished stainless finish is generally inappropriate for a tactical blade, and most blade makers today use one of several polymer coatings for either corrosion resistance or non-reflectivity. There are also titanium-based coatings used for wear and corrosion resistance, and kudos to Bear for providing these options.
The tip of the blade, although a drop point, is shaped so that once the first half inch or so is into the crevasse or between the members you need to lever apart, you are mostly bearing on the full .140- inch part of the blade. You can probably give it all you have in a rescue situation without fear of breaking the blade.
The textured G10 grips are retained by four socket-head Torx screws. Considering weight, strength, grip and insulation, it's easy to like G10 as a handle material. A secure grip is a function of both form and texture: The fingergroove form fit my hand, and the textured G10 handle scales were still high on the gripability scale when slathered with liquid soap to simulate oil or blood.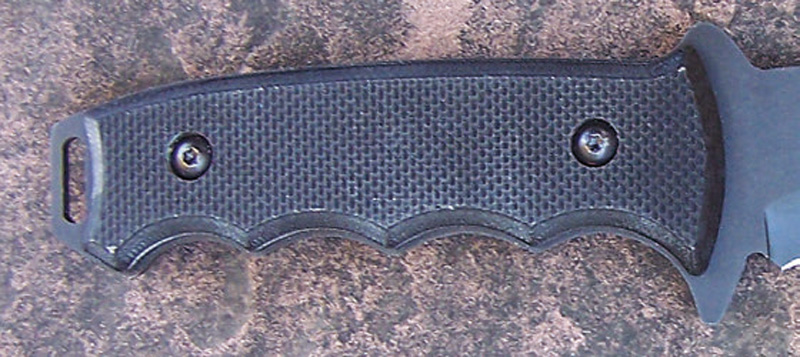 The butt features a slight extension that makes a good glass breaker, and it has a lozenge-shaped cutout that if just slightly larger could serve as an oxygen- bottle wrench, which EMTs might find handy.
In our one-man trials, the knife performed better than one would anticipate for a blade of this dimension, probably because of its excellent ergonomics and blade design. We slashed, stabbed, probed and pried the usual suspects of cordage, canvas, flex cuffs, light metal and a big wrapped-in-denim ham butt that was headed for the oven, and it did everything asked.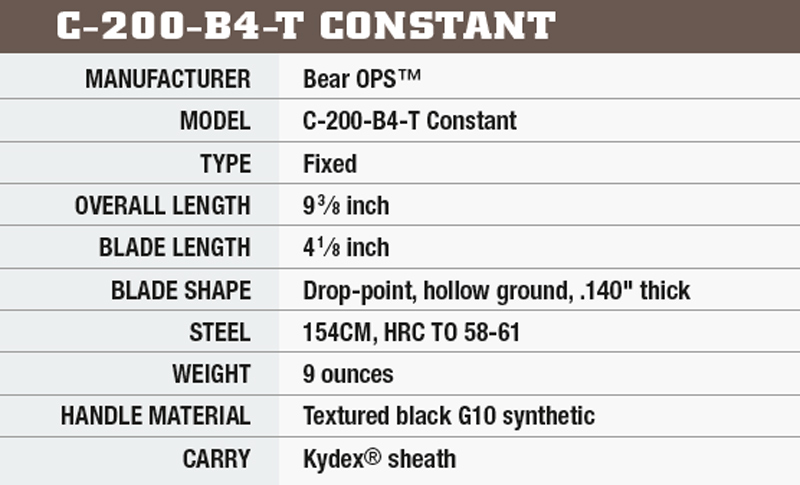 None of this strenuous but normal activity stressed anything. When working this blade hard, even though ergonomics and grip will vary with the individual, this blade is truly secure in the hand, which is very important for public safety work.
As an aside, we whittled green hardwood stakes and opened a couple #10 tin cans, batoned it through a block of seasoned ash (it could have used a bit more length for that chore). After that it pretty much still had its factory edge and was sharp enough to dress out a squirrel (the only harvestable critter at hand), indicating it could be a serviceable and compact field knife as well.
The overall length is 9⅜ inches, and this trim but husky knife weighs nine ounces. It comes in a secure and versatile Kydex sheath with various mounting/ carry options.
Design, knife, manufacture and sheath are all good work—and all made in the USA.