Very high-quality, custom-made knifes are excellent examples of craftsmanship and, often, design. However, they are generally expensive. That is a problem for military personnel or street cops who need a knife that can stand up to hard usage but will not require a title loan to replace if it gets lost or destroyed.
TOPS Knives specializes in producing reasonably priced, quality knives for military and LE users as well as outdoorsmen and others who need a tough yet affordable knife. Because TOPS owner Mike Fuller works closely with many military and law enforcement tactical units, he develops a lot of knives to a unit's specs and then offers them to his customers as well. As a result, it is always interesting to look at a TOPS catalog or visit the website.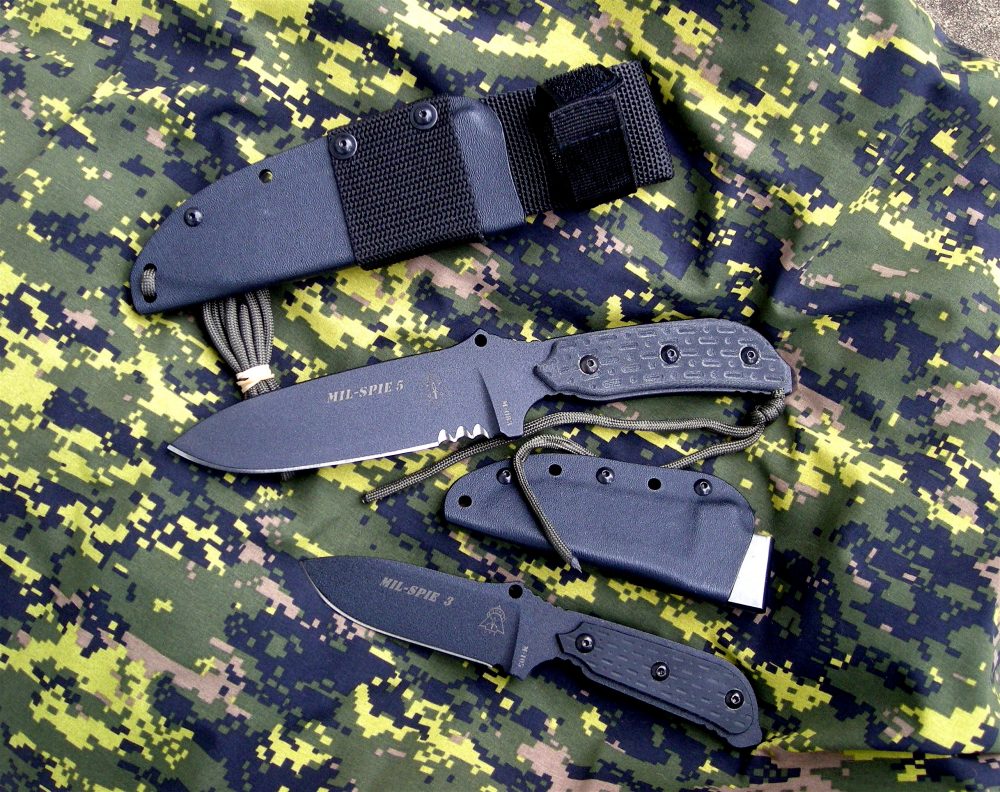 At top, MIL-SPIE 5 and at bottom, MIL-SPIE 3 with their sheaths.
---
I've tested quite a few TOPS knives and usually have trouble deciding which new models to select, as there are always several that look interesting. For this column, I asked Mike Fuller which of his newer knives he recommended, and we decided I would test his MIL-SPIE 3 and MIL-SPIE 5. MIL-SPIE stands for Military-Special Projects Individual Equipment. In simple terms, MIL-SPIE items are developed, tested, and acquired by special ops personnel outside normal military channels to fit mission needs. The TOPS MIL-SPIE knives were developed to meet requirements for a small and a medium field knife with a slim profile, light weight, but still very strong.
The MIL-SPIE 5 has a five-inch long, ¼-inch thick blade fabricated of 1095 HCA (High Carbon Alloy), with a Rockwell hardness of RC 58. About ¾-inch of the blade is serrated for use in cutting heavy rope, cord, etc. Overall length is 10 3/8 inches. By flaring at the point where the blade transitions into the handle, a crossguard is formed that offers protection to the thumb and forefinger.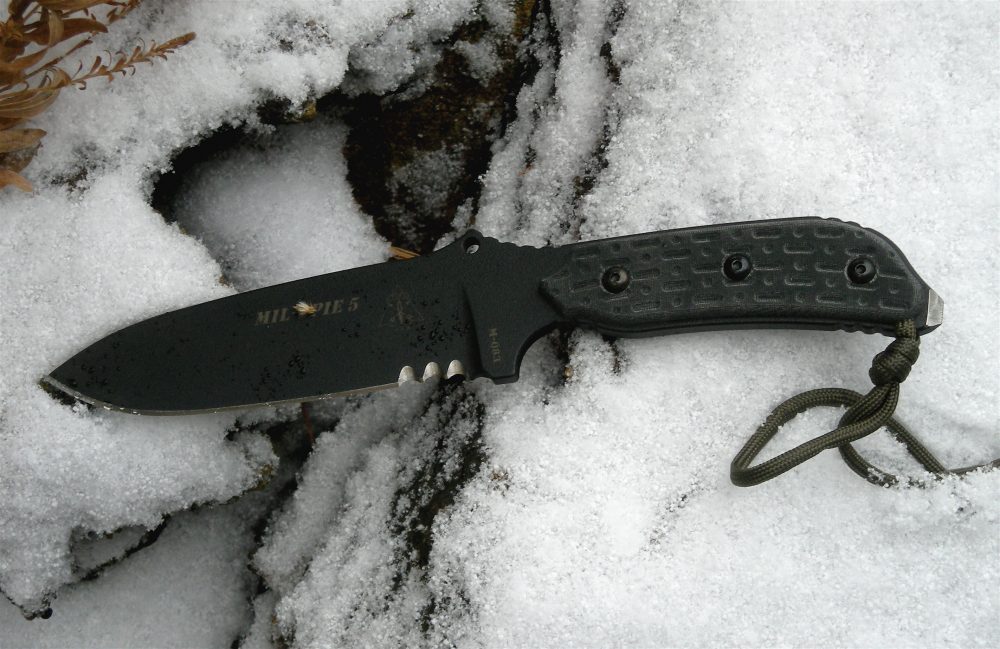 MIL-SPIE 5 is versatile enough that it may be employed for close combat, utility, or survival usage.
---
Deep grooves on the top of the crossguard allow a solid thumb rest if the blade is being used for precise cutting. A hole in the top of the crossguard will also allow the MIL-SPIE 5 to be lashed to a pole for use as a spear if so desired. A black coating is used on the blade. This version is designed for overt carry on a vest or belt without taking up too much real estate. Its handles are black linen micarta with TOPS dash/dot pattern for a better grip.
The MIL-SPIE 3 has a 3.5-inch blade that is 3/16-inches thick. Blade steel is 154 cm, RC 58-60. This knife has an overall length of 8 inches.
Both knives have an extended tang that may function as a glass breaker or for backhanded strikes. The one on the MIL-SPIE 5 comes to a sharp edge that would be effective as a skull crusher or for strikes. The handles may be removed, leaving a skeletonized handle which has an even slimmer profile.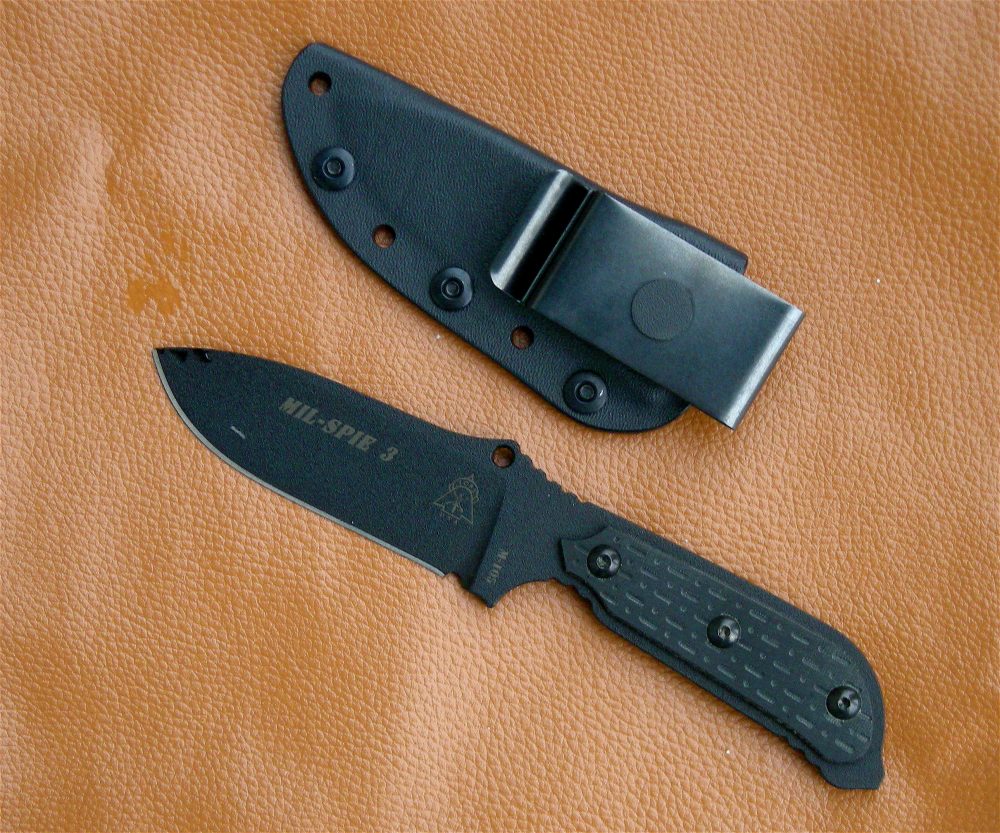 MIL-SPIE 3's sheath is well designed for concealed carry using either the clip or the holes for lashing to equipment.
---
The MIL-SPIE 5's sheath is of Kydex, which offers good retention even if the knife is mounted on a vest upside down. The sheath rides in a ballistic nylon loop that incorporates a spring clip to allow a variety of carry modes. A paracord leg tiedown and a paracord wrist loop come attached to the MIL-SPIE 5.
The MIL-SPIE 3 comes with a Kydex sheath that offers secure retention and incorporates a spring clip for carrying. Holes on the sheath allow it to be lashed to a vest or elsewhere. I would consider mounting the MIL-SPIE 3 horizontally for access to the left hand.
Both of the TOPS MIL-SPIEs are basic knives that may be used for close combat or as utility blades. The five-inch knife is well balanced yet heavy enough to use for hammering or fairly heavy prying. The grip panels are very non-slip and countered, so that either a fencing or ice pick grip may be used comfortably.
Because some of my blade training incorporated the use of knife hilts for strikes, I like the wedge-shaped skull crusher. I would note, however, that since the handle protrudes a couple of inches above the back of the sheath, I feel the wedge offers a good chance of abrading a user's arm or hand or possibly catching on other gear. A bit of tactical duct taping should solve the problem, and it could be removed quickly if necessary.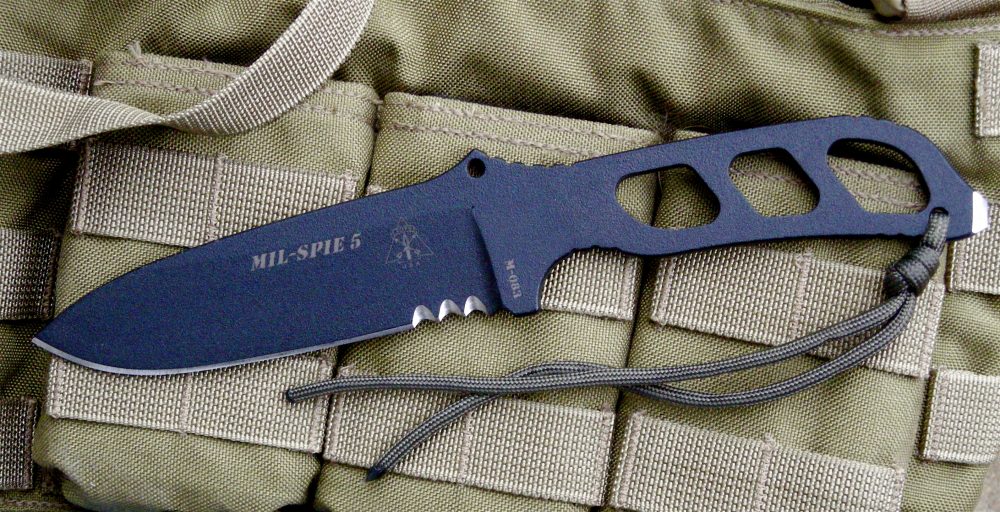 By removing grip panels, MIL-SPIE blades may be turned into skeletonized versions, which conceal better and protrude less on web gear.
---
The MIL-SPIE 3 is a good backup knife that can be carried in a boot or clipped elsewhere about the person. Unlike some compact knives, though, it is tough enough to be used for puncturing or prying. It might make a good knife for those who work in combat zones but are not uniformed military personnel. Carried out of sight, it still offers quite a bit of knife when drawn. For concealment usage, it would make sense to remove the grip panels and use the MIL-SPIE 3 in skeletonized version.
Both TOPS MIL-SPIE blades offer the features I expect in a TOPS knife. They are well-designed, well-made, tough, and relatively inexpensive. The suggested retail price for the MIL-SPIE 3 is $139.00, and the MIL-SPIE 5 is $169.00.
SOURCE:
TOPS Knives
Dept. S.W.A.T.
P.O. Box 2544
Idaho Falls, ID 83403
(208) 542-0113
www.topsknives.com