Colt has decided to expand its AR offerings beyond the direct-impingement path the company has been synonymous with since the 1960s, by featuring a piston-driven AR in the form of its LE6940P. Yes, a piston-operated AR from the center of the direct-impingement universe.
The search for the "perfect" rifle has been the impetus for many gun designers and manufacturers, and has caused many manufacturers to jump on the AR bandwagon in recent years by offering their versions. Of course, the manufacturer involved in this evaluation, Colt, cannot be accused of jumping on the bandwagon, considering their intimate involvement with the AR platform from the very beginning. What is a revelation is Colt's newfound commitment to the U.S. civilian consumer market. Colt's previous lack of imagination in terms of civilian markets has been replaced with numerous recent offerings, such as the LE901 multi-caliber AR and LE6940 Piston evaluated herein.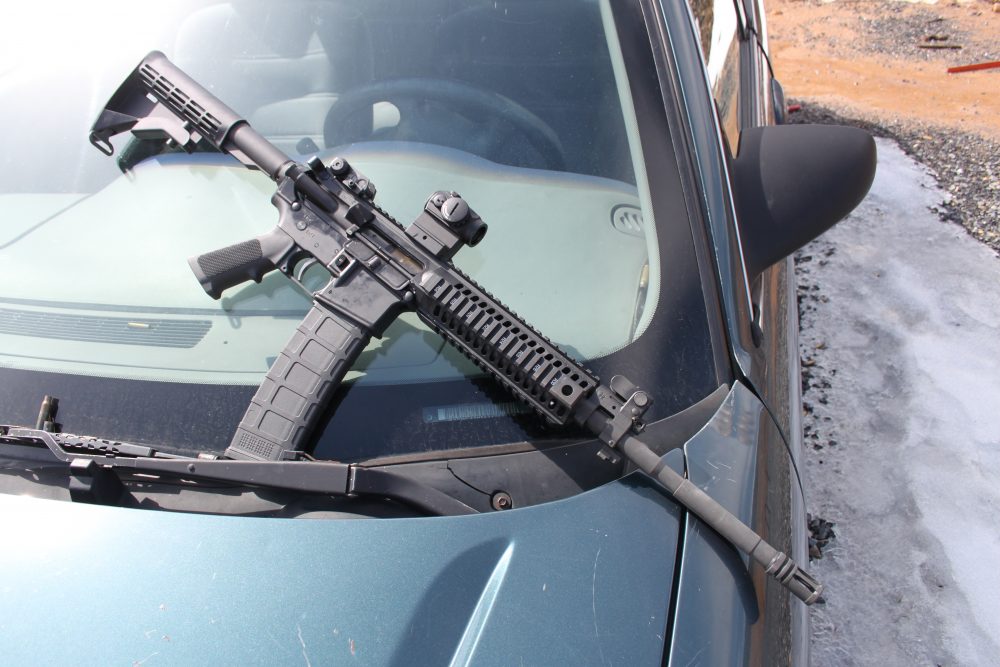 Colt LE6940P is a good choice for peace officers and private citizens alike.
---
BACKGROUND
A little history of how Colt arrived at the LE6940P is in order. The 6940P is not Colt's first piston-driven AR. It's a derivative of the Colt Model 703, the first piston-driven AR ever made. The Model 703 was made to meet the requirements for U.S. Special Forces in the 1960s.
In 2009, Colt introduced the LE6940 direct-impingement AR. It is best thought of as a semiautomatic version of the military's M4 modified with Colt's proprietary monolithic one-piece upper receiver and handguard.
The LE6940 has extensive parts commonality with the M4, sharing the chrome-lined barrel, four-position collapsible stock, milspec trigger (more on this later), and birdcage-style flash hider. Also present are the familiar shell deflector, ejection port cover, and forward assist. The LE6940's bolt, carrier and trigger mechanism also follow the proven AR-15 pattern, as do the controls on the lower receiver: magazine release, safety, and bolt release.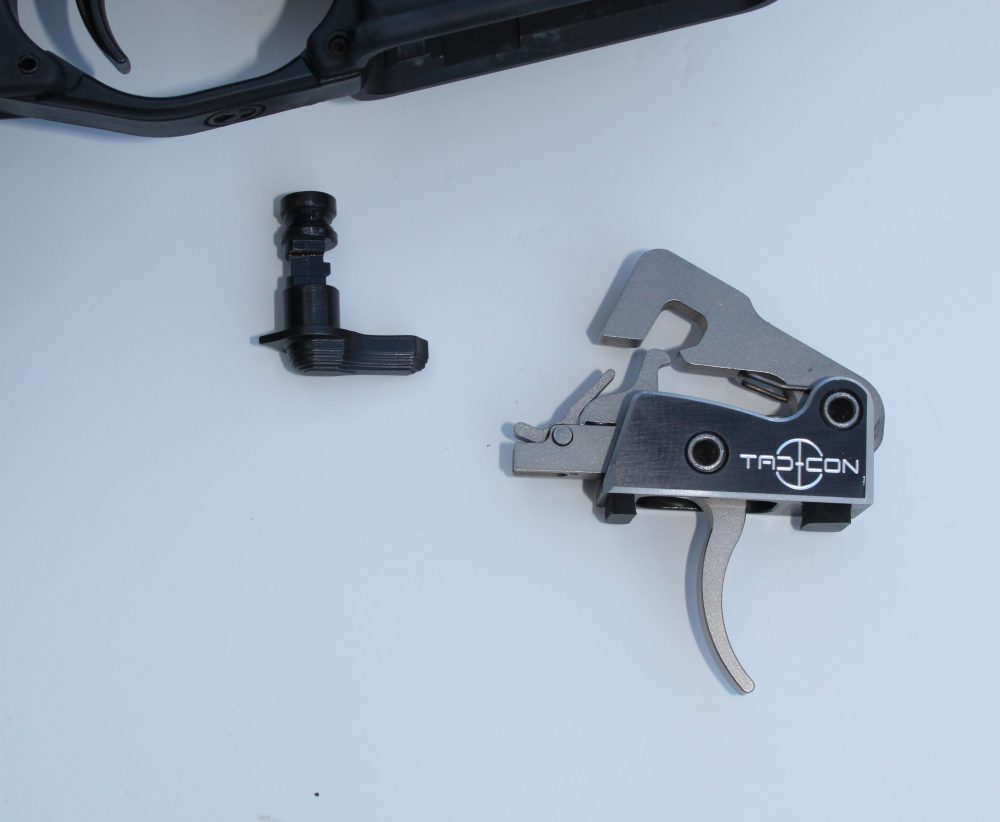 Tac-Con 3MR Trigger System consists of housing, hammer, trigger, disconnector, selector, springs, and reset lever, which is the key to the 3MR's functioning.
---
The LE6940's monolithic upper receiver traces its origins back to approximately 2003, when Colt competed in the SCAR (Special Operations Forces Combat Assault Rifle) program of the U.S. Special Operations Command (SOCOM). The monolithic upper is designed to obviate the need for an add-on rail handguard for mounting accessories.
The monolithic upper affords consistent alignment, maintaining rigidity and allowing the removal and reinstallation of accessories and optics without loss of zero. Additionally, the handguard section provides sufficient ventilation to mitigate heat buildup around the barrel. An added bonus is that monolithic upper weighs less than a standard upper receiver with an add-on rail handguard.
The 6940's monolithic upper, made from a CNC-machined 7075-T6 aluminum forging, features integral top and side Picatinny rails extending forward just to the rear of the gas block. Recesses for quick-detachable sling swivels are located on both side rails. All rail sections have numbered slots for repeatable installation of devices. The piston-driven LE6940P followed the LE6940 in 2012.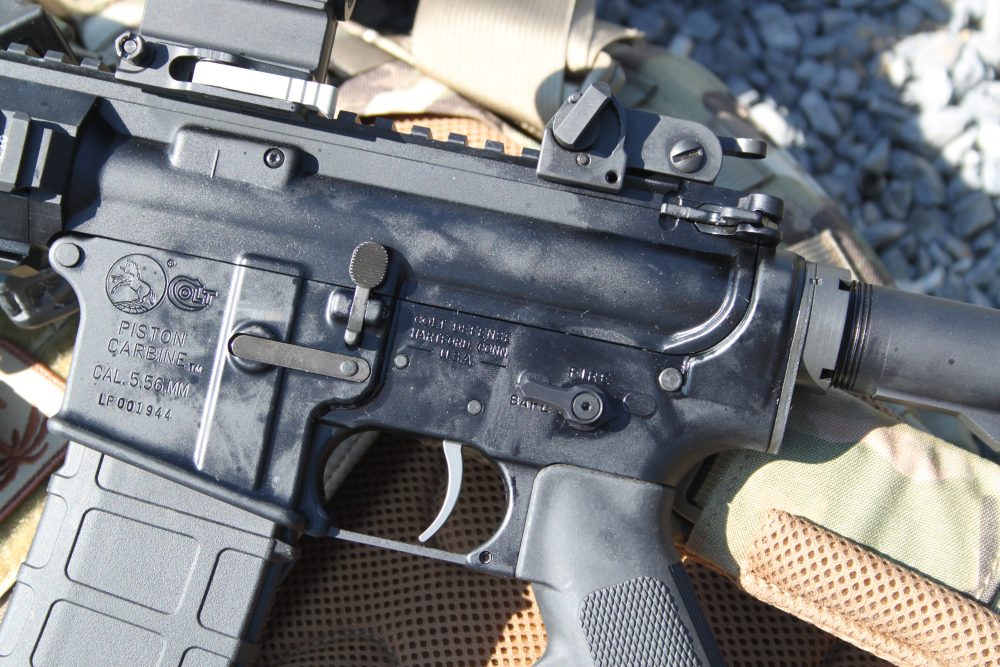 Tac-Con 3MR Trigger installed in Colt LE6940P with selector switch placed in 3rd Mode.
---
COLT LE6940P
The Colt LE6940P shows common-sense flexibility in addressing what AR buyers want by offering both direct-impingement and piston-driven AR options. The 6940P has a 16-inch, 1:7-inch twist, chrome-moly, button-rifled, chrome-lined barrel and a 5.56x45mm chamber. The M4-style barrel measures 0.750 inches at the gas block, but decreases to 0.640 inches under the handguard, and incorporates the M4-style step. An A2-type flash hider is standard. Barrel attachment is by way of an improved barrel nut that reportedly offers greater strength. The 6940P weighs seven pounds and measures 35.25 inches with the adjustable stock extended and 32 inches collapsed.
Although the 6940P will most likely be equipped with a red-dot or optical sight, the gun is fitted with front and rear flip-up back-up iron sights (BUIS). The front sight is a protected post-type integral with the gas block and bayonet lug. It is designed to work with the removable rear sight, which has a flip-up aperture adjustable for windage and elevation. Elevation adjustments are made by way of a drum calibrated for M855 ammunition at ranges of 200 to 600 meters. The rear sight is low enough not to interfere with most eye-relief-dependent optics.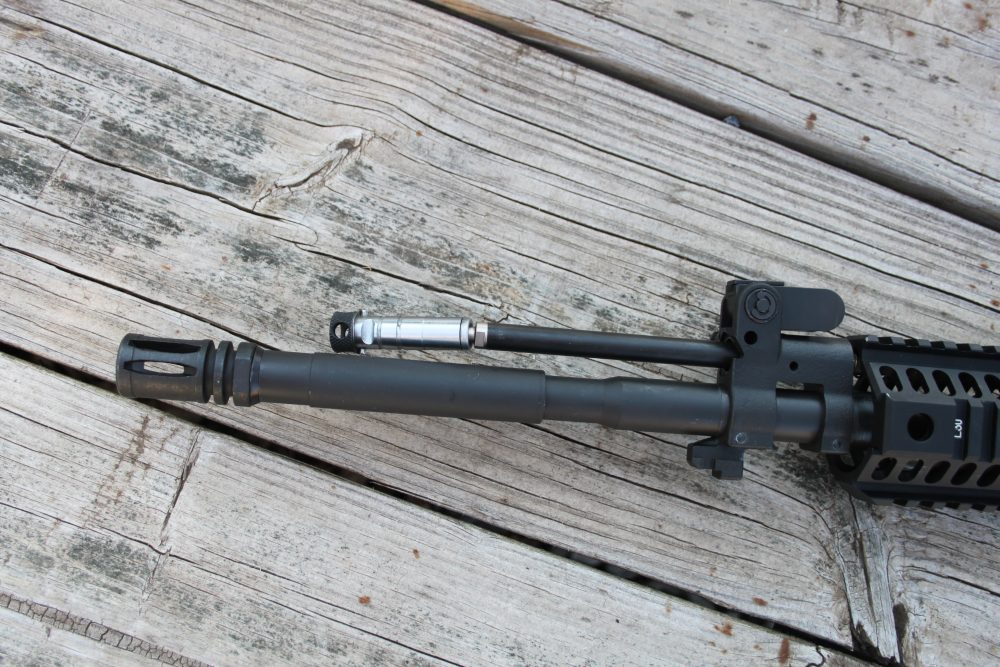 LE6940P uses Colt's Articulating Link Piston (ALP). Instead of striking the bolt carrier directly without any play, ALP allows operating rod to move slightly, correcting for downward pressure on bolt and helping to eliminate carrier tilt.
---
The 6940P uses Colt's Articulating Link Piston (ALP). This uses a hardened gas regulator sleeve that fits over the piston, which then acts on the bolt carrier group. The Colt ALP gas-piston system can be disassembled for maintenance without requiring the rifle's handguards to be removed, unlike some other short-stroke ARs on the market.
What differentiates the 6940P from other gas-piston ARs is the articulating component of the piston. Instead of striking the bolt carrier directly without any play, the ALP allows the operating rod to move slightly, correcting for the downward pressure on the bolt and helping to eliminate carrier tilt.
Cleaning methods for the Colt 6940P are familiar to anyone with experience with the AR-15. The 6940P's bolt carrier features an integral solid gas key and rear skids for enhanced durability under heavy firing.
Following this theme of increased durability is the Colt cam pin protector, which reduces the chance of damage to the upper receiver cam pin slot. Weapon reliability is further enhanced by Colt's pivot forward extractor design, which increases the hold/grip on the cartridge case during hard extraction and full-auto fire.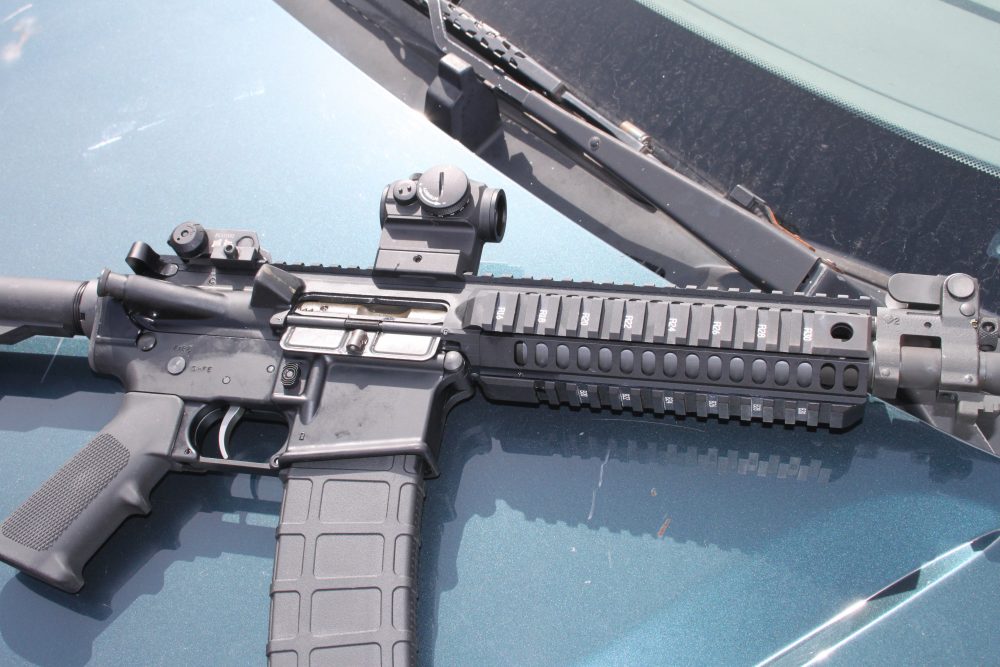 LE6940's monolithic upper affords consistent alignment, while handguard section provides sufficient ventilation to mitigate heat buildup around the barrel.
---
FIELD EVALUATION
My initial impression of the Colt 6940P was favorable right from the box. Other manufacturers tout adhering to milspec; with Colt, you know you are receiving it. There is a reason why the M4 profile AR is preferred by our troops who get a voice in the matter. What's not to like with a lightweight, compact, reliable, well-handling rifle?
For this evaluation, an Aimpoint Micro T-1 was mounted. The T-1 weighs four ounces including quick-detach mount, yet is one of the most durable and longest-lasting battery-operated red dot sights on the market. The Aimpoint T-1's adjustable intensity dot is available as either a 2 or 4 MOA dot. My sample used the 4 MOA dot.
Aimpoint uses a special coating that only reflects the red dot's specific frequency of light. This allows almost 100% of all other radiation straight through, providing superior clarity for both daylight use and if night vision devices are employed. The Aimpoint T-1 has 12 intensity settings—four night and eight daylight.
I also used a Schmidt & Bender 5-25X56mm PM II with H2CMR reticle mounted on the 6940P via AWP rings to assist in determining the Colt's intrinsic accuracy.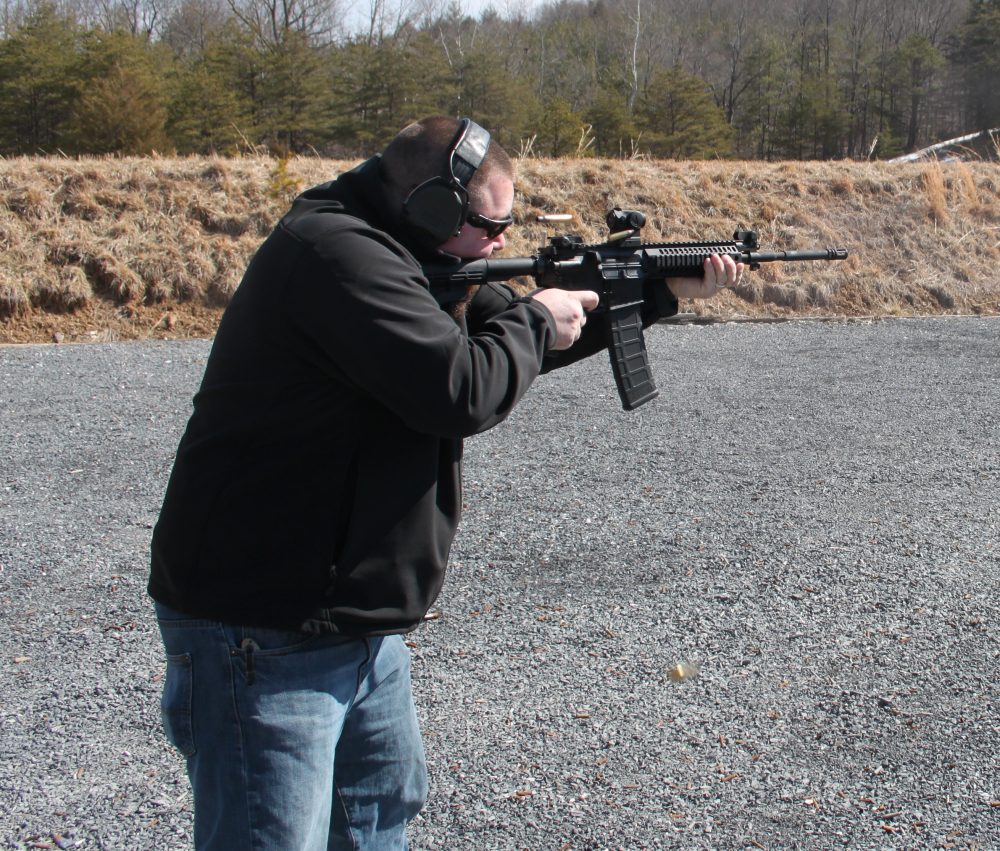 Brass flies from 6940P during initial testing with Tac-Con 3MR Trigger.
---
U.S. PALM AGILE COMBAT SYSTEM CHEST RIG
A U.S. PALM (U.S. Primary Armament Logistical Manufacturing) Agile Combat System (ACS) chest rig/plate carrier with High Speed Gear Inc. Taco Pouches affixed was used in evaluating the Colt 6940P.
U.S. PALM helps equip our military, law enforcement, private security contractors, and private citizens. The ACS plate carrier evolved out of U.S. PALM's Desert Tracker and Ronin plate carriers, and ingeniously allows for the combining of several different U.S. PALM products to create the ACS that best suits individual needs.
The ACS evaluated for this article joined the U.S. PALM Hardened Back Pack (HBP) with Desert Tracker Plate Carrier (DTPC) via the U.S. PALM Enhanced Harness System (EHS) "horse collar" shoulder straps. The HBP is a small assault pack with a dedicated internal pocket designed to hold ballistic armor while maintaining utility as a pack. It also accommodates a hydration bladder. Both the HBP and front carrier can be fitted with either hard or soft armor, depending on user preference and mission profile.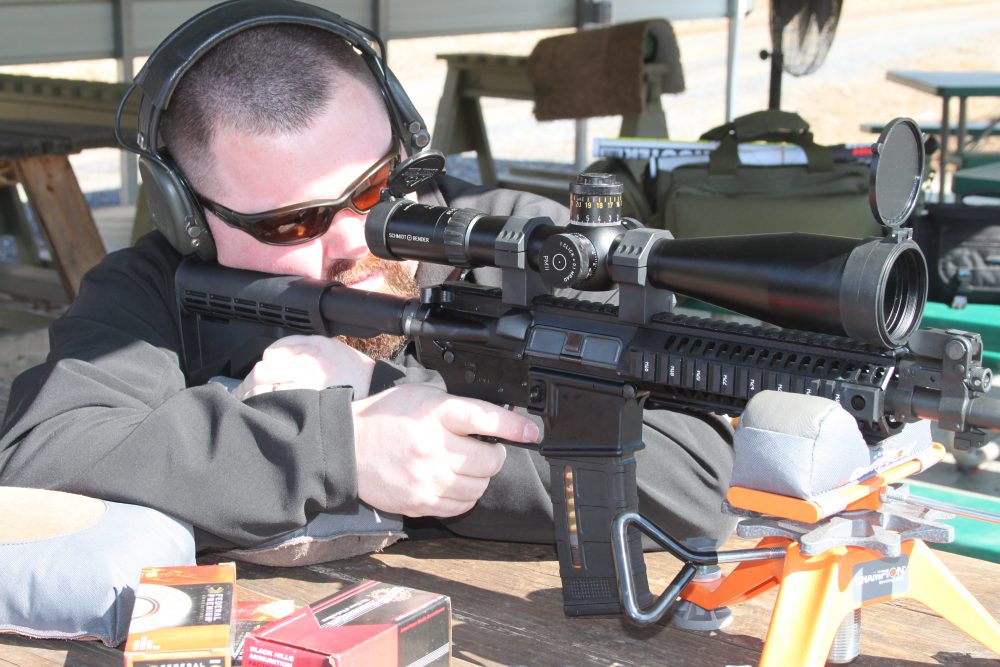 Schmidt & Bender 5-25X56mm PM II with H2CMR reticle was mounted on 6940P via AWP rings to assist in determining Colt's intrinsic accuracy.
---
The front plate carrier panel can be configured any way a user wants, thanks to its own MOLLE panels with magazine pouches or other gear selection.
This is how the HSGI Taco Pouches were incorporated. The magazine Taco Pouch permits multiple types of magazines to be utilized without having to switch out—a very convenient feature.
Ammunition tested was a combination of Black Hills, Hornady, Federal, and Winchester. The 6940P kept all loads tested at 1.5 inches at 100 yards, including the Federal XM193 55-grain FMJ and Winchester 55-grain FMJ. Premium loads from Black Hills (50-grain TSX and 77-grain Match) and Federal (69-grain Match) produced near-MOA groups out to 200 yards with the Schmidt & Bender scope.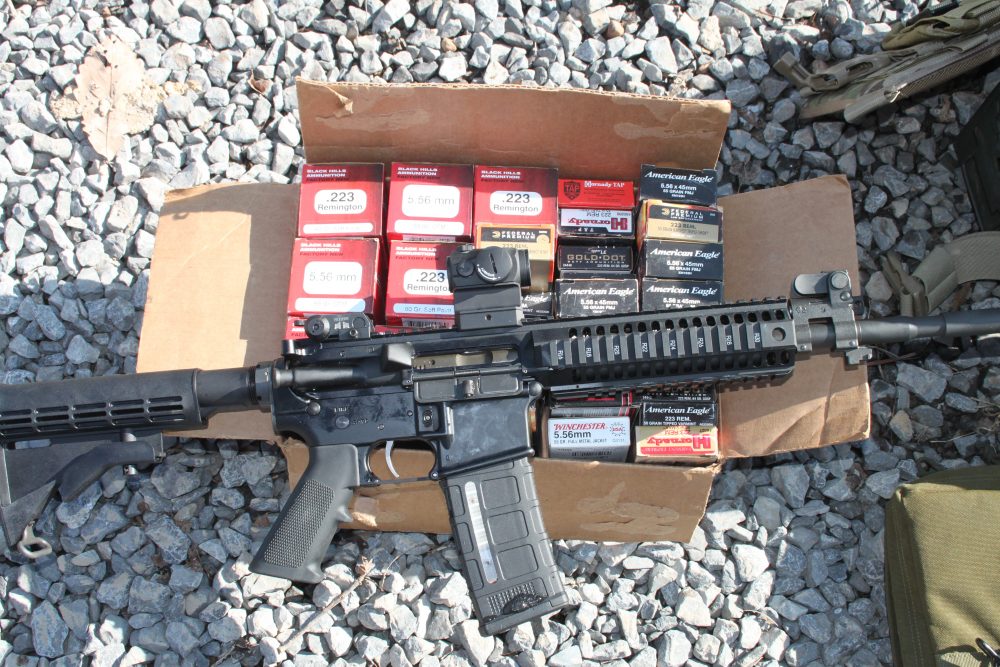 Ammunition tested with Colt 6940P was a combination of Black Hills, Hornady TAP, Federal/American Eagle, and Winchester 55-grain FMJ.
---
TAC-CON 3MR TRIGGER SYSTEM
While the standard trigger was serviceable with the Colt 6940P, with a pull weight over six pounds, I decided to install a Tactical Fire Control Tac-Con 3MR Trigger. This drop-in trigger is simple to install by anyone with rudimentary AR maintenance skills, taking only a few minutes and instantly enhancing shooter-to-rifle interface.
Much of the buzz surrounding the Tac-Con 3MR Trigger System is its three modes/positions of operation. The modes are Safe (selector horizontal at 9 o'clock), Match-Grade Semi-Automatic (selector vertical at 12 o'clock), and the Tac-Con patent-pending 3rd Mode (selector horizontal at 3 o'clock).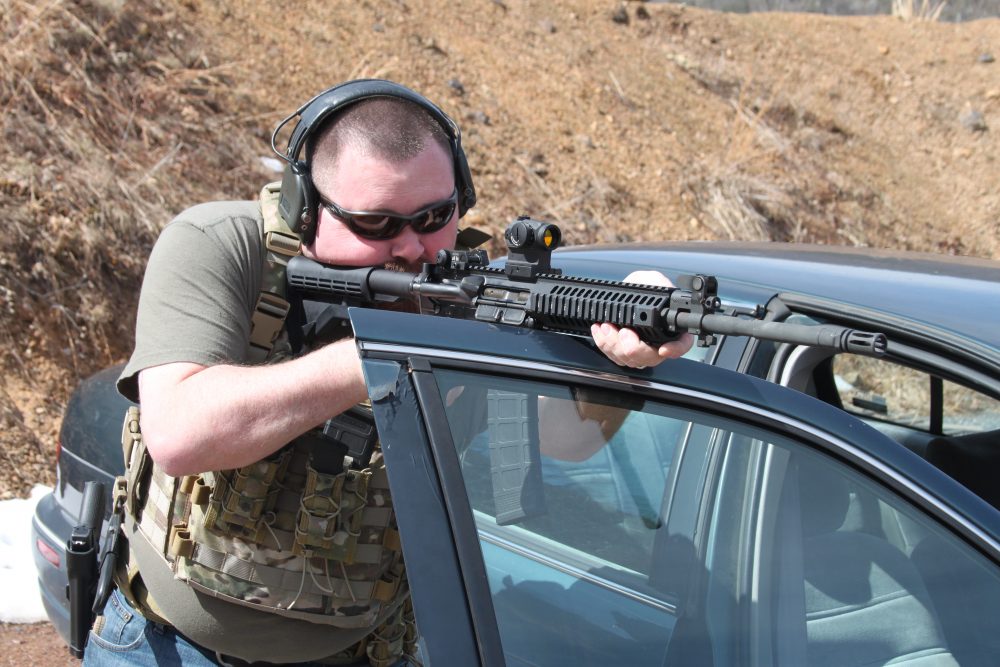 Firing from unorthodox positions while working around range vehicles showed why lightweight Colt 6940P and Aimpoint T-1 are such a good combination.
---
The 3rd mode provides an alternate type of positive reset that reduces split times between shots. This is achieved by transferring the force from the bolt carrier through the trigger assembly to assist the trigger back onto the front sear, enabling split times that rival automatic rates of fire once familiarized with operation. Both Semi and 3rd Mode positions feature a non-adjustable 4.5-pound trigger pull weight with zero overtravel.
Tac-Con designed the 3MR not as a finicky fragile match trigger, which can be less than hardy under robust conditions, but rather as a single-stage 4.5-pound trigger with a short reset suitable for all conditions of use. The Tac-Con 3MR meets or exceeds military specifications for drop safety—something that "match" triggers usually cannot represent as doing. All in all, the 3MR lets multiple rounds be sent downrange quickly, accurately and for precise longer-range shot placement better than your standard trigger unit, yet it retains the reliability lacking from some other trigger units on the market.
While much is made of being able to flip the Tac-Con's selector to what is normally associated with full-automatic fire, the 3MR is not an NFA item, with Tac-Con providing a letter from the BATFE to further dispel any notion of this.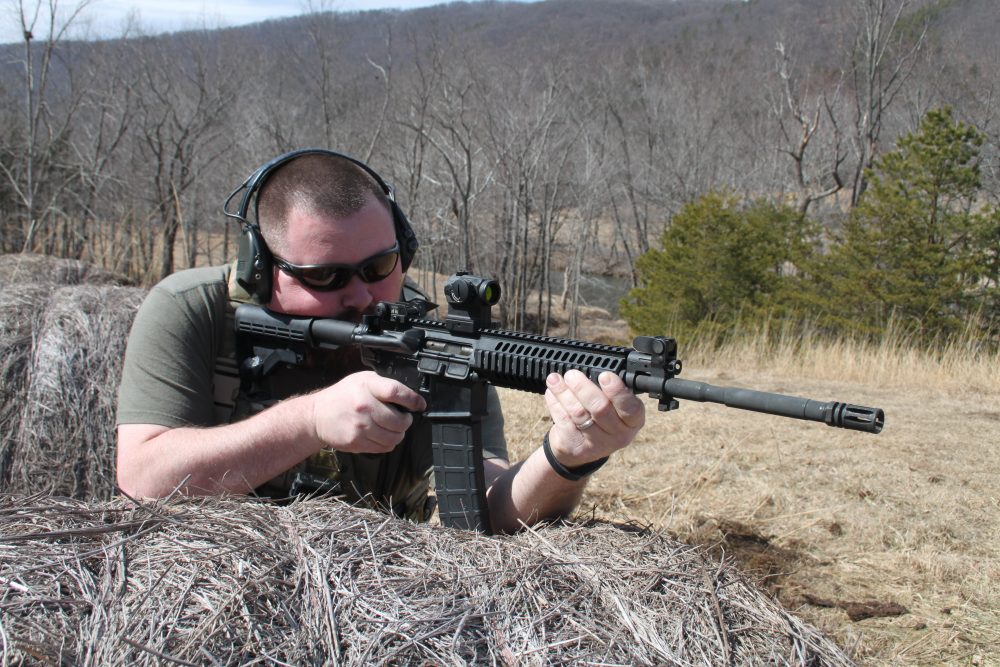 Colt 6940P was taken to Echo Valley Training Center's Jungle Walk range, where targets are placed randomly, which forces shooters to assume unusual firing positions while engaging.
---
JUNGLE WALK
With the magnified optic removed, it was decided to expand normal T&E protocol. After sighting in the Aimpoint T-1, the Colt 6940P was taken to Echo Valley Training Center's (EVTC) 360 and Jungle Walk ranges.
Training scenarios involving team tactics and patrolling to contact let the Colt 6940P shine in terms of potent firepower and accuracy, especially when augmented with the Tac-Con 3MR trigger. Firing from unorthodox positions while working around range vehicles showed why the lightweight Colt 6940P and Aimpoint T-1 are such a good combination. The Colt is easy to manipulate, and the T-1's red dot is not dependent on a specific eye relief distance to be effective in accurately placing rounds on target.
Colt's decision to offer the 6940P gas-piston AR with monolithic rail system is sound. While the 6940P is not going to be issued to the bulk of our military services, law enforcement agencies should consider using the rifle, as well as private contractors and security-conscious citizens.
With budgets constantly under pressure, the Colt 6940P could be the answer to fulfilling a multitude of roles—designated marksman rifle, general-purpose patrol rifle, or entry weapon. The Colt 6940P could perform any of these tasks with equal aplomb. This is a positive reflection on the rifle's accuracy, reliability, handling, and ergonomics.
SOURCES:
Colt Defense LLC
(800) 241-2485
www.colt.com
Aimpoint Inc.
(703) 263-9795
www.aimpoint.com
ATK/Federal Cartridge Company
(800) 322-2342
www.federalpremium.com
Black Hills Ammunition
(605) 348-5150
www.black-hills.com
Echo Valley Training Center
(540) 450-7998
www.echovalleytrainingcenter.com
High Speed Gear Inc.
(877) 301-2116
www.highspeedgearinc.com
Hornady Mfg. Inc.
(800) 338-3220
www.hornady.com
Schmidt & Bender USA Inc.
(703) 953-1253
www.schmidtundbender.de
Tactical Fire Control Inc.
www.tacconusa.com
U.S. Primary Armament Logistical Manufacturing
(480) 398-3395
www.uspalm.com