Inspired by the designs of Col. Rex Applegate, W.E. Fairbairn and Brent Beshara's original UK-SFK™ dagger, the MOD® SFK Folder is a new folding combat knife from Blackhawk.
Made in Italy, the SFK Folder features a 3.94-inch long, 0.150-inch thick N690Co stainless-steel spear-point blade, hardened to RC 58-60. It has a 3.5-inch edge. The knife measures 9.06 inches overall and weighs 0.37 pounds.
N690Co is a European-made alloy that is an upgrade to 440-C stainless steel. Also known as N690, it is a Cobalt-enriched stainless steel that is similar in composition to 440-C in carbon, chromium and molybdenum content, but with cobalt and a small amount of vanadium added. These additions enhance the properties of the alloy.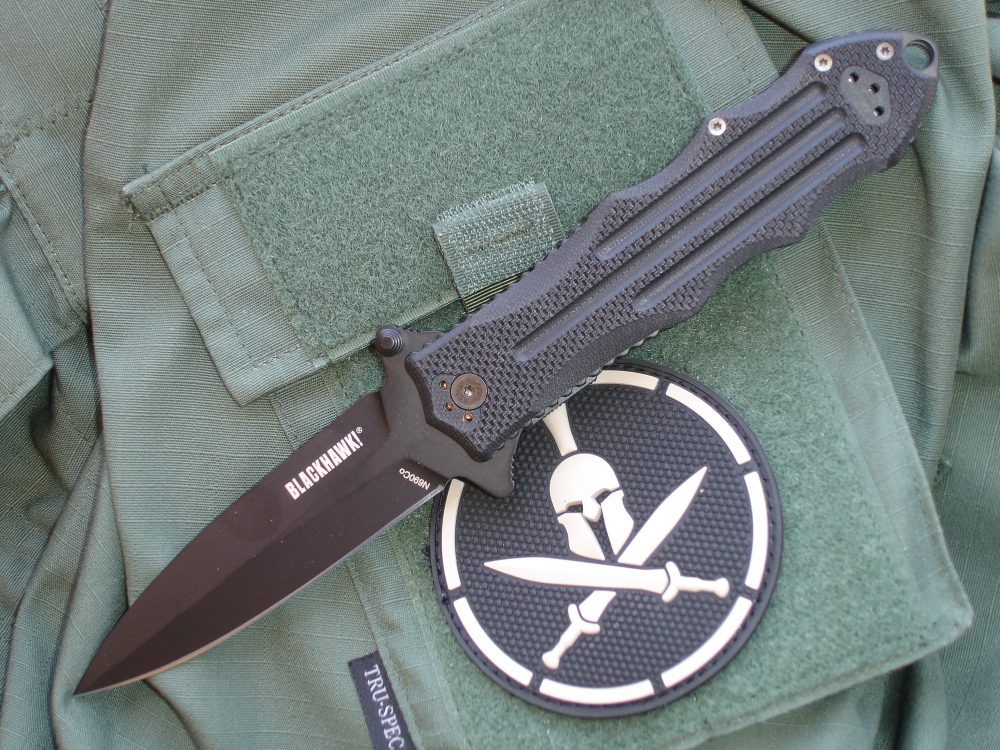 Made in Italy, Blackhawk MOD SFK Folder is the newest tactical folder from Blackhawk. Spartan Helmet PVC Morale Patch is from Mil-Spec Monkey.
---
N690 is an exceptional steel that shares some similarities with other cobalt-steel alloys such as ATS-55 and VG-10. The added cobalt improves the wear resistance and edge retention of the steel, as well as ensuring a uniform grain structure, which allows the blade to take a finer edge. The edge-holding ability of an N690 steel blade is roughly equivalent to that of a VG-10 blade of similar hardness.
The SFK Folder features a single-edge spear-point blade with a black IDROGLIDER® coated finish. This is a special non-stick coating made of polytetrafluoroethylene (PTFE). PTFE is the original Teflon®. It reportedly has the lowest coefficient of friction and is the hardest of the fluoropolymer coatings.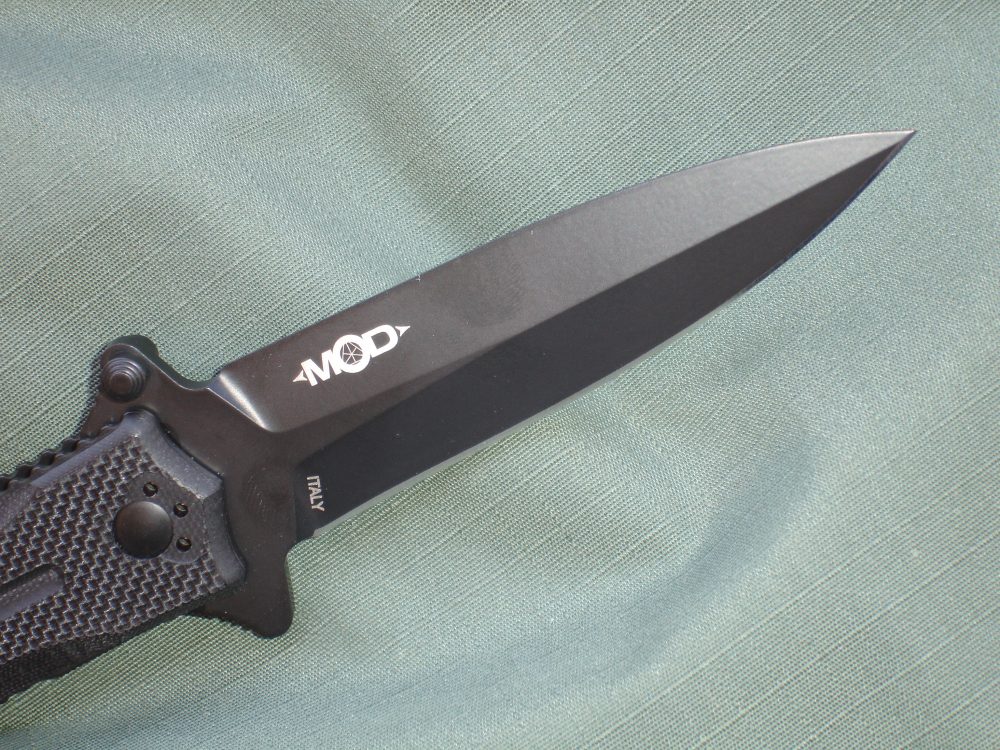 SFK Folder has a 3.94-inch (100 mm) N690Co single-edge spear-point blade with black PTFE coating. Blade is available in plain edge only.
---
The spear-point blade provides a good balance between piercing and slicing ability. It combines the sharp point of a dagger with the strength of a drop-point blade while retaining some of the belly for slicing. The SFK Folder is available within a plain-edged blade only.
The blade on the SFK Folder is equipped with ambidextrous dual thumb-studs for one-handed blade opening and an integral cross-guard that facilitates rapid manual blade deployment using a finger flick, as well as functioning as a double-sided hilt for added safety.
The SFK Folder is a liner-lock design. The liners are AISI 420J2 stainless steel with a black PTFE coated finish. The liner lock on the SFK Folder provided for evaluation was very well fitted, with full engagement between the tang and lock. Lock-up was very secure, with no blade play or wobble. Opening and closing were very smooth.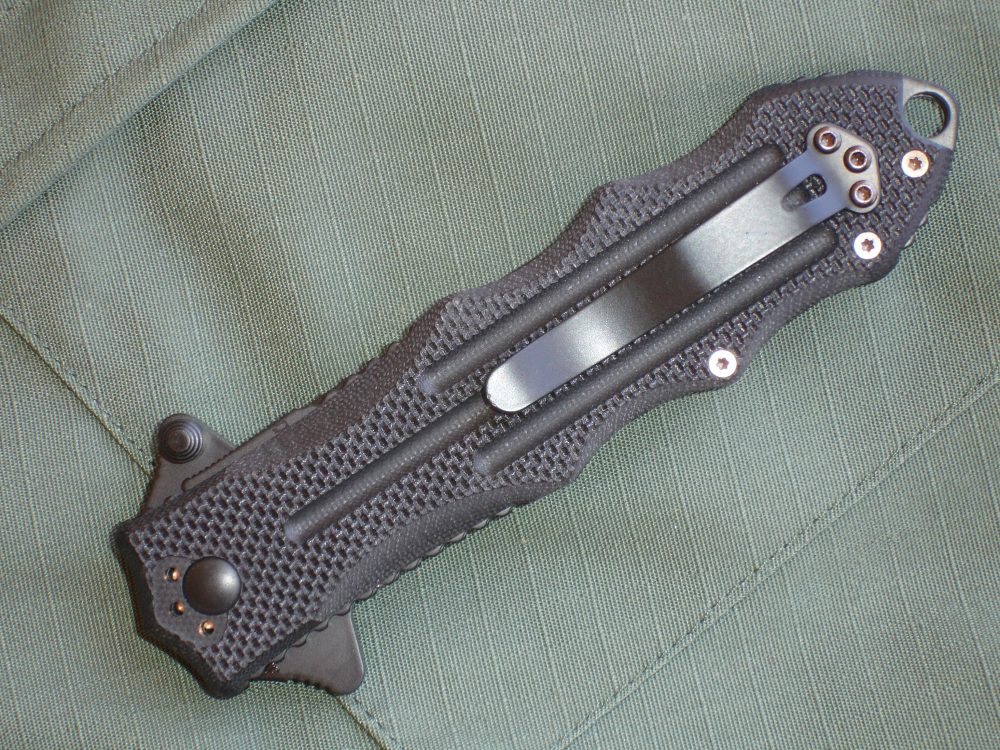 SFK Folder is equipped with black PTFE-coated stainless-steel pocket clip, which is fully ambidextrous and provides both tip-up and tip-down carry options.
---
The SFK Folder has rough-textured black G-10 scales. G-10 is a rugged fiberglass and epoxy laminate that is impervious to moisture and most chemicals, and is one of the best materials for scales on a hard-use knife.
The handle on the SFK Folder is outstanding. Maximum grip is assured with a series of finger grooves, along with aggressive jimping (notching) on the liners. The pommel is equipped with a lanyard hole. The knife feels good in the hand and is well balanced.
The SFK Folder is equipped with a black PTFE-coated stainless-steel pocket clip that is fully ambidextrous and provides both tip-up and tip-down carry options.

Special Edition presentation-grade serialized version of SFK Folder. Photo: Blackhawk
---
A Special Edition serialized version of the SFK Folder is also available. This limited-edition presentation-grade knife features an ATS-34 stainless steel and high-nickel Damascus steel blade. It has an exotic Ziricote hardwood handle and titanium liners. It comes in a lined hardwood case.
The Blackhawk MOD SFK Folder combines Italian style, top-quality materials and beautiful workmanship to create an exceptional tactical folder. It's a worthy addition to the Blackhawk lineup.
All Blackhawk knives are warranted to the original owner to be free of defects in parts and workmanship for the life of that owner.
The SFK Folder has a suggested retail price of $199.99, while the Special Edition Folder lists for $519.99.
SOURCES:
Blackhawk
(800) 379-1732
www.blackhawk.com
Mil-Spec Monkey Store
(408) 998-9188
www.milspecmonkey.com