On June 24, 2014, Louis Awerbuck went to join Musashi and Bruce Lee.
Born in South Africa, in his early years he was a boxer, evaluated racing motorcycles for magazines, and participated in some of the first practical pistol competitions. He held a degree in publishing and worked for the local newspaper. He also served with distinction in 1 Special Services Battalion, South African Defence Force during the time of the Bush Wars.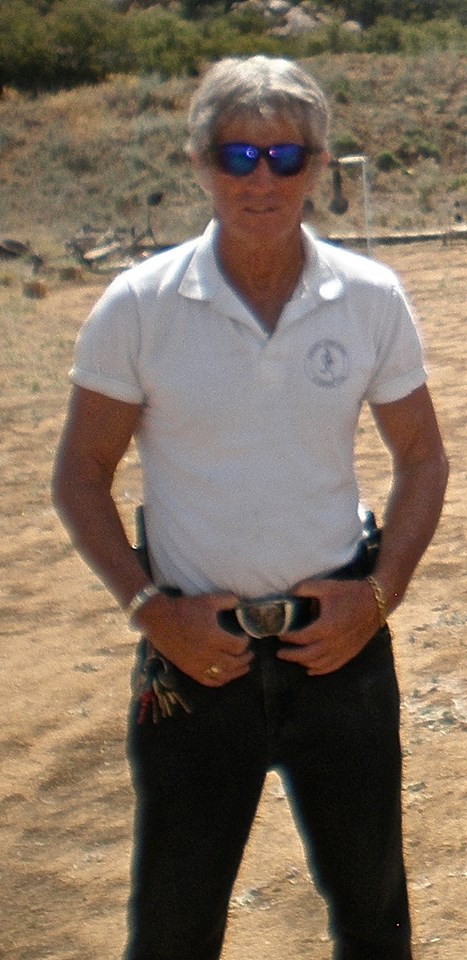 Louis was Chief Rangemaster under Colonel Jeff Cooper at the original Gunsite Ranch and an adjunct instructor for the U.S. Marine Corps and Department of Energy. He started his own training company, Yavapai Firearms Academy, in 1987.
Louis was serious about realistic training decades before the term became fashionable. His Mirage target system incorporated moving, bobbing targets with good guys interspersed between bad guys. Not only challenging, the targets gave students a look at what they might expect in a gunfight rather than, as Louis was fond of saying, "Standing belt-buckle-to-belt-buckle shooting a flat piece of paper."
Louis was renowned for his straightforward, no-nonsense teaching style and his unparalleled ability to diagnose and correct students' shooting errors.
Louis' analytical mind made him one of the most insightful thinkers in the industry. He was simultaneously a gentle soul and the most dangerous man I have ever known. Louis was a modern-day samurai.
For many readers, the first thing they read in every issue of S.W.A.T. is Louis' Training and Tactics column on page 98. His last two columns will appear here and in the October issue. Starting with the November issue, we will republish his words of wisdom.
On a personal note, Louis was more than a valued associate. For almost three decades, he has been my best friend and my true brother. And while I and many others mourn his passing, it is fitting to end here with a quote from Tecumseh that sums up Louis' philosophy:
"When your time comes to die, be not like those whose hearts are filled with fear of death, so that when their time comes they weep and pray for a little more time to live their lives over again in a different way. Sing your death song, and die like a hero going home."
(sig)