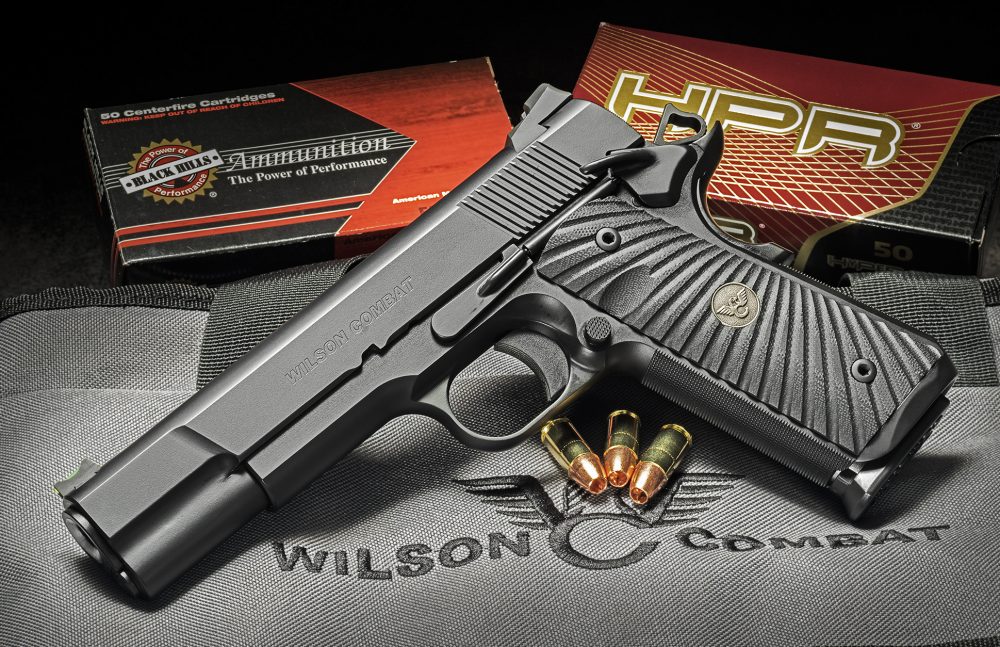 Wilson Combat Tactical Carry was reliable out of the case and never missed a beat.
---
My experience with John Moses Browning's 1911 spans four decades, and it remains my primary carry pistol(s). I have tried many other designs over the years, but putting a 1911 in my hand is analogous to sleeping in my own bed after a long road trip—it just feels right.
One reason many people like the 1911 so much is the trigger. On a double-action design, the trigger is like pulling a lever. With the 1911, it's more like pushing a button. The 1911 has been chambered in 9mm Luger (9×19mm Parabellum, 9mm NATO), .38 Super, 10mm Auto and others including, of course, the venerable .45 ACP.
I'm not going to get into a caliber debate, as that dead horse doesn't need to be flogged any more. Suffice to say that an increasing number of folks, including some world-class instructors, have come out in favor of the 9mm. The days of quaint sayings like, "They all fall to hardball," "I carry a .45 because they don't make a .46," and "9mms might expand, but .45s never shrink" are all but gone.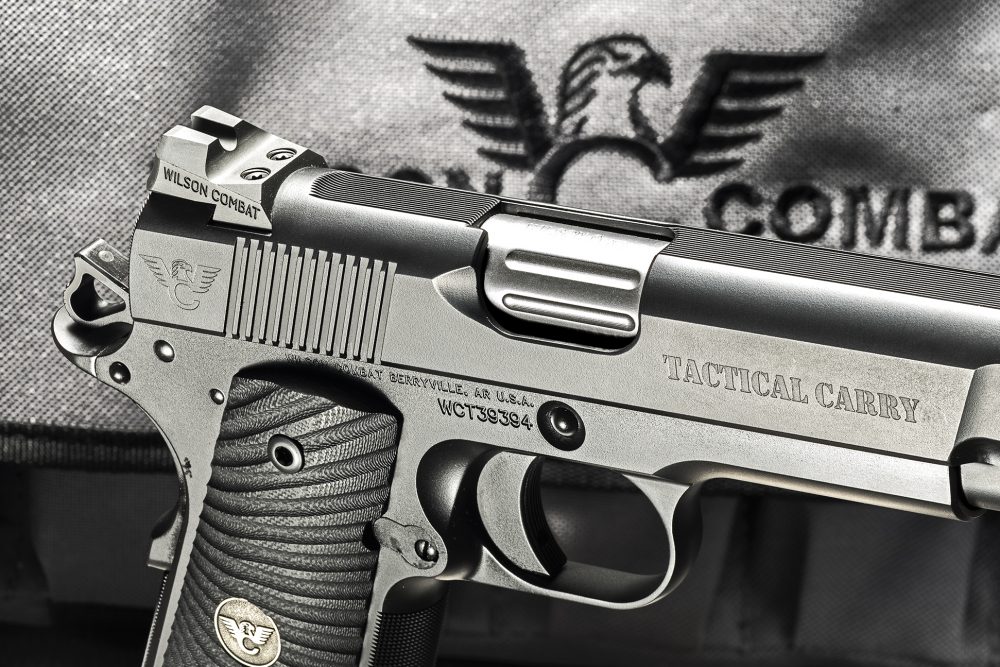 Chamber is fluted to reduce overall weight.
---
With advancements in bullet/cartridge design, the 9mm is now considered by many to be the equal of larger calibers. The 9mm has low recoil, which translates to faster follow-up shots on target. With many of the new bullet designs, the 9mm will not only expand, but also penetrate deeply. Finally, the cost of 9mm is often lower than some cartridges, allowing for more money for practice or training.
Bill Wilson of Wilson Combat contacted me recently and said that after a lot of R&D and thousands of rounds downrange, Wilson Combat was ready to introduce their new Elite Tactical ten-round 9mm magazine for 1911s. Bill asked if I would like a couple to evaluate for S.W.A.T.
I told Bill that, while I would like to, I didn't have a 1911 chambered for 9mm. A few days later, the nice man in the Big Brown Truck delivered a Wilson Tactical Carry, along with four of the new magazines.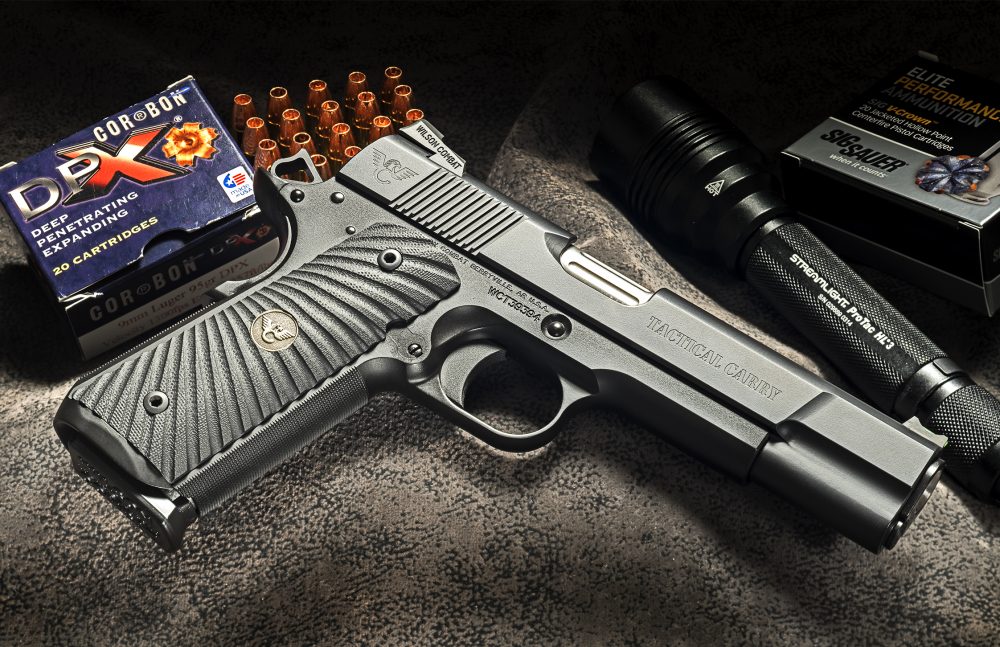 Carry package includes complete bevel/dehorn. There were no sharp edges to abrade flesh or clothing.
---
The pistol arrived in a very usable nylon briefcase-type bag that doubles as a range bag. It has a zippered main compartment and two smaller zippered pockets on the front. On the bag are individual pockets for seven magazines with a Velcro® flap closure.
While the pistol was still pristine, I sent it to Robbie Barrkman of The ROBAR Companies for photos. In the interim I began assembling a wide range of 9mm ammo from different manufacturers to evaluate the pistol and magazines.
WILSON COMBAT TACTICAL CARRY
Wilson Combat has been one of the premier manufacturers and custom shops for years. Considered by some to be the Holy Grail of 1911s, Wilson pistols have graced the holsters of many top competitors and serious shooters. Even if a different manufacturer's name is on the pistol, odds are good that the internals are Wilson's Bullet Proof® parts.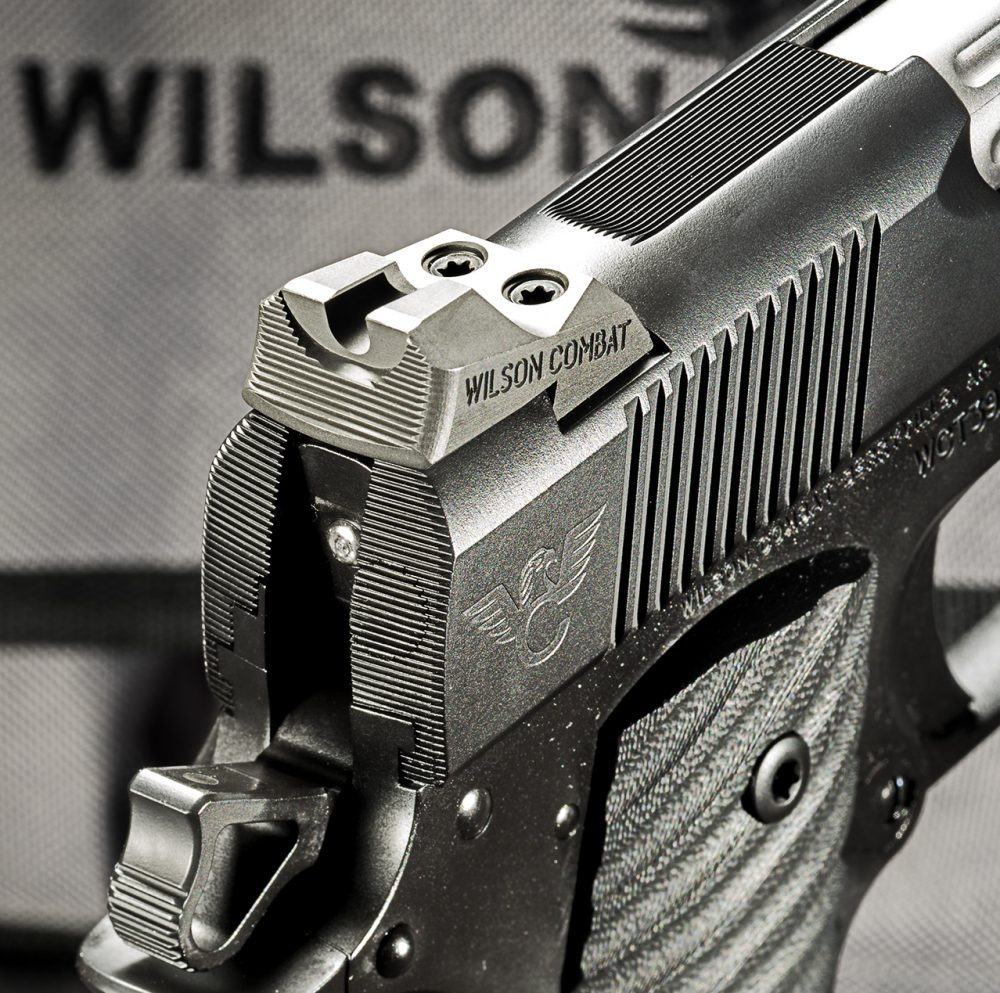 Rear sight has a "U" shaped notch. Rear of slide and sight feature 40 LPI serrations to reduce glare.
---
The Tactical Carry is loaded with features not found on production 1911s and include:
Full-size carbon steel frame
30 lines-per-inch (LPI) high-cut checkered frontstrap
Bullet Proof round butt magazine well
Concealment Bullet Proof beavertail grip safety and hammer
Tactical Bullet Proof thumb safety
3½ to 3¾ pound crisp trigger pull with medium-length pad
Bullet Proof magazine release
G10 Starburst stocks
Torx head stock screws
Countersunk slide stop
Five-inch carbon steel slide
Heavy machine chamfer on bottom of slide
Battlesight with fiber-optic front sight
Five-inch stainless match-grade barrel and bushing, flush-cut reverse crown
Fluted chamber
30 LPI slide top serrations
40 LPI serrated rear of slide
Carry cuts/ball endmill cuts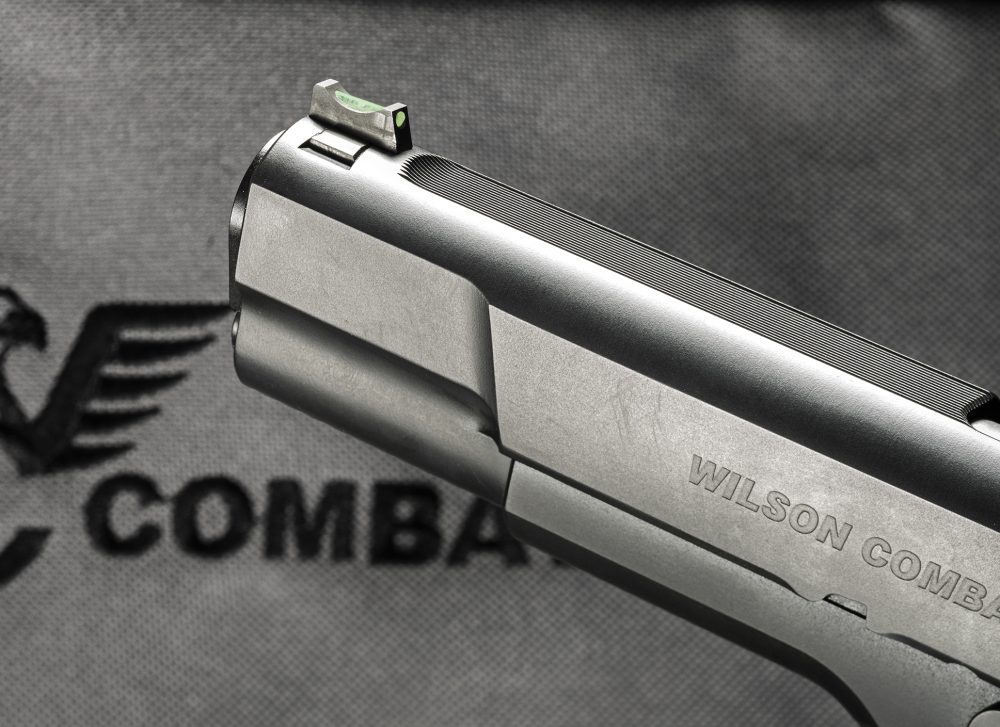 Fiber-optic front sight is easy to pick up under almost all light conditions. Top of slide features 30 LPI serrations.
---
Between the G10 Starburst stocks and the 30 LPI checkering on the front and back straps, once a firing grip is obtained, it stays in place. I personally prefer straight slot screws to the Torx head screws that attach the stocks, as a tool to remove or tighten them is always available, but this is a minor gripe.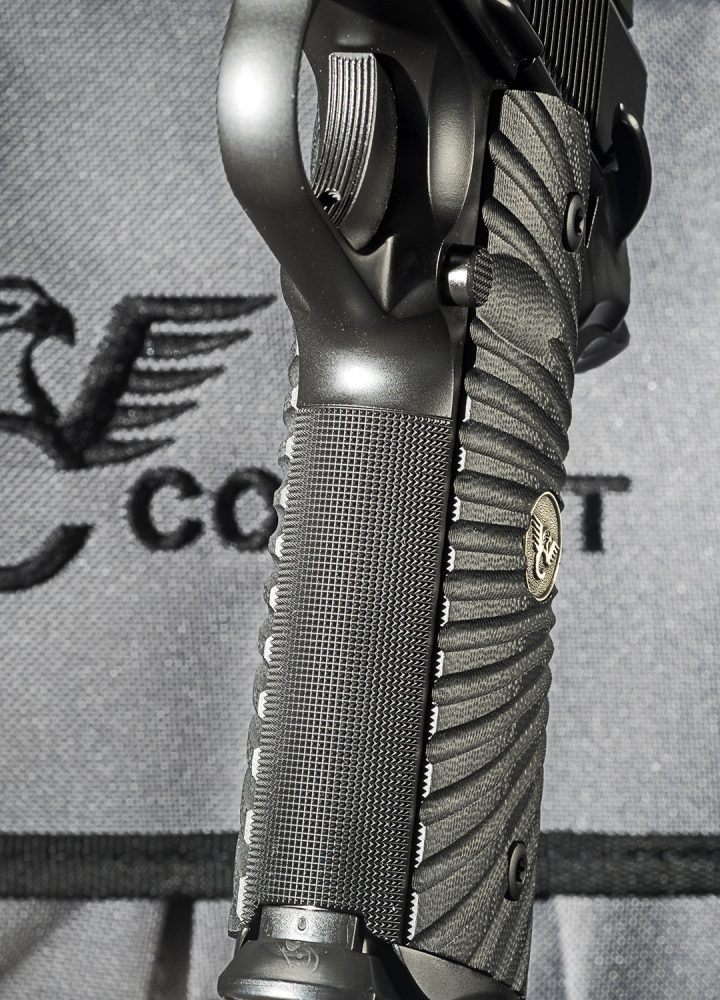 A small groove on the left-hand stock panel matches up with the Bullet Proof® magazine release, which is slightly extended, but not so much that it can be inadvertently released. Between the groove on the stock panel and the magazine release, the magazine can be released without flipping the pistol in the hand to release it, as is common with many pistols.
On most 1911 pistols, the ledge on the slide lock/slide release slopes downward, and even though serrated, it can sometimes be difficult to release or the shooter's thumb will slip off it. The Bullet Proof slide release is a straight ledge, which translates to more leverage even when wearing gloves. The Battlesight rear sight deserves special mention. The notch is "U" shaped and, for me at least, easy to obtain a fast sight picture with. About midway down the body of the rear sight is a step that allows one-handed manipulation of the slide by hooking it on the holster, a belt, boot heel, etc. The rear sight has 40 LPI serrations that match the serrations on the rear of the slide. My aging eyes really appreciated the fiber optic front sight, as it was easy to pick up in almost all light conditions.
The muzzle of the five-inch stainless match-grade barrel features a flush-cut reverse crown. The barrel bushing was tight against the barrel but did not require a bushing wrench to remove, as it should be on a carry pistol.
The pistol was tightly fit and exhibited no wobble or play in the slide. The seamless fitting of the parts speaks of the handwork that went into building it. The Tactical Carry is completely devoid of sharp edges to abrade clothing or flesh.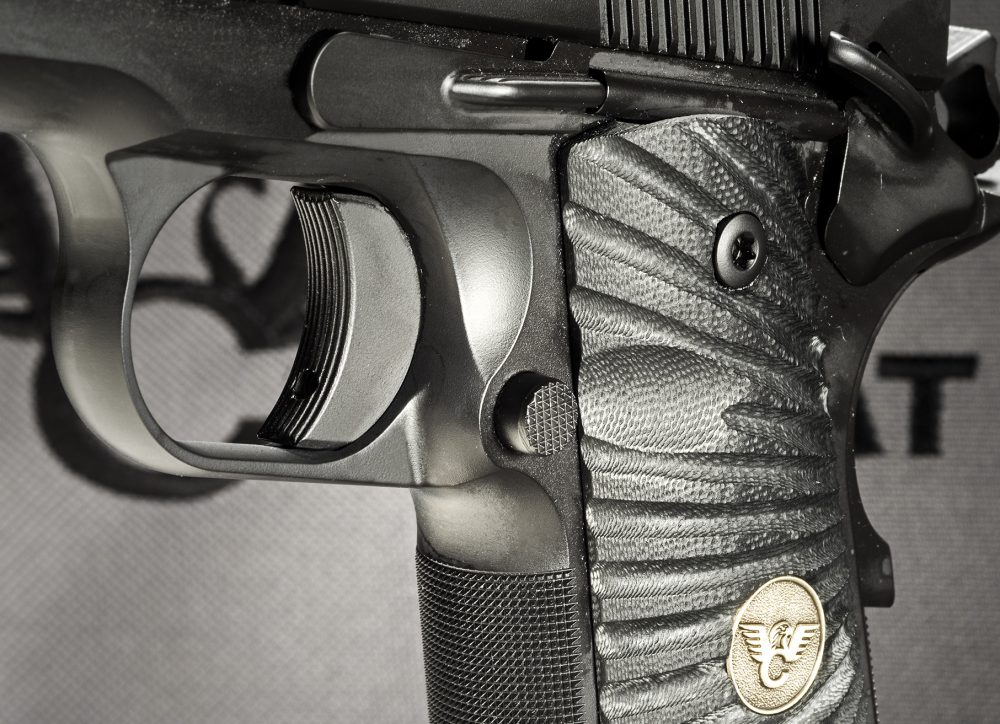 Bullet Proof magazine release extends slightly more than standard release, but not so much that shooter will accidentally depress it. G-10 grip panel is relieved. Between that and the higher magazine release, magazine can be released without changing the firing grip.
---
BREAK-IN PERIOD
I have one 1911 from a respected, well-known gunsmith who warned me not to carry the pistol until it had fired several hundred rounds to "break it in," and indeed it was so tight it would not function until I had fired about 250 rounds through it.
I'll never forget a conversation I had years ago with Louis Awerbuck when I mentioned that a pistol I was evaluating had worked perfectly out of the box and went about 500 rounds with no break-in.
Unimpressed, Louis said, "They're supposed to, Hansen." He continued, "If you bought a new truck and it would only start nine out of ten times, would you accept the dealer's statement that 'It needs to break in,' or would you demand they fix it?"
While I agree with Louis' wisdom, I still recommend firing at least 200 rounds through a new carry pistol to ensure it will work with your defensive load of choice.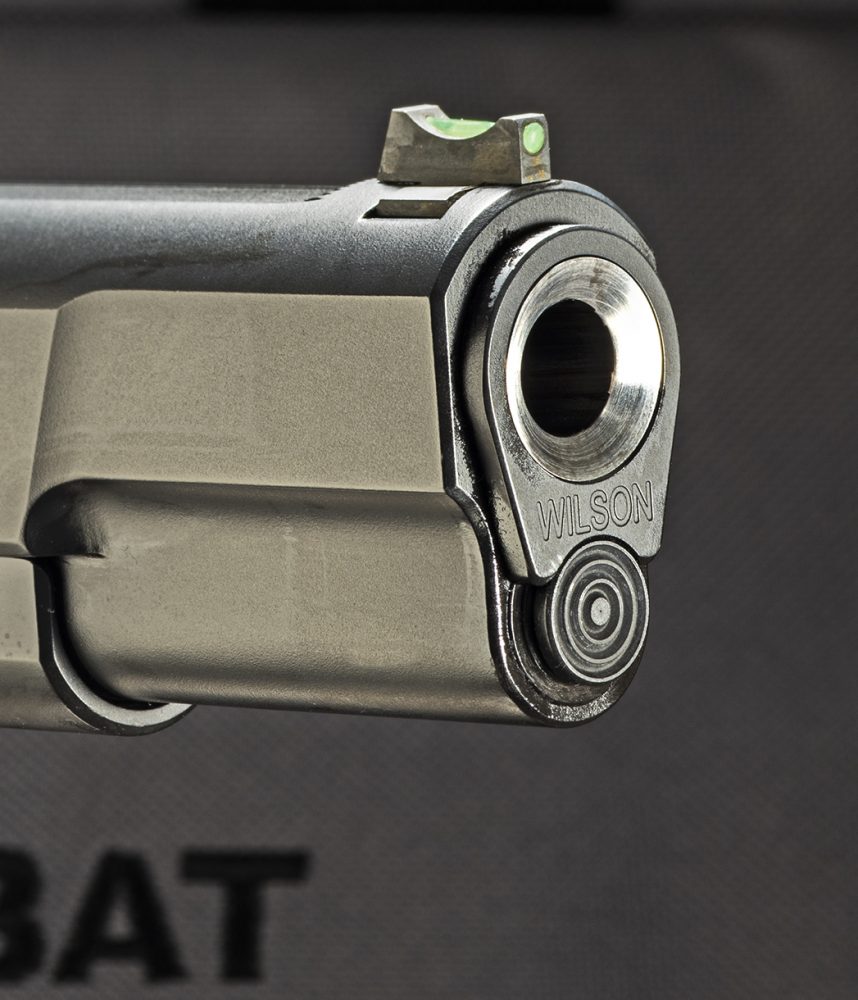 HOME ON THE RANGE
The pistol arrived properly lubricated, and I did not add any additional lube throughout the evaluation. I brought 23 9mm loads from 11 manufacturers plus a handload to my range. Getting a pistol to run with round-nose ammo is normally a piece of cake, so all but seven loads were various hollow points.
First I established the average velocity of ten-round strings of each load using a PACT, Inc Professional XP chronograph. To avoid false readings from muzzle blast, the first screen was set eight feet from the muzzle. While chronographing, I was impressed by the crisp, clean trigger pull that, according to my gauge, broke consistently at 3.4 pounds.
The Tactical Carry easily digested every load with no problems—a tribute to the pistol as well as the new ten-round magazines. The fully loaded magazines locked in place easily without having to "spank" the baseplate with the slide forward, which can't be said for all magazines and is the cause of some malfunctions.
All loads shot into one to two inches from the bench at 25 yards and a few under an inch (five-shot strings). The top performer was the Double Tap 115-grain Bonded Defense JHP at .89 inch, with the Black Hills 124-grain JHP and HPR 124-grain JHP coming in a close second and third at .93 and .98 respectively.
The wisdom of taking a head shot at 25 yards with a pistol is, to say the least, questionable. Still, it's good to know that in an extreme situation, the Tactical Carry is up to the task.
I had one malfunction and that was with the Liberty 50-grain load. I noticed that the magazines were difficult to fully load with the Liberty ammo, as the noses of the bullets were making contact with the magazine. The first round chambered with no problem, but upon firing, the second round hung up in the magazine.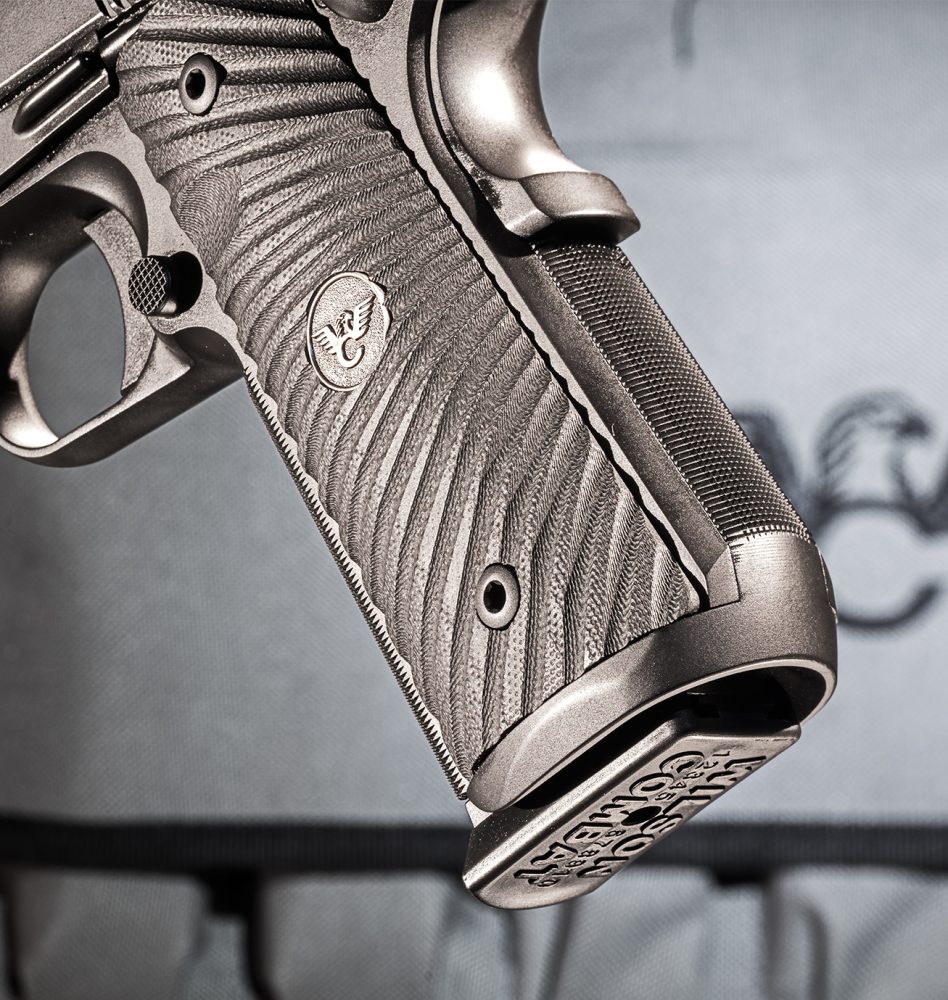 Bullet Proof round-butt magazine well is perfectly fitted and reduces "printing" when carried concealed.
---
EL PRESIDENTE
As mentioned earlier, one of the biggest reasons to go to a 9mm is the ability to put more rounds on target faster. To gauge this, I fired a series of El Presidente drills, developed by Jeff Cooper.
For those not familiar with it, the El Presidente consists of three targets, ten yards away and one yard apart. The shooter starts with his back to the target and hands clasped at his chest or about shoulder high in the surrender position. At the start signal, the shooter turns, fires two shots on each target, reloads and fires two more shots on each target.
Although not truly a practical/tactical drill, it's useful because it involves turning, presenting the pistol, making solid hits on multiple targets, and reloading. Plus it requires good transitions and follow-through. All these skills are transferable to the real world. Par time is 10 seconds. Penalties are assessed for overtime shots and misses.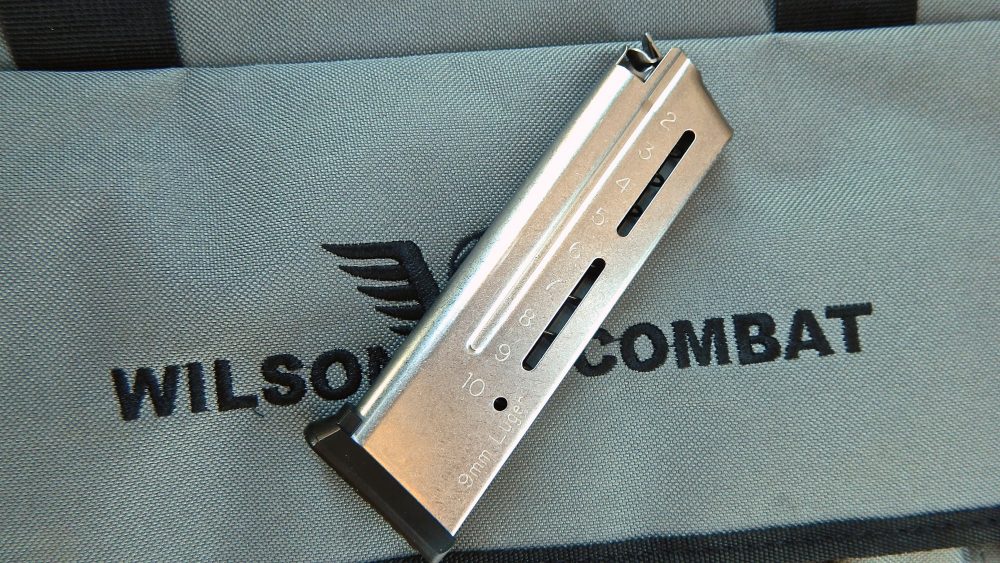 Elite Tactical ten-round 9mm magazines were flawless in all respects.
---
I fired a total of ten El Presidente drills—five shot with the Tactical Carry with 124-grain JHP loads and five with a Kimber Custom 1911 loaded with 230-grain FMJ loads used as a control gun. Times were established with a PACT Club Timer 3.
I ran the drills with the Tactical Carry out of a Simply Rugged Holsters Cuda holster and double CID magazine pouch. To keep things as equal as possible, I used the Cuda holster with the Kimber, only switching to Simply Rugged's Dual Defender magazine pouch for the larger .45 mags.
I am a little rusty on this drill, and it showed in my times with the Kimber thanks to a bobbled reload. Overall average time with the Kimber was 10.36 seconds with an average split time between shots of .84 second (splits include the reload). The overall average time with the Tactical Carry was 8.91 seconds with an average split time of .62 second.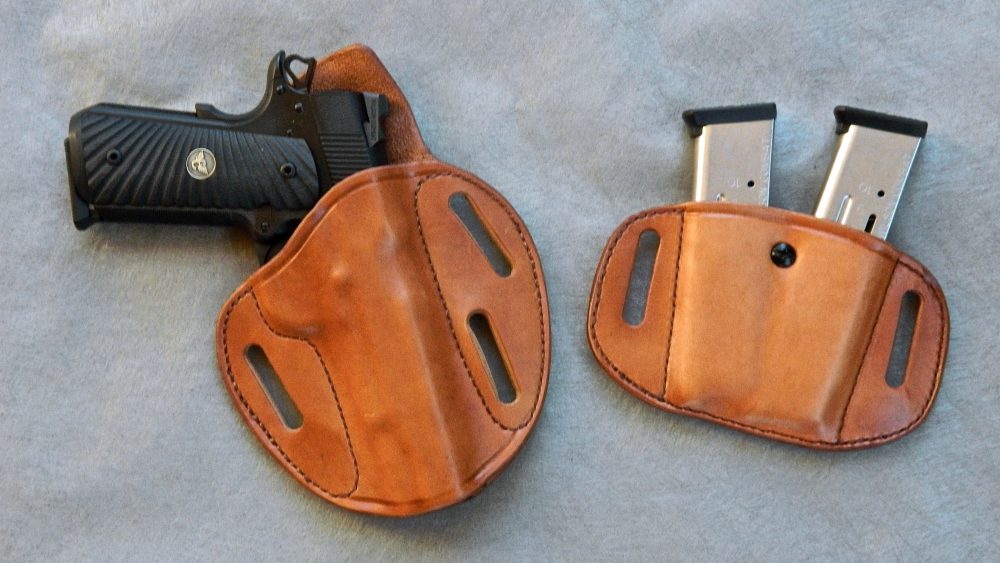 Wilson Combat Tactical Carry in Simply Rugged Holsters Cuda holster. Double CID magazine pouch holds two Wilson Elite Tactical magazines.
---
SUMMARY
The Tactical Carry performed superbly, with only one ammo-related malfunction. The speed of follow-up shots was significant, especially when considering how quickly most fights are over.
In short, the Wilson Combat Tactical Carry was perfect out of the box. I can almost hear Louis saying, "Good. It's supposed to, Hansen."
I'm not quite ready to say, "Make mine a nine," but I'm leaning in that direction.
SOURCES
WILSON COMBAT
(800) 955-4856
www.wilsoncombat.com
ASYM PRECISION AMMUNITION
(970) 385-7900
www.asym-ammo.com
BLACK HILLS AMMUNITION
(605) 348-5150
www.black-hills.com
DKG TRADING INC. (Colt ammo)
(877) 354-2666
www.dkgtrading.com
DOUBLE TAP AMMUNITION
(866) 357-10MM
www.doubletapammo.com
FEDERAL PREMIUM AMMUNITION
(800) 379-1732
www.federalpremium.com
HORNADY MFG. CO.
(800) 338-3220
www.hornady.com
HPR AMMUNITION
(888) 966-8477
www.hprammo.com
LIBERTY AMMUNITION
(941) 567-6178
www.libertyammunition.com
PACT INC.
(800) 722-8462
www.pact.com
SIG SAUER INC.
(603) 772-2302
www.sigsauer.com
SIMPLY RUGGED HOLSTERS
(928) 227-0432
www.simplyrugged.com
TEXAS ARMAMENT & TECHNOLOGY
(Aguila ammo)
www.tx-at.com
WINCHESTER AMMUNITION
(615) 258-3340
www.winchester.com