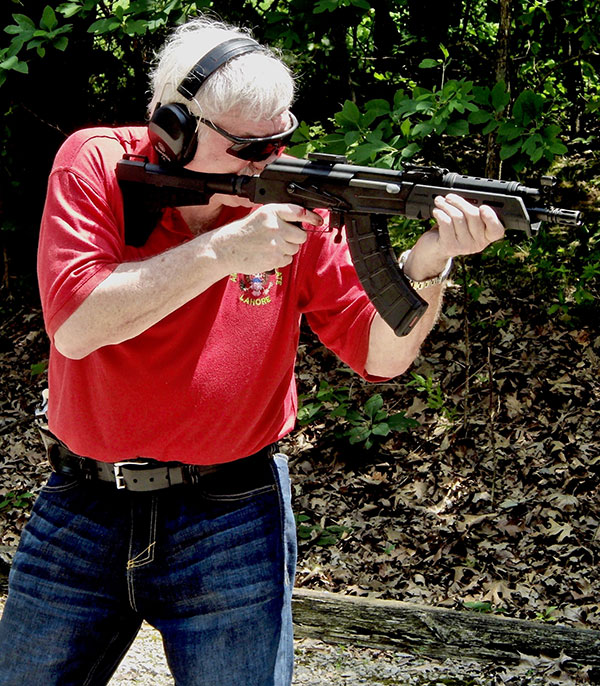 It took a while, but I have become a convert to the rifle-caliber semi-auto pistol with arm brace. In a coming column, I'll discuss what I see as their tactical pros and cons, the niches I feel they can fill and those for which I do not think they are well suited.
But in this column, I want to talk about a specific 7.62x39mm pistol with arm brace from Century Arms—the C39v2 Blade.
The C39v2 Blade offers some advantages over the 5.56x45mm pistols with arm braces I've been using. One obvious advantage is striking power. A typical 7.62x39mm round features a 123-grain FMJ bullet at 2,421 feet-per-second (fps) and 1,607 foot-pounds of energy.
Compare that to a typical 5.56x45mm M855 load featuring a 62-grain bullet at 2,800 fps and 1,393 foot-pounds. Paper performance may not be that different, but the 7.62x39mm bullet is twice as heavy.
Given the shorter barrels of the rifle-caliber pistols—10.6 inches in the case of the C39v2 Blade—the heavier bullet should retain knockdown power over the lighter 5.56x45mm.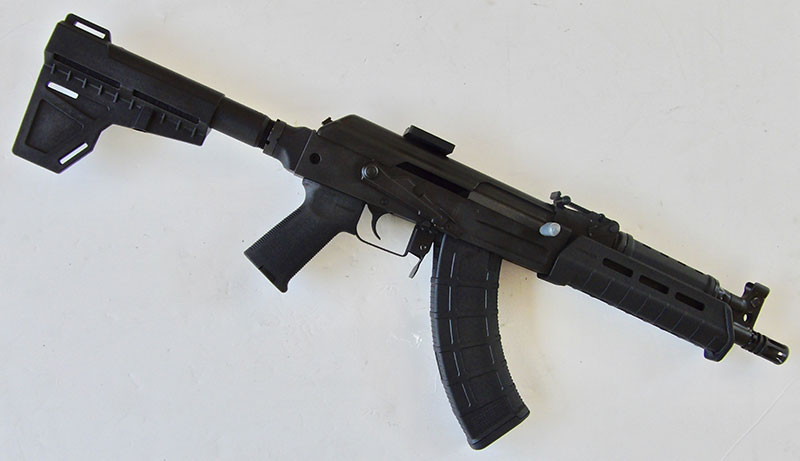 That's an opinion, not a scientific fact. I haven't done ballistic tests with the different rifle-caliber pistols, but my experience has been that at lower velocities, heavier bullets normally retain more striking power. On the other hand, at greater distances, the M855 round usually outperforms the 7.62x39mm round. For example, from standard carbine-length barrels, at 300 meters the 7.62x39mm bullet drops 26 inches, while the 62-grain M855 hardly drops at all.
In simple terms, if you plan to shoot your arm-brace rifle-caliber pistol at longer ranges, one in 5.56x45mm is probably a better choice. I view these weapons as relatively close-range weapons—normally 100 meters or less—so I don't see it as a major issue.
Another advantage of the 7.62x39mm cartridge is that ammo can often be purchased in bulk at a better price than 5.56x45mm can normally be found. I'll hedge on that point by admitting that some of the same Russian manufacturers that offer lower-priced 7.62x39mm ammo in steel cases also offer 5.56x45mm in steel cases at about the same price.
However, I generally prefer not to use steel cases in AR-type rifles or pistols, as their extractors are normally not designed for steel cases. AK-type rifles or pistols are designed to fire steel-cased ammo.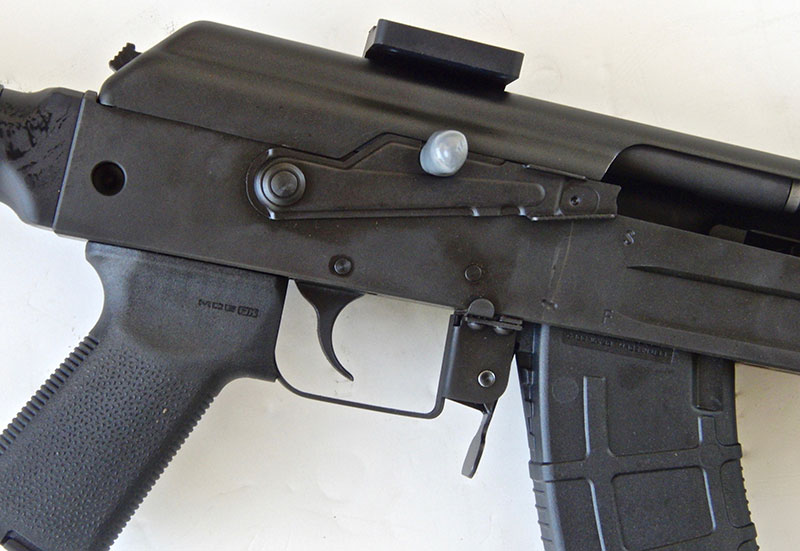 These days, quality magazines such as those from Magpul for AR or AK can be found at reasonable prices, so magazine cost is neither a pro nor a con. Ergonomics of the C39v2 are standard AK. Anyone familiar with the AK safety, magazine release, cocking handle, and sights will find the C39v2 familiar.
I should note, however, that two of these features are improved on the Century pistol.
The C39v2 uses a variant of the Krebs Custom Enhanced Safety Lever, which is notched to allow the bolt to be locked back. But the Century version of the lever does not incorporate the protrusion that allows the Krebs Safety to be manipulated without removing the hand from the pistol grip. Still, the ability to lock the bolt back is a plus. The C39v2's cocking handle also incorporates a rubberized cover to make manipulating it easier on the hand.
On the negative side, at 7.6 pounds, the C39v2 is heavier than the AR-based pistols with arm braces I've tried, by up to two pounds. The greater weight is arguably needed to handle the greater recoil of the 7.62x39mm round.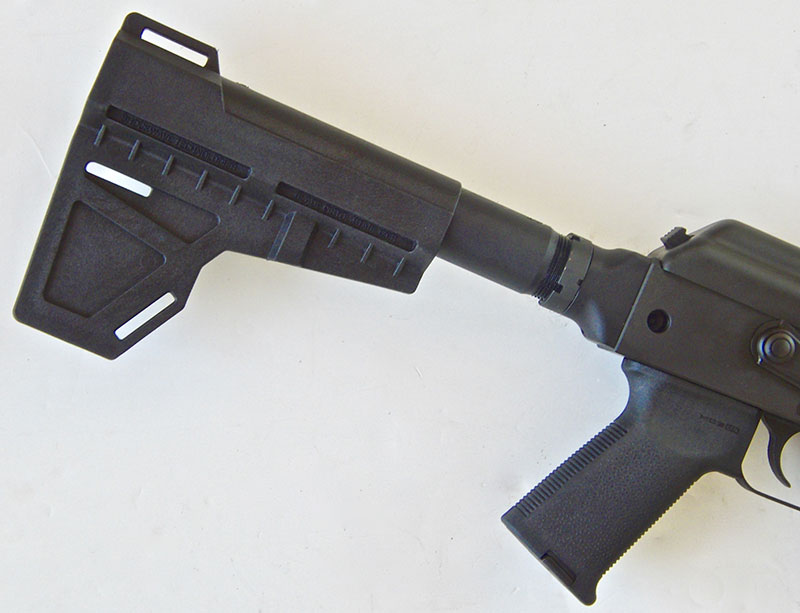 Speaking of recoil, the Blade arm brace concentrates recoil into a smaller part of the shoulder more than other types of arm brace. I also found that when firing multiple shots quickly, it has more of a tendency to shift on the shoulder. I see why it's called "blade."
Also in regard to recoil, I fired half a dozen rounds quickly at a pepper popper at 25 yards, and afterward noticed I had a cut on my trigger finger. I'm not sure what it was impacting against, but impacting or scraping it was.
Bottom line: The 7.62x39mm C39v2 hits hard against a threat in front of the muzzle and hits harder against the shoulder of the shooter. I'll accept that tradeoff, especially since the C39v2 is surprisingly handy given its weight. Its wide forearm helped in giving me a good grip.
There are a lot of other features that make the C39v2 Blade appealing:
Its barrel has a 1:10 twist and is threaded LH 14×1 metric to take an array of muzzle devices. Note that 1:9.5 or 1:9.75 is generally given as standard for the 7.62x39mm cartridge, so 1:10 is a solid choice.
The barrel is chrome moly 4150 nitride treated barrel, presumably in case corrosive ammunition is used. I've used up all my corrosive 7.62x39mm ammo and only shoot non-corrosive these days. So although that isn't an issue for me, I still prefer chromed AK barrels in the event I do shoot corrosive ammo.
The pistol is entirely U.S.-made using a milled 4140 ordnance-quality steel receiver.
Tactical enhancements include RAK-1 Enhanced Trigger Group, larger T-shaped magazine release, safety selector with bolt hold-open notch, ambidextrous QD attachment points for a tactical sling, and MOE AK pistol grip and handguard.
Of special note is the Red Army Standard AK side mount that offers return to zero capability if removed and clamps more securely than most lever-style side mounts.
Other features are standard AK. The RAK-1 Enhanced Trigger Group is available from Century for installation on other rifles or pistols, including the WASR, C39, and AK63D. I found it a definite enhancement, as the trigger pull was much crisper than on many other AKs I've shot.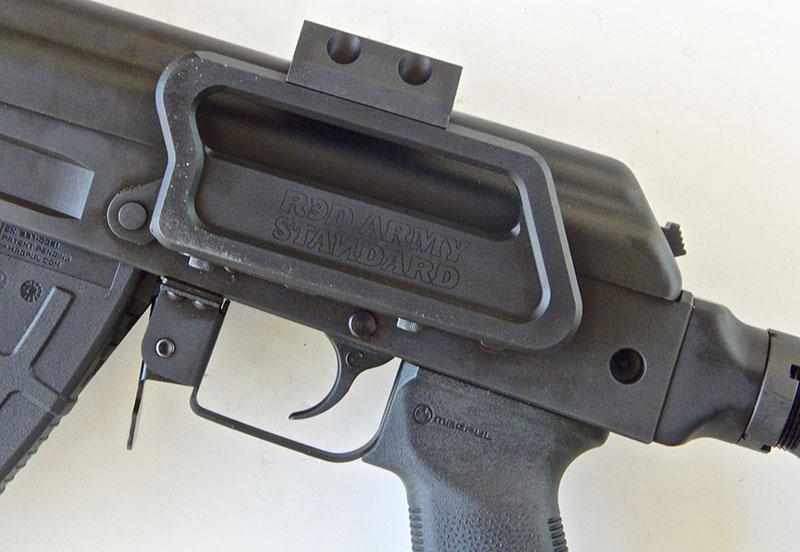 I did mount the Red Army Standard side mount but for shooting tests did not mount a red dot at this time. I view AK-type weapons as tough, "knockabout" tools able to withstand truck carry, so plan to use it that way for a while. Hence, for now I'm using the iron sights rather than a more "fragile" optical sight.
Don't get me wrong. I like and use optical sights whenever I can, but the C39v2 Blade is such a tough little gun I didn't want to add any fragility or increase its height profile. As I said, I did mount the side mount and took it off a couple of times to check how quickly it mounts and dismounts, and the security of the mounting.
All seemed good, but the real test will be when I do mount a red dot, zero it, then see if it holds zero after mounting and dismounting.
For testing, I used Century Red Army Standard 7.62x39mm ammo, which I have found very reliable and quite accurate within the parameters of 7.62x39mm ammo. I used a five-round steel AK magazine to allow initial zeroing of the iron sights from a rest.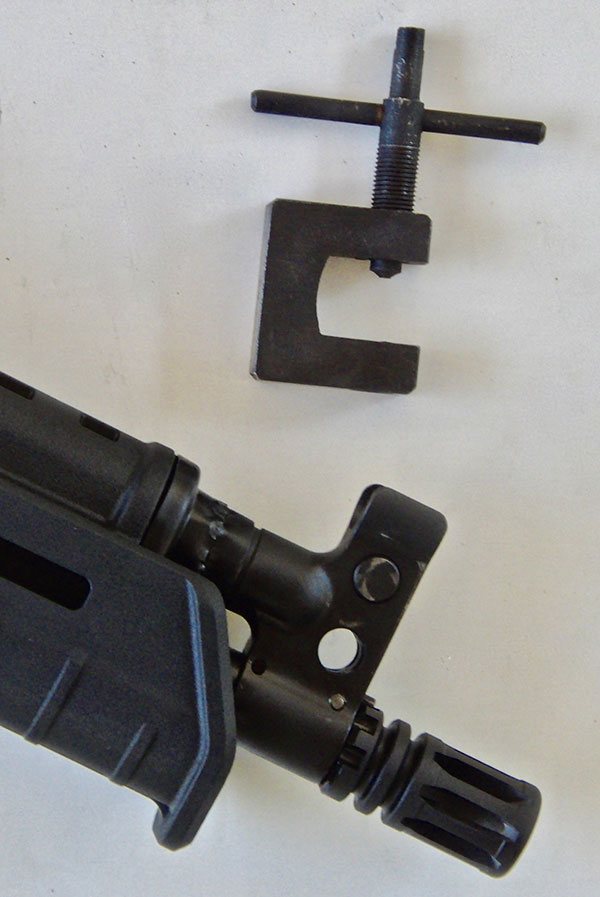 If you shoot AKs, you may already have a front sight tool to adjust for windage and elevation. If not, you will need one for the C39v2 Blade or any other AK you own. I had to adjust for both elevation and windage.
For groups, I fired at 50 yards and got three-shot groups in the 2.5- to three-inch range. I was satisfied.
The C39v2 Blade came with one 30-round PMAG. If the C39v2 Blade is to be carried as a vehicle gun, I recommend getting at least one 20-round 7.62x39mm PMAG so the pistol will handle more readily within the vehicle. Thirty-round mags can be carried for reloads.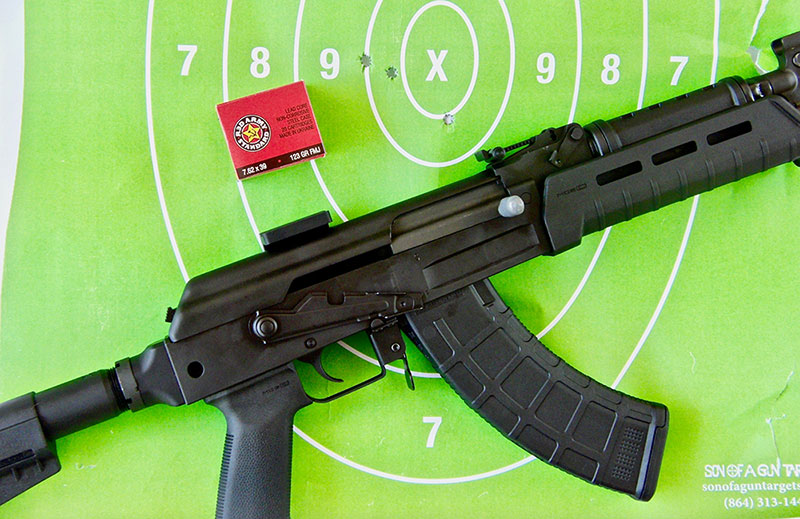 Overall, I like the C39v2 Blade. It offers AK reliability and striking power in a relatively compact package. It has a better trigger pull than most AKs and ergonomic enhancements that make it more shootable.
As mentioned, recoil is noticeable, especially because of the choice of arm brace. As I don't see the C39v2 Blade as a pistol that will be shot for hundreds of rounds at a range session, once the user has it zeroed, has fired it enough to check reliability, and is used to it, this is not a major issue. My next project is to find a really tough red dot to use with it.
I think a consideration for many potential purchasers is whether they normally use an AK or an AR-15 as their standard defense/preparedness rifle. If the former is used, it might make sense to pick the C39v2 Blade for ergonomics familiarity.
SOURCE
CENTURY ARMS, INC.
(800) 527-1252
www.centuryarms.com