I have been writing for S.W.A.T. Magazine for the past 15 years. I guess time really does fly. There is an old adage that the more things change, the more they stay the same. There is some truth in that.
As a rancher, I wore my gun outside the waistband for years, and later switched to inside the waistband. I have gone back to OWB for a couple of reasons. On duty I wear my gun belt outside and, for off-duty use, I want a drawstroke as close to my duty weapon as possible. Also, I no longer want to buy my Wranglers® two sizes larger.
Coming full circle again, I wore leather holsters, switched to Kydex®, and have mostly gone back to leather.
One thing that has not changed is that DeSantis Gunhide has been making quality leather holsters for over 40 years. I recently received a DeSantis Thumb Break Scabbard (TBS) for a Springfield XD .45.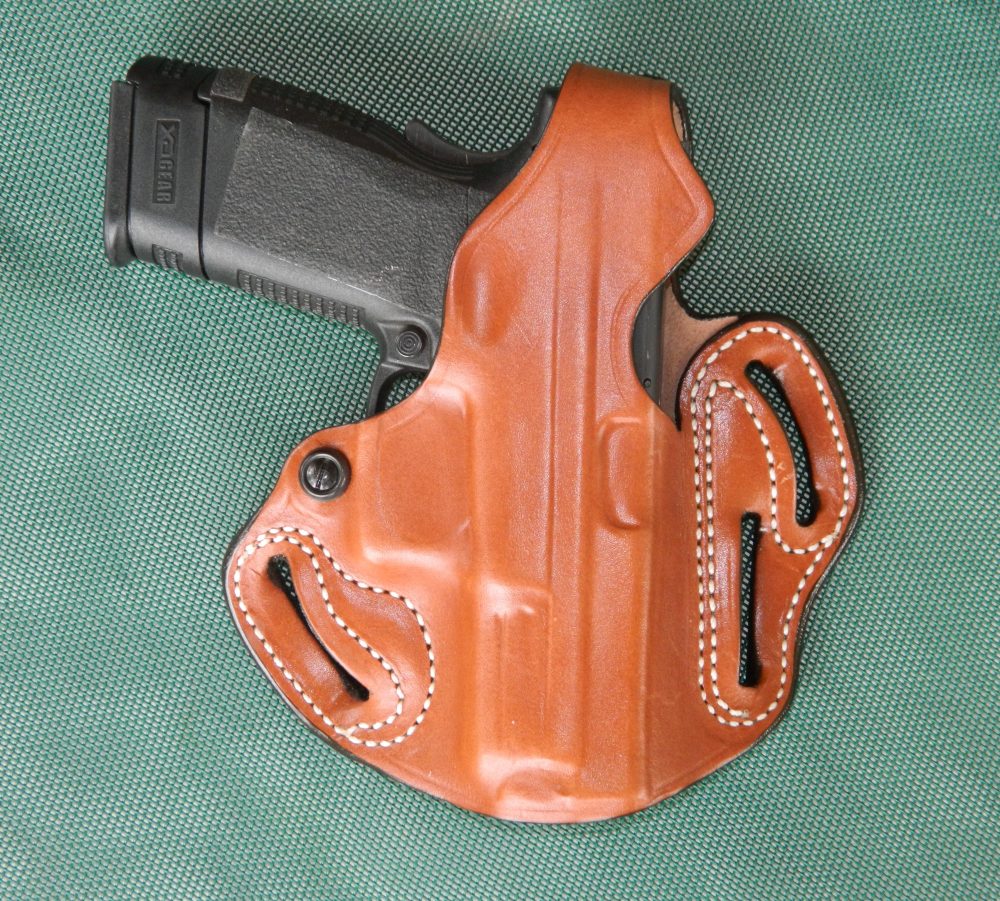 Front of DeSantis Thumb Break Scabbard is molded for the specific contours of the pistol it is ordered for.
---
The TBS is a pancake-type holster that starts out with two separate pieces of leather. It is made for the individual weapon being placed in a press, so there is a natural molded fit for the pistol. The leather is then glued together and stitched with heavy nylon thread.
The belt loops will fit up to 1¾-inch wide belts. One belt loop is at the rear of the holster and two at the front, allowing the TBS to be worn either as a straight drop or with a slight forward cant. I personally find the forward cant allows a smoother, more natural drawstroke.
The bottom of the holster is open.
The Thumb Break Scabbard is a Level II security holster. To keep the thumb break from becoming flimsy, it is backed up with a strip of steel, riveted above and below the snap.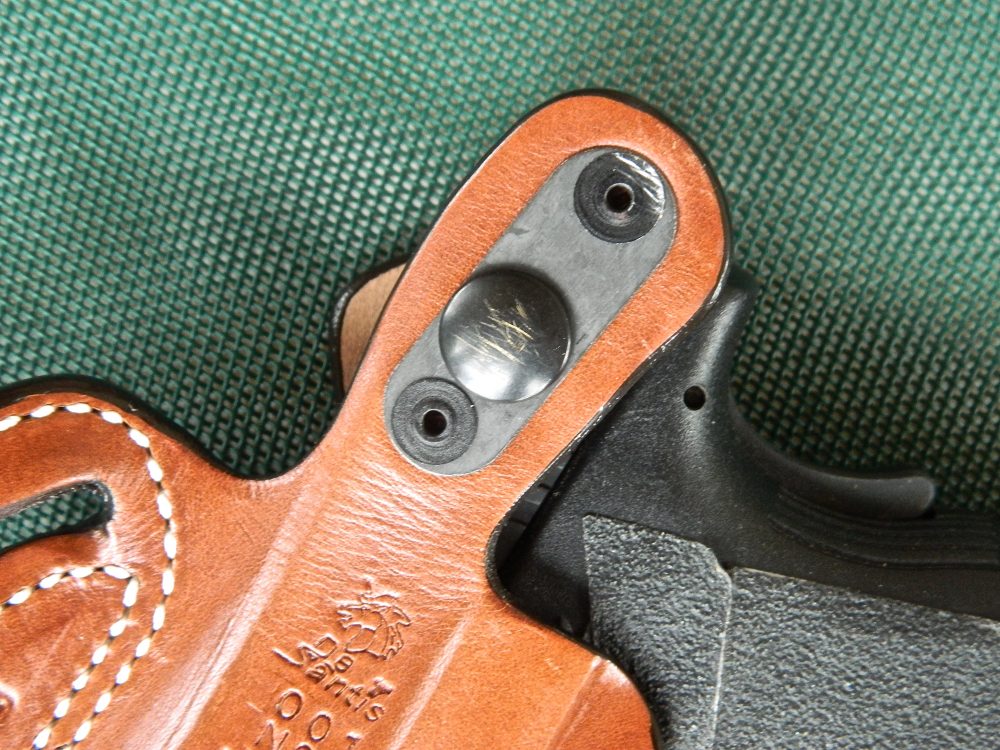 Thumb break is backed up with a reinforcing strip of steel, riveted above and below the snap.
---
Further adding to the security aspect is a tension screw behind the trigger guard. This allows the user to adjust how much exertion is needed to draw the pistol. Initially you may find you don't need any additional tension but, being a leather holster, it will break in over time and you may need to apply more tension.
The design of the holster forms a natural sight track to prevent the front sight from dragging while being drawn.
The outside of the holster is completely dehorned of any rough edges so it won't abrade clothing or skin.
DeSantis advises not to oil your holsters with leather dressings such as mink oil, as they will cause the holster to soften. DeSantis includes care information with each holster.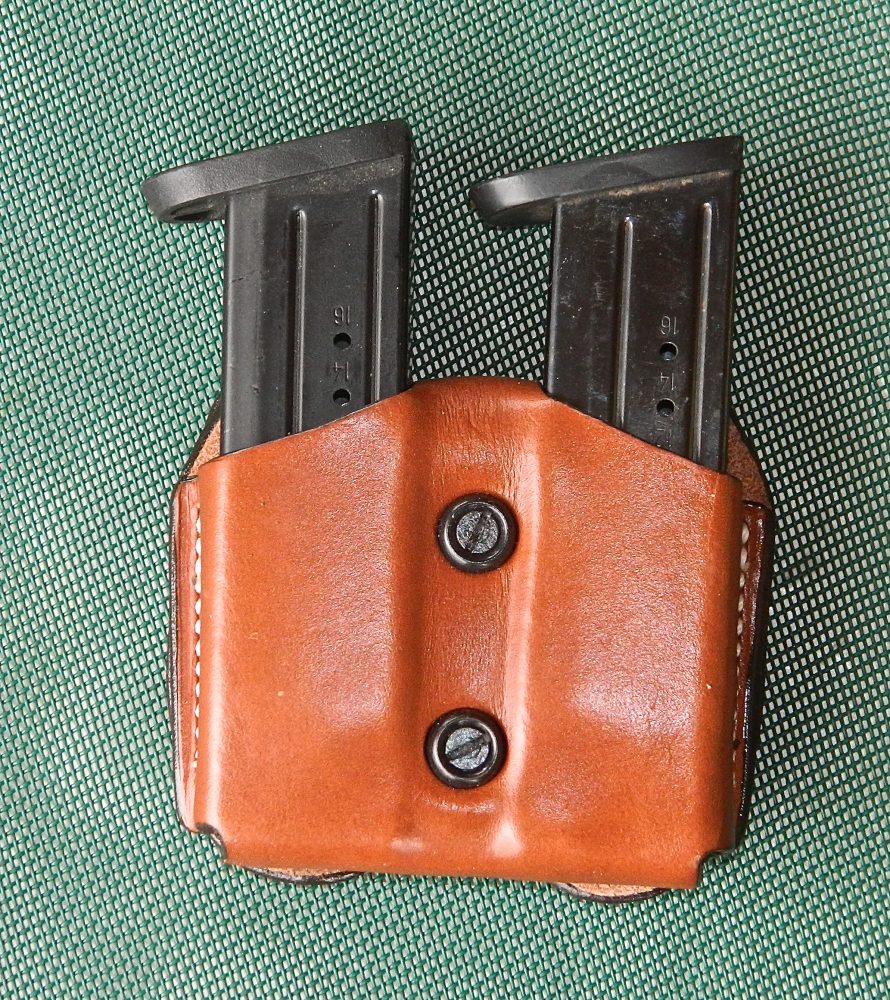 Double Magazine Pouch matches finish of TBS, can be worn securely with different width belts, and has two tension screws.
---
DOUBLE MAGAZINE POUCH
I often see private citizens and off-duty officers not carrying spare magazines. I have questioned friends and students about this, and they say things like, "I don't think there will be more than one or two bad guys" and "How many times do you think I'm going to miss?"
With that kind of mindset, they may already be in trouble.
Along with the holster, I requested a Double Magazine Pouch, which exactly matches the finish on the TBS. The two individual pockets are separated by a rubber spacer, and two tension screws ensure you don't lose your magazines on the run or while bending over to pick something up.
Each side of the mag pouch is stitched with heavy nylon thread. The back of the pouch is a separate piece of leather and is riveted in two places at the top. A wide belt can be run through this piece, while two slots at the sides accommodate a thinner belt. Two heavy one-way snaps at the bottom allow it to be removed without unthreading the entire belt from your trouser loops.
Yes, times have changed, but the quality and dependability of DeSantis have not. Try these products for yourself.
The Thumb Break Scabbard has a suggested retail price of $76.99, while the Double Magazine Pouch lists for $52.99.
SOURCE
DESANTIS GUNHIDE
(800) GUNHIDE
www.desantisholster.com