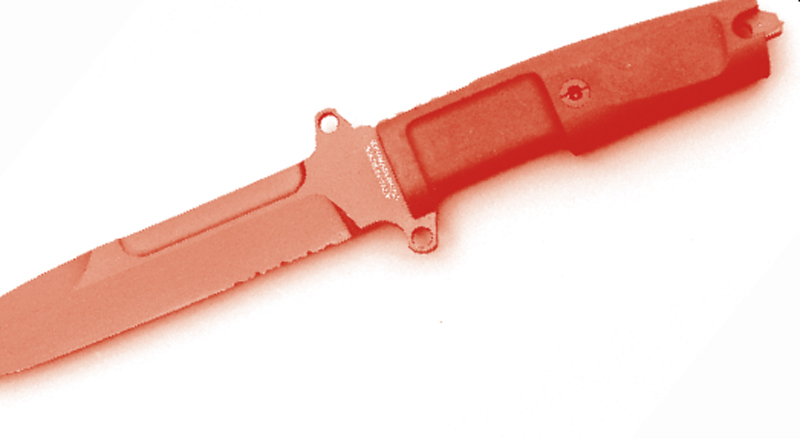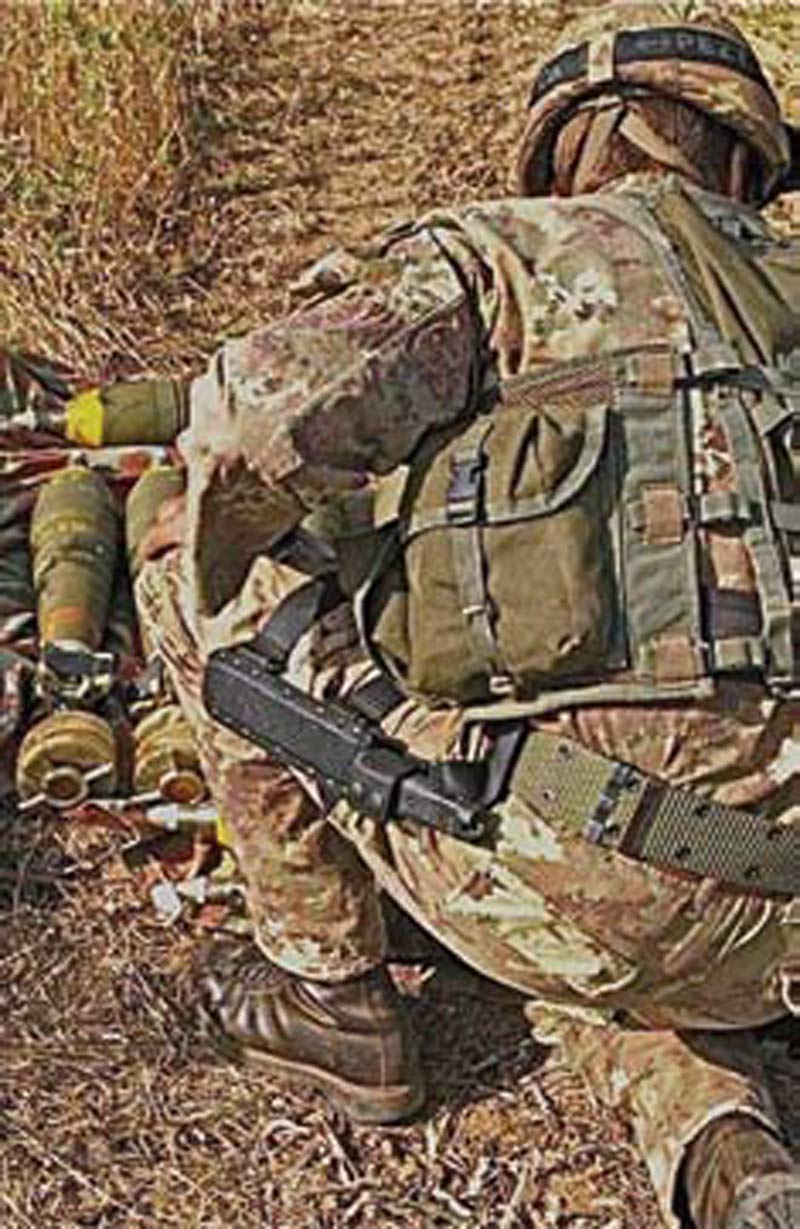 Most S.W.A.T. readers are probably more familiar with titanium revolvers than knives, but there are a lot of advantages to titanium in military or law enforcement knives. While there are a few disadvantages, with foreknowledge those can be minimized.
First, let me discuss some of the advantages of titanium knives. Important for users who operate around salt water, titanium knives are incredibly corrosion resistant. That's one of many reasons the SEALs have used the Multi- Purpose Knife in titanium for quite a few years. Titanium knives offer an excellent weight-to-strength ratio, which is the reason it's used in aircraft construction.
Titanium blades are about 40% lighter yet as tough as or tougher than steel blades. Tough is a good descriptive term for titanium blades, because they will not break in extreme cold, when steel blades will shatter. Flexibility combined with toughness makes it almost impossible to break a titanium blade when used for prying (reportedly, a titanium blade can bend twice as far as a steel one before breaking). Titanium also has superior abrasion resistance and, very important on today's battlefield, titanium is magnetically inert (i.e., it won't set off IEDs).
The major downside to a titanium knife blade is that it will not hold an edge as well as stainless or carbon steel. A titanium knife will also generally cost more than an equivalent knife in stainless or carbon steel.
I've seen various suggestions for sharpening titanium knives. I have generally used a diamond sharpener on the titanium knives I've owned, and it has worked relatively well. I have heard that some blade makers who use titanium "carbidize" the blades to make them easier to sharpen, but I do not have experience with this process on titanium. I have also read that attaching sandpaper to a hard surface and using it like a sharpening stone works, too. The titanium knives I've used, including the Landing Force, have had a single "chisel edge," so only one side is sharpened.
The ER Landing Force was developed primarily for various Italian units that have combat boarding or other Maritime Anti-Terrorism or assault landing duties. Within the Italian order of battle, this falls to units that include the San Marco Regiment of the Italian Navy, which functions much like the USMC, and the Lagunari Regiment, an Italian Army amphibious landing unit. Other Italian units also issue the Landing Force knife.
I like the fact that the Landing Force is fabricated of titanium, but I also like the fact that it is of the same configuration as the ER Fulcrum, which I have used for years. The 7.1-inch blade has a slight drop point, virtually a spear point. The blade is serrated for about 1.5 inches, which is a useful feature for units with an amphibious mission. Incorporated into the blade is a crossguard that takes the form of a lower protrusion against which the index finger will rest to prevent it sliding forward, and an upper protrusion a little farther forward to allow use as a thumb rest. Both sides of the crossguard are drilled to allow affixing of a lanyard, as is the top of the tang. The blade is treated with ER's Testudo black finish.
The Landing Force has the ergonomic Forprene handle that is used on other ER military blades and is comfortable if the knife is held in a "fencing" or "ice pick" grip. The handle is easily removed, which allows cleaning of the tang after exposure to salt water, blood or other corrosives. The handle can also be interchanged with the ones ER offers in Green, Desert Tan, or Arctic White (along with matching sheaths), to tailor the knife to different combat environments.
The Landing Force sheath is of the same type as on other ER military knives. An inner polymer liner offers blade protection and some retention. This polymer liner slips into a nylon sheath that is well designed for wearing high or low on the thigh and incorporates a double- snap strap for additional retention. Since many of the units using the Landing Force have been deployed to Afghanistan, the sheath for the knife is Tan.
As mentioned earlier, titanium knives tend to be much lighter than stainless or carbon steel. The Landing Force only weighs about seven ounces. Overall length is 12.2 inches.
For units with an amphibious mission and especially a mission that may involve dealing with mines, IEDs or other explosive devices, the Landing Force is an appealing knife. It is capable of use in close combat if needed. Because it does take more effort to keep the Landing Force sharp, I assume most troops who are issued this knife also carry some type of utility folder for general tasks. However, it shouldn't be forgotten that titanium blades are very tough and can be used for prying or puncturing.
One reason I have been impressed with Extrema Ratio knives since I got my first Fulcrum several years ago is that the company is very responsive to the needs of Italian and foreign military units.
They make knives that suit the mission— and they make them in style.