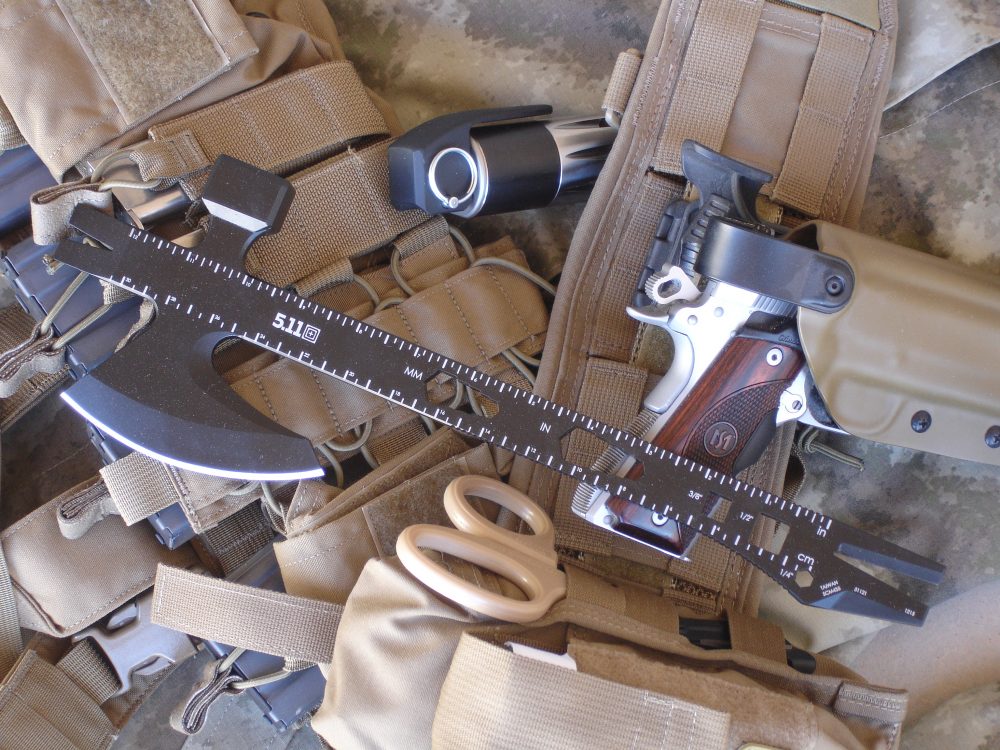 VTAC Operator Axe is an awesome new axe from 5.11 Tactical that was designed in conjunction with Kyle Lamb of Viking Tactics. It's an ideal personal-size multi-purpose forcible entry and rescue tool.
---
A lot of tactical tomahawks and axes are on the market, but the new 5.11 Tactical® VTAC® Operator Axe stands apart from the rest. It was designed in conjunction with Sergeant Major Kyle Lamb (Retired), who brings a wealth of real-world experience to its design.
SGM Lamb should need no introduction. The founder and president of Viking Tactics, he is a veteran of over 21 years in the U.S. Army, more than 15 of those with Special Operations, including the Army's premier special mission unit. SGM Lamb participated in combat operations around the globe, including Mogadishu, Somalia (Black Hawk Down incident), served numerous tours in Iraq and Bosnia, and is a highly sought-after military and law enforcement trainer. If he puts the VTAC name on a product, you know it's absolutely top notch.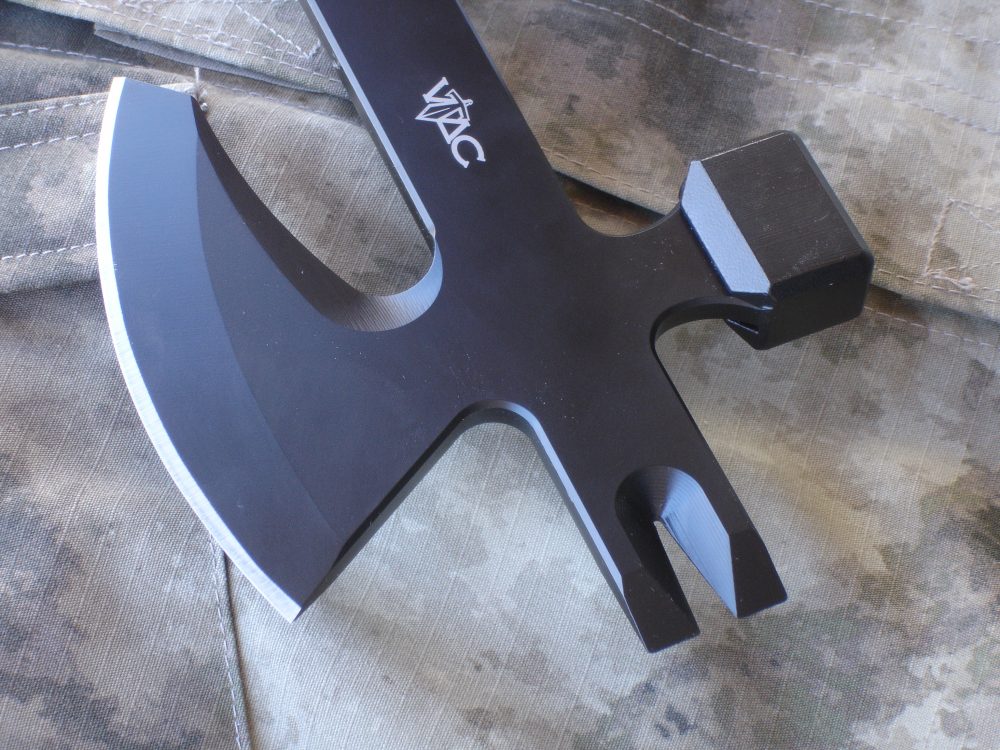 VTAC Operator Axe has a multi-purpose axe head with bearded blade, hammer, and pry bar/nail puller/chisel.
---
The VTAC Operator Axe had its genesis in a small axe that SGM Lamb found at one of his objectives and subsequently carried on numerous missions in Iraq. When he got back to the U.S., he showed the axe to 5.11 Tactical, which was enthusiastic about doing an Operator Axe. SGM Lamb took the basic design and added other elements to increase the functionality and utility.
The end result is definitely one bad axe (with "bad," of course, meaning good). SGM Lamb is "super proud" of it, as well he should be.
The VTAC Operator Axe has a very well-thought-out design featuring a whopping 24 tools and functions, yet it's not gimmicky. It was designed to provide the right tool for the job, no matter what may be encountered.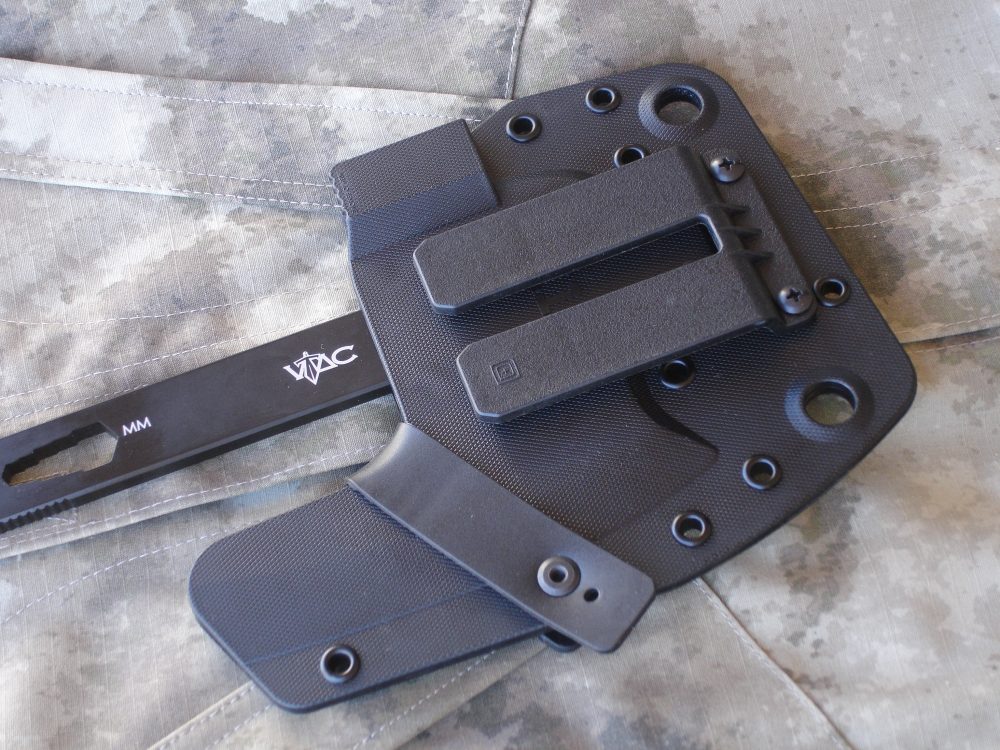 VTAC Operator Axe comes with an ambidextrous belt- and MOLLE-compatible two-piece molded nylon sheath.
---
Features of the bearded axe include a hammer, pry bar/nail puller/chisel, sheet-metal cutting claw designed to make quick work of auto and aircraft panels, standard and metric wrenches, 3/8- and ½-inch square driver opening sockets, metric and standard ruler markings, and a ¼-inch hex-bit driver/lanyard hole.
The shaft and handle of the axe feature aggressive jimping to keep the axe in hand in all conditions.
The Viking-style bearded blade of the VTAC Operator Axe maximizes the cutting edge while keeping the overall weight down. It also facilitates more precise control of the blade when needed by allowing the shaft to be gripped behind the head.
In a bearded axe, or Skeggöx (from Old Norse Skegg, beard, + öx, axe), the cutting edge extends below the width of the butt. Used as both a tool and a weapon, bearded axes date back to at least the sixth century and are most commonly associated with Viking-age Scandinavia.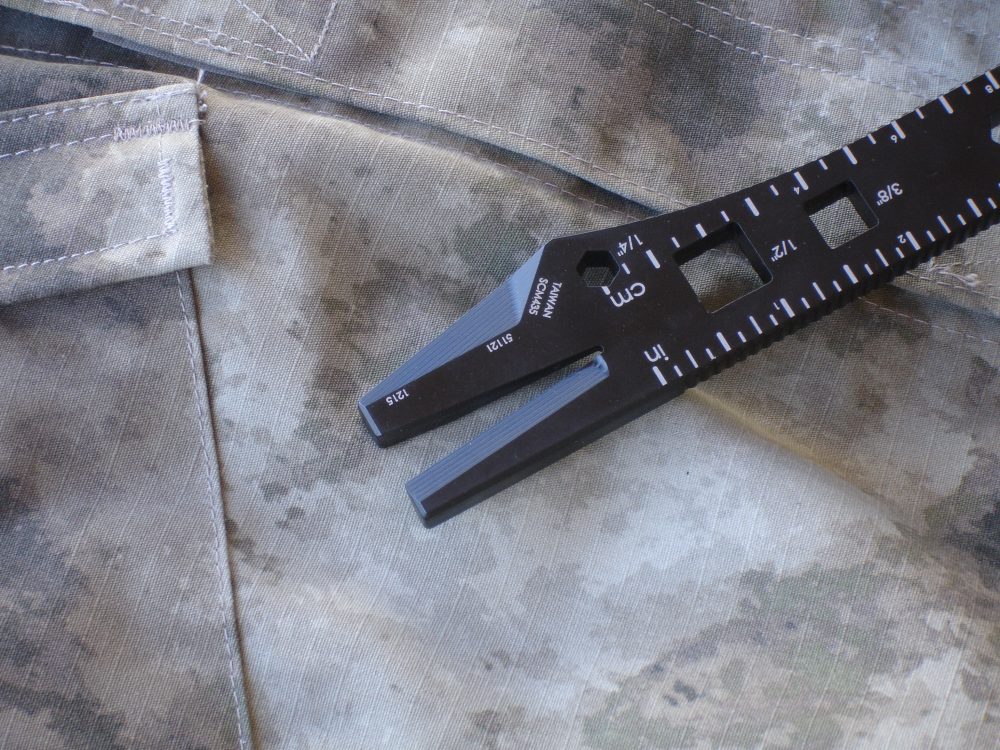 VTAC Operator Axe has a claw that cuts through sheet metal.
---
With the exception of the welded-on hammer head, the VTAC Operator Axe is made from a solid billet of .28-inch thick SCM 435 stainless steel. The hammer head is also SCM 435, a Taiwanese steel that's comparable to American Iron and Steel Institute (AISI) 4135 grade alloy steel, which contains chromium and molybdenum as strengtheners. It can be heat treated to good strength levels while maintaining reasonable toughness.
The axe is finished with a subdued black oxide coating that provides additional corrosion resistance and minimizes reflection.
The VTAC Operator Axe comes with an ambidextrous belt- and PALS/MOLLE-compatible two-piece molded nylon sheath with cutter cover. The axe snaps securely into the sheath. A rubber retention strap with heavy-duty milspec Pull-the-DOT® snap provides additional security.
Designed to protect both the axe and the operator, the sheath is also adjustable for carry angle and features a unique mounting system that allows the sheath to be easily and quickly donned or doffed on either a belt or PALS webbing.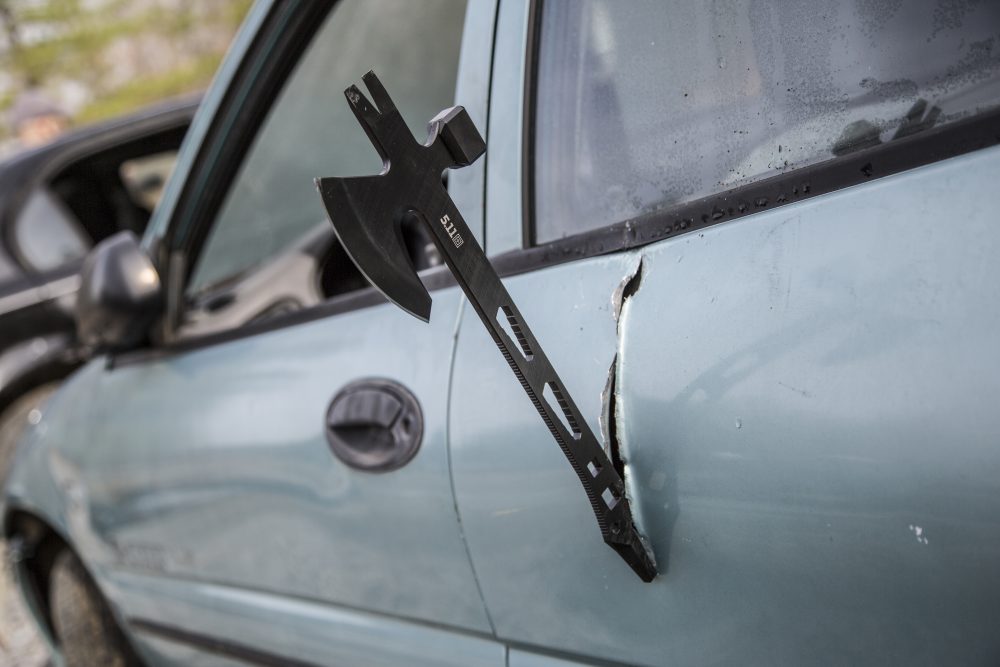 Metal cutting claw on VTAC Operator Axe makes quick work of cutting auto and aircraft sheet-metal panels. Photo: 5.11 Tactical
---
No tool is any good if you don't have it with you when you need it. The VTAC Operator Axe is small and light enough for convenient carry, with an overall length of 15 inches and weighing one pound, 15 ounces with sheath.
The VTAC Operator Axe is an ideal personal-size multi-purpose forcible entry and rescue tool, as well as a great all-around survival tool. It's just the ticket for inclusion in an active-shooter response kit, bug-out bag, or to keep in your car for emergencies.
The workmanship on the sample provided by 5.11 Tactical was excellent. The sample exhibited considerable attention to detail, and the axe blade came super sharp.
The VTAC Operator Axe has an MSRP of $169.99. It comes with a limited lifetime warranty. It's an awesome tool that's compact in size but large in performance.
Eugene Nielsen's background includes protective intelligence/investigations and threat management, as well as red teaming/security consulting. He is a Licensed Private Investigator in both California and Arizona.
SOURCES
5.11 TACTICAL, INC.
(866) 451-1726
www.511tactical.com
VIKING TACTICS, INC.
(910) 987-5983
www.vikingtactics.com