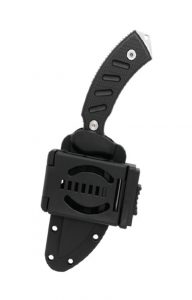 Although Steel Will Knives, a subsidiary of Forest Hills, New York-based Sport Manufacturing Group Inc (SMG), is a relative newcomer to the American knife-making scene, it is quickly making its presence known as a maker of premium tactical and outdoor knives. The company has introduced the Urban series of everyday carry knives—the Censor, a compact, affordable fixedblade knife. The Censor is offered in three blade profiles: spear-point (1310), predatory with variable-grind (1320) and clip-point (1330). Steel Will Knives provided me with samples of each.
Steel Will designed the Censor as a last-ditch backup knife for personal defense. Although folders are convenient to carry, they can be difficult to deploy when the chips are down.
As former Navy SEAL and S.W.A.T. Contributor Jeff Gonzales of Trident Concepts, LLC succinctly stated, "Think of the fixed blade like carrying your pistol with a loaded magazine and round in the chamber, and a folder carrying your pistol with a loaded magazine but an empty chamber."
The Censor is designed to be concealed easily, carried comfortably, and drawn quickly. It features a unique pistol- grip handle for a quick, confident draw and precise control and handling. The diamond-pattern texture on the handle and jimping on the tang provide a secure grip under all conditions. A comfortable thumb rest aids in control and keeping the knife secure in the hand. The design of the handle is well suited for use with a variety of grips.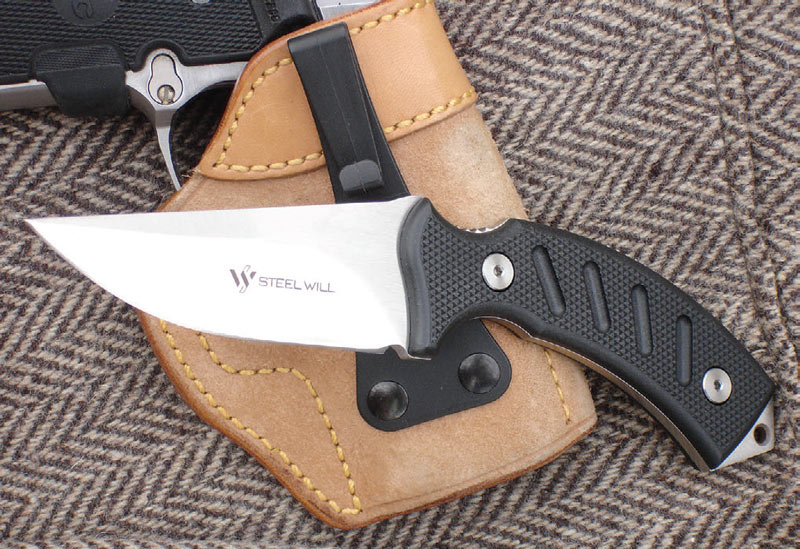 The knife has outstanding ergonomics. It balances well in the hand and is quick and lively—important characteristics for a knife intended for personal protection.
Scales are injection-molded fiberglass reinforced nylon (FRN), a very tough material built to take significant abuse and used for polymer pistol frames. Although FRN is more flexible than resin laminates such as G-10, it compensates for this in its impact toughness. Nearly any texture can be created on the surface, making it an exceptionally versatile material, ideally suited for large-scale knife production.
The scales on the Censor are attached with stainless steel hex-head screws, allowing them to be easily removed for cleaning, should it be necessary.

A full tang extends through the entire handle for ultimate blade strength and protrudes beyond the handle to form a multi-purpose pommel/glass breaker and lanyard attachment point. The glass-breaker is rounded and does not interfere with the grip.
The tang is devoid of sharp corners, further strengthening the integrity of the blade. Most of the high stresses on a blade occur at sharp corners of the shank. By eliminating these, stresses are greatly lessened.

Blade material is AUS 8, a Japanese mid-range stainless steel that has superb toughness, good edge-holding capabilities and corrosion resistance, and is easy to re-sharpen. It's an excellent choice for a knife of this type. The blade is hardened to 56-58 HRC. Blade thickness is 0.16 inch and overall length 7.68 inches.
The blade has a satin finish and does reflect direct sunlight. The blade surface is covered with small unidirectional strokes that form a uniform pattern. An added benefit is that most minor wear and scratches that occur from regular use are unnoticeable. It is more corrosion resistant than either a beadblasted or stone-wash finish.
I really like the versatility of the Censor modular sheath system that comes with the knife. The sheath is of snap-fit design and is very secure yet affords an easy draw. The knife can be safely drawn from the sheath in a simple, single motion.

The sheath is made of glass-filled nylon and is fully ambidextrous. It comes with a patent-pending TOPS clip that provides a variety of carry options. The clip is sized to fit up to two-inch-wide belts. It is adjustable and attached to the sheath via Phillips-head machine screws. Repositioning the clip to switch from horizontal to vertical carry, change the carry angle, or switch from right- to left-hand carry takes only seconds.
The Censor knives provided for evaluation exhibited attention to detail not only in design, but in workmanship as well. Fit and finish were virtually flawless and on par with many custom knives.
All Steel Will knives come with a 60-day money-back guarantee and are warranted free of material and workmanship defects for the life of the original owner. This warranty covers replacement parts and labor.
The Censor is an outstanding fixedblade knife for EDC, and its price is unbeatable for a knife of this quality. All Censor models are priced at $59.99. The only choice you have to make is which model … and that may be a tough choice.