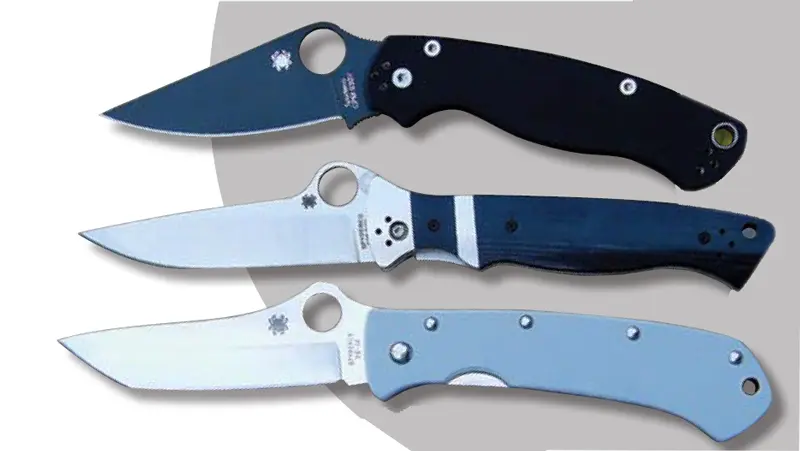 In many law enforcement academy weapons-retention drills, when an opponent attempts to snatch an officer's weapon, the officer clamps down on the opponent's hand, pushing it and the weapon into the holster while hammering on the opponent's forearm with a fist. It may work for a big, strong officer, but for a smaller one, not so much.
I believe much more in carrying a folding knife for ready access to the support hand and slashing at the forearm, face or neck of the attacker. He's trying to snatch your gun, presumably to shoot you, so why show any sympathy?
Not many police departments teach using the blade during weapon-retention training. For those that do, I recommend getting training knives so the training will be more realistic.
I was impressed awhile back when a friend who's a local deputy told me about some officers he'd run across from, I believe, Arkansas or Oklahoma. Their department issued them a folding knife with a notch added to the back of the blade by a local machinist. The notch was designed to catch on the pocket as the knife is drawn and deploy the blade. They'd given him one with which he'd practiced, and it could efficiently be brought into action. I'd say that department is an exception, though. I've shown the technique I use to quite a few law-enforcement friends and most had not been trained in support- hand blade combat for weapon retention.
The first time I saw a knife carried as a backup to a handgun was when I was a kid. I grew up near a large coal yard and railroad siding that always had a lot of freight cars and coal cars parked there, which meant the "cinder dicks" were around quite a bit. We were tough kids, but we called these guys "Sir." Overall, we got along with the railroad cops pretty well.
Being strong union folks, my family discouraged me from associating with the "Pinkertons." But they weren't Pinkertons, not even Baldwin-Felts, and we liked talking to the railroad cops. Anyway, they used to show us their weapons. One had a "big" revolver and blackjack, plus a sheath knife he carried tucked into his belt on his left side. Since it incorporated brass knuckles, I now believe it was a World War I trench knife. By the way, most of the railroad cops we knew had spent time in the East St. Louis Yards as Yard Bulls, and we never doubted their willingness to use all their weapons!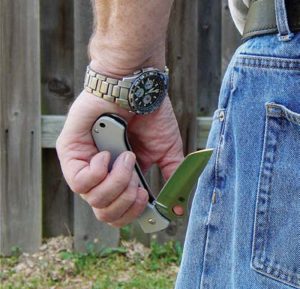 So much for my misspent youth. This column is about three Spyderco knives that could be used as supportside close-combat blades.
VALLOTTON SUB-HILT FOLDER
The first is a fairly heavy-duty folder. Its butt can also be employed for strikes to the head or neck. Designated the Vallotton Sub-Hilt Folder, one real advantage for the use under discussion is that it incorporates a dual thumb hole/stud opening system, which gives surer operation when quickly drawing it with the support-side hand. It incorporates a sturdy liner lock and pocket clip that may be affixed in any one of four positions. Its 3.75-inch blade gives a little more reach, and its 6.2-ounce weight offers more striking power if used for butt strikes. The handle is coffinshaped with stainless bolsters. The hollow-ground blade is of drop-point configuration.
LUM TANTO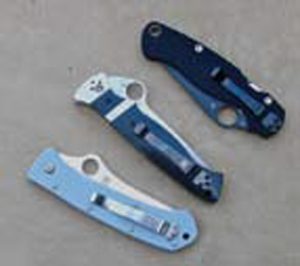 Although I like all three of these Spyderco knives, my favorite is the Lum Tanto. I like the tanto style in a close-combat blade because it offers better penetration should the opponent be wearing heavy clothing (e.g., a leather jacket) that might preclude using the normal slashes to the forearm or wrist. At 3 7/8 inches, it gives some reach as well. I also like the light grey handle scales and the knife's slim design. Its Spyderco round opening hole allows ease of opening with either hand. Finally, at 4.3 ounces, it carries easily in a back pocket. The only disadvantage is that the pocket clip may only be mounted in one position. I spent a few minutes experimenting where to clip it in my back left pocket to allow quick access with my left hand.
PARA-MILITARY2
The most compact of these three Spydercos is the Para-Military2. The Para- Military is a classic Spyderco design that has been improved in this latest version. Its new bushing pivot system allows the blade to deploy very smoothly. Of these three knives, I can open the Para-Military2 the easiest with my support hand. The 3 7/16-inch blade is somewhat of a drop point that is almost a spear point. It certainly should puncture well. Its liner lock operates from the top, which keeps my hand from being positioned where the blade closes. The textured G-10 handle offers a secure non-slip grip. Its belt clip may be positioned in any one of four positions, once again offering versatility.
All three folders incorporate a lanyard hole, useful for officers who operate on the water or in a tactical role. I've also known one female undercover who carried a knife suspended inside her clothing on a cord.
Spyderco knives offer excellent quality and value. Although I've discussed these folders primarily in the backup/ weapons-retention role, they can carry out a multitude of tasks.