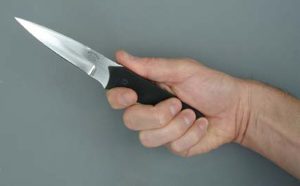 A knifemaker for over 32 years, Bud Nealy is perhaps best known for his patented MCS (Multi-Concealment Sheath) System covert-carry fixed-blade knives. The state-of-the-art in hideout blades, Bud Nealy MCS System knives are popular with knowledgeable operators worldwide. MCS System knives are truly in a class by themselves.
I recently placed an order for one of Bud Nealy's X-Cel MCS System knives. All of Bud Nealy's knives are handmade. Some MCS System knives are in stock for immediate delivery. If the desired knife is not in stock, orders typically take about 90 days to fill. They are definitely worth the wait.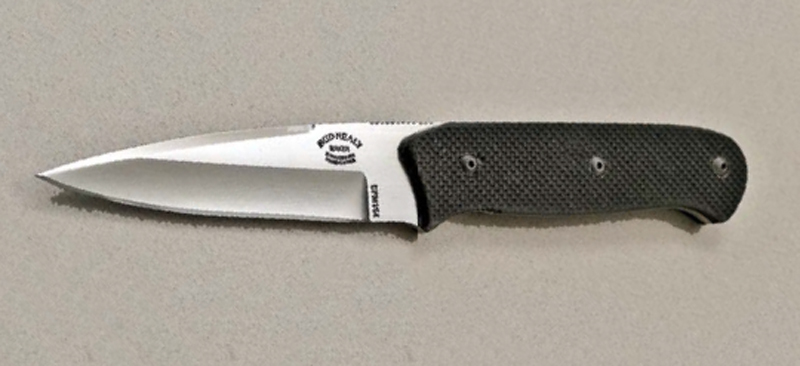 Like all of Bud Nealy's MCS System knives, the X-Cel has a compact design to optimize concealment. The X-Cel knife has a four-inch modified drop point, flat ground blade with an unsharpened false edge. The blade has a 3.06-inch cutting edge that is incredibly sharp. The blade is machined from 0.125-inch bar stock and satin finished. It features a full tang handle. Thumb and index finger serrations enhance control and prevent hand slippage. The X-Cel is suitable for both utility and defensive applications.
Bud Nealy utilizes either CPM® 154 or CPM S30V stainless steel for his blades. All blades are hardened to RC 59-60. I went with CPM 154. CPM 154 stainless steel is a CPM version of Crucible's standard 154 CM. Although it's identical in composition to conventional 154 CM, the proprietary Crucible Particle Melt (CPM) manufacturing process produces a fine-grained uniform distribution of the carbides. This gives CPM 154 improved wear resistance and better toughness than 154 CM, while retaining similar heattreatment response.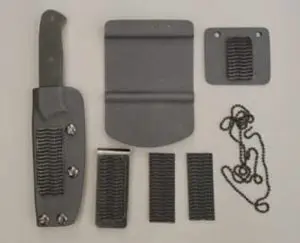 Black Grip-Guard G10 (glass reinforced epoxy laminate) handle slabs are now standard on MCS System knives, although Bud Nealy can customize any knife to the customer's request. Grip-Guard G10 has a deep waffle-pattern texture that provides a secure grip. The handle slabs are secured to the tang using button-head Torx® machine screws and threaded inserts. The X-Cel fits well in my hand and provides a comfortable and solid grip with all grip techniques.
MCS System knives are designed to be low-profile knives that can be carried in multiple positions on the body. Thus, weight (or rather, lack of weight) was and is a priority to Bud Nealy in his designs. All MCS System knives are slim and lightweight. The X-Cel weighs in at just 3.5 ounces.
Bud Nealy's MCS System is one of the most versatile carry systems available. Many, including this author, would argue that it's the most versatile carry system. First developed by Nealy in the 1980s, the MCS System consists of a Kydex® sheath that can be fitted with five different attachments (included), allowing for nine different basic carry positions (ten with the optional boot strap). Printed instructions are included. The MCS System can be used for either right- or left-hand carry.
The original MCS System has now been enhanced with the new MCS II System. The MCS II System incorporates 3M™ Dual Lock™ adhesivebacked self-mating fasteners. Consisting of 400 tiny mushroom heads per square inch, Dual Lock has over five times the holding power of hook and loop fasteners. The MCS II System further increases the versatility of the system, allows carry positions to be set up more quickly, and offers both onbody and off-body use.
Two pieces of Dual Lock are included with the MCS II System to facilitate off-body mounting on any flat surface. Dual Lock is additionally available at many hardware stores. Radio Shack carries it under the label Superlock™.
As would be expected from a custom knifemaker of Bud Nealy's stature, the workmanship on my X-Cel is absolutely flawless. All Bud Nealy knives are stamped with the maker's mark and individually serial numbered. The knives are fully guaranteed against defects in materials and workmanship.
A Bud Nealy X-Cel MCS System knife with a CPM 154 blade will run you $240 plus $15 for domestic shipping. An X-Cel in CPM S30V costs an additional $35. These prices are quite reasonable considering that you are getting a custom handmade knife from a top knifemaker.