The Casbah™ is a new side-opening automatic knife from Benchmade® that's been designed with function and utility in mind. It's modeled on the popular HK® Patrol Knife made by Benchmade, which the Casbah has replaced, but with an upgrade to CPM S30V blade steel. Its light weight makes it an outstanding knife for everyday carry (EDC).
Misconceptions exist regarding auto-opening (switchblade) knives. Contrary to what many have been led to believe, they are not illegal in most states. State and Federal laws against auto-opening knives date back to the 1950s, when the sensationalistic media fueled public hysteria over switchblades as a growing "menace" despite no facts to support this. Some politicians saw this as a political opportunity. Sound familiar?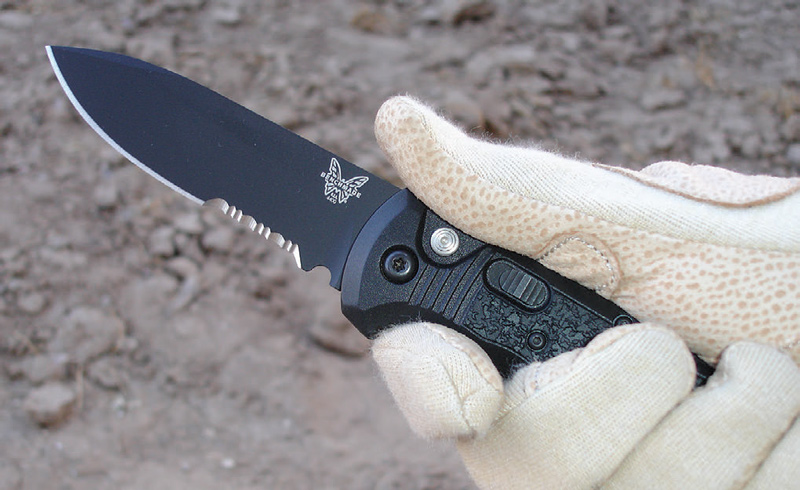 The Federal Switchblade Act (Public Law 85-623) was passed into law in 1958. It regulates the manufacture and introduction of switchblades into interstate commerce.
Contrary to what most believe, and I quote the American Knife and Tool Institute (AKTI), a non-profit advocacy group for the knife industry and consumers, verbatim here in regard to the Switchblade Act, "It has no application to individual consumers, or most merchants who sell knives. It has no application to laws within a state." Legislation has been introduced in Congress that would repeal the Federal Switchblade Act altogether.
As of this writing, auto-opening knives are legal for private citizens in 36 states (with more states likely to follow), although some restrictions apply in certain states. Legislation has been introduced to repeal bans in additional states. Check the AKTI website for specific details of the knife laws in each state and the District of Columbia.

Now that we have dispelled some common myths about auto-opening knife laws, let's take a look at the Benchmade Casbah.
Like its predecessor, the Casbah was designed to be an easy-to-carry duty knife. One of Benchmade's Black Class models, the Casbah features blue or black textured Grivory® (glass fiber reinforced nylon co-polymer) scales, stainless steel liners, droppoint style blade, and deep carry pocket clip designed for right- or lefthand tip-up carry.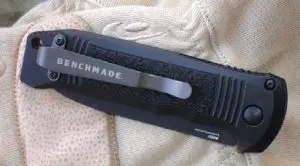 The drop-point blade measures 3.4 inches in length and is 0.144 inch thick. It's available with either a plain or partially serrated edge and with a satin finish or durable black Cerakote® ceramic coating. The blade is sabre ground. It comes razor sharp out of the box.
The use of CPM S30V stainless steel (58-60 HRC) is a significant upgrade from the D2 tool steel blade of the HK Patrol Knife. S30V is a wear- and corrosion-resistant, high-chromium premium-grade stainless steel also containing molybdenum and vanadium. S30V performs like a high-end tool steel with a corrosion resistance better than 440C. S30V has a very refined grain microstructure that allows it to take a fine, consistent edge. It has superior edge retention.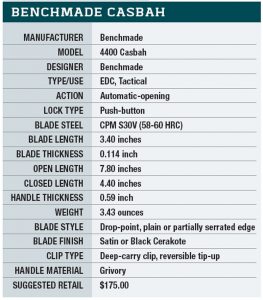 The Casbah's ergonomics are outstanding. The handle is comfortable with all grip styles, and the balance of the Casbah is darn near perfect.
The Casbah is easy to grip. Texturing on the handle, jimping in all the right locations, and shallow finger grooves enhance retention and improve control. There's a large lanyard hole that allows 550 cord to be attached.
The Casbah features a recessed oversized firing button/push-button lock (plunge lock) and a front-mounted slide safety that lock the blade in place, open or closed. The opening mechanism employs a powerful coil spring for smooth, fast, and reliable blade deployment. The blade opens with authority and locks securely. There's absolutely no play in the blade.
The Casbah has an overall length of 7.8 inches when open. Closed length is 4.4 inches. The handle is 0.59 inch thick. The knife weighs only 3.43 ounces.
The size and weight are ideal for EDC. It carries easily in a pocket, and you can't beat a drop-point blade for all-around utility. The workmanship is absolutely first-rate, as expected with any Benchmade product. Frankly, I can't think of anything I would change on this knife.
Suggested retail price of the Casbah is $175, very reasonable for an autoopening knife of such high quality. Benchmade offers custom laser-marking options. The Casbah is made in the USA and comes with Benchmade's Lifetime Warranty and Lifesharp lifetime sharpening.
If you're looking for a great autoopener for duty or EDC, check out the new Benchmade Casbah.