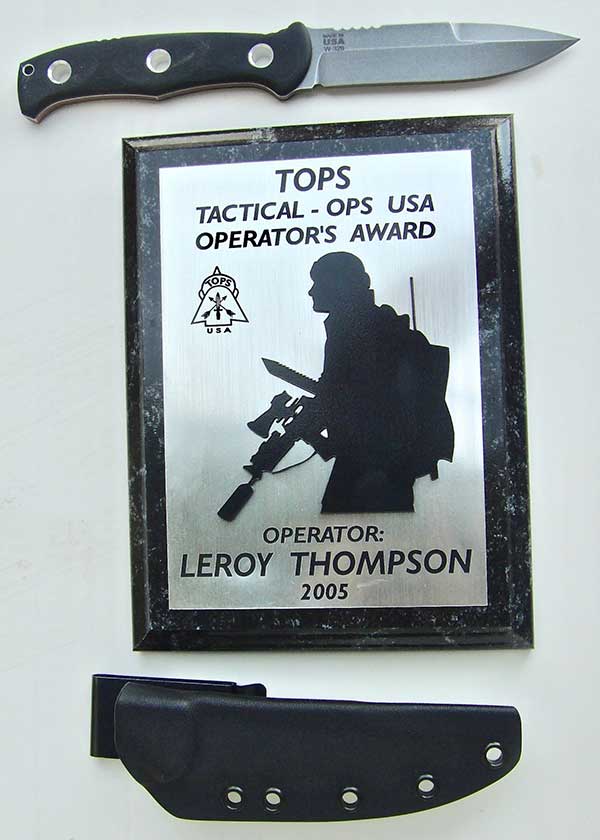 Special Forces officer LTC Nick Rowe was one of the few U.S. POWs to escape from VC/NVA captivity during the Vietnam War. Based on his experiences, he helped establish the U.S. Army SERE (Survival, Evasion, Resistance, Escape) training program in 1981 for special operations personnel as well as air crewmen who might be captured after going down in enemy-controlled territory. This initial SERE training has evolved to suit the AOs (Areas of Operation) and missions of special operators during the War on Terror.
Al Mar, a former member of Special Forces himself, designed a large folding knife to fit the needs of an operator E&Eing (Escaping & Evading). Heavy enough for combat survival usage but also capable of use in close combat, this knife was designated the SERE Knife and accepted by Nick Rowe for use by graduates of the SERE school. This original Al Mar SERE was a good-sized folder with a 4.25-inch blade, four-inch cutting edge, and about ten inches overall length when open. Closed, overall length was about 5.5 inches. It was not designed for pocket carry and came with a belt sheath.
The sheath of the one I own is of camo ballistic nylon, but I have seen leather sheaths as well. I've had my SERE folder for over 30 years. At one point when I was training counterinsurgency troops, I carried it along with my Browning Hi Power and a few other items on my "go belt."
As a fan of Al Mar knives, the SERE, and TOPS Knives, I was intrigued when TOPS offered the fixed-blade Mini SERE Operator. I have known TOPS founder Mike Fuller for many years and have always appreciated his dedication to producing reasonably priced, practical, and durable blades for military special operators and police tactical operators, as well as for others who just want a really usable knife.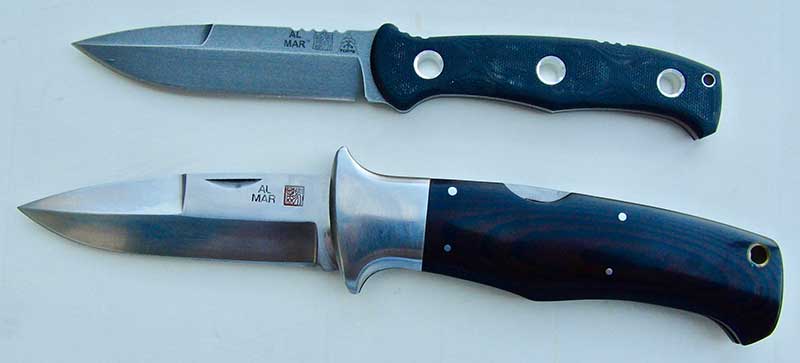 I expected the Mini SERE Operator to fit those criteria, and it does.
The Mini SERE Operator is a fixed-blade knife rather than a folder. It has a four-inch blade with a cutting edge of 3.88 inches, only slightly less than my SERE folder, but its overall length is less than that of the folder, at 8.75 inches. With its sheath, the Mini SERE Operator weighs only 7.1 ounces. That sheath is of Black Kydex and incorporates the rotating sheath clip used on many TOPS knives. I have found this allows them to be carried to the individual user's needs.
For example, since I often carry a blade for easy access to my left hand as a backup/aid to weapons retention, I find that I can position this sheath to exactly the right angle to allow rapid access.
The black G10 handle of the Mini SERE Operator offers a surer gripping surface than the Micarta handles of my SERE folder.

The Mini SERE Operator's blade is barely a drop point, really almost a spear point. The top false edge is not sharpened, but TOPS will sharpen it upon request. It can function well for stabbing or slashing. Atop the blade is jimping that functions as a thumb rest for those who use that technique.
Speaking of technique, the handle of the Mini SERE Operator is versatile enough to allow whatever combat grip the wielder prefers.
The original SERE folder was designed, as its name suggests, for Survival, Evasion, Resistance, Escape. A lot of the emphasis in its design was for the first two—survival and evasion, hence its useful feature as a folding survival knife.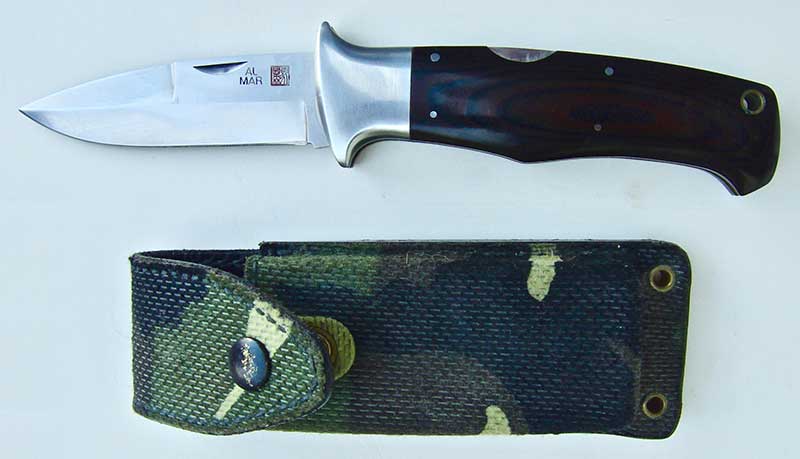 The Mini SERE Operator is really more of a close-combat weapon, though it can perform light combat survival tasks. It is definitely more agile in the hand for use in close-quarters combat. Many blade-fighting techniques emphasize multiple quick strikes to cause rapid bleed out and escalating pain. The Mini SERE Operator is quick enough to allow multiple quick stabs, slashes at arms or legs, and devastating Z-cuts to the torso.
For E&Eing, the original SERE would probably be a better choice for cutting off branches or cutting up game. It would also offer a better weapon for punching through an enemy's heavy clothing or web gear. Certainly, for urban close combat, the Mini SERE Operator would be a better choice.

That doesn't mean I don't see a place for the Mini SERE Operator on military web gear or survival vests. Today, most military personnel and law enforcement tactical operators carry some type of multi-tool to perform general tasks. A few, especially those deployed to work with "indigs," may need a larger general-purpose fighting/survival knife, a machete, or a kukri.
Still, there is usually room on the gear for a light combat knife that can be grabbed quickly and thrust deeply during a struggle in a dark hallway, alleyway, or mud hut. For that, the Mini SERE Operator can serve well.
Whether it's the Mini SERE Operator or one of the numerous other TOPS knives designed to meet military or law enforcement needs, TOPS quality remains high, while its prices remain within the budgets of enlisted soldiers, Marines, street cops, and working folks.
As I write this, the suggested retail price of the Mini SERE Operator is $210, but TOPS has a special offer of $170. That's a good deal.
SOURCE
TOPS KNIVES
(208) 542-0113
www.topsknives.com