YOU need to prepare for all contingencies. In closequarters lethal-force encounters, you may not have the time or ability to deploy your firearm. Empty hand, knife, and gun need to become integrated skill sets.
A dedicated blade for personal defense is an essential component of everyday carry (EDC) for anyone serious about safety. You not only need to carry one but also know how to use it effectively.
Although folders are the most popular EDC knives, a fixed-blade knife (where legal) has key advantages where self-defense is concerned, notably ease and speed of deployment, utilizing only gross motor skills, and no locking mechanism to potentially fail.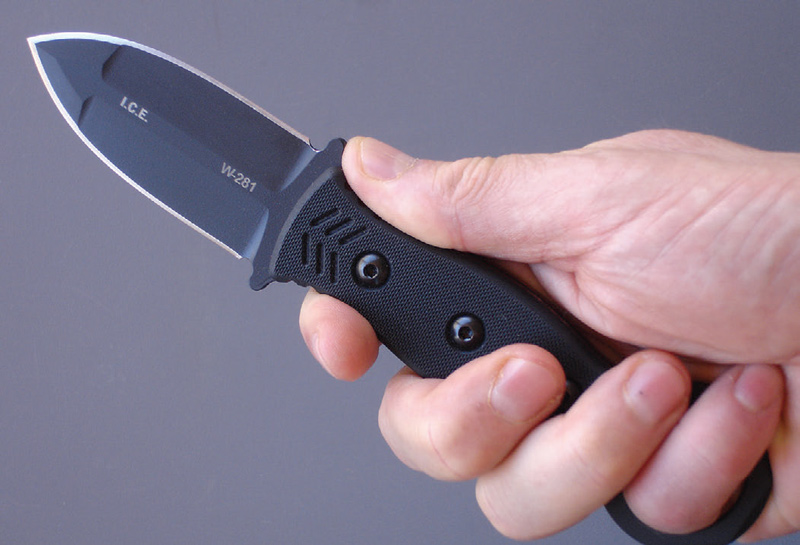 TOPS Knives recently provided me with its new I.C.E. Dagger™ for evaluation. I.C.E. stands for "In Case of Emergency." The knife was designed by Andy Tran specifically as a no-compromise, last-ditch defensive weapon for law enforcement, military, and other armed professionals. Function was the main driving force behind the design of the I.C.E. Dagger. There isn't anything else quite like it on the market.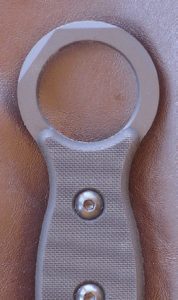 The I.C.E. Dagger is of full-tang design and features a full-tang threeinch double-edge dagger blade. The blade has a unique compound grind that gives it an exceptionally strong reinforced tip and an extremely sharp cutting edge.
The tip is a weak point (no pun intended) on many daggers. Not so with the I.C.E. Dagger. Andy Tran has a You- Tube® video of him repeatedly punching the knife through steel ammo cans without any damage to the blade.
The blade is made of 1095 high carbon steel. As I have mentioned in previous articles, 1095 contains only two alloying elements: approximately 0.95% carbon (hence the 95 in 1095) and 0.4% manganese.
1095 is reasonably tough, holds an edge well, and is easy to sharpen. It's less brittle than many other types of steel due to its lower manganese levels. It does require some care, as it can rust.
The blade is differentially heat treated to 56-58 HRC. This process allows the maker to selectively harden or soften different areas of the blade to create optimal hardness. The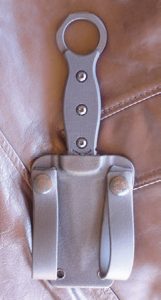 renowned feudal Japanese Samurai swordsmiths used differential heat treating on their blades.
The I.C.E. Dagger has a matte-black Cerakote® coating. Cerakote is a thinfilm ceramic coating that provides excellent corrosion resistance and lubricity, as well as high chemical resistance. It's exceptionally hard and wear resistant, making it an ideal coating for a hard-use knife.
The I.C.E. Dagger has a micro double guard to help prevent your hand from slipping forward on the blade during a fight. The edges of the micro guard are rounded to prevent snagging on clothing during the draw.
The handle incorporates a finger ring that aids in rapid deployment and retention. It also doubles as an impact weapon. The ring has an inner diameter of one inch for use with heavy gloves, and it features outer scalloping to enhance its impact capabilities.
The handle features aggressively textured black G10 low-profile scales with red-orange liners. The texturing provides a secure grip without being so rough as to abrade clothing. The edges of the scales are chamfered for comfort. Palm swells and jimping on the tang spine provide additional security and control.
The scales are attached by three round-head hex socket screws for easy removal for cleaning or to further reduce the thickness of the grip. Another option is a paracord wrapped handle.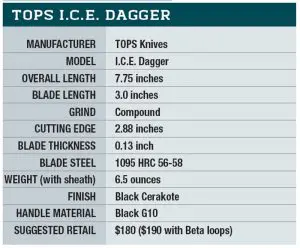 The I.C.E. Dagger comes with a custom friction-fit hybrid Kydex® self-draining sheath that provides the strength of a one-piece design with the mounting capability of a pancake design. The metal grommets are spaced to allow the mount of your choice, such as those from Blade-Tech®. The sheath comes with a stainless steel break-away neck chain.
Beta loops are available as an option for IWB and OWB carry. The Beta loops are strong, flexible, and feature a rubberized coating so they don't slide around on your belt. They have Pullthe- Dot directional snaps and fit belts up to 2.25 inches wide.
The sheath is secure and rattle free, yet allows for easy deployment of the blade. I was unable to dislodge the knife from the sheath with very aggressive shaking.
The I.C.E. Dagger is optimized for use with either forward or reverse grips. It can be used with a standard grip or the finger ring. I have averagesize hands and found the grip very comfortable. The knife has excellent balance and is lively in the hand.
The workmanship on the I.C.E. Dagger I received is flawless, as has been the case with all TOPS Knives I have examined. All TOPS Knives are made in the USA.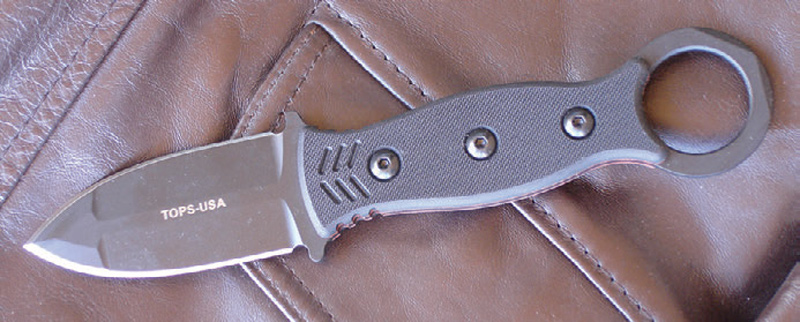 Suggested retail price for the I.C.E. Dagger is $180. Beta loops are $10 additional. Custom options include serrations, camo finish, and Rocky Mountain Tread. As with all TOPS fixed-blade knives, the I.C.E. Dagger is covered by a limited lifetime warranty (one year on the sheath).
If you're looking for an outstanding fixed-blade knife for personal defense, check out the new I.C.E. Dagger from TOPS Knives.