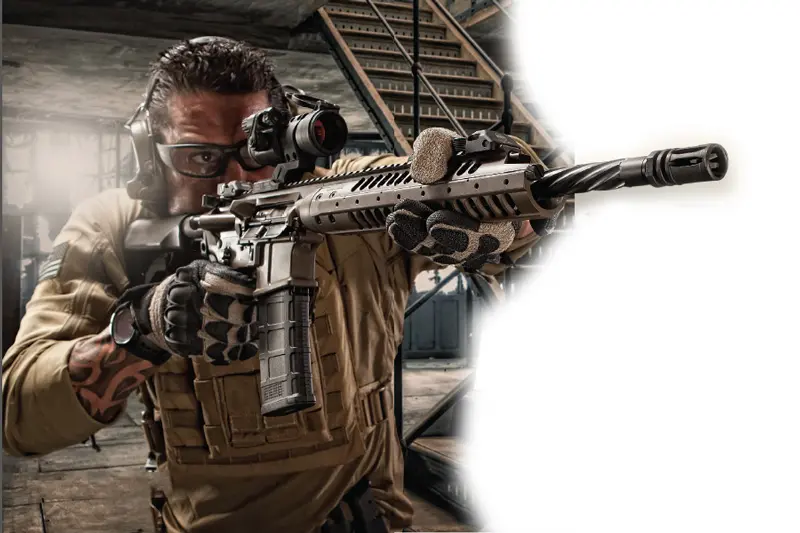 I'VE been the Editor of S.W.A.T. for 26 years, and shooting for twice that amount of time. Still, I never tire of testing, evaluating, and writing about new firearms. One of the latest I was able to get my hands on was an IC-A5 from Land Warfare Resources Corporation (LWRC).
LWRC produces numerous weapons based on the AR/M4 system, including rifles, carbines, SBRs, and personal defense weapons. But unlike the majority of firearms built on the M4 family of weapons, LWRC uses a proprietary short-stroke, self-regulating gas piston system and bolt carrier design. Over the years, I have encountered very few problems with the Stoner-designed direct impingement system, assuming the gun is kept properly lubricated. But a piston system does run cleaner and cooler.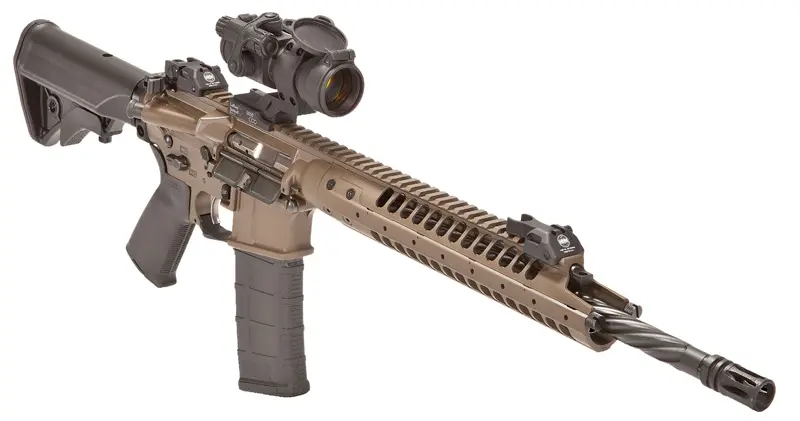 The IC-A5 is one of the newer models in the IC product line. This carbine has a low-profile two-position adjustable gas block that allows the user to compensate for running a suppressor while getting the added benefit of LWRC's longer modular rail system. The standard color for the IC-A5 is Black, but the test gun was finished in Patriot Brown Cerakote™ ceramic finish (LWRC has a $150 upcharge for Cerakote).
A spiral-fluted version of LWRC's cold hammer forged barrel is standard on the 14.7- and 16.1-inch (tested here) barrel lengths. The spiral-fluted barrel is approximately 15% lighter than an unfluted barrel of the same diameter. Lighter is always good, but the fluting also lets the barrel cool more quickly. The 5.56 guns have a 1:7 twist, which will provide accuracy from both lighter and heavier weight bullets, and the muzzle is capped with a standard A2- style birdcage flash hider. The one-piece bolt carrier has an oversized rear bearing surface to help reduce bolt bounce.
Quad rails on the handguard are becoming less common, and I for one am happy to see the cheese graters become a part of history. The IC-A5 uses a two-piece handguard/rail system. The top handguard has a fulllength Picatinny rail with ample oval-shaped vents at two and ten o'clock for cooling. The front is cut back and not only allows access to the low-profile adjustable gas block, but is also aesthetically pleasing.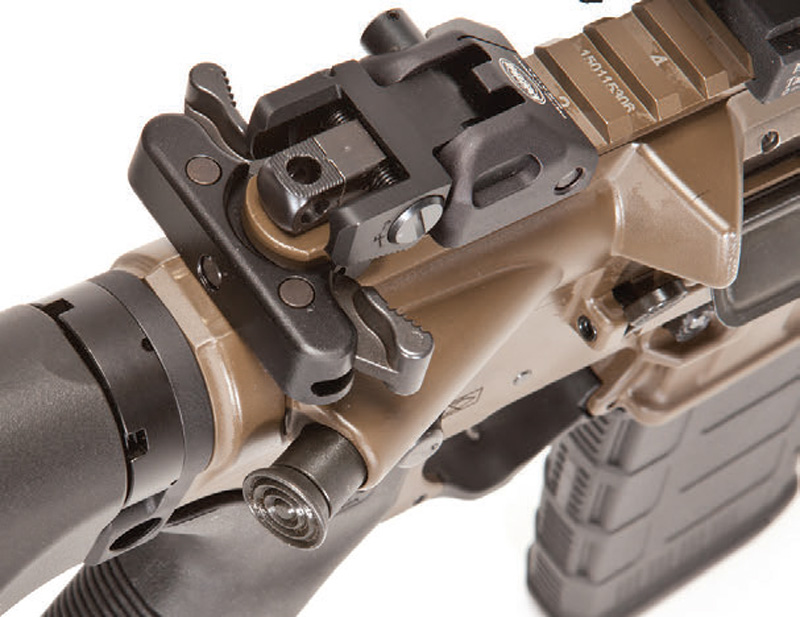 The bottom handguard has eight pre-tapped holes at three, six and nine o'clock, so a shooter can place rail sections where he wants them.
The upper receiver is a flat top with a "T" marked Picatinny rail. The charging handle is LWRC's ambidextrous design and is large enough to use with gloves. Moving to the lower receiver, all controls are completely ambidextrous, including the safety, bolt catch, and magazine release. The trigger guard is oversized and fills the annoying gap usually found between the trigger guard and pistol grip. The pistol grip itself is Magpul's MIAD.
The receiver end plate is LWRC's QD ambi sling mount. The milspec lower receiver extension (buffer tube) was fitted with an LWRC six-position collapsible stock. The rifle was fitted with LWRC's front and rear folding back-up iron sights (BUIS). The rear is adjustable for windage and the front adjustable for elevation.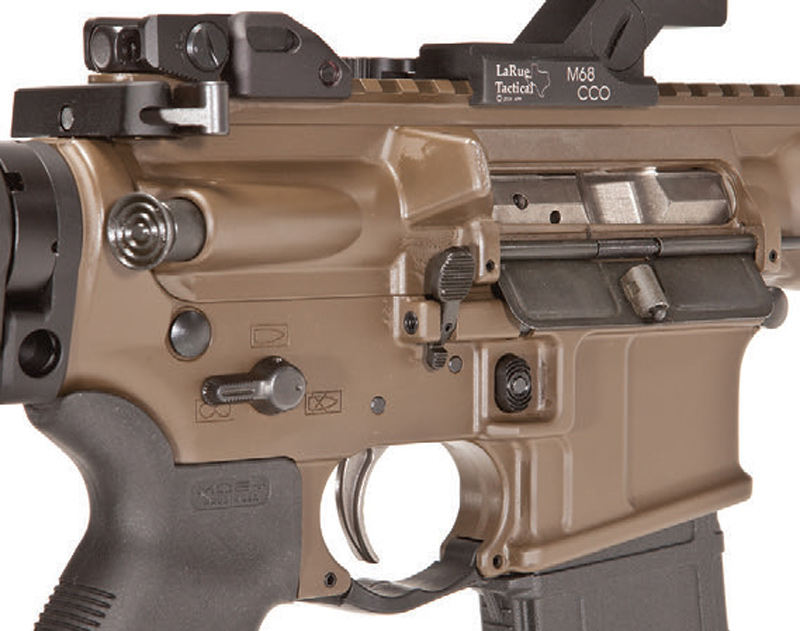 ADDITIONS
After zeroing the BUIS, I mounted an Aimpoint Patrol Rifle Optic (PRO). Aimpoint launched the PRO in 2011 and it became an instant hit. Based on the Comp M2, the PRO uses Advanced Circuit Efficiency Technology, which lets the sight run for 30,000 hours—almost three years—of continuous use at setting seven. The sight has a total of ten settings: six daylight, one of which is extra bright, and four that are compatible with all generations of night vision. It is powered by a single DL 1/3N battery. The PRO weighs 7.8 ounces.
Since I was taking the IC-A5 to a course that had a night shoot, I attached a rail section at nine o'clock and mounted a Streamlight TLR-1 HPL. The light is powered by two CR123 batteries and has momentary, constant-on, and strobe modes. It can produce 775 lumens for 1.75 hours. Weight is 5.3 ounces, bringing the total weight of the test carbine to just over eight pounds unloaded.
I attached an LWRC QD rail QD sling mount so I could use a Blue Force Gear Vickers Combat Applications Sling™. I should mention that both of the QD attachments— the receiver end plate and the rail mount— have stops built into them that only permit the sling swivels to rotate about ¼ turn. I really like this feature because it keeps the sling from becoming twisted.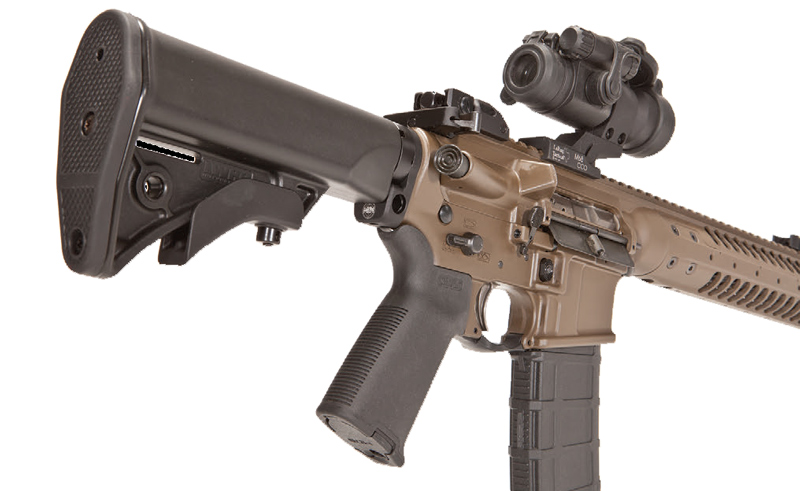 GOING TO SCHOOL
When I evaluate a firearm, I always try to run it hard before I form an opinion. Over the years I've found any problems, including going completely Tango Uniform, will occur in a high-round-count course, so I took the IC-A5 to the 223-Basic Carbine Course at Gunsite: five days and 1,200 rounds. This was my third 223 class. Why another basic course? Because it stresses the foundation that all skill sets are based on, and few people can ever get too much of the basics.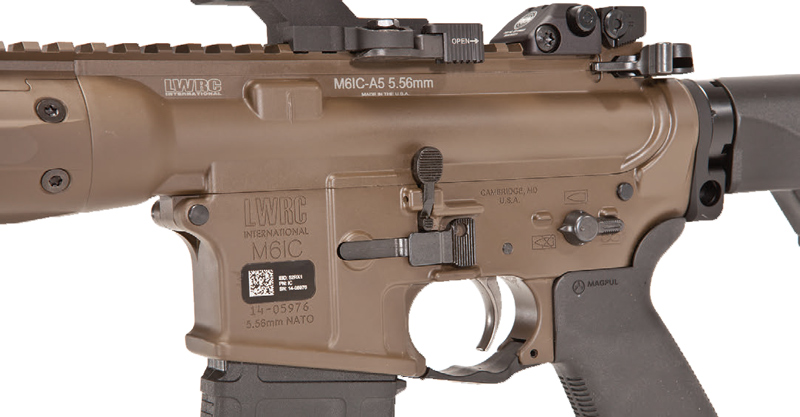 I zeroed the carbine before the class with some nineyear- old Black Hills Match ammo. I had loaded this ammo into stripper clips in preparation for a Pat Rogers/ EAG class that I never got around to taking, and I had stored the ammo in an airtight ammo can. After a zero was established, I fired some Black Hills remanufactured Match, and finally some brand new, newly manufactured ammo that arrived only an hour before I left for the range. All loads went into an inch at the same point of aim. Try that with some other manufacturers' ammo from different lots made nine years apart!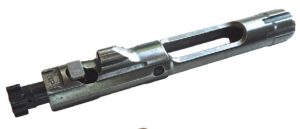 For the record, regardless of what you read on the Internet, .223 and 5.56x45mm NATO are not the same thing. You can safely fire .223 in a gun chambered for 5.56, but the reverse is not recommended. I lubed the bolt sparingly with Slip 2000 EWL, but did not clean the carbine.
For the course I used the IC-A5; a Kimber 1911; holster, double pistol and single carbine mag pouch from Rafter L Gunleather; U.S. PALM Defender vest for ammo management; a Vickers Combat Applications Sling™ from Blue Force Gear; and the aforementioned Black Hills 68-grain Match .223 ammo.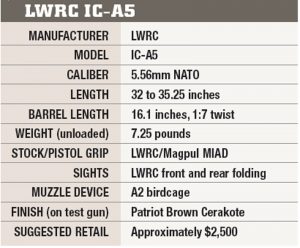 TRAINING DAY 1
Rangemaster for the course was Cory Trapp, assisted by Larry Landers and Dave Hartman. Like many open classes, the students were an eclectic group from many walks of life: two Federal agents, an airline pilot, a dermatologist and his wife, a police officer and his wife, a father and son team attending their third Gunsite class, and myself. The day began with the usual administrative details, safety brief, and the terminology of the range commands that would be used in the coming week, and then it was off to the range.
Gunsite has numerous ranges, and for this course our "home range" was the Shot Quad. The class began by zeroing or confirming zeros at 35 yards. The zero I had obtained before the class was from 50 yards, and the difference was so insignificant, I did not make any changes.
After lunch, the class was introduced to the principle of offset (the difference between the bore line and sight line), shooting pairs, dedicated pairs (two quick shots with two sight pictures), and hammers (two rapid shots with one sight picture).
This was followed by failure drills (two shots to the chest followed by a head shot). Each drill was shot numerous times this day from the high ready position from five to 15 yards.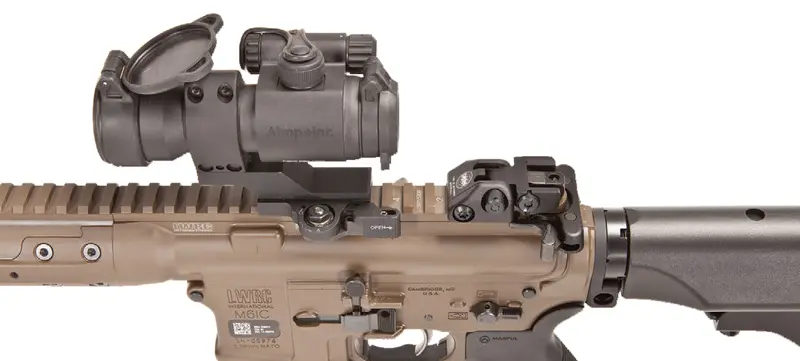 On TD1, we also covered tactical reloads and the post-shooting sequence that included staying on the target to make sure the threat was down, scanning for more bad guys and returning to the original target to make sure it was still down, bringing the support hand underneath to feel the bolt and make sure it was completely closed, closing the dust cover, and moving the selector back to safe.
TRAINING DAY 2
The morning began with a review of what we had covered the first day by running numerous drills. This also served as a warm-up. Next we were introduced to malfunctions and the immediate action drills used to clear them.
After lunch we went to the York Range (named after Alvin York of World War I fame), which adjoins the Shot Quad, for position work and to check where our shots were impacting at 100 yards. Many variables exist, including different bullet weights, velocity, and twist rates in rifles, but generally speaking, the rounds should be at or close to their maximum ordinate (the highest point in trajectory before gravity takes effect and they begin dropping) and impact a few inches above the established zero.
Intermediate positions from 50 yards included Braced Kneeling, Speed Kneeling, and Squat. We fired two to three, five-round groups from each position, then went forward and read the targets to determine what worked best for the individual, and taped them.
Moving back to 100, we shot from Prone and three different sitting positions—Crossed Leg, Crossed Ankles, and Open Leg. Again we fired several five-round groups from each position and then checked our targets. This was a lot of "up-downs" and walking downrange, but it ensured we were not just making small holes in the atmosphere that filled right back in.
The day ended in the classroom with a short ballistics lecture.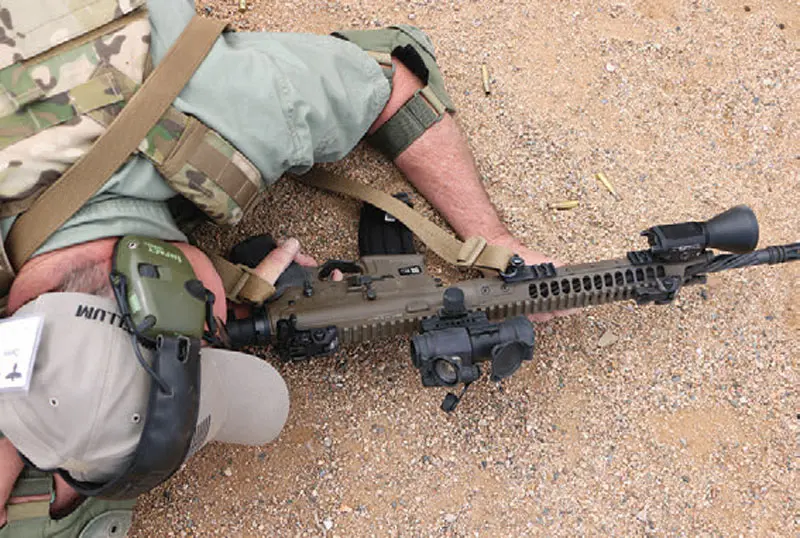 TRAINING DAY 3
As on TD2, we gathered at the Shot Quad for a short review and warm-up exercises shooting hammers with a failure drill up close, and dedicated pairs with a failure drill at 15 and 25 yards.
Next up we went to York for some 100-yard prone shooting and then to 200 yards to confirm our zeros were intersecting in the center of the target or just slightly high. This required a small amount of tweaking on the optics of all students. We'd fire a five-round group, walk down and check our targets, then return to the 200-yard line and do it again until all students were happy with the groups they were shooting. Then we broke for lunch.
Back on the York range, we spent most of the afternoon working on the indoor ready position, left and right pivots, and 180-degree turns from the 35-yard line. If a malfunction occurs at close range (inside 25 yards), the best response is not to try to clear the carbine, but transition from the long gun to the handgun. We were instructed on techniques for manipulating the carbine—with and without a sling—and going to the handgun. It was appropriately stressed that the handgun should be topped after shooting to insure.
TD3 also had us performing some positions that are rarely taught. In Supine, the shooter lies on his back with the rifle across his chest to take advantage of very low cover, such as a curb. Urban Prone has the dust cover (for a right-handed shooter) turned to Mother Earth, and the shooter gets as low as he can. This position can be used for shooting under a car. SBU Prone is very similar to classic prone except the shooter lies down on his weapon to get very low.
The class was also introduced to the non-standard response (NSR). The standard response is two rounds to the center of the target. An NSR is three or more rounds, fired as multiple hammers. Exactly how many rounds? As many as it takes until the target is no longer a threat. Personally, as a general rule, I fire about five rounds. We concluded TD3 by meeting at one of the indoor simulators for a short basic tactics lecture.
TRAINING DAY 4
We began by splitting the class, with half going to an indoor simulator and the others an outdoor simulator. These were very eye opening for several of my classmates, as it was their first experience off a square range.
The outdoor simulator was fired on the Military Crest range and consisted of steel plates from around 100 to just under 300 yards. Photographic shoot/don't shoot paper targets were used in the indoor simulator. With most of the targets at bad breath distance, I chose to fire an NSR on most. Two exceptions were a bad guy with a hostage that required me to slow down, remember my offset, and carefully place a head shot; and two bad guys side-by-side, for which I chose to fire a box drill (a hammer on the first, a hammer on the second, then a head shot on each).
We wrapped up the morning by shooting the Scrambler— a course of fire that consists of seven shooting stations, each of which requires the student to engage from a different shooting position and do so as quickly as possible.
In the afternoon we went to the Woodfill range for more position shooting from 100 and 200 yards. After breaking from the range for a few hours, the cadre gave a lecture on different flashlight techniques, both handheld and weapon mounted. TD4 concluded with a night shoot where we used the techniques that had been demonstrated.

(NON) TRAINING DAY 5
Unfortunately, I became ill on the last day and was not able to finish the class. But as stated above, this was my third Gunsite 223 class, and while no two classes are ever exactly the same, I can basically fill in the blanks. Normally the last day is fairly laid back, with shooting at 200 yards followed by class drills so students can see how they stack up against the par times and have a goal to work toward on their own. This is usually followed by a shoot off and graduation.
What I can say without hesitation is that after the first day, most students think it's going to be a very long, tiring week, and on Friday they wonder where the time went.
SUMMARY
The IC-A5 ran like the proverbial freight train. The only lubrication applied was when I zeroed it before class. Wanting to see how clean and reliable the piston system ran, I didn't lube it again and didn't clean it during the class. Being absent on the last day, I fired approximately 950 rounds downrange.
After class, I opened the gun and was surprised to see how clean it was. The bolt carrier had virtually no grime or carbon build-up, and when I removed the bolt, there was none of the characteristic build-up of carbon on the tail of the bolt or firing pin.
The Cerakote finish was only slightly worn on the inside of the magazine well, after at least 100 times inserting and removing magazines. I liked the ambi bolt catch for clearing the carbine, as I was able to pull back the charging handle with my left hand and lock the bolt using my trigger finger while never losing a firing grip.
My only complaint is that the ambidextrous selector is smaller than normal and thus more difficult to manipulate, albeit very slightly. It was easier to move the selector to safe with the tip of my trigger finger than my weak-side thumb.
The Second Amendment gives us the right to Keep and Bear Arms, however, I believe everyone should receive training from a credible instructor in the use of them. It takes time and money, but the dividends you receive if you ever have to use your firearms cannot be calculated.