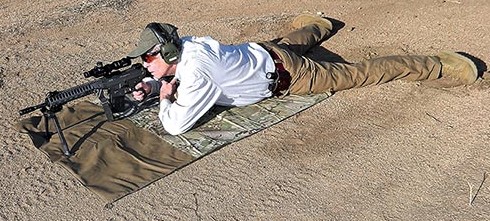 My first centerfire rifle was a Model 740 Remington Woodsmaster chambered in .308 Winchester handed down to me by my brother. I made my first successful deer hunt with it at the ripe old age of 13, using M80 ball ammo.

Knowing what I know now, I would never consider using FMJ ammo on game, but a soft spot in my heart for the .308 remains.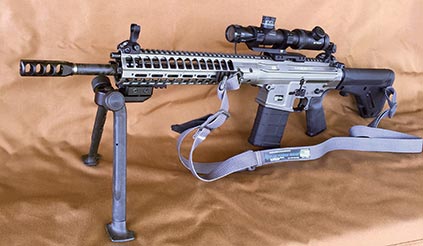 When someone thinks about AR-platform rifles, the first thing that comes to mind is usually the 5.54x45mm NATO cartridge and, in the last several years, possibly the .300 Blackout.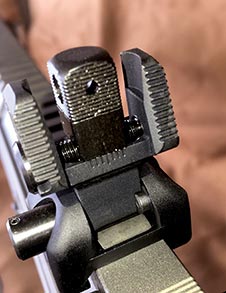 "AR" stands for ArmaLite, not assault rifle or automatic rifle, and the first rifle made by ArmaLite was the AR-10. It is a sometimes forgotten fact that these first rifles were chambered for 7.62x51mm NATO.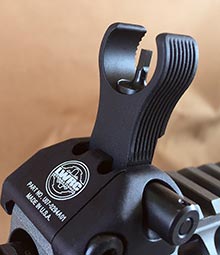 In the mid-1950s, when the U.S. Army was looking for a replacement for the M1 Rifle (Garand), ArmaLite submitted AR-10s for the trials. Eventually the tests came down to the T48 (FN FAL) and T44. The latter would be adopted and become known as the M14, but the place in history was cemented for the AR-type rifle chambered for .308.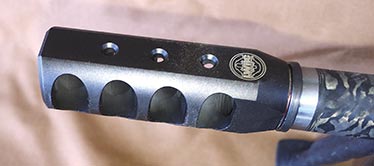 Today, almost as many manufacturers make a .308 version as .223 variants. One company at the forefront is LWRCI. This article focuses on the LWRCI Rapid Engagement Precision Rifle (R.E.P.R.) MKII.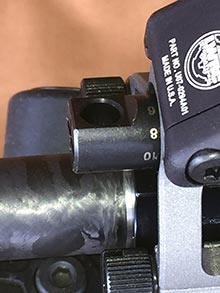 R.E.P.R. MKII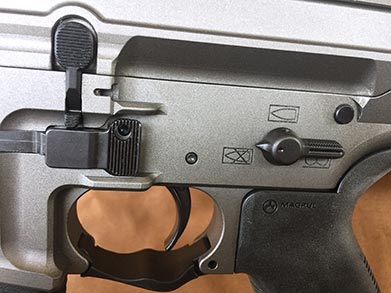 At the heart of the R.E.P.R. is LWRCI's patented short-stroke gas-piston system, which offers extreme reliability and easy maintenance while running cooler and cleaner than the direct-impingement method.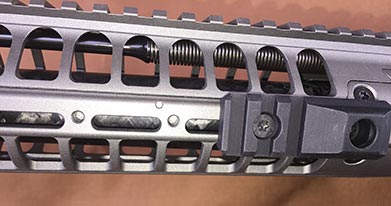 LWRCI refers to the upper receiver as Monoforge™. The upper has an integrated rail-base, making it arguably stronger than a standard-pattern upper.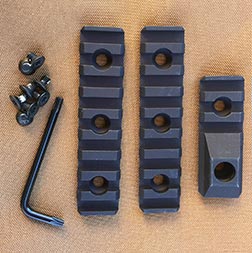 A PROOF Research carbon-fiber 16.1-inch barrel has a 1:8 twist. It is topped with an LWRCI Ultra muzzle brake, which has four slots at three and nine o'clock and three holes on top of the brake at 12 o'clock. Thread pattern is 5/8×24 TPI, so it will accept other muzzle devices such as silencers.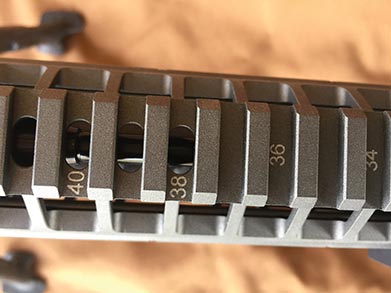 A Picatinny "T-marked" rail runs from the rear of the upper receiver to the end of the handguard. In addition to the top rail, the handguard has eight threaded holes for attaching rail sections at three, six, and nine o'clock.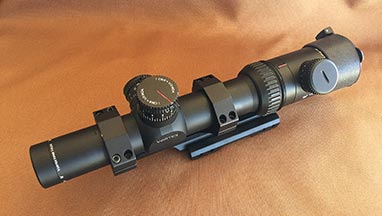 The R.E.P.R. is fully ambidextrous, including the bolt catch/release, magazine release, safety, and charging handle. An oversized trigger guard allows easy operation with gloves.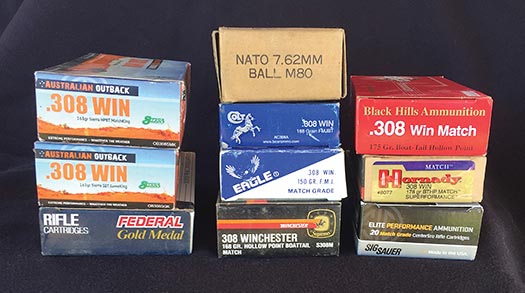 Sights are fold-down LWRCI Skirmish™ Sights. The rear sight is adjustable for windage. The front sight is adjustable for elevation and is semi-hooded to protect the front sight post and reduce glare. The rifle comes with a Geissele® SSA-E 2-Stage Precision Trigger. Using my Lyman Electronic Trigger Gauge, the trigger pull averaged just under four pounds.
The gas regulator has 18 positions, allowing for a wide range of ammunition and a suppressor. The knob is located at the top front of the handguard and can be easily turned by hand.
The R.E.P.R. comes with a Magpul UBR Gen 2 eight-position stock. Pistol grip is Magpul's MOE+® Grip, which combines a reinforced polymer body with wrap-around rubber overmolding for a sure grip. The model tested had a Tungsten Gray Cerakote finish but is also available in Black, Flat Dark Earth, Patriot Brown, and Olive Drab.
The R.E.P.R. ships with one PMAG20 GEN M3 magazine, two 3.5-inch rail sections, a rail section with QD sling mounts, screws and Torx wrench, manual, and the obligatory gun lock.
LWRCI claims the rifle is capable of sub-MOA accuracy. This assumes, of course, that quality ammunition is used and the shooter is up to the task.
7.62X51MM VS .308 WINCHESTER
Are the 7.62x51mm NATO and .308 Winchester the same cartridge? Well, yes and no. Although they appear to be the same, the 7.62 and .308 are not identical in much the same way as the 5.56x45mm and .223 Remington are not the same.
Complete articles have been written on the subject, but basically the differences are that the 7.62×51 has a longer chamber, and the military brass case is thicker than commercial .308 brass.
Much has been made about the difference in pressure. Maximum pressures for the two cartridges are often around 50,000 PSI for 7.62 and 62,000 PSI for the .308. That's a big difference!
However, the pressure for the 7.62 is based on copper units of pressure, or CUP, not actually PSI. There's not a good mathematical formula that equates CUP to PSI, but the difference for this cartridge is around 8,000, or 58,000 for 7.62 to the 62,000 for the .308. Since the proof loads fire in guns has much higher pressure, that 4,000 is not that much of a difference. SAAMI does not list either cartridge as unsafe in a firearm designed for use with the other, so .308 should be fine in a modern, safe rifle chambered for 7.62×51.
I have fired hundreds of rounds of commercial .308 out of my SIG 716 (chambered in 7.62×51) with almost zero problems. I say "almost" because I did notice signs of high pressure with one particular load in the form of a flattened primer and difficult extraction. This was likely due more to excessive headspace than high pressure.
Finally, since the majority of people are of the belief that the two cartridges are interchangeable, no smart manufacturer would offer a rifle for sale that was unsafe to fire both cartridges.
For those who reload, be sure to separate military and commercial cases due to the difference in internal case capacity, and load accordingly.
OPTICS
To keep the R.E.P.R. light, I chose a Vortex Viper PST 1-4X24 scope. This optic has a 30mm tube to allow ample light transmission, a field of view of 98 feet at 100 yards on 1X, and a four-inch eye relief. It's fairly compact, with a length of 9.7 inches, and weighs 14.4 ounces.
The Viper PST has an illuminated reticle with ten brightness settings. The illumination is turned off between each setting and runs on a CR 2032 battery.
The scope uses Vortex's TMCQ reticle, which is a circle broken down into four segments with a small dot in the center. It has subtension lines for determining holdovers, range estimations, and moving target leads.
Set on 1X, the scope can be used for fast and close engagements much like a red dot sight, while having the ability to increase the magnification for longer ranges.
The scope was mounted in a Vortex one-piece mount. With the scope installed, the R.E.P.R. is still relatively light for a .308 AR, tipping the scales at about 10 pounds.
After installing the scope and making sure the screws on the rings and mount were properly torqued, I attached one of the rail sections at six o'clock to secure a TangoDown AC bipod. This bipod is a bit heavier than the commonly encountered Harris models, but is also a bit sturdier, and the waffle pattern on the bottom of the feet does not let it move around as much as the rounded rubber feet on the Harris.
To complete the test rifle, I attached a two-point Vickers Sling from Blue Force Gear. This is my "go-to" sling on rifles and shotguns, and I highly recommend it.
RANGE EVALUATION
I wanted to evaluate the R.E.P.R. with a variety of ammo, so I took nine commercial .308 Winchester loads as well as 7.62x51mm M80 ball ammo with me to my range.
The commercial loads were Australian Outback 165-grain Sierra Gameking and 168-grain Sierra Matchking, Black Hills 175-grain BTHP (match), Colt 168-grain FMJBT, Eagle (IMI) 150-grain FMJ (match), Federal 168-grain BTHP (match), Hornady 178-grain BTHP (match), SIG Sauer 168-grain (match), and Winchester 168-grain BTHP (match).
I lubricated the rifle and then obtained a rough zero at 50 yards with the Australian Outback 165-grain load. Moving back to 100 yards, I tweaked the scope for that distance and then proceeded to fire five-round groups of each load.
The best grouping was achieved with the Winchester 168-grain at 0.56 inch. I was a bit surprised because this load, with the same lot number, barely made two MOA when fired through another precision rifle, while all other loads in the same evaluation were well under one MOA.
Following closely were the Black Hills 175-grain at 0.60 inch and Hornady 178-grain at 0.64 inch. The worst grouping was with the M80 ball ammunition with a group size of 1.24 inches.
The Ultra muzzle brake worked well. While felt recoil is somewhat subjective and hard to quantify, to me it didn't feel much harsher than a heavy bullet fired from a 5.56mm AR.
CONCLUSION
I enjoyed evaluating the R.E.P.R. and it performed superbly. It's everything I expect from a .308 AR-type rifle. In all honesty, if it has any drawback, it's the suggested retail price of $4,300.00. But quality does not come cheap.
If you need a hard-hitting semiautomatic rifle and have the budget to support it, the R.E.P.R. is hard to beat.
SOURCES
LWRC INTERNATIONAL
(410) 901-1348
www.lwrci.com
AUSTRALIAN OUTBACK AMMO
www.outbackammo.com.au
BLACK HILLS AMMUNITION
(605) 348-5150
www.black-hills.com
BLUE FORCE GEAR, INC.
(877) 430-2583
www.blueforcegear.com
FEDERAL PREMIUM AMMUNITION
(800) 379-1732
www.federalpremium.com
HORNADY MFG. CO.
(800) 338-3220
www.hornady.com
SIG SAUER
(603) 610-3000
www.sigammo.com
TANGODOWN INC.
(520) 888-3376
www.tangodown.com
VORTEX OPTICS
(800) 426-0048
www.vortexoptics.com
WINCHESTER AMMUNITION
(615) 258-3340
www.winchester.com
SPECIFICATIONS, LWRCI R.E.P.R. MKII
| | |
| --- | --- |
| MANUFACTURER | LWRCI |
| MODEL | R.E.P.R. MKII |
| ACTION TYPE | Short-stroke gas piston |
| CALIBER | 7.62x51mm NATO |
| BARREL | 16.1 inches, 1:8 twist |
| WEIGHT (unloaded) | 9.0 pounds |
| LENGTH | 34.8 to 37.6 inches |
| SUGGESTED RETAIL PRICE | $4,300.00 |