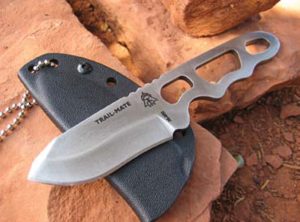 What do we need a knife to do in a hiking or backpacking situation?
It's important to understand that, unless something goes badly wrong, backpacking is not a survival situation. First of all, you will be carrying your shelter with you and most likely some firestarting material for emergencies. Most backpacking trails don't even allow fires, so the need for chopping and batoning wood is pretty much out. So what's left?
When I'm backpacking or day hiking, I carry a utility-type blade that can be used for many different chores. This means anything from cutting cord for bear bagging to emergency tarp/tent stakes. I use a poncho tarp while out enjoying the outdoors and find myself cutting different lengths of Ultralight Spectra line for tarp guy lines. Slicing open food packages and any food preparation chores are other common tasks that require a knife while backpacking. If I can whittle wood and carve trap triggers in addition to other tasks, I feel secure with a small knife in the outdoors.
TOPS TRAIL MATE
During a phone conversation with Mike Fuller of TOPS Knives, I filled him in on my upcoming trips. One was a hike up Mount Whitney, the highest trail in the lower 48, located in California's Inyo County. The hike is about 22 miles (35 km) round trip, with an elevation gain of over 6,100 feet. This translates to light is right.
My other trip was to Grand Canyon National Park in Arizona during the summer. Mike asked me if I had seen the Trail Mate.
This little knife is light! To be exact, it weighs 2.4 ounces and is made of 154CM steel. Overall length for the Trail Mate is 6 5/8 inches, with a 2 5/8-inch long blade and a maximum thickness of 1/8 inch. The Trail Mate has a Scotch Bright satin finish and a skeleton handle. Included is a Kydex neck sheath for easy carry. TOPS also offers an all-yellow (Code Yellow) model. Additionally, every Trail Mate comes with a free firestarter, emergency whistle, and saw.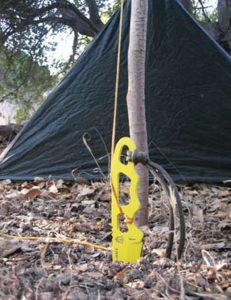 GOSSMAN PSK
Custom knifemaker Scott Gossman originally designed the PSK (Personal Survival Knife) to be a simple, lightweight, affordable knife that would fit into your pocket survival kit, made from 01 tool steel and with no scales and no sheath.
It wasn't long before people wanted to customize their own PSK by adding scales for comfort and a sheath for regular everyday carry. Scott, nice guy that he is, couldn't refuse the requests he was getting from his ever-growing customer base. These additions put the PSK at home among the hunting and bushcrafting crowd.
The PSK I received has an overall length of 6 inches, with a 2 ½-inch spear point blade, and is 1/8-inch thick and one-inch wide. Black linen Micarta scales with brass pins give it a classic look and feel. Weight of the PSK is 3 ½ ounces for the knife and five ounces for the knife and leather sheath.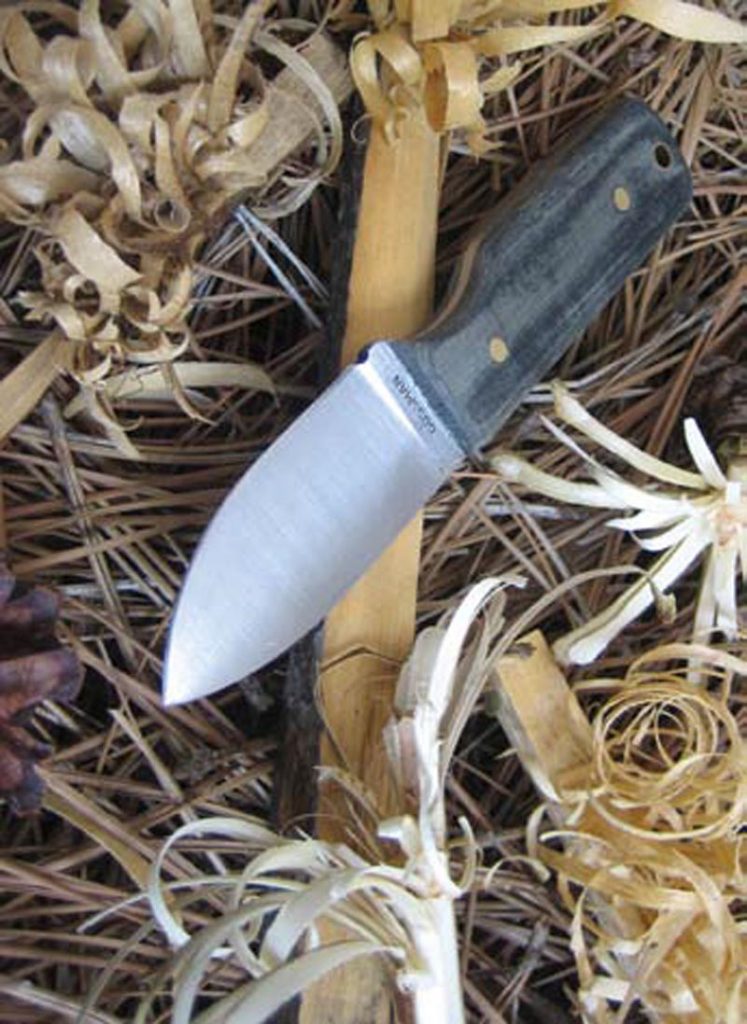 JRE Industries is making the sheath for the Gossman PSK. This is an outstanding leather sheath that features a built-in firesteel pocket. There is also a plain sheath offered without the firesteel pocket. It can be worn as a neck knife or on a belt.
The PSK immediately came in handy around the house for opening those annoying plastic clamshell packages. A small 2 1/2-inch blade is best suited for this kind of job.
TRAIL MATE AND PSK IN ACTION
On the recent hike to the summit of Mount Whitney, Gossman's PSK played the role of cheese and salami knife. No big chore, but you can bet the edge held up after multiple push cuts on a rock plate. The nice convex edge did not roll or chip.
If you wear a knife against your body in the summer heat, perspiration can easily discolor the blade. The Trail Mate, with its 154CM steel, can be used to mix food in your stew pot without worry about staining the blade. This is another good reason for using 154CM steel.
I know quite a few hikers and backpackers who don't even carry a knife. Should the need for fire arise while spending an unexpected night out while hiking, I like to know that I can whittle some fuzz sticks and get a fire going fast. This is where the Gossman PSK would come in handy. Small knives like this are perfect for controlled carving and woodwork.
Crossing creeks and streams is pretty common while backpacking. Some days I cross rivers or creeks ten times. We have all heard stories of people falling into fast-moving water only to be weighed down by their backpack and swept away. You may think that sounds dramatic, but the reality is it can and does happen.
If I fell victim to a slippery rock or my own clumsiness, I'd want the TOPS Trail Mate around my neck and ready to deploy should the need for cutting a pack off in an emergency present itself. For testing, I cut some nylon webbing off an old backpack. Cuts were smooth and quick due to the slight recurve of the blade, which catches the material and focuses more force on the cut.
Whether you choose the Gossman PSK or the TOPS Trail Mate, you can't go wrong with either for backpacking needs. It's smart to bring a little insurance into the wilderness with you just in case—especially if it weighs only a few ounces.