I think collectors from all walks of life would agree that once you get it in your head that you want something, there is little that can stop the hunt.
Over a year ago, I was searching for a survival kit with the bare minimum of items that were water resistant and multi-purpose, based around a small, handy fixed-blade knife. I had entertained the idea of making one myself by using a fixed-blade knife I owned, but I could never get it just right.
I could use rubber Ranger bands to secure gear to the sheath and make it sort of water repellant, but rubber bands have a short life when under tension in the great outdoors. Both cold temperatures and heat from the sun make the rubber brittle. Then it cracks, sending all the survival items crashing down onto the ground … or into the water, depending on where you are.
Tape is no good because of its residual sticky goo.
Many knife sheaths have a pouch, but that is not only bulky, it also forces the user to stuff everything inside it. This creates a real problem when the items become entangled—you try to retrieve one item, but invariably drag out other pieces of the kit, which fall to the ground. Retrieving a small fishing hook or matches in the snow or mud is never fun.
Continuing my search for a survival kit based around a knife, I stumbled onto the website of a knife maker named Jonathan McNees. There it was—the McNees Personal Survival Knife Kit.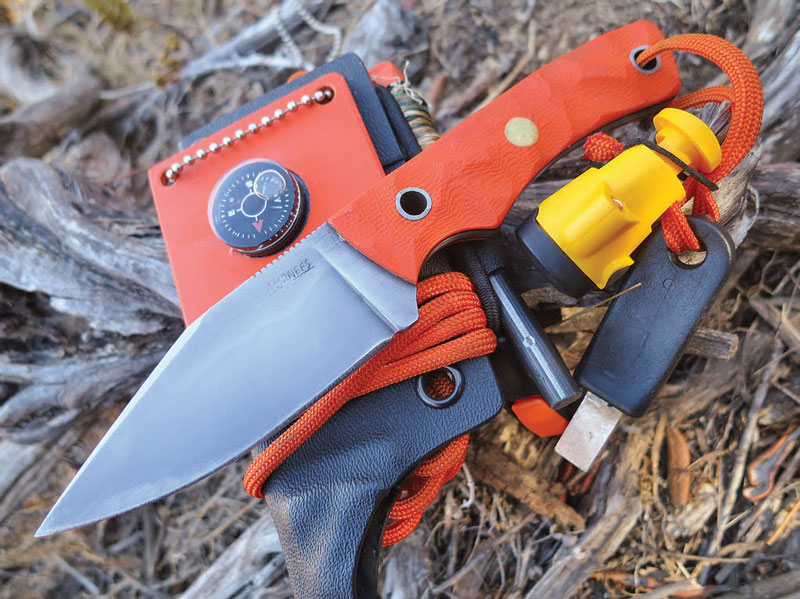 KNIFE-BASED KIT
Jonathan McNees is a former Marine and avid outdoorsman. He's been a knife fanatic for as long as he can remember. Jonathan has a passion for designing and making knives that are practical and will be put to work. With efficiency in mind, he tries to design knives with very little wasted space. Jonathan said, "I love nothing more than to hear of my knives being used."
McNees Personal Survival Knife Kit has just about everything one would need for a short-term survival situation, and the best part is that it was made for and around the sheath, not just attached as an afterthought. The components are modular, and the knife can be worn alone or with them.
PERSONAL SURVIVAL KIT
Any online search for survival kits will result in many pictures of Altoids tins being used to hold a small survival kit. People seem to be trying to outdo one another by stuffing the tins to the point of needing rubber Ranger bands and tape to keep the tins closed. That alone creates a problem because it is easier to lose the small pieces when the tin is packed like a can of sardines.
Everybody has their own ideas of what belongs in a survival kit, and I am not one to say what is best, though I too have my own preferences. A large, heavy survival kit will be more of a hindrance than a small, portable one and will usually be restricted to a backpack or glove compartment. Anyone who has toted a large kit rarely has it on them at all times. For this reason, some people have refined their kit to a smaller, more practical kit.
I speak for myself when I say that I only require four necessities in a survival kit and regard everything else as luxuries. They are: tools for firestarting, signaling, water purification, and general navigation. Besides these items, I also prefer to carry a small flashlight and duct tape for repairs and first aid.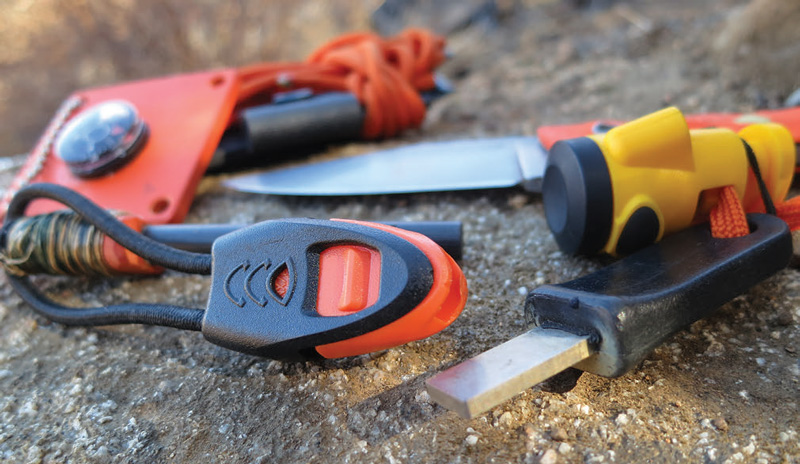 The McNees knife is a clip point neck knife in 1095 carbon steel. It has a 2½- inch blade, six-inch overall length, and is 1/8-inch thick at the spine.
The knife blade is very sharp, and the clip point boosts penetration into leather, tin cans, and wood (for drilling). The 1/8-inch thickness, combined with the thin grind, makes the knife a formidable slicer, perfect for food prep and woodcraft chores alike.
The added brightness of the orange G10 scales tacks on more insurance if the knife were to be dropped on the ground in the daytime. However, few knives have ever hit the market that are any good when dropped at night. The McNees PSK kit has a glow-in-the-dark dot on the knife handle that aids in finding the tool.
Items included in the McNees kit are a firesteel, whistle, striker, two small fishhooks, 30 feet of 30-pound test Spiderwire ® fishing line, seven feet of paracord, flashlight, compass, and small round mirror.
Two things I always look for in a kit are the redundancies of fire and signaling. Always have at least two ways (three if possible) of being able to signal for help, like a signal mirror and whistle, and the ability to make fire. The McNees PSK Kit has a firesteel with possibly the best striker I have ever used. It is a very sharp 90-degree angle meant for showering tinder with heat and sparks, giving even the most stubborn tinder a fighting chance.
The Spiderwire fishing line is very strong and has many uses, including repairs to clothing and gear such as backpacks, tarps, and tents.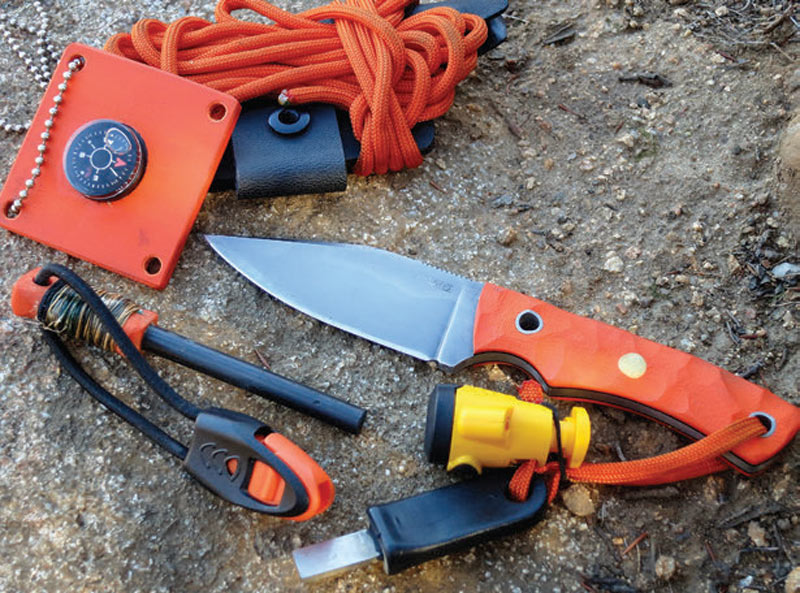 When it comes to shelter, there is very little a small survival kit can offer, but 550 paracord is perfect for lashing a ridgepole to a tree when making a leanto type or A-frame style debris hut.The inner strands of the paracord can be used for deadfalls and twitch-up traps, as well as extra fishing and repair line.
The compass and signal mirror are attached to a square piece of orange G10 on the neck chain, while the light and firesteel striker are attached via the lanyard on the knife. Most of the kit's contents can be easily relocated based on the user's preference.
Ask anyone who has been in the military and they will tell you that survival training revolves around a knife and minimal kit. Most classes dealing with survival require a knife as well. Jonathan McNees knows this firsthand and did a great job implementing a small fixed-blade knife into a small kit.
This compact package can be worn under the shirt so it's less likely to be lost in an accident or survival situation. The kit is designed to allow a few items to be added to the sheath via the grommets and pre-drilled holes in the orange G10 that hold the compass and signal mirror.
With a small waterproof pill capsule for water purification tablets, this is definitely one of the best kits out there. Anyone venturing into the wilderness should feel one step ahead when carrying this kit.