I am not now, nor have I ever been, a fan of winter. I suppose that might sound funny coming from a guy who chose to move from Colorado to Michigan, of all places. Since Michigan is considered to have one of the worst winters in the United States, it would seem I jumped from the freezer into the meat locker.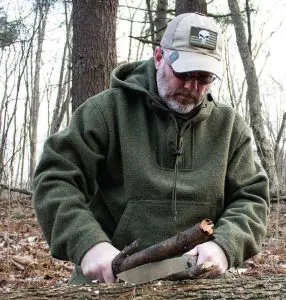 For me, the beauty of Michigan's outdoors is a worthy trade-off. But in order to live here comfortably, I am always looking into better ways to stay warm when our temps start dropping into the negatives (without wind chill) for long stretches at a time.
Because of the constant variations in weather and temps, I like the modular method. When I first saw the Boreal Shirt from Lester River Bushcraft, I knew this was the missing piece I had been looking for.
THE DETAILS
Perhaps the most important detail to mention about the Boreal Shirt, at least important in the bushcraft world, is the fact that it is constructed of 100% wool. The best material for staying warm, even when wet, is wool.
The Boreal Shirt is made, on contract, for Lester River Bushcraft out of 100% wool military blankets, which are very tightly knit, by Empire Wool & Canvas Company. According to the Lester River Bushcraft website, the wool is pre-shrunk, so it can be cared for at home.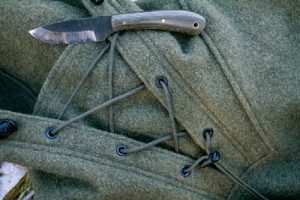 I immediately noticed the shirt's stitching. All structural contact points are double or triple stitched, giving it amazing durability. The gusset comes up nice and high to keep your neck warm and the wind out when cinched up with the paracord drawstring. The sleeves can be snapped closed at the wrists for increased protection from the elements, and the waistband and hood both include elastic drawstrings so they can be tightened without compromising comfort or mobility.
The pocket on the Boreal Shirt is huge and deep. I carry my stocking cap and leather winter gloves in it at all times (unless I am wearing them), and there is still plenty of room for more.
The inside front of the pocket also has three separate pockets for
gathering and/or storing miscellaneous items, and each is very spacious on its own. The material sewn in to create these pockets is a thin nylon, but still adds another layer between your hands and the elements.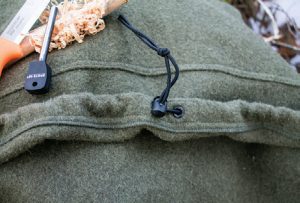 Also inside the main pocket, against the body, is another decent-size zippered pocket for storing smaller items you don't want to lose. Finally, just inside both sides of the pocket are two "D" rings for attaching keys and other items, utilizing small carabiners or other clips.
PERFORMANCE
From the time the Boreal Shirt arrived at my house, I have been using it almost exclusively as my main coat. When temps were in the high 30s and low 40s, the Boreal Shirt was enough for fairly long periods of time when I was moving (less time if I wasn't active).
In the low 30s, it took about ten minutes before the cold began seeping through. In the mid to low 20s, I could get away without an outer shell for about five minutes. And in singledigit temps, I could feel the cold breaking through almost immediately. Each scenario was exacerbated by wind.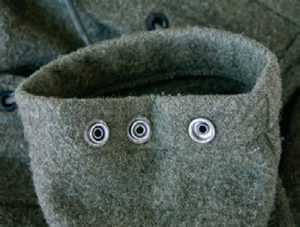 One thing that made it inconvenient as an expedient coat for stepping outside to take the dog out, or just for short periods of use, is the fact that it is a pullover. This is obviously due to the Anorak design and is in no way an indictment of the Boreal Shirt itself.
I do like the Anorak design, because without the button or zip-up front, it keeps the cold at bay for much longer, especially on windy days, by limiting the number of potential openings or cracks for air to seep in.
When just throwing it on for a few minutes, the Anorak is not the most convenient design. It is not a design flaw, just my personal preference, especially as I wear glasses. But for extended wear, the Boreal Shirt has been my go-to.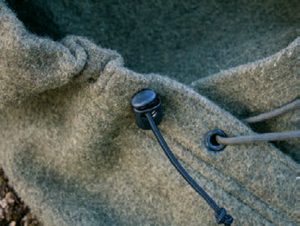 MODULARITY
Maybe "modularity" isn't the entirely correct term, since the Boreal Shirt doesn't have any components of its own that can be removed or recombined. But with its design, the Boreal Shirt can easily become a part of any modular winter wear system of your own creation.
With its spacious sizing (but not so much that it feels sloppy or oversized), the Boreal Shirt can fit a couple layers underneath for additional warmth when needed. On particularly cold days, you can also add a top layer. Doing it this way, you can adjust the top layer based on how cold it is.
If it is in the 30s, a thinner top layer such as a duster or fleece jacket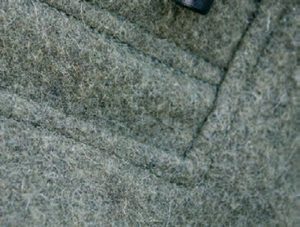 should be sufficient. But when the temps dip into the single digits and below, as they do here in Michigan, you can add something thicker, like a Carhartt.
I have always been a fan of modular gear, because I never know the conditions I'll be facing in any given situation. Growing up in Colorado and then moving to Michigan in my 20s, I found that one thing held true in both states—if you don't like the weather, wait five minutes.
For that reason, I am not a "one coat to rule them all" kind of person. I have found that I either tend to be too hot or too cold. So I decided a long time ago that modular is the only way to go, and the Lester River Boreal Shirt is the perfect addition to my fall/winter/ spring modular outerwear collection, because … wool.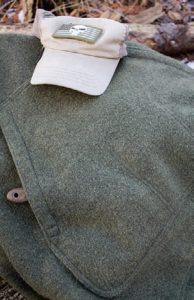 CONCLUSION
Due to my aversion to being cold, I am always on the lookout for solid winter wear. But I tend to get mixed results with my attempts. Either it is uncomfortable and unwieldy, or it just doesn't do the job right. But the Boreal Shirt is very comfortable, very warm, and extremely durable.
Although I have used the term "winter" throughout this article, because the Boreal Shirt is a great winter solution, it is really more of a threeseason solution.
During the Fall and Spring in Michigan, temps can drop pretty low in the evenings, and people tend to break out their hoodies, but the Boreal Shirt is perfect for those times as well.
For $280, the Lester River Bushcraft Boreal Shirt will potentially be the last and best hoodie you ever buy. On the other hand, Jason at Lester River Bushcraft told me they have a couple more designs coming out soon, so you may want to purchase those for different occasions.