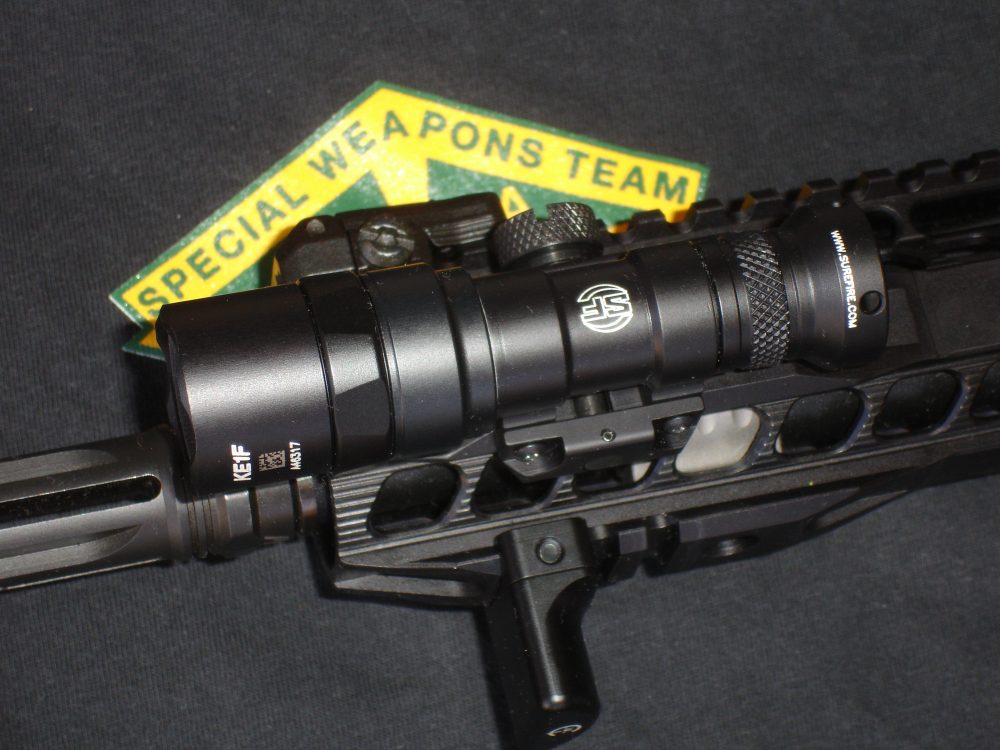 M300 Mini Scout Light is an ultra-compact and powerful LED weaponlight. It mounts securely to any MIL-STD-1913 (Picatinny) rail via an integral thumbscrew clamp. It comes with a shrouded click-type tailcap pushbutton switch. A remote tape switch can be ordered as an option.
---
Since its introduction in 1986 of the first weapon-mounted light (a novel concept at the time), SureFire® has continued to set the standards by which all weapon lights are judged.
The SureFire Scout Light® needs no introduction. With many different models to choose from, there's a Scout Light for nearly any mission requirement and individual preferences. Where size and weight are issues and performance cannot be compromised, the SureFire M300 Mini Scout Light® is an outstanding choice.
The M300 Mini Scout Light is a powerful, lightweight weapon-mounted light that quickly and securely attaches to any MIL-STD 1913 (Picatinny) rail via its integral thumbscrew clamp or optional SureFire RM45 Offset Rail Mount.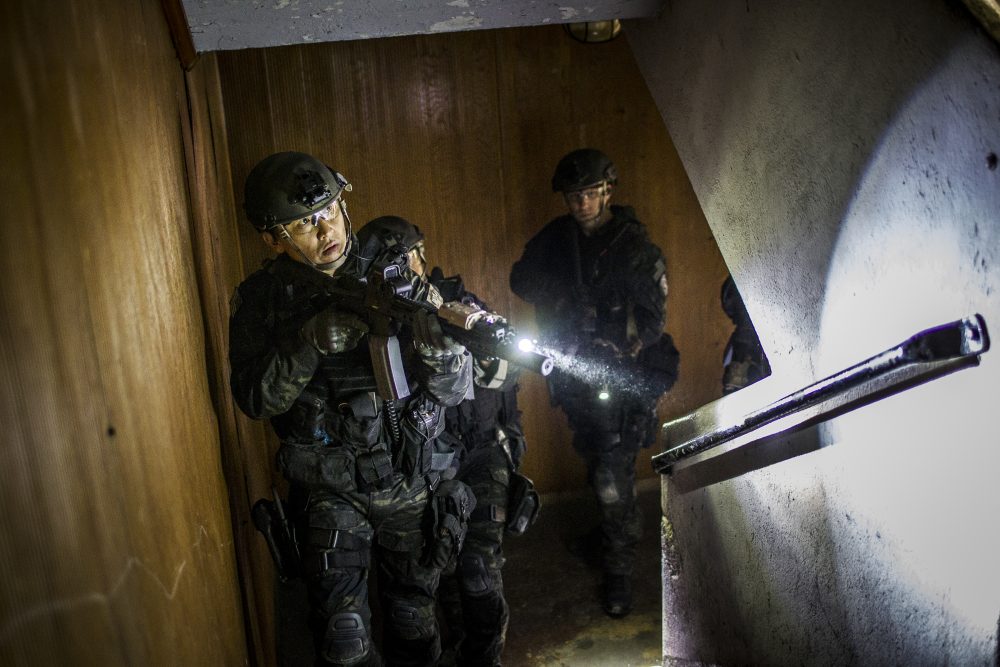 Total Internal Reflection optic on M300 Mini Scout Light creates versatile beam with enough reach for medium-range applications and sufficient surround light for peripheral vision.
---
Powered by a single 123A lithium battery (included), the M300 Mini Scout Light's virtually indestructible Cree LED has recently been upgraded to 300 lumens of tactical-level light. The upgraded light maintains the same ultra-compact light weight of its predecessor, measuring just 4.1 inches long and weighing in at only 4.8 ounces with battery.
Focused by a proprietary 22mm TIR (Total Internal Reflection) optic, the M300 Mini Scout Light provides plenty of reach for mid-range applications and enough surrounding light for close quarters. Also called a "collimating lens," a TIR optic collimates the light and sends a concentrated beam of light out in the same direction.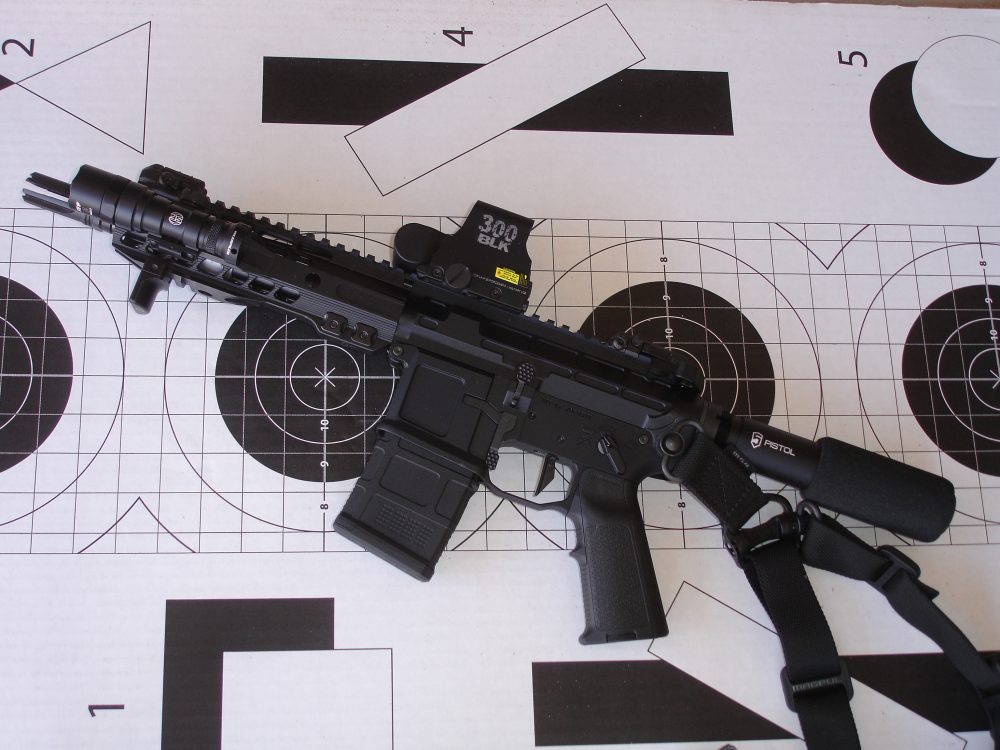 M300 Mini Scout Light is ideal for use on compact weapon platforms where rail space is at a premium, such as author's San Tan Tactical STT-15 .300 BLK pistol. It also increases weapon maneuverability compared to larger weaponlights.
---
The TIR optic on the M300 Mini Scout Light produces a bright center hotspot for longer reach, combined with an extremely broad spill beam that provides greatly improved peripheral vision compared to most reflector-based lights of similar output and reach.
The redesigned TIR optic produces a smoother beam with fewer artifacts than previous generations of TIR optics. The M300 Mini Scout Light provided for evaluation has superb beam quality with no noticeable artifacts. The M300 has an anti-reflective coated scratch-resistant borosilicate glass window that resists impact and maximizes light transmission.
SureFire uses both tactical and total runtimes for its specifications. The M300 has a tactical runtime of 1.3 hours, which is identical to its lower (200 lumen) output predecessor. Tactical runtime is defined by SureFire as the runtime (at highest setting for multiple-output lights) until output drops below 50 lumens. Total runtime is the runtime until the batteries are exhausted.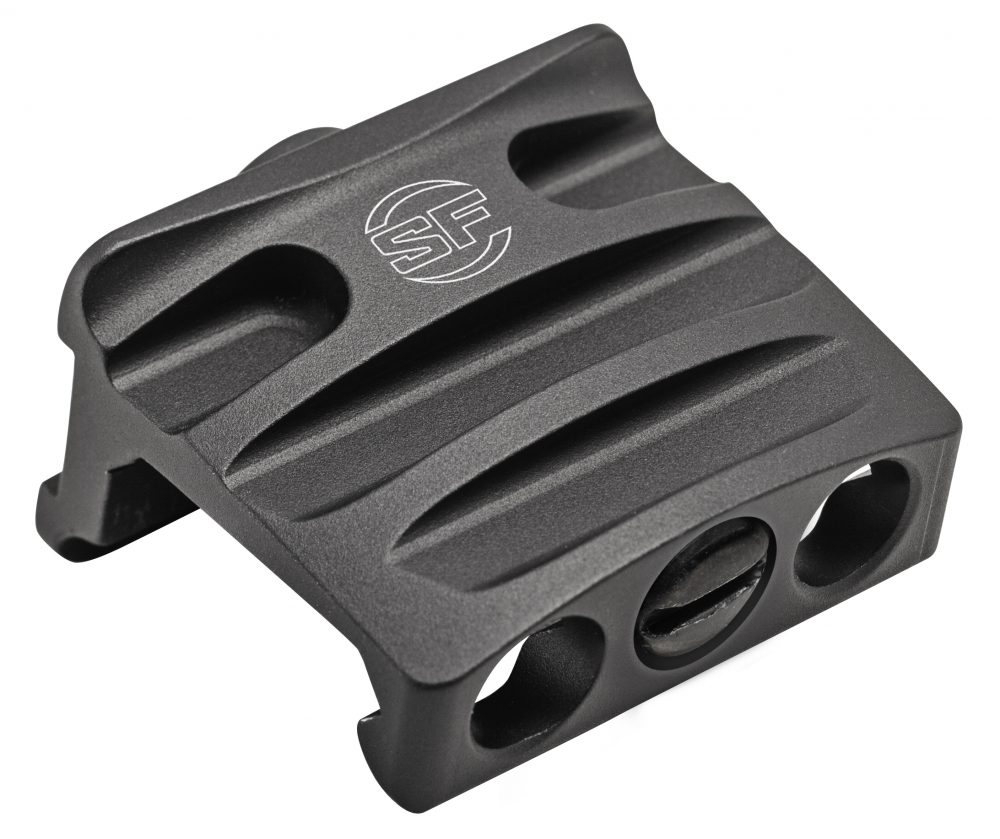 SureFire RM45 offset mount is available for Scout Light® models equipped with thumbscrew clamp, such as M300 Mini Scout Light. It positions light in the offset position between rails of a MIL-STD-1913 forend for lower profile and reduced snag potential.
---
The issue of heat management is at the core of many LED-based lighting applications in order to maintain the longevity of the LED. All SureFire LED illumination tools are thermally regulated to keep the LED junction temperature below the recommended limit. When run continuously, the M300 maintains its initial level of output for only a couple of minutes and then begins a decline until it drops out of regulation.
The M300 Mini Scout Light can also be powered by rechargeable lithium-phosphate batteries. The runtime of rechargeable batteries is approximately 50% less than the runtime provided by disposable 123A lithium batteries, although maximum output levels are typically not affected.
Depending on usage, rechargeable batteries can result in considerable cost savings over time. That being said, for weaponlight applications, I prefer disposable batteries.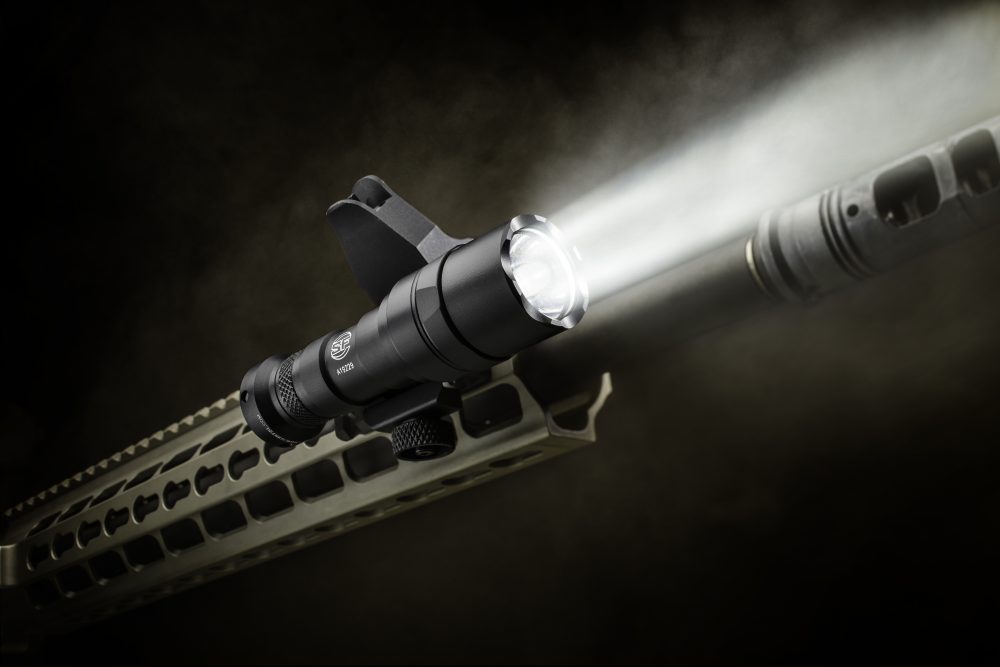 Powered by a single 123A lithium battery, M300 Mini Scout Light has maximum output of 300 lumens and tactical run-time of 1.3 hours.
---
This M300 Mini Scout Light comes with an installed click-type tailcap pushbutton switch only—press for momentary-on, press further to click constant-on. The tailcap switch is shrouded to minimize the chance for accidental activation. Remote tape switches can also be ordered from SureFire as options.
Several models of remote tape switches are available from SureFire for Scout Lights. These include the SR Remote Dual Switch, SR-D-IT Remote Dual Switch for Weaponlight and ATPIAL Laser Device, and UE07 Remote Switch Assembly for Scout Lights.
As with all Scout Light models, the M300 Mini Scout Light is machined from high-strength aerospace aluminum with milspec Type III hard anodizing. It is O-ring and gasket sealed for water resistance. The M300 Mini Scout Light is available in black only.
Although the M300 Mini Scout Light is already low profile with the thumbscrew clamp, you can make it even more streamlined by adding the innovative SureFire RM45 Off-Set Rail Mount.
Designed specifically for Scout Light models equipped with a thumbscrew clamp, the RM45 positions the light in the offset position between the rails of a MIL-STD-1913 (Picatinny) forend. The RM45 is constructed of aerospace aluminum and hard anodized with a milspec Type III finish. It adds very little weight to your weapon.
The M300 Mini Scout Light has a suggested retail price of $299.00 and is backed by SureFire's No-Hassle Guarantee.
SOURCE
SUREFIRE LLC
(800) 828-8809
www.surefire.com