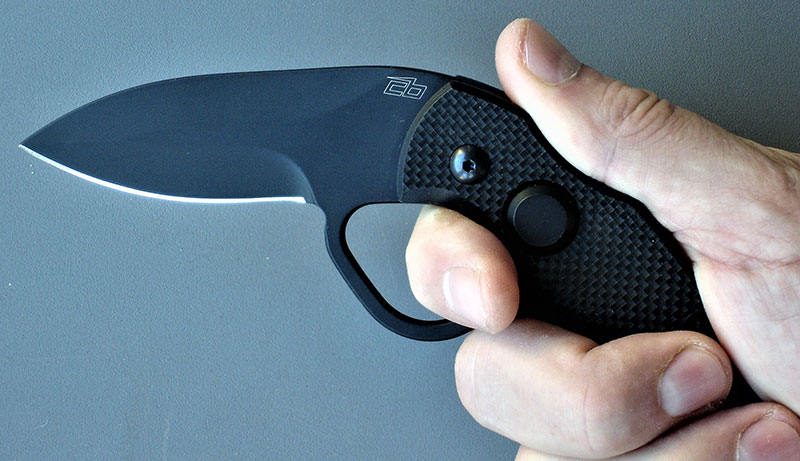 In a close-quarters lethal-force encounter, we may not have the time or ability to deploy our firearm. A dedicated knife for personal defense is an essential component of everyday carry for anyone serious about self-defense. We not only need to carry a knife but must also be able to deploy and use it effectively.
I have written about Colonel Blades™ knives in the past. (THE CUTTING EDGE: Colonel Blades NCO LowVZ, February 2018 S.W.A.T.). They're specialized tools designed solely for personal defense, with a focus on instinctive movement.
Designed by combative instructors Al and Nico Salvitti and with input from Northern Red Training's U.S. Army Special Forces cadre, Colonel Blades knives utilize existing muscle memory to facilitate effective use without the need for specialized training. They capitalize on the drawstroke ingrained in every shooter. Stabbing is the same as throwing a punch.
Colonel Blades knives feature a large finger ring positioned similar to a trigger guard on a pistol. Along with the other features of the knives, this finger ring provides an exceptionally secure grip and aids in retention.
The patented design facilitates knife-to-gun transitions while retaining control of the knife. You get full use of your knife hand to perform tasks without having to let go of the knife.
Colonel knives have a grip angle that mirrors that of a pistol. The grip angle aligns and stabilizes the arm, forearm, and wrist into the strongest position in a forward grip for improved strike mechanics, powerful strikes, and increased tip-to-target acquisition.
It also lends itself to use with a reverse grip, providing enhanced grip and reach when compared to conventional knives. By utilizing natural body mechanics, the ergonomic design is also exceptionally comfortable and well-balanced in the hand.
Colonel Blades recently provided me with its two newest knives for evaluation, the Colonel Folder™ and NoVz™, as well as one of its new PointAcross™ Tactical Pens.
COLONEL BLADES FOLDER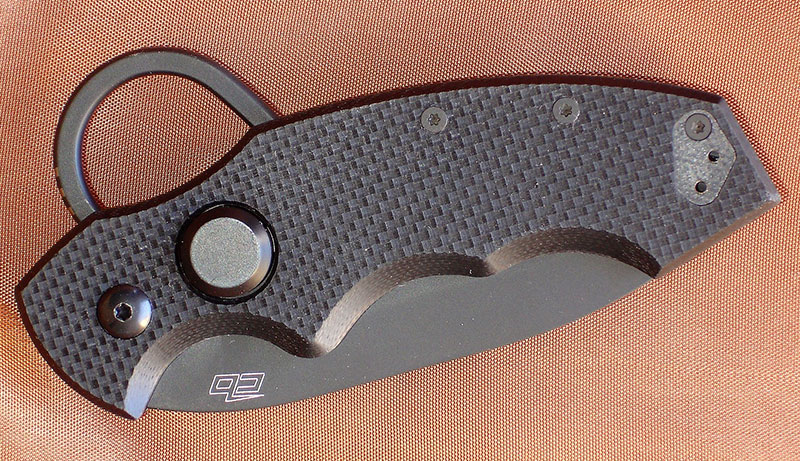 Colonel Blades fixed-blade knives have become the go-to defensive blades for many armed professionals. What has been lacking in the Colonel Blades line is a folder. Well, until now. Colonel Blades has come out with an awesome new folder appropriately called the Colonel Folder. It has all the outstanding features of its fixed-blade brothers but with the convenience of a folder.
Made exclusively for Colonel Blades by Fox Knives in Italy, the Colonel Folder has the same overall dimensions when open as the Colonel LowVz™ and NCO LowVz™ fixed-blade knives. You can carry the Colonel Folder clipped in your pocket like a standard folder or you can carry it locked open in a Colonel Blades sheath in the same manner as one of the company's fixed blades.
The Colonel Folder features a single-edge 2.75-inch saber-ground spear-point blade in N690Co stainless steel with a matte-black military-grade TOPSHIELD® coating, 3.5-inch contoured handle with textured black G10 scales, stainless steel liners, and large (winter glove suitable) teardrop-shaped finger ring. It weighs 5.1 ounces and has a reversible matte-black stainless steel pocket clip for tip-up carry. N690Co is a cobalt-enriched stainless steel from Austrian steel company Bohler. It's considered an exceptional high-end stainless steel.
The added cobalt improves the wear resistance and edge retention of the steel, in addition to ensuring a uniform grain structure. Although some have referred to N690Co as an upgraded 440C, it's very similar to VG-10. Blade hardness is 58-60 RC.
The blade properties are further enhanced by the TOPSHIELD coating, an anti-wear thermosetting single-component pigmented coating containing ceramic compounds. It's also used on firearms and has a high resistance to wear, scratching, and chemicals.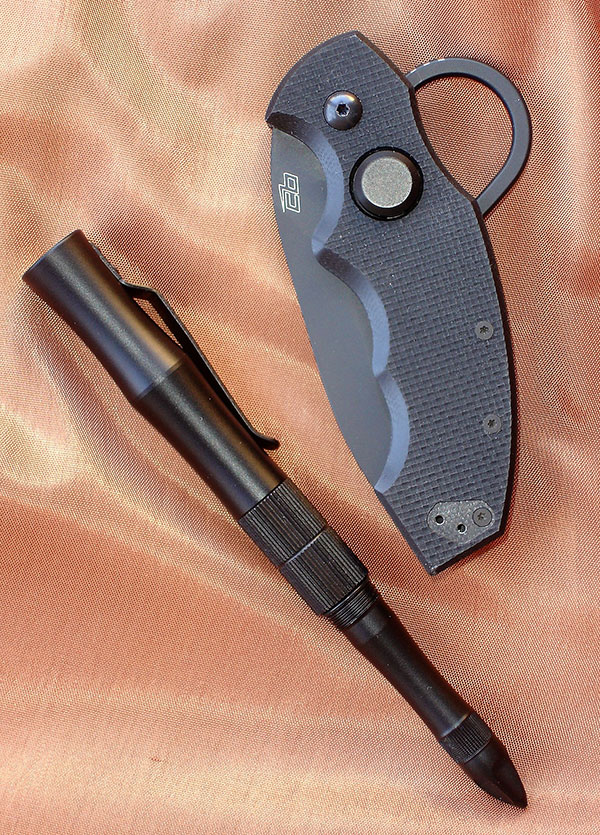 The Colonel Folder features a push-button sleeve liner lock. It uses a leaf-like spring from a split liner in the handle to wedge laterally on a ramp on top of the blade tang. It's simple, reliable, exceptionally strong, and easy to use. Release it by depressing a large button attached to a split leaf in the non-locking liner.
The finger ring on the Colonel Folder also serves as a flipper to deploy the blade, which pivots on bronze washers. Deployment is exceptionally fast and smooth. The blade locks solidly with absolutely no blade play.
After carrying and training with the Colonel Folder, I must say I'm very impressed. I don't think you can find a better folder for defensive applications.
The Colonel Folder has a suggested retail price of $159.99. It comes in a padded aluminum case. A Torx® wrench, sized to fit the screws, is also included.
Colonel Blades is currently shipping a free PointAcross Tactical Pen with each Colonel Folder. Solidly constructed of aluminum, the PointAcross Tactical Pen is also available individually from Colonel Blades for $19.95.
NoVz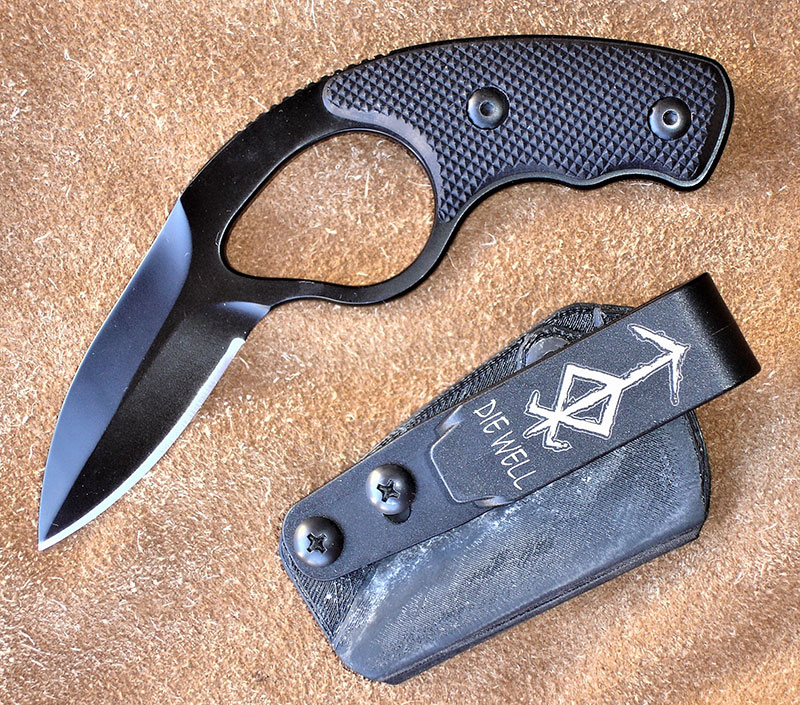 Colonel Blades has also come out with an even more compact version of its popular LowVz fixed-blade knife. The new NoVz has the same features and full-tang 2.75-inch blade length of the other Colonel Blades fixed-blade knives. The NoVz's handle is three inches, having been shortened by 0.5 inch, and the butt is rounded for even better concealment.
The NoVz is made in Taiwan of AUS8 Steel. It has a durable matte-black Titanium Nitride coating (TiN) and checkered G10 scales. AUS8 is a high-grade Japanese-made stainless steel that offers good all-around performance and takes a very keen edge. Blade hardness is 57 to 59 RC.
The NoVz comes with an injection-molded tuckable AIWB/IWB sheath. An optional Kydex® sheath made by TXC Holsters in Texas is available. My sample came with the Kydex sheath and optional Northern Red "Die Well" clip. A polymer trainer is included with every knife.
Identical to the Colonel Folder, the NoVz weighs 5.1 ounces without the sheath. Suggested price for the NoVz is $59.99 with the injection-molded sheath.
Design, materials, and workmanship on all Colonel Blades products are top-notch. Colonel Blades knives offer a unique combination of features that could prove a lifesaver.
SOURCES
COLONEL BLADES, LLC
www.colonelblades.com
NORTHERN RED, LLC
www.northernred.com
TXC HOLSTERS
www.txcholsters.com