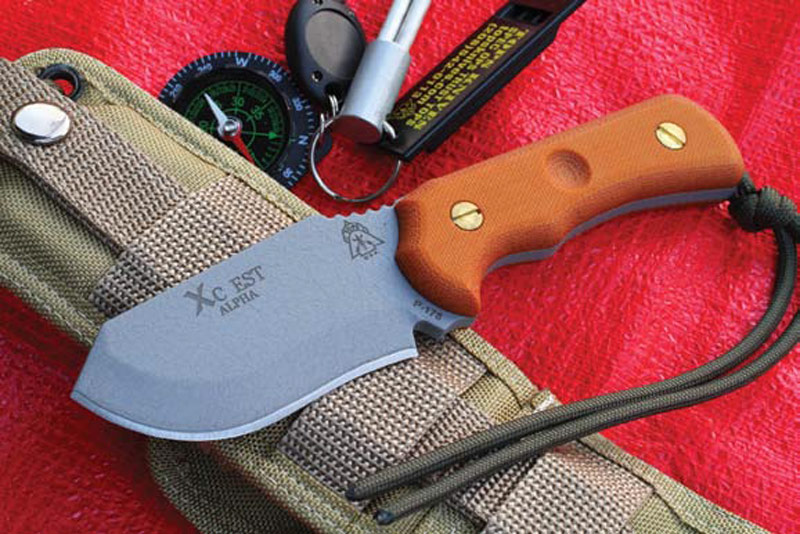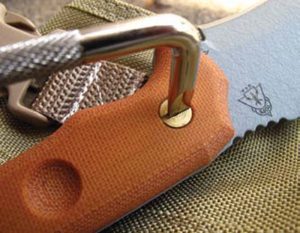 Whenever I get my mitts on a new survival kit, I always ask myself: If I'm out in the forest in the middle of the night and a creature (man or beast) drives me out of my camp, can I grab this kit and still survive?
TOPS Knives is one of the few companies that has been able to successfully bridge the gap between mainstream cutlery and survival tools.
The name XcEST stands for Cross Country Emergency Support Tool. Included in the XcEST Alpha Survival System are the following: compass, fishing line, two fishing hooks, two ranger bands, offset screwdriver, P-38 can opener, snare wire, survival saw, L.E.D. light, sail needle, firestarter, razor blade, snap link, two safety pins, and a Lansky Sharpener to keep a keen edge on the main tool.
HIGHLIGHTS
What I like about this kit (as well as the TOPS Survival Neck Wallet) is that it comes with tools to get the job done. The offset screwdriver is especially useful. It has both Phillips and flat screwdriver heads. If you tote around a multi-tool or Swiss Army Knife, you will appreciate this tool because you know what happens with the same implements found on some multi-tools and the Swiss Army Knife, where after a 180-degree turn, the tool usually closes on a finger. With this four-inch-long tool, there's added leverage and maximum torque. Plus it fits nicely into the front pouch of the sheath.
I've had the pleasure of using a few really good firestarters in the past few years and have gravitated toward the lighter ones like the Boy Scout Firesteel, commonly know as BSA Hotspark. It's small, super light, and compact. However, this past weekend while trying to light some fatwood, I couldn't get a large enough shower of sparks to ignite the tinder.
This is where the TOPS Firestarter with ferrocerium rod and magnesium comes into play. Not only is it fully capable of producing a shower of sparks, it is just a little larger than my regular Boy Scout Firesteel. I plan on including the TOPS Firestarter as a permanent fixture in all my hiking and survival kits.
A saw is an invaluable tool in the woods. I am a fan of Swiss Army Knives mainly because they have saws. There is much that can be done with a saw that just can't be accomplished with a machete, hatchet or knife. For example, clean precise cuts and the ability to make them in confined spaces make a saw the perfect tool for some jobs.
The TOPS Survival Saw is a simple design: a stainless steel saw blade that folds into a Kydex handle. It is equally effective on plastic, light metals, rubber, frozen meat and wood. It has more of a hacksaw design than a regular wood saw. In the closed position, it is 4 11/16 inches long, and open it is 7 11/16 inches long. The saw blade is red powder coated, which is a plus when used in the woods—it definitely won't get lost!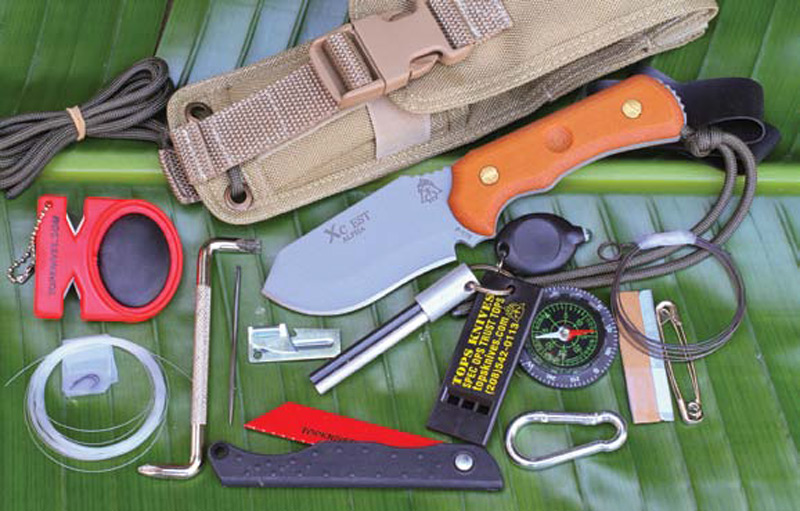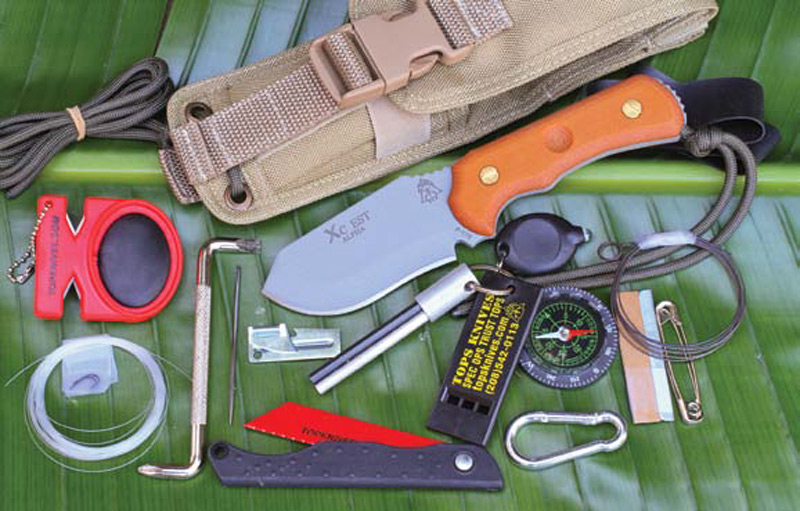 Lighting the way is a small LED light. This is a bright light. On a recent backpacking trip, I used this as my only light—period. It was bright enough to light the way to and from the campfire and my shelter. This little light stayed around my neck for quick and easy access and for digging around in the pack in the dark. It won't light the forest up to see what made that sound at night, but it isn't intended for that.
It was also my camp light while walking through the thick woods of Alabama during a five-day survival course. I'm sure most people carry a dedicated flashlight, but this was all I took, and it was sufficient. It is yet another item, along with the Firestarter, that is now a permanent fixture around my neck while on any outdoor excursion.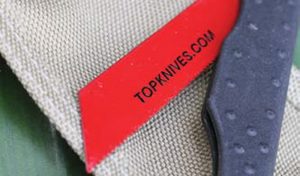 SURVIVAL KNIFE
The heart of the kit is the knife itself. It's made of 440 C stainless steel, which is different from the 1095 carbon steel on all my other TOPS knives. The XcEST Alpha Knife has an overall length of 7 ½ inches, blade length of 3 ¼ inches, width of 1 ½ inches, and a burly 3/16-inch thickness. The blade is finished in a grey powder coating, which is also different than the black color mostly associated with TOPS Knives.
The beautifully contoured tan Micarta scales can easily be removed to reveal a hideaway chamber in which a few contents of the kit, like the fishing wire with hooks, snare wire and razor blade can be stored. The included offset flat-head screwdriver can be used to remove the screws.
Another very attractive feature on the handle is the deep ½-inch wide divot, which doubles as a handhold (or socket) in primitive fire-making with a bow drill. This piece is important in primitive fire-making and is one less part to have to find and carve out. Having this included in the handle saves precious time and much-needed calories. This feature, which may seem minor to the average person, is actually a big lifesaver in more ways than one. Truly a survival knife!
WRAP UP
I would love to see this kit offered with either the sheath or the knife scales finished in a bright color, such as orange, yellow or red. This would make it much easier to see at night or in dark places.
I've always been impressed with TOPS for their customer service and ongoing search for only the best designs in both the cutlery and survival fields. Good job, TOPS!
The suggested retail price of the XcEST is $149.95.
Webster's Dictionary has a part b definition of survival: the continuation of life or existence. As long as you have some survival skills, rest assured that the TOPS XcEST Alpha kit will definitely continue your existence!