A few months ago, I set off on a mission to acquire essential backpacking gear for the best price. I looked at my recently purchased items and realized none of them were U.S. made. Everything I acquired was made in China or came from foreign-owned companies.
After coming to terms with the fact that I hadn't supported our local and national economies, I set out to prove that the gear I had acquired has U.S.- made equivalents.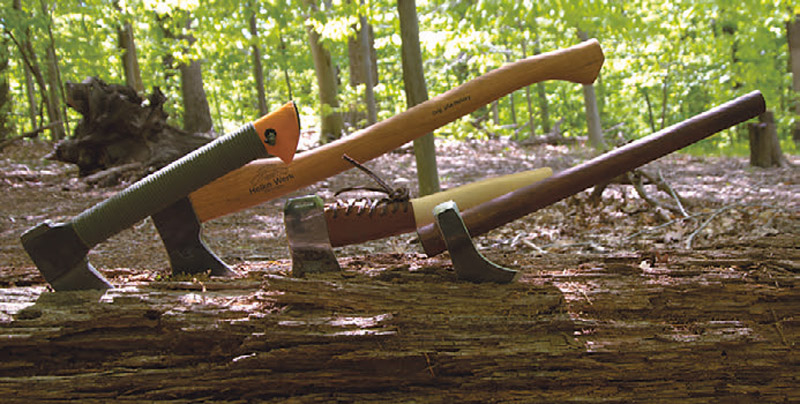 IMPORTANCE AND GOAL OF SEARCH
Let's start with why American products are important. People are well aware of the fact that American manufacturing supports local economic growth, funds jobs, and increases local business. What is often overlooked is how these U.S. companies actually cultivate the entire world market for certain products.
Because America has so much land and such varied landscapes, it's no surprise that American outdoor product designs are one of the driving forces behind new, improved, and proven outdoor equipment.
My goal was to find products that are affordable, comparable to or better quality than foreign-made gear, and either American made or from American-owned companies. I traveled to every outdoor store I could find and asked everyone, and found that many people use equipment and supplies that are designed, produced, and manufactured abroad.
Moving to a digital search, I found plenty of options in multiple categories, the largest of which was clothing. American companies and manufacturers dominate this market, so I decided to focus on cook sets, chopping tools, tarps, and hammocks.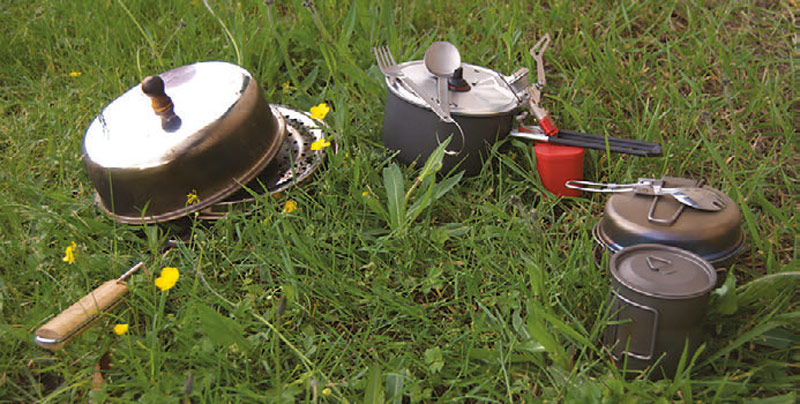 COOK SETS
Having a great cook set is instrumental for good nutrition and survival. You can make your own cook set from wood and cook with rocks, but it's neither easy nor efficient. Alternatively, some turn-of-the-century methods of cooking are both efficient and productive.
MSR, an American company, produces cook sets that can be used in every terrain. I compared their cook sets to a Chinese Titanium cook set I had previously acquired. Titanium is a great material, being both lightweight and strong.
What about a traditionally American way to cook? Jacob Bromwell has been producing American products since the 1800s. I took their Potato Baker out into the field and used it over an open fire.
The Potato Baker can be used over a gas stove or an open flame, and it acts as a mini oven. I was delighted with the results of the corn on the cob and biscuits I cooked. This type of cookware is something other manufacturers and countries have yet to emulate.
CHOPPING TOOLS
Tools are also a high priority for American campers and survivalists. Knives are the go-to item, and America also has a strong history of producing quality axes and hatchets. With companies like Fiskars, which produces mass numbers of cutting tools, it's easy to get one in hand and find everything right with it.
They are fine tools and I use them often myself. But Fiskars manufactures overseas and has some quality issues due to their manufacturing practices. Users often find difficulties with chipping from weak outer steel, flimsy handles, and brittle rubber.
When it comes to quality steel, no other country has the same steel as Germany. Their steel is some of the best in the world. Even early American axes were designed and manufactured by German immigrants who needed something the colonists did not have.
Modern examples of this same design and quality are seen in Amish tools. Helko is keeping this traditional German style and manufacturing standard alive. I picked up their Classic Pathfinder Hatchet and Traditional Black Forest Woodworker. When used traditionally, they easily put modern designed and manufactured hatchets and axes to shame. Large and small, they have quality products from a friendly allied country. But as friendly as Germany now is, these are not American made.
H&B Forge has recently topped my list of cutting tools. They are all handmade in Ohio by a family-owned business and follow a uniquely American design. They also don't make any sacrifices.
H&B Forge follows an ancient style—the tomahawk. Even in colonial times, woodsmen saw the effectiveness of the simple tomahawk as a cutting tool, small hatchet, and throwing/ fighting instrument. To this day, some of our armed forces carry tomahawks into battle. The Medium Camp Hawk from H&B has become my favorite lightweight cutting tool and at a price that competes with most mid-level manufacturers.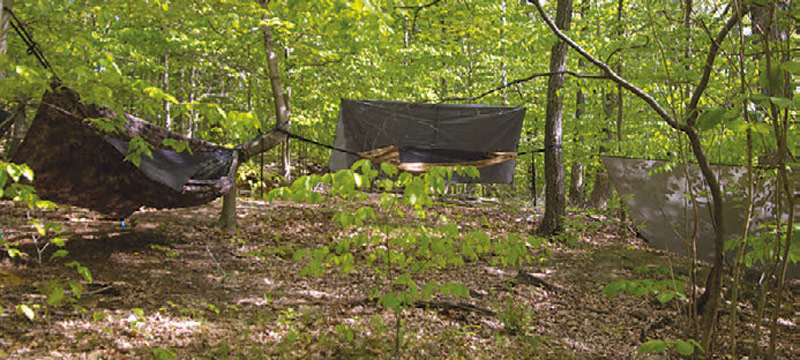 TARPS
As a backpacker, I'm never caught in the woods without some kind of tarp, in case I unexpectedly spend the night or get caught in a downpour. This was the most difficult item to find American made.
With environmental concerns and waste management costs, it's easier to manufacture tarps and tents overseas. I had a Chinese manufacturer produce a tarp for me at 300x250cm to cut down my cost. While it functions well, it has left me a little disappointed and poorer.
Etowah Outdoors has resolved material problems by sourcing materials domestically as well as internationally to keep costs low. In addition, they do all the production work themselves and educate their customers on the proper use and set-up to provide a long-lasting tarp.
In fact, Etowah's tarps are less expensive than any Chinese-made tarp I could find. One unique thing about Etowah tarps is the integration of a storage pouch into the stitching of the tarp itself.
Other companies, like Warbonnet Outdoors, manufacture tarps at specific sizes and push toward a focused direction, albeit at a considerable price increase compared to a momand- pop shop like Etowah Outdoors.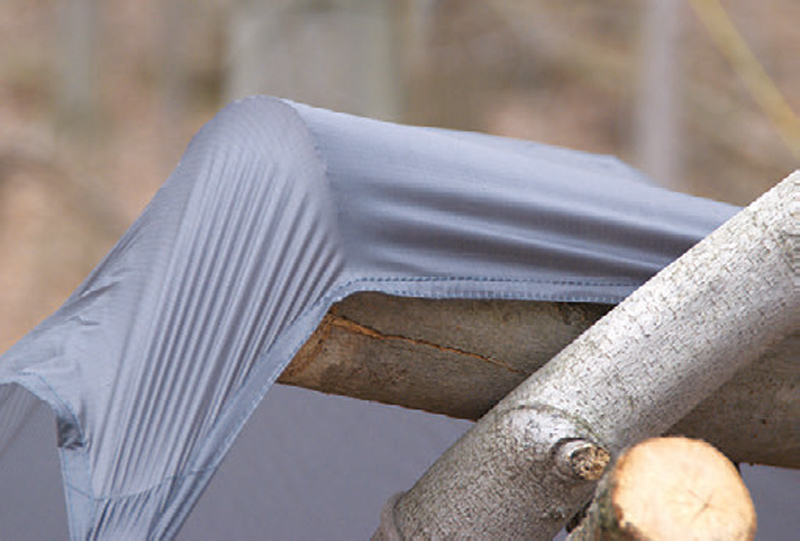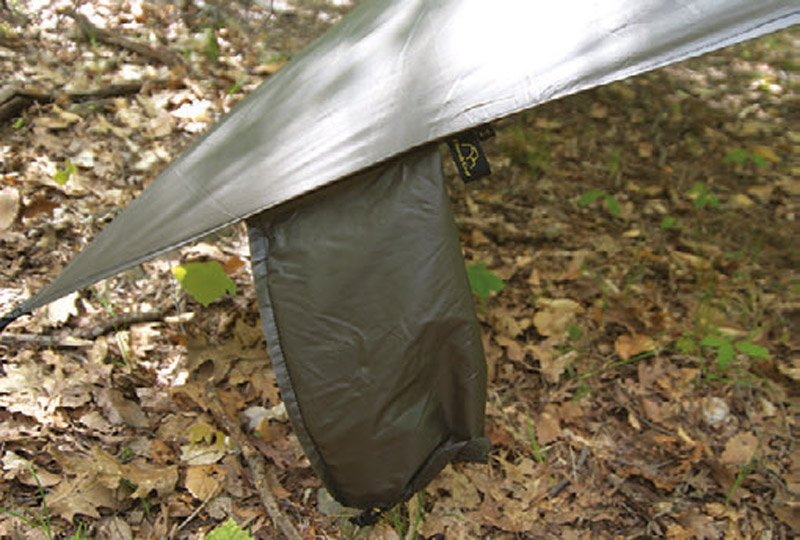 HAMMOCKS
Warbonnet has also produced some hammocks, underquilts, and even designed their own effective camouflage pattern. I put their Blackbird XLC hammock to the test next to my generic Chinese-made hammock. Both serve the purpose they were designed for, yet Warbonnet makes a lightweight, customizable, American-sized hammock that will stand many more years of abuse than a Chinese-made hammock.
Warbonnet does procure some of their materials from abroad. Regardless, this American company producing a strictly American-designed product is driving the industry in a new direction domestically and abroad.
CONCLUSION
While the budget-conscious consumer may still buy from a foreign supplier, it does not mean he gets a better or less expensive product.
American companies are as innovative today as they were in the past. They continue to develop goods that fulfill a spectrum of needs in the United States and abroad. Not just that, but by giving us what we need and not producing a subpar product with a "onesize- fits-all" mentality, it shows that they are listening to people like you and me. If you're willing to put in the time and effort to find them, U.S. companies are out there for everything an outdoorsman, hunter, backpacker, or survivalist needs.
If the American companies you find do not have what you need, open the lines of communication with them. Chances are, they will be willing to make an effort to meet your needs. By supporting them and sharing your needs with them, you may find yourself changing the industry for the better.