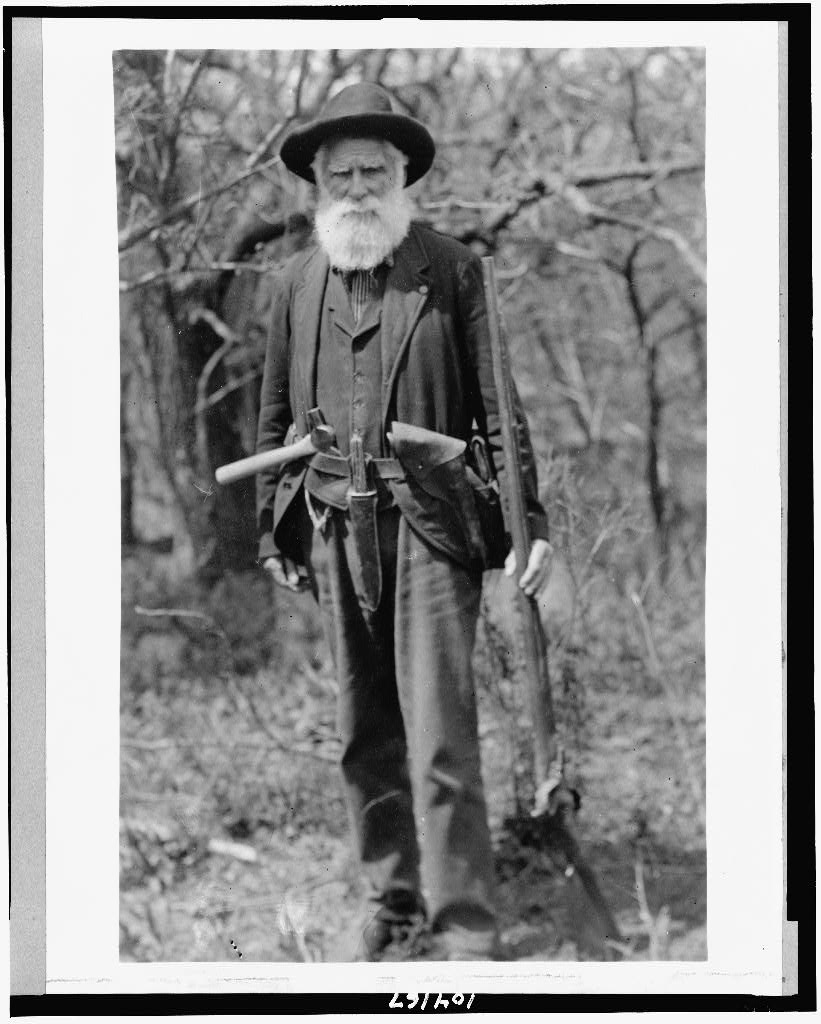 Since Paleolithic times and into the Bronze Age, small axes were one of the most valued tools. A hafted tool stores energy as it is swung, and if it has an edge, that energy transfers to a concentrated spot on the work-piece and can accomplish a lot.
As we are wont to do, man usually adapts tools as weapons, and the tool-cum-weapon we know by its Algonquin name "tomahawk" appears to be an evolution of the naval boarding axe of early Colonial times. This handy tool came about during Egyptian times, and became common because when boarding a hostile ship, there is scant room to swing a classy-looking saber or a halberd—the pole-axe mainstay of the Medieval era.
Chopping tools were of particular use against opposing ship-borne forces because of their handiness, and because if you chop every rope in sight, you can render a sailing ship dead in the water.
Native Americans had long used wooden war clubs and stone hammers, so they knew what this sort of tool was about. Iron naval axes quickly became a premium trade good between Europeans and Native Americans. Although they already had Neolithic versions, a tomahawk with an iron head…now that was worth a pile of beaver pelts. European traders quickly developed optional features for this market, including built-in tobacco pipes and opposing spikes.
The tomahawk was a ubiquitous frontiersman's tool as well. Although one might think such tools would lose their usefulness as melee weapons with the advent of repeating handguns, they served as tools and weapons in the trenches of World War I, for commando raids in World War II and Korea, and with SpecOps forces in Vietnam. For melee or anti-materiel mayhem, these multi-purpose choppers are still uniquely qualified.
There are many worthy of your consideration, available today at a working-man's price, in working-tool quality. What's available varies from import-catalog goods not worth the postage, to quality imports by reliable brands, to good-value American-made, and to high-end merchandise that's without fault but can cost a GI his week's wages.
I winnowed to a selection of both quality imports and American-made 'hawks in the median price range that I believe represent fair value. I didn't want to waste ink on junk or non-tools good only for swinging with uvular whoops as you ride a pinto pony through your mind's eye into the middle of (choose one:) the settlers' camp, enemy lines, the U.S. Congress.
The gentleman in the vintage photo, Mr. Daniel Freeman of Beatrice, Nebraska, was officially the first American Homesteader to file under the 1862 Homestead Act. Posing with his personal set of weapons, his tomahawk is actually a half-hatchet, a smaller version of the "half-axe" with a broad face that was beveled on only one side, for smoothing timbers. Freeman well illustrates the point that whether an implement is a tool or a weapon depends on the intended work.
In alphabetical order, let's examine some, mostly from names you know, that are serviceable gear and value-priced. May your tomahawk only be needed to build a cheery campfire, never for a bear in your tent.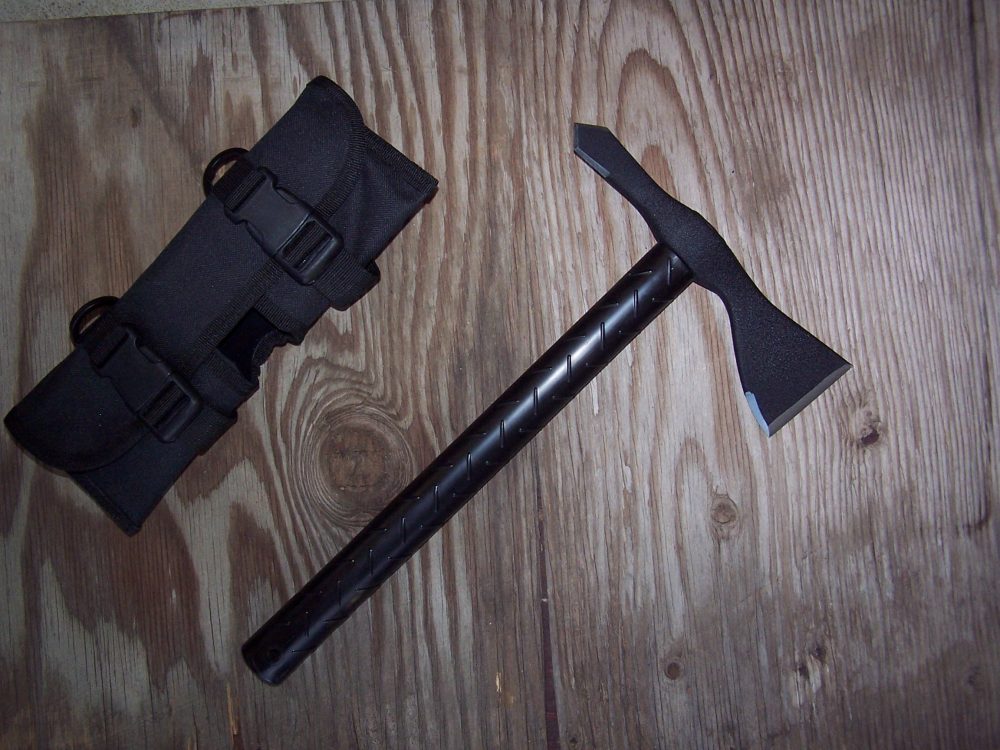 American Laguna
---
AMERICAN TOMAHAWK COMPANY LAGANA
American Tomahawk Company was founded in 1966 by Peter LaGana with his original Vietnam Tomahawk, the archetypical modern tomahawk.
Some 4,000 were made for troops in that punch-up. In 2001, professional blade aficionado Andy Prisco resumed licensed production of the design, updated with an ergonomic and unbreakable synthetic handle. This tool has seen more official purchase and use than any other tomahawk. The Army likes them enough to put them in Stryker combat vehicles.
The head is drop-forged from 1060 carbon steel—a good choice for a combination of hardness and strength. The head has a straight face of 2.5 inches and measures eight inches from spike to face. It's hardened to RC 52-54, about right for an axe. The spike is sharpened to a diamond point. It is finished with a non-glare black crinkle synthetic finish.
Shaft tightness on the head can be tightened by a flathead Allen tension screw. The new handle of modified nylon is ovoid, features subtle finger grooves and has "diamond-plate" cross-hatching for a secure grip. The LaGana is 14 inches overall and weighs one pound. A jumpable, MOLLE-compatible nylon sheath is included. Following the lineage of the original LaGana, it's good gear and is made in the USA.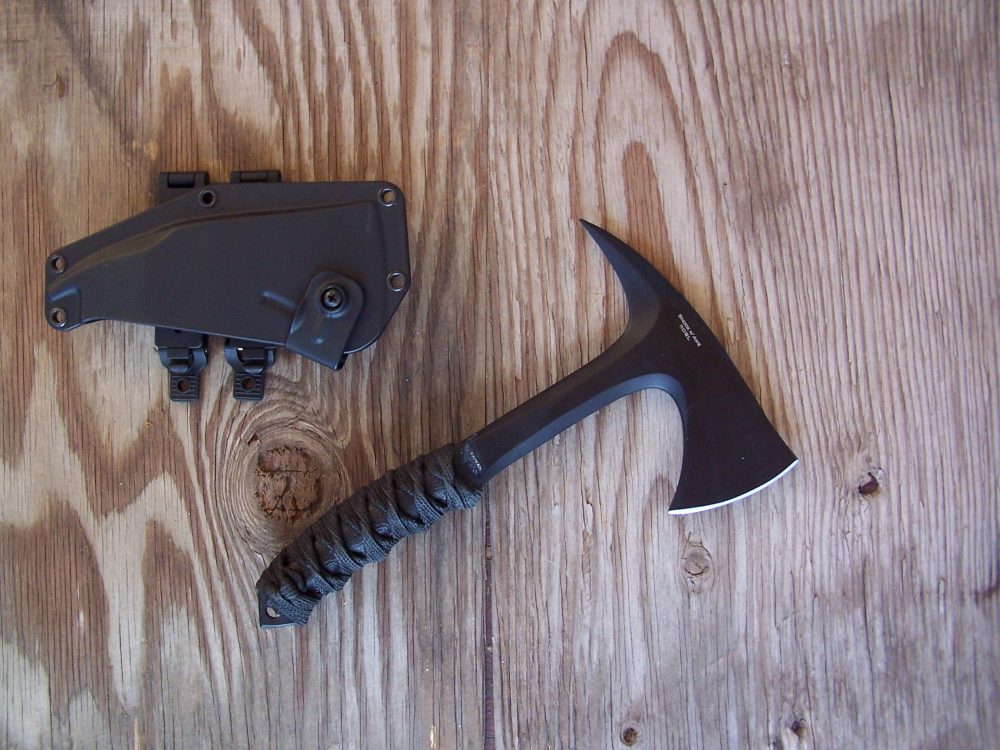 Browning
---
BROWNING SHOCK N' AWE TOMAHAWK
Made by the good guys in Taiwan, the Shock n' Awe Tomahawk by Browning is the smallest of our worthy test exemplars—but don't be put off by its scaled-down proportions. Not unlike the Browning pocket .32 you have with you being more potent than the .45 you do not have with you, the Shock n' Awe just might find space on a duty belt or rigged for concealed carry.
Designed with a full tang that becomes the handle, it's made from 1055 stainless steel and is black polymer coated. It has pleasing and ergonomic lines and a sculpted esthetic—the "beauty of functional design." Handiness aside, it comes with the best of the easy-out belt sheaths, cleverly simple—if such an implement is to be carried as a defensive tool, deployment speed and faculty are crucial.
At only 10.25 inches overall and 6.25 inches from the tip of the spike to its radiused and bearded 2.65-inch face, this tool has about perfect balance for its dimension and weight of 1.5 pounds. It's fast, light, and if need be, would be deadly in close melee work. It features a pointed glass breaker and lanyard hole at the butt, and the textured rubber grips are over-woven with flat cord, cemented in place like it should be, giving it the most secure grip possible. The handle is of the slightly re-curved "hatchet" form rather than the usual symmetrical handles of tomahawks.
Lay this intriguing chopper on your desk, and I promise everybody who comes in the office will pick it up. Lay it on the bar in a waterfront tavern, and I promise everybody will call you "sir." It is the Boss of Browning's line of Black Label Tactical blades.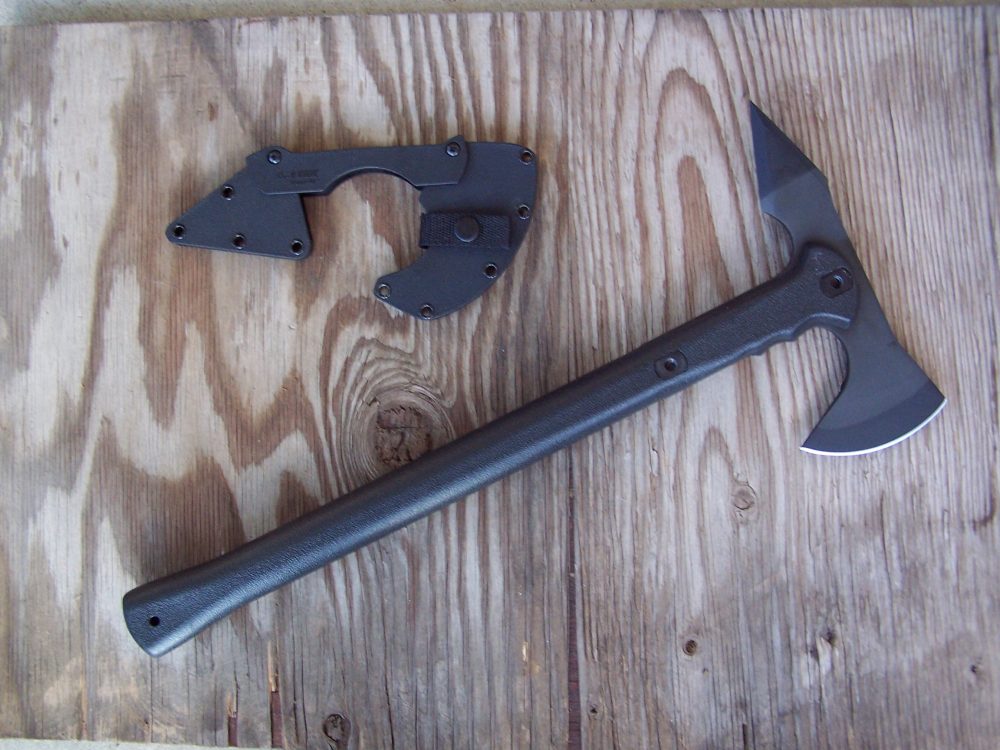 Cold Steel
---
COLD STEEL TRENCH HAWK
At 19 inches overall, the Trench Hawk is one of the larger 'hawks, and it's all business. The head measures 8.75 inches from point to its asymmetrically radiused face. The head is drop-forged and differentially hardened, of 5150 carbon steel that has a 5.5-inch tang inlet into the polypropylene handle and is retained by hefty Torx screws and T-nuts. The primary edge is 3.5 inches and has a moderate beard.
The handle is textured, and the butt has a lanyard hole and prominent swell for retaining this 24-ounce tool on a long swing. Just aft of the head, the handle and tang have finger grooves to help in fine close-up work such as skinning game. You'll probably never need them, but replacement handles are available, as they are for their full line of replica frontier-era 'hawks.
A 'hawk can be a hard tool to put a sheath on—or remove—and Cold Steel has a clever articulating rigid "Secure-Ex" sheath that is held in place with a snap, then folds out of the way.
The esthetic of this model is not unlike the French-developed "spontoon" tomahawk, but the spike blade here is beefy enough to stand up even to throwing (for those of you who do this to your tools).
SOG Tactical
---
SOG TACTICAL TOMAHAWK (SATIN)
SOG's Tactical Tomahawk shows strong design influence of the original Vietnam LaGana tomahawk, with the addition of design and material tweaks as you would expect from the engineering staff at SOG. It's made in China for SOG, and they have as much experience as anybody at holding their manufacturing partners' feet to the fire and only bringing in the good stuff.
It features a narrow face of 2.75 inches and is 15.75 inches overall, measuring 8.125 inches face to point. The head is made from 420 stainless hardened to 51-52 HRC, well formed and polished to a satin finish.
The black glass-filled nylon handle is slotted to accept the integral tang of the head, retained by four Torx screws and a two-inch ferrule for strength at the business end of the haft. The base of the handle is also matte finished, well ringed for grip, and includes a lanyard hole. Side-hammer checkering on the head above the handle helps with driving nails or stakes, and the head is balanced side-to-side by lightening holes in the axe.
I have a neighbor recently back from the 'Stan as a MedEvac NCO, who took to dismounting his chopper with a fire axe: The locals were not impressed with a rifle because they'd had one of their own since they were seven or eight years old, but a spiked axe was something they'd make way for. The cachet of this handsome two-toned hawk would probably be even better.
It comes in a nylon sheath, but a hard sheath is also available.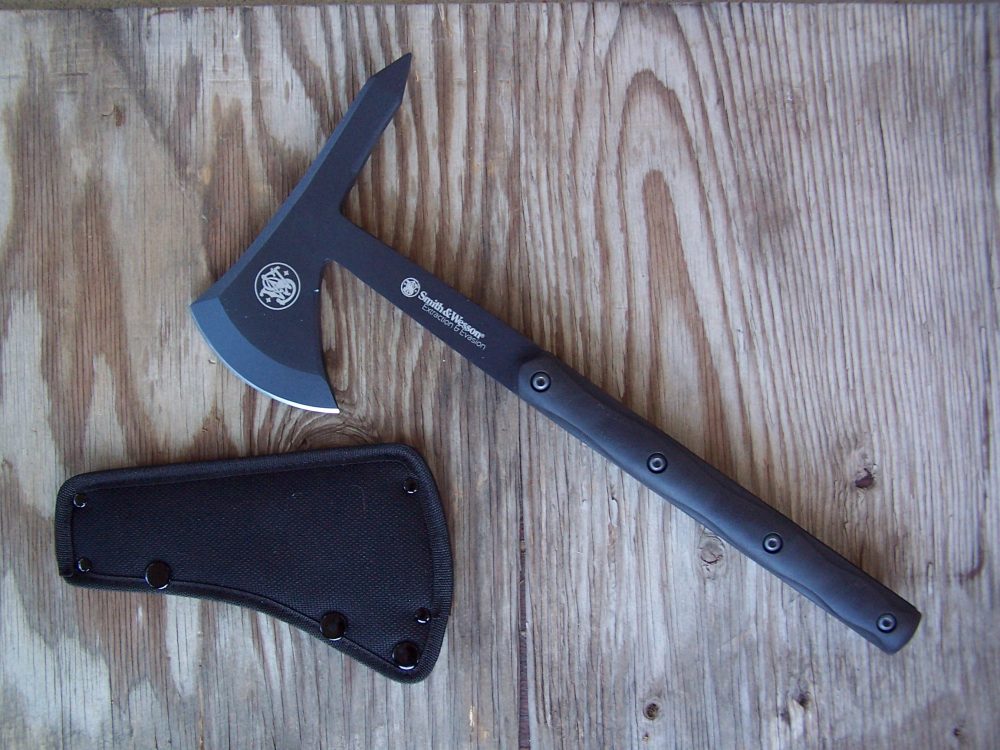 Taylor
---
TAYLOR BRANDS S&W 671 EXTRACTION AND EVASION
At more than 2.5 pounds, the 671 E-and-E axe is the heaviest of the tools tested. It's machined from solid 3/8-inch 1070 high-carbon steel stock and has that much meat virtually all over except where swedged or ground sharp. Terms that come to mind are "mission capable" and maybe even "formidable." It measures close to 16.5 inches at its longest dimension, and is 7.75 inches point to face. It has a moderate beard and a pointed spike opposite the 4.25-inch (four inches point to point) radiused face.
It has a black polymer coating and ten-inch handle scales that are retained by eight socket-head screws. The grips are sculpted Kraton and have a slight tack for a secure grip, which the weight of this tool demands. I would not be bashful about using the 671 two-handed to take full advantage of its mass and strength.
It comes in a decent synthetic canvas sheath with a belt loop, but you might want to consider suspenders as well, or anchor it to your LBE. This is a serious tool, and I can't imagine anything you could do by hand that would hurt it. Made by the able cutlers in Taiwan, it is mayhem or rescue ready, and worthy of the S&W trademark.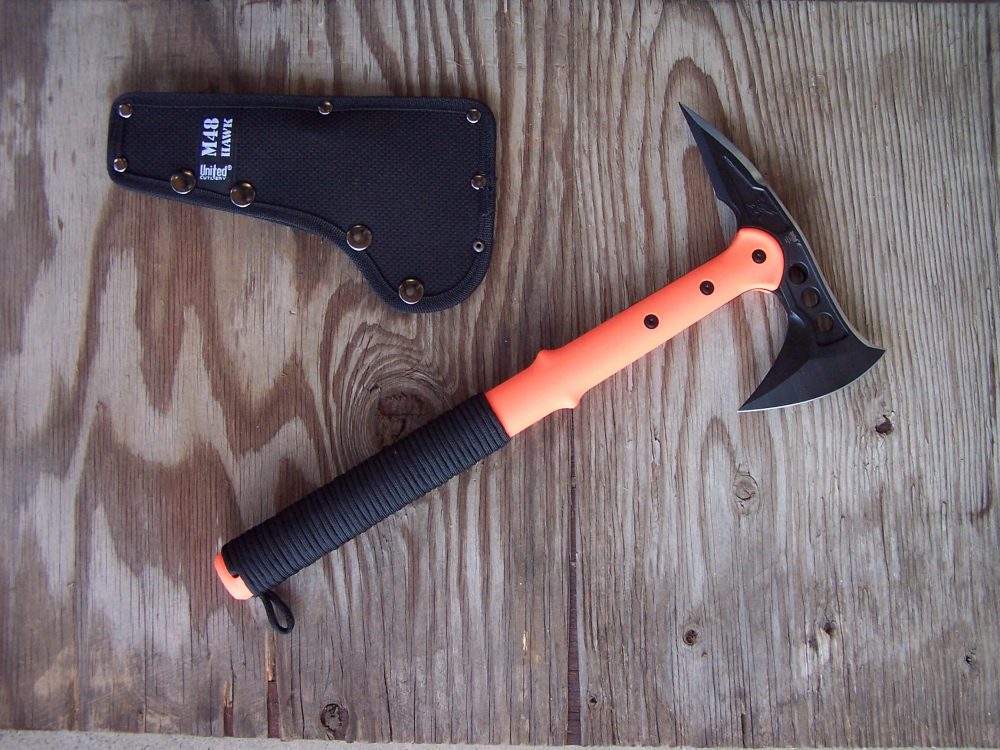 United M48
---
UNITED CUTLERY M48 HAWK
The basic M48 comes with black, orange or a paracord wrapped handle. The test and evaluation specimen was orange with a black paracord-wrapped handle. I do not favor paracord-wrapped handles because the paracord eventually comes loose, although it gives a decent grip while it's there.
This tool measures 16 inches at its longest dimension and 7.75 inches point to face on the head. The four-inch asymmetrically radiused face has a strong beard and every point on the head is very acute and sharp. There are three .44-inch holes cast in the AUS 6 stainless head, either for lightening or esthetics—I suspect the latter. The 30% glass-fiber nylon handle has a four-inch cleft to receive the tang of the head, which is secured with six Torx screws.
The M48 comes in a synthetic-lined black canvas sheath with snap closure. The "zombie hunter" esthetic and colorful names of this series detract only slightly from what is a well-balanced and well-made tool.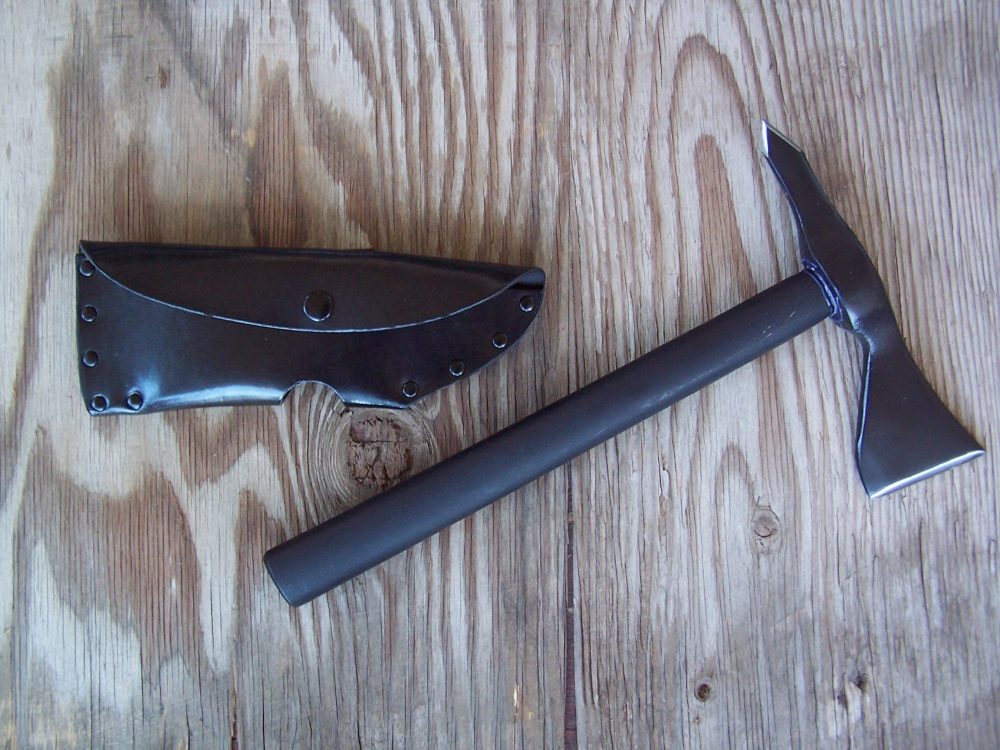 United Vietnam
---
UNITED CUTLERY VIETNAM TOMAHAWK
There was a traditional wooden handle on the original LaGana tomahawk as supplied to our guys in Vietnam, usually upon GI requests to Moms, Dads and friends.
This reiteration by United Cutlery is made from 440 stainless with black finish. It has a black adhesive-set "impact resistant" hardwood handle and comes with an imitation leather sheath. Overall, this Chinese import is not a bad value for the money because it closely mimics a good design and can be chucked in your pickup box to be there when you need it without fear of it rusting away. Mine was a little rough in its sharpening, but easily fixed.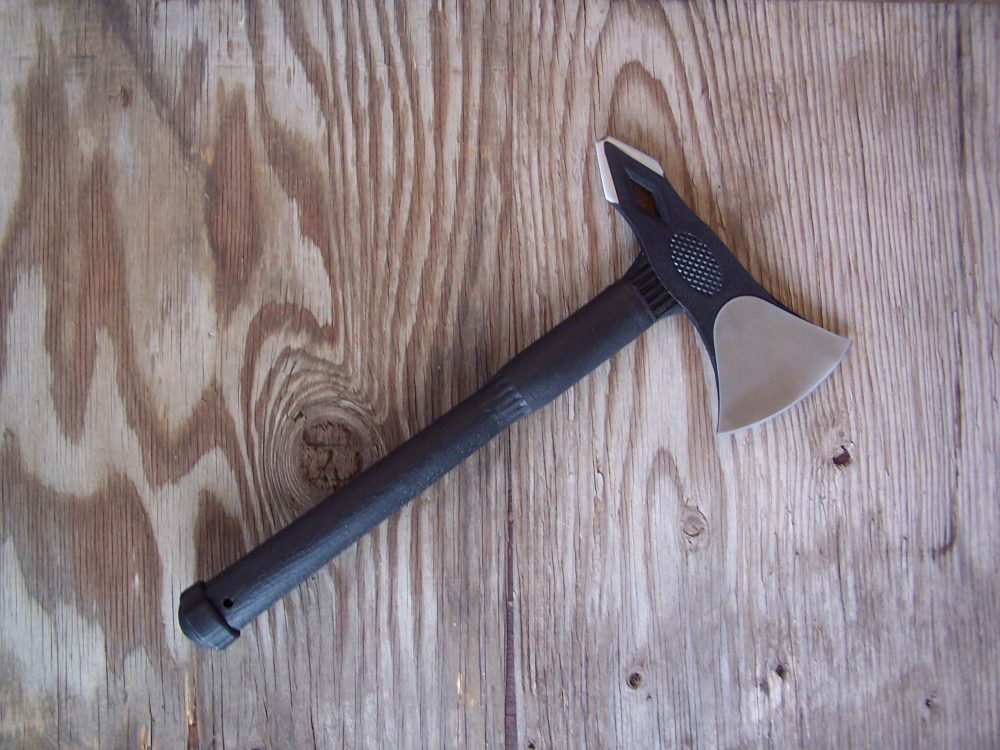 Whetstone
---
WHETSTONE CUTLERY DUTIFUL UTILITY AXE
A tomahawk in every respect but its name, this China-made "all purpose camping utility axe" is 15.5 inches overall, with a stainless steel blade and spike measuring 8.875 inches face to point.
The head has a well-radiused 3.75-inch face and diamond utility cutout on the spike side. Metal has a black crinkle finish.
It has a black glass-filled synthetic handle that features an ovoid enlargement near the head for control in close-up work, and a thong hole and knob at the back of the haft for retention. These are both features we appreciate on a tool that may be used for detail work like skinning or swinging in a long arc when chopping.
It comes in a "polycarbonate" sheath, but you should figure on bumming some retired firehouse and 550 cord to make your own, as the one that came with it broke in several pieces when I first opened it. This axe deserves better, like nylon or Kydex, as it is otherwise a well-designed tool that comes nicely sharpened.
Whether for defense, rescue or even nostalgia, the tomahawks reviewed here are good to go.
SOURCES:
American Tomahawk Company
(740) 685-2637
www.americantomahawk.com
Browning Arms Company
(855) 440-5327
www.browningarms.com
Cold Steel
(800) 255-4716
www.coldsteel.com
SOG Specialty Knives & Tools
(888) 405-6433
www.sogknives.com
Taylor Brands S&W
(800) 251-0254
www.taylorbrandsllc.com
United Cutlery (BUDK)
(800) 956-1667
www.budk.com
Whetstone Cutlery
www.whetstonecutlery.com