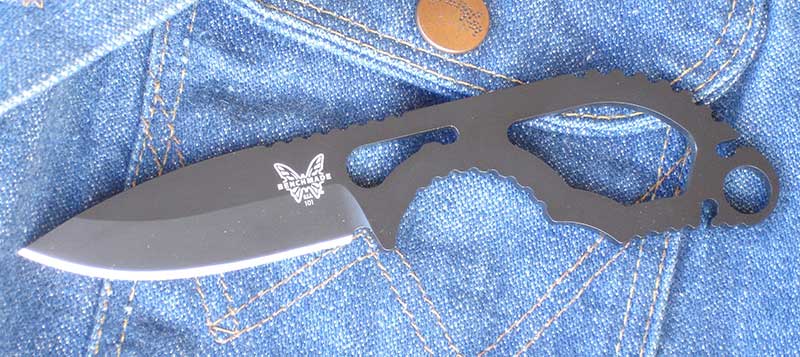 The 101BK Follow-Up is one of the newest members of Benchmade® Knife Company's Black Class of professional-use knives. The Follow-Up is a compact fixed-blade knife designed for back-up, self-defense, and utility applications.
Designed for discreet carry, the Follow-Up has an overall length of 5.99 inches. It has a black Cerakote® coated 2.6-inch long, 0.14-inch thick CPM-S30V stainless-steel drop-point blade (58-60HRC) and skeletonized handle with optional paracord wrap included.
CPM-S30V is a martensitic (hard crystalline structure) powder-made (sintered) wear-resistant and corrosion-resistant U.S.-made high-chromium premium-grade stainless steel that also contains molybdenum and vanadium. Its chemical composition promotes the formation and even distribution of vanadium carbides, which are harder and more effective at cutting than chromium carbides.
Developed by Crucible Industries for knives, CPM-S30V performs like a high-end tool steel with better corrosion resistance than 440C. CPM-S30V has a very refined grain microstructure that allows it to take a fine, consistent edge. It has superior edge retention—better than D2 and 154CM.
The non-reflective matte-black Cerakote coating on the knife provides additional corrosion resistance, improved hardness, abrasion resistance, and lubricity. Cerakote is a high-performance, thin-film ceramic coating. It's super tough and durable.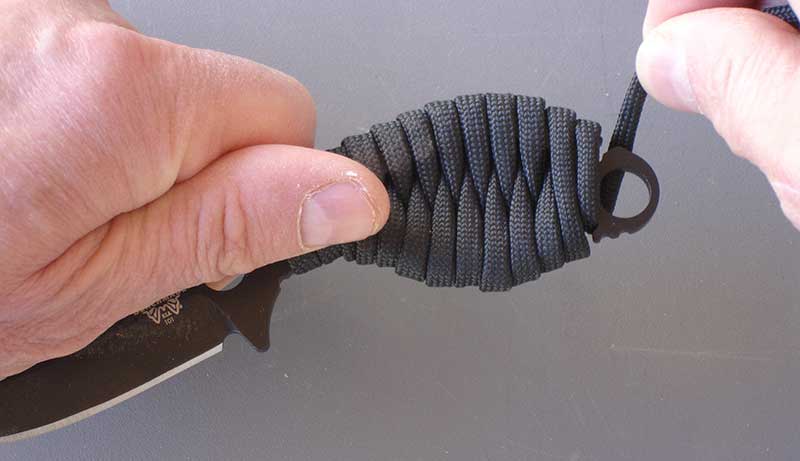 The Follow-Up features an ergonomic skeletonized handle that helps keep weight to a minimum. The knife weighs in at just 2.03 ounces. Handle jimping in all the right places and a deep finger groove provide a secure grip. Jimping on the rear of the blade spine provides added control. There's a large lanyard hole in the pommel.
The handle has an innovative paracord cleat system. It's a really cool feature that makes it a snap to add a paracord handle wrap using the included paracord. Benchmade has several YouTube® videos that show different ways of doing a handle wrap on the knife. A paracord wrap can add comfort and mitigate hand fatigue for skeletonized knives. Paracord also has myriad other uses and is invaluable in a survival situation.
Although a paracord wrap has advantages, I opted not to wrap the handle on my Follow-Up in order to keep the slim profile of the skeletonized handle and keep any printing to an absolute minimum when wearing the knife under light cover garments.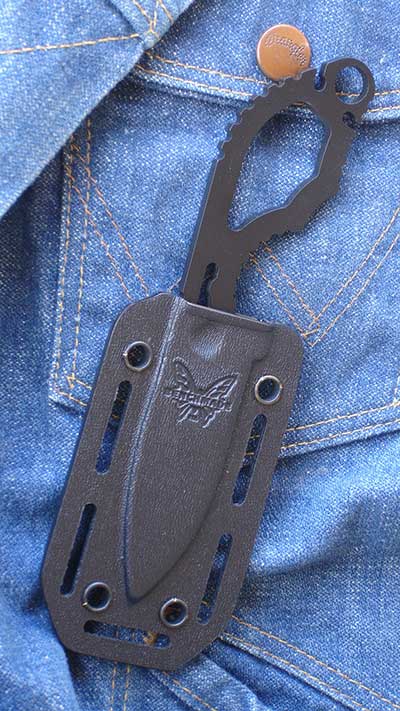 The Follow-Up comes with an ambidextrous custom-molded Boltaron® polymer snap-fit sheath. Boltaron is ten times as resistant to impact as standard plastics and maintains its performance in extreme temperatures. The sheath retains the knife securely and leaves most of the handle exposed for a quick, positive draw.
The sheath comes with two 1×8-inch Velcro® straps that offer a variety of carry options. It may be worn horizontally on the belt, tucked behind a mag pouch or other gear, or mounted on PALS webbing. Another option is to employ the paracord as a tactical tether for inside-the-waistband carry.
The Follow-Up may also be worn as a neck knife using the included paracord or a bead chain (not included). If you opt to use paracord as a neck lanyard, I advise incorporating some form of paracord lanyard breakaway connector/feature for safety.
Neck carry is popular. It has advantages and disadvantages. On the plus side, neck carry is simple, convenient, and unobtrusive under slightly heavier clothing, and the knife is easy to access when seated. On the down side, a neck knife can be difficult to access when in motion or on the ground and can print under lighter clothing.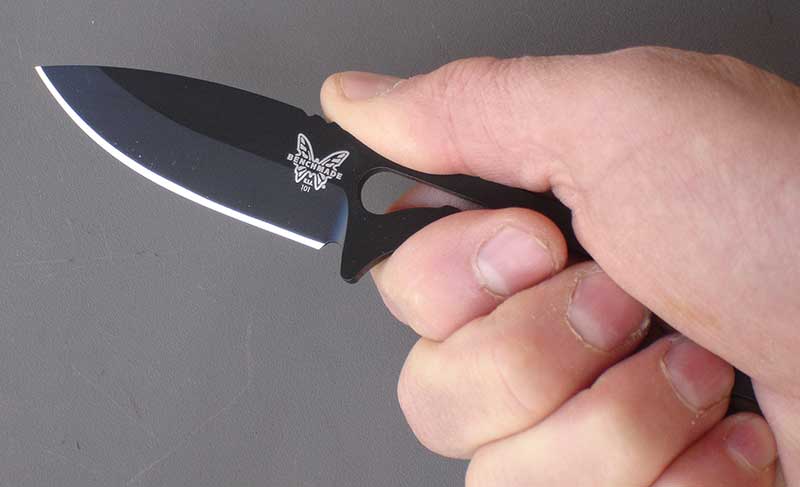 The Follow-Up is an outstanding low-profile fixed-blade knife for discreet carry. It's well suited as a back-up knife for personal defense. The knife is very well balanced and feels good in the hand with or without the paracord wrap.
The Follow-Up is also a great small knife for everyday utility use. That being said, I recommend that a knife carried for personal defense be used only for defense. A defensive blade needs to be kept sharp and always ready. Carry a separate knife or multi-tool for everyday tasks.
MSRP for the Benchmade 101BK Follow-Up is $115.00, which is quite reasonable for a knife made from CPM-S30V. The Follow-Up comes with Benchmade's Lifetime Warranty and LifeSharp® sharpening service. Custom Lasermarking is also available from Benchmade as an option.
Eugene Nielsen is a principal in an investigative agency specializing in protective intelligence and threat management. He has a Bachelor of Arts degree in Political Science from the University of California.
SOURCE
BENCHMADE KNIFE COMPANY
(800) 800-7427
www.benchmade.com
SPECIFICATIONS, BENCHMADE 101BK FOLLOW-UP
| | |
| --- | --- |
| MANUFACTURER | Benchmade Knife Company |
| TYPE | Fixed blade |
| STEEL | CPM-S30V stainless steel |
| OVERALL LENGTH | 5.99 inches |
| BLADE STYLE | Drop point |
| BLADE LENGTH | 2.60 inches |
| WEIGHT | 2.03 ounces |
| THICKNESS | 0.14 inches |
| FINISH | Black Cerakote |
| SHEATH | Boltaron, MOLLE compatible |
| SUGGESTED RETAIL PRICE | $115.00 |