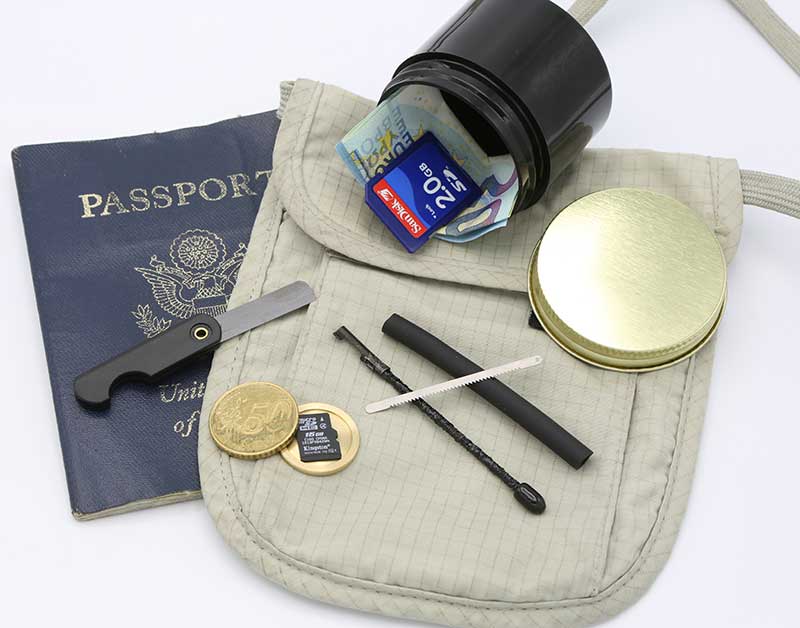 A company that has caught my eye over the last couple of years claims to specialize in "merchandise for those looking for law enforcement and military products, as well as spy and revenge products."
This got my attention, and soon I was talking to Jeff from Shomer-Tec about some of these items. Previously, I'd seen a very well-thought-out survival kit that I tried and wrote about here (AGAINST ALL ODDS: Shomer-Tec Procurement Survival Kit, March 2017 S.W.A.T.). In the field test, I had a problem with a hook breaking, disabling the closing hook portion.
I was pleased to hear from Shomer-Tec that this problem has been rectified and no further issue has been reported. My experience with Shomer-Tec made me very curious to try out some new and different products for my upcoming travels. A phone call with Jeff and things were put in motion.
STASH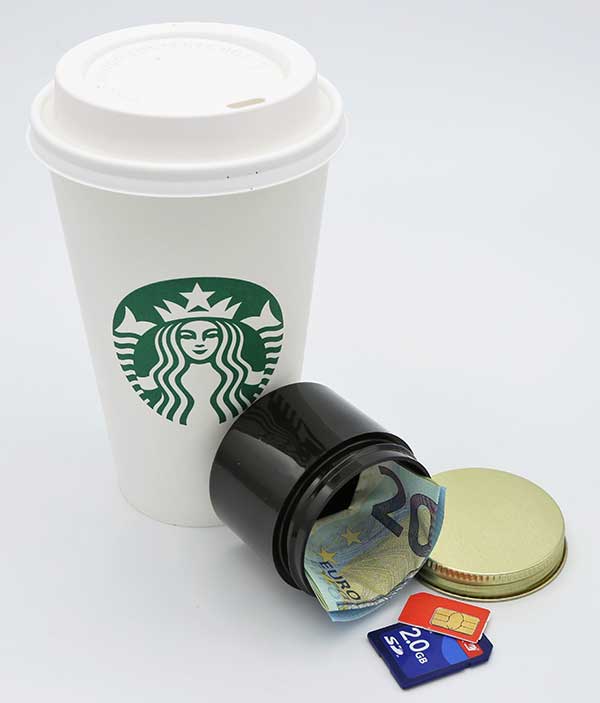 Covert Coffee is an innovative clandestine concealment device that can keep small valuables hidden and safe from thieving hands while in a vehicle or other environments. This device is concealed by being submerged in coffee at the bottom of a standard disposable coffee cup. It is compatible with most major brands' disposable cups, including Starbucks® (8 to 20 ounces).
ESCAPE
The new Escape Stick by Shomer-Tec is the most versatile and effective miniature escape tool ever offered. It enables escape from most any type of restraint—handcuffs (including double-locking), zip-ties, duct tape, rope, packing tape, cords, and more.
Components include a rod saw that can cut metal, plastic, wood, and fibrous materials; a handcuff key integrated onto the rod saw that utilizes the saw as its handle; and a toothed saw that also functions as a shim pick for releasing zip-ties. All components are contained inside a special rubber sheathing that conceals them from view yet allows easy access in just seconds.
The innovative low-profile design of the Escape Stick enables it to be miniature and covert. Its small size—three inches long x 0.37 inch in diameter and weighing 0.15 ounce—allows for many concealment options, including inside Shomer-Tec's Escape/Travel Belt. It's a potentially lifesaving tool for undercover operatives, private citizens traveling in hostile regions, or anyone whose survival may depend upon quickly escaping unlawful captivity.
COVERT TRANSPORT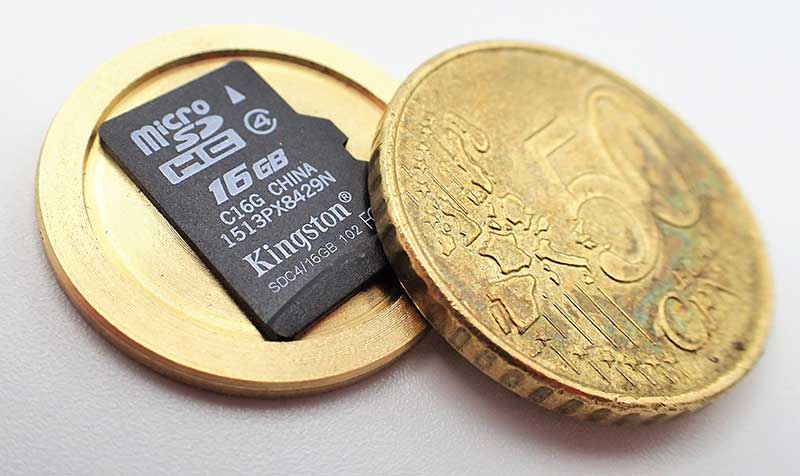 The technology of the covert coin is not new, but the data media is new. The MicroSD memory card, which can store up to a massive 32 gigabytes of information, can be hidden inside of a nickel! Your most private, confidential, and personal information can now be secured in a place where no one would ever locate it. According to Shomer-Tec, even a professional warrant search will not succeed in finding your most private information.
Covert Coins are expertly precision hand-machined from actual coins to create a secret interior compartment. Once closed, they are absolutely indistinguishable from regular coins to the naked eye. They can be handled normally without any chance of an accidental opening. An opening device is supplied with each covert coin, without which it's next to impossible to open the coin.
The Covert Coin is available in: quarter, half-dollar (fits a MicroSD card), nickel (designed to precisely hold a MicroSD card), Euro coin (50 Euro cent), British coin (10 pence), Israeli coin (2 shekel), and Australian coin (20 cent).
CUTTING POWER
The amazing edge-holding capability of a ceramic blade is almost unmatched. The chisel edge holds up to repeated cuttings of super-tough fibers such as Kevlar®, which can ruin a steel edge. A ceramic blade never rusts, and the handle is an injection-molded material.
The Shomer-Tec Ceramic Folding Razor Knife has a brass rivet that provides both a pivot and a lanyard hole. The handle and blade color is black. Weight is 0.1 ounce. Length is 1.7 inches closed, 2.8 inches overall, and it's only 0.18 inch thick.
FIELD TESTS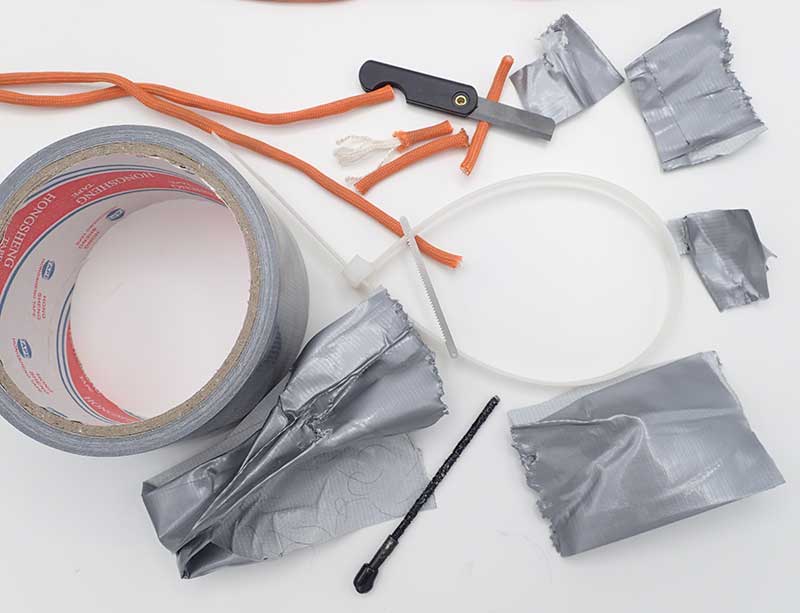 My travels have taken me to some places where the chances of kidnapping or crimes of opportunity are higher than in the usual tourist spots. The Escape Stick instantly caught my eye as something I should have and recommend to others if it works as advertised.
I wasted no time replicating the tasks I saw on the promotional video Shomer-Tec made about the Escape Stick's many uses. It comprises a few pieces. The toothed shim pick fits right in the locking tab of zip-ties, as well as handcuffs. It unlocks zip-ties when inserted in both directions of the opening. It takes a little practice to get it right, but it's well worth the time to become familiar with it. The shim pick also saws through duct tape, but I found the rod saw to be better suited for strong tape bindings.
The rod saw is a very rough textured piece of steel with a sharp point to puncture soft targets on a person or to stab and rip through duct and packaging tape with ease. On the end of the rod saw is a handcuff key.
I had an assistant bind me with duct tape to try this myself. I found two ways to make the rod saw work: One is to stab in a few places, making a line until the integrity of the binding snaps. The other way was to puncture and saw the tape. Both worked, but the repeated stabbing was faster.
While traveling for four months, I visited the Middle East, Southeast Asia, and the Mediterranean. Naturally, documents need to be in order and on hand for any type of trip, but what if they are taken? Travel and proving one's self could be a herculean task!
For years I carried a paper copy of my passport and a photo of it with a photo of my debit card, ID, and Seaman's Discharge book, all on a flash drive. But it was too big, and I found myself using it when I should have just kept it reserved for emergencies and well hidden. The Covert Coin was just what I needed to keep the same info hidden in plain view. I opted for the 50 cent Euro and stashed a MiniSD card inside.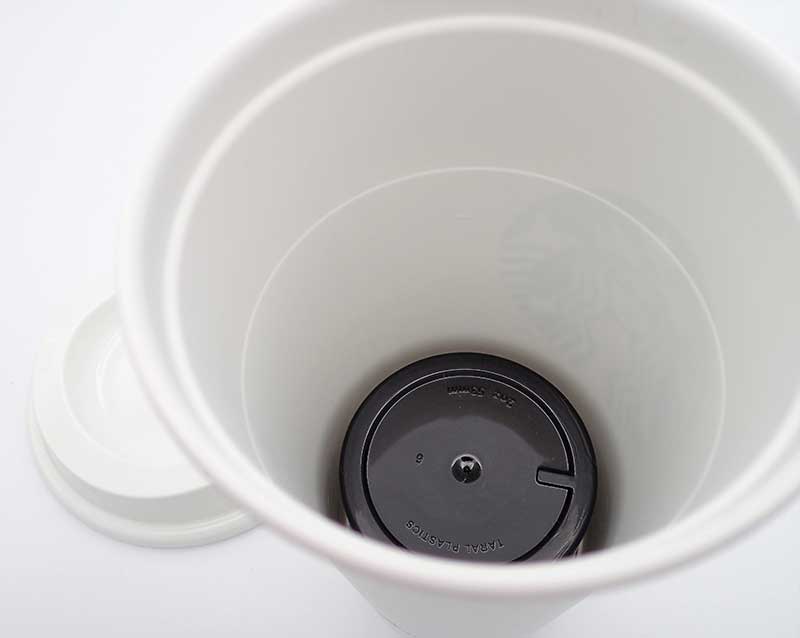 The Covert Coffee was the easiest way to store money and regular-sized SD cards inside, all while resting in a common coffee cup. I tested to see how waterproof it was before using it, and it was just fine. Caution: Make sure the maid doesn't throw it out!
I used the Ceramic Folding Razor Knife to cut through 550 paracord, duct tape, twine, and on zip-ties. The zip-ties were a bit awkward to cut, due to the knife's small handle, not the sharpness. This little blade could be a very useful utility slicer and if need be, pushed into service as a semi-lethal weapon or, if aimed correctly for the jugular—lethal!
With these offerings and the new products I saw at a recent convention, Shomer-Tec will have a lot of useful products not only for the traveler, law enforcement officer, or "spy," but for the outdoorsman too. All coming very soon!
SOURCE
SHOMER-TEC, INC
(360) 733-6214
www.shomer-tec.com