MY grandparents and some of their brothers and sisters emigrated from Denmark to the United States. They settled in Arizona in 1912— the same year Arizona became a state.
One of my great Uncle Hans' passions was making Viking jewelry and weapons using techniques passed down through the ages. When I was about eight, he gifted me a scaleddown Viking battle axe and shield. They were my prized possessions and over the years I triumphed in many imaginary battles. I've had a soft spot for axes ever since.
At the SHOT Show back in January, I spotted a prototype of an axe with a Viking-type look at the TOPS Knives booth and asked Craig Powell of TOPS to send me one when they started production.
TOPS does nothing halfway, and so it took eight months, but it finally arrived—just as the last of the crops were harvested and raiding season was about to begin.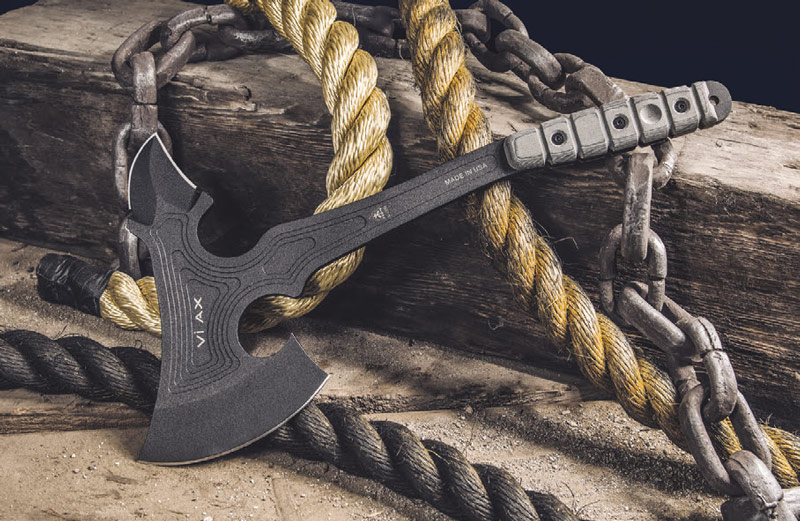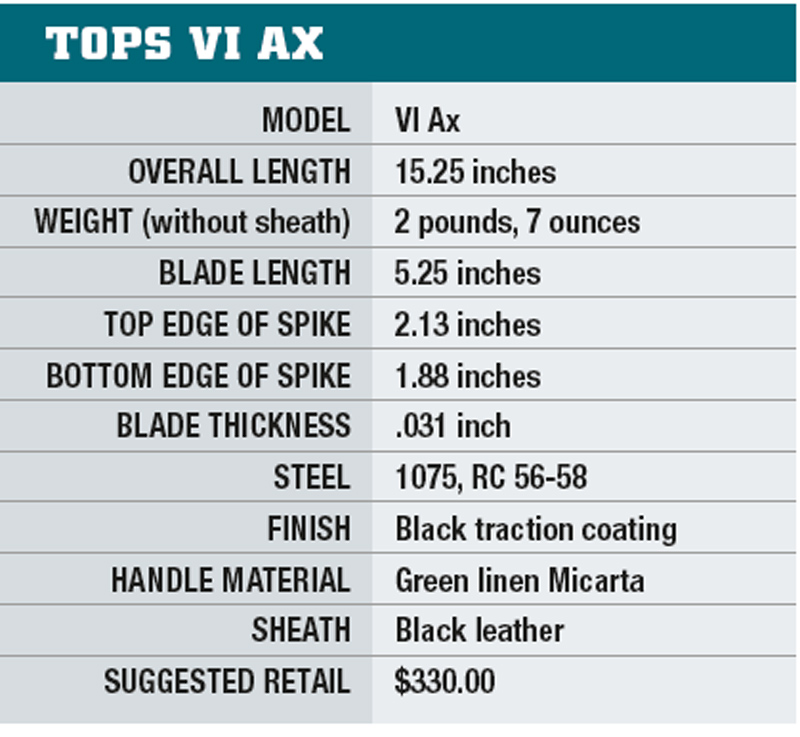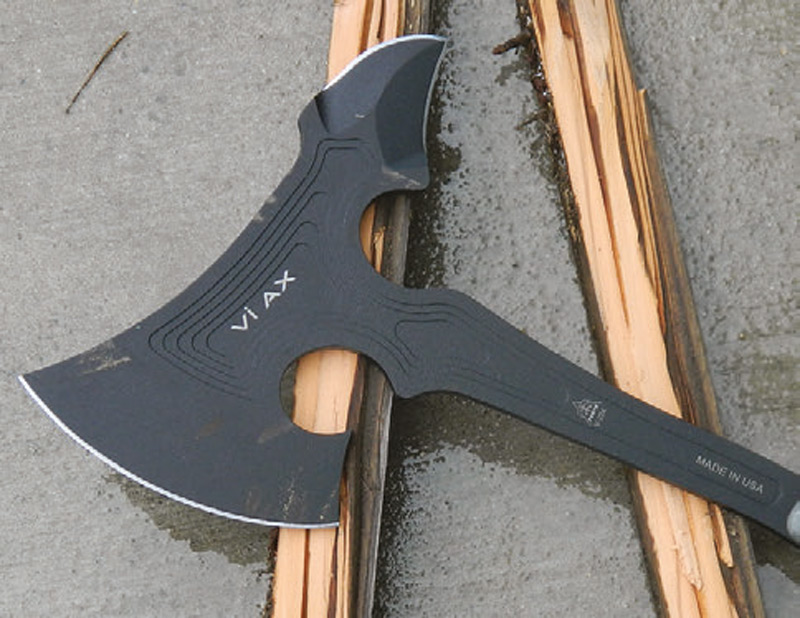 THE VI AX
The VI Ax was designed by Leo Espinoza to resemble a Viking axe, but with more flair and the modern construction TOPS is famous for. And it has TOPS' great differential heat-treat.
Made from one piece of 5/16-inch 1075 steel, this is the largest piece of its kind TOPS has ever made. TOPS often uses 1095 steel, but utilized 1075 for the VI as the latter steel has higher impact resistance with a slight trade-off in edge retention.
The VI's overall length is 15.25 inches. The Viking-style bearded blade's length is 5.25 inches, with a thickness at the edge a sharp .021 inch. The spike opposite the blade is double-edged and sharpened to create maximum damage. The top edge of the spike measures 2.13 inches, and the bottom edge is 1.88 inches long.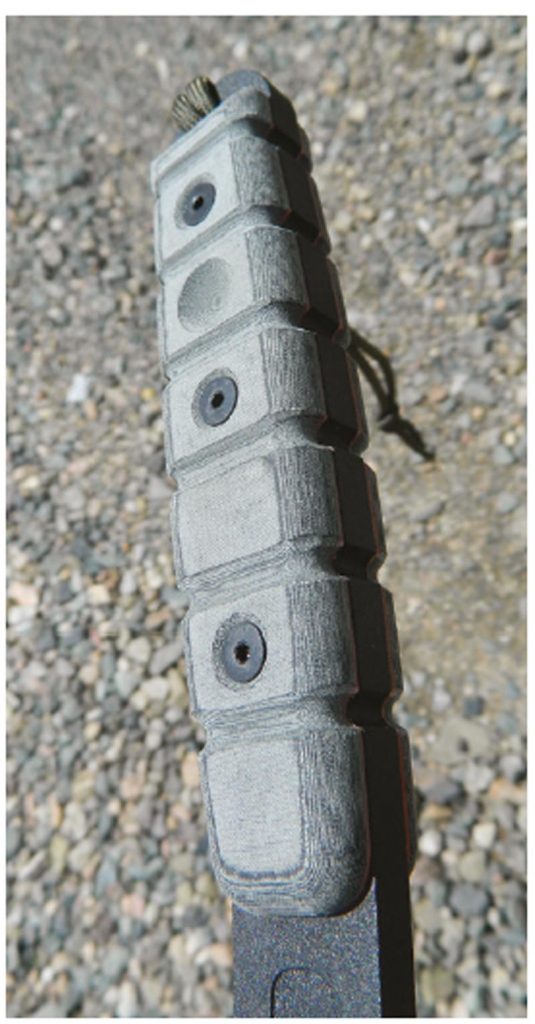 The VI weighs in at two pounds, seven ounces sans sheath. The axe has a definite heavy forward feel to it, but actually balances well in the hand.
Cast into the head and along the shaft are lines that, to me, have a certain Viking-esque appearance.
The handles are made from green linen Micarta with grooves that give an exceptionally good grip. The handles can be removed for cleaning if necessary and attached to the axe with 5/64- inch Allen head screws. A hole in the pommel can be used to attach a lanyard.
The finish is what TOPS refers to as Black Traction Coating. It is extremely durable against any scratches and is also rust resistant.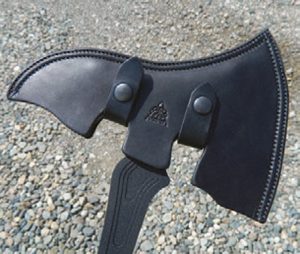 When the VI arrived, I put it to the test against a piece of 2×4. It split it without any effort, so I soaked a similar 2×4 overnight to tighten up the grain. Applying a very small amount of force, the VI again split it easily.
Granted, splitting a 2×4 is not a hard feat with any large cutting tool, so I spent about an hour trimming low green branches off an apple tree. Branches up to about two inches in diameter were hacked off with one swing. I believe the VI's large blade will chop through just about anything you put in front of it.
The spike end of the axe head also performed very well and penetrated roughly one inch into a piece of hardwood, struck against the grain.
The blade and spike remained sharp and, though some residue was left on the blade as seen in the photo above, it was easily removed from the Black Traction Coating with a damp cloth.
A high-quality black leather sheath is included. The axe is secured into the sheath with two heavy-duty snaps. For safety reasons, the sheath was designed only as a blade cover, not as a belt sheath. Small loops on the back can be used to secure it to a pack or other MOLLE gear using paracord.
Alternatively, a simple strap, such as used on a camera case, can be attached for over-the-shoulder carry. This would be my preference.
Suggested retail base price for the TOPS VI Ax is $330.00. Options include a polished blade (add $10) and black O-ring handle (add $7). At press time, the TOPS website had the VI on sale for $264, so it's worth checking.
The VI Ax now lives in my truck with other emergency gear. If necessary, I have no doubt I could chop a car apart to extricate a victim of a crash, and push come to shove, I could use the VI as an effective self-defense weapon.
I agree with TOPS: the VI is an axe a Viking would be proud to wield. And I think Uncle Hans would approve. Skol.