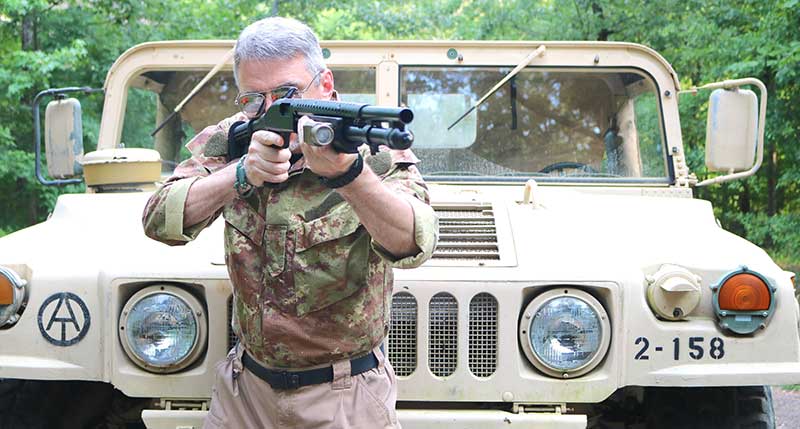 What exactly is the ideal single survival gun? You'd think by now geeks like me would have beaten that dead horse into hamburger. However, the answer can at times seem impenetrable.
Gene Stoner's esteemed black rifle is obviously a contender. You can drop a holy fortune tricking out one of those rascals to DevGru standards. Comrade Kalashnikov's Combloc chopper is also a solid idea. That thing will keep on running despite the most egregious abuse.
Then there's John Moses Browning's inimitable 1911. To hear guys like me talk, that gun will whiten your teeth, land you dates with supermodels, and cure malodorous feet.
But none of those three esteemed smoke poles will reliably fill your cooking pot with squirrels or drop birds on the wing. A powerful argument can be made that the single ideal all-around utility and survival firearm needs to be a shotgun.
GENESIS
The scattergun as a combat and survival implement dates back to the 18th century. Combatants fighting the American Revolutionary War would load their muskets with buck and ball for those times when life got extra sucky. Nowadays the combat shotgun is a refined and effective pugilistic tool.

Literally nothing is more versatile. I have personally wielded a properly stoked 12-bore as a hedge against brown bears the size of Volkswagens in the Alaskan interior. I have also used one with some regularity to grace our table with wild turkey for Easter dinner. I have shot my limit over a dove field and, just for giggles, blown a door off its hinges using breaching rounds.
Along the way I have put a not-insubstantial dent in the local water-moccasin population in the modest lake that serves as a backyard for my rural Mississippi home. Running birdshot, buckshot, flechettes, frangible breaching rounds, or slugs, there isn't much a 12-gauge shotgun won't do for you when you hear glass breaking downstairs or civil order starts to sputter.
Our former Vice President "Crazy Joe" Biden once opined that a side-by-side 12-gauge was the ideal home-defense arm. Check it out on YouTube should you wish to partake of some comic relief. He actually recommended firing the gun into the air off your back porch. Not sure how that would have gone over with Joe's Secret Service security detail….
Personally I wouldn't trust Joe Biden with gum, much less a live firearm, but his unhinged rantings do contain a certain kernel of immutable truth. Nobody in possession of a loaded 12-bore will ever be accused of having brought too little gun.
In the crowded field of modern firearms, Mossberg stands out as a time-tested producer of military, sporting, and law enforcement shotguns. Their slide-action scattergun is GI issue, and it was a Mossberg Cruiser pistol-gripped gun bought at age 18 that was my first serious piece of social iron, back when dinosaurs roamed the plains. In their new FLEX TLS system, we find flexible firepower nicely refined.
FLEX TLS DETAILS
TLS stands for Tool-Less Locking System, and it is like Legos for gun nerds. Using a single common receiver, the modern rugged individualist thusly equipped can craft a weapon optimized for any mission. By exchanging buttstocks, pistol grips, forearms, and barrels, that one common receiver can become many different things.
It's called a Tool-Less Locking System because you can, you guessed it, manage it without tools. Five minutes with the FLEX TLS and your shotgun sports innocuous camouflage hunting furniture and a long full-choke turkey barrel. Another five minutes transforms that same gun into a pistol-gripped close-combat tool replete with lights and lasers.
Five minutes after that and the gun becomes a scary-looking counter-riot machine that will make an inimitable statement if anarchistic protesters ever block in your minivan.
Buttstock options offer butt pads of varying sizes and comportments, as well as interchangeable stock combs that will optimize the gun for your particular anatomy. Mix and match to fit your tastes and mission. At its heart, the gun remains Mossberg tough and Mossberg reliable.
HOW DOES IT WORK?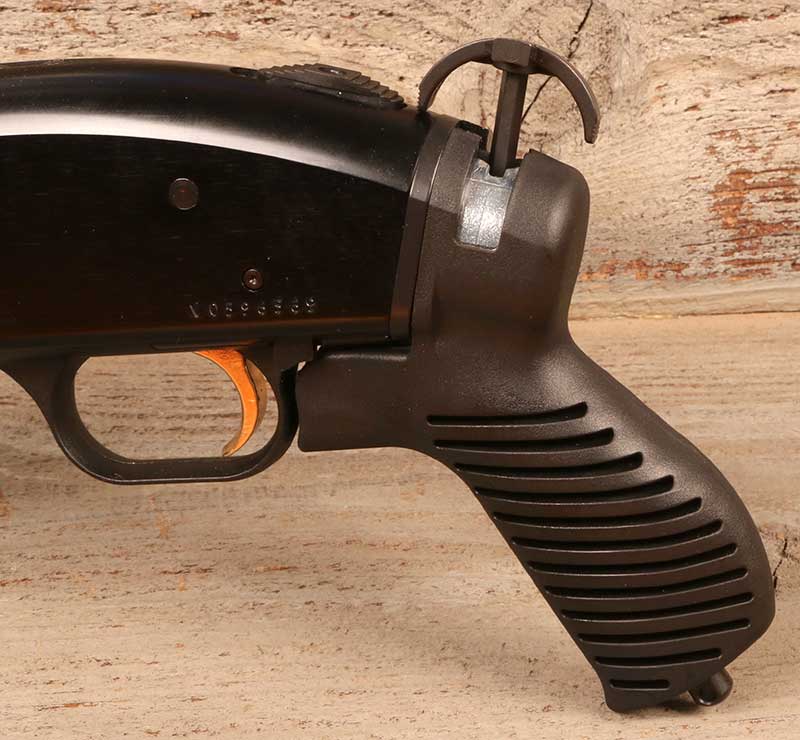 The FLEX TLS orbits around three patent-pending connection systems. These three clever mechanisms allow the user to exchange stocks, forearms, barrels, and accoutrements without a fuss. Lift and turn a T-shaped fastener to swap out buttstocks. Push a button to swap out the butt pads. Press another catch and tug to exchange forearms. The options run the gamut.
This mechanism is tight, and it won't come together and lock unless the fit is perfect. I had to do a little tapping with a rubber mallet to get accessory buttstocks on and off, at least in the beginning. What you get for that effort is a rock-solid though removable lockup that is comparable to a conventional bolt-on stock.
Swapping barrels is easier to do than to describe. Crack the action open, unscrew the cap at the end of the magazine tube, and slide the barrel off to the front. Drop in another tube and thread the fastener back in place. It takes me maybe 60 seconds from a standing start.

Forearms are available with accessory rails for lights, lasers, and sundry sparkly gadgets. The furniture colors range from inoffensive civilian camouflage patterns to more sinister tactical stuff. Heat shields and bayonet lugs are options on the host gun should your proclivities wander to such.
THE HUMAN INTERFACE
In my opinion, Mossberg ergonomics are the best on the market. The safety is a sliding catch on the spine of the receiver that is comparably accessible by either thumb. The slide release is an ample tab at the rear of the trigger guard. This means you can activate this catch without unduly degrading your grip. Once the gun is charged, the slide releases for cycling with each round fired just like every other pump shotgun on the planet.
The mechanism is ruggedly overbuilt, and the ergonomics unparalleled. This is the same action that our warfighters carried downrange into Iraq and Afghanistan. It will feed most anything up to three-inch magnum rounds.
TRIGGER TIME

I started with two guns for this assessment. The first is a standard sporting Model 500 with wooden stocks and 5+1 magazine capacity. The second is a more sinister Model 590 with 20-inch barrel that packs 8+1 on board. Both guns accept the FLEX buttstock and forearm attachments. The spare barrels will only fit the Model 500.
Mass times acceleration in one direction will always equal mass times acceleration in the other direction. That's not just a good idea, that's the law.
As such, the Mossberg 12-gauge sports a fair amount of recoil. Low-brass birdshot is not unpleasant, but heavyweight full-power slugs and buckshot will make their presence known. But the FLEX system offers scads of interchangeable butt pad options. The thicker the pad, the softer the shot. The end result is one of the most comfortable 12-gauge platforms I've ever run.
With the long barrel installed, the gun prints tight patterns out to typical turkey engagement ranges. This barrel accommodates interchangeable chokes.

Swap to the stubby CQB tube and the gun is ready to maneuver around the house or even within a car. The pistol grip is on the small side. This keeps the gun unobtrusive, but you'll be feeling the recoil. I opted for a pair of Nomex gloves while running the pistol grip and left the range much happier than might otherwise be the case.
Mount up the rifled slug barrel and the gun is good on whitetail-sized targets out to a proper distance. This barrel's cantilevered optics mount accepts anything you want to perch there.
The new Vortex Razor AMG UH-1 offers a fresh new holographic reticle along with a rechargeable battery if desired. The AMG UH-1 is exceptionally capable, and the Vortex warranty is the best in the business. Armored vehicle tough, the AMG UH-1 is the next evolution in holographic weapon sights and complements the Mossberg FLEX quite nicely.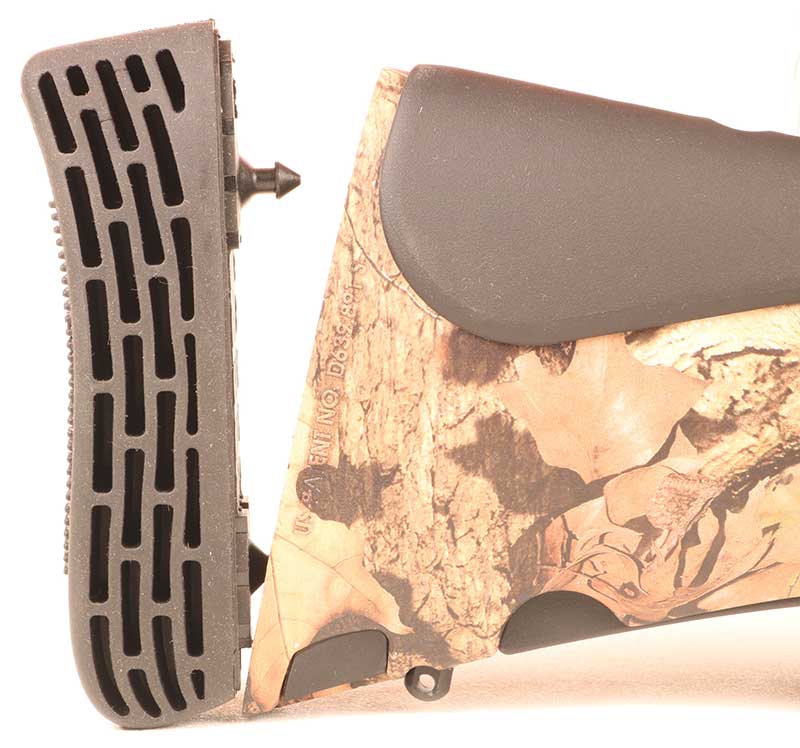 For those times when the dog just won't shut up early in the morning, this Mossberg shotgun catapults you to the coveted position atop the food chain. When Fudded out as a hunting arm, the gun is right at home in the duck blind or dove field and won't raise undue eyebrows among overly sensitive neighbors. Our test guns were completely reliable with everything we fed them.
PRACTICAL TACTICAL
What's it really good for? Ideally nothing more than a doorstop in the hidden recesses of your favorite closet. Nobody wants to use a gun for real. But if life really goes sideways, little is more reassuring than a state-of-the-art 12-bore throwing heavy ¾-inch projectiles.
With the pistol grip installed, the gun will ride behind the seat of your pickup truck. Most of our serious threats walk about on two legs rather than four. For protection against bipedal predators, nothing else really comes close at appropriate ranges.

I have seen more than my share of gunshot wounds. Of all the carnage that dragged through the urban ER where I worked, for raw unfiltered nightmarishness, nothing holds a candle to a scattergun at close range. Words very nearly fail me.
Out to perhaps 20 meters, the effect is like working somebody over with a gigantic ice cream scoop. A 12-bore properly wielded takes all the ambiguity out of a social exchange of gunfire.
DENOUEMENT
A 12-gauge shotgun for home defense means not having to say you're sorry. Despite the obligatory bulk and prodigious recoil, nothing at the local gun emporium is quite as effective or versatile as a properly tricked-out Mossberg FLEX TLS shotgun. With a handful of well-reasoned accessories, a single receiver can defend the family, fill the cooking pot, open locked doors, and impress the living heck out of your typical malevolent mob.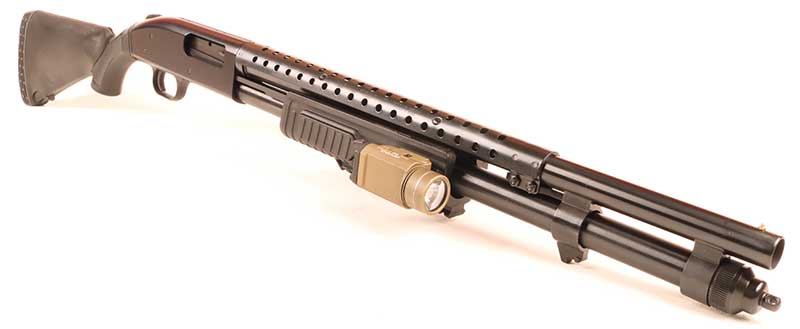 The inimitable sound that such a gun makes as the slide is cycled literally translates to, "Keep on coming if you want to meet Jesus" in all the world's recognized languages.
The host gun is reasonably priced, and there is literally something for every mission. From tame and inoffensive all the way up to scary and sinister, the Mossberg FLEX TLS optimizes the versatility of the classic slide-action scattergun. Whether your quarry is turkeys, deer, bears, doves, squirrels, or sociopaths, the Mossberg FLEX TLS will reliably cure what ails you. It's like Barbies for gun geeks.
The end result is arguably the most versatile handheld firearm in the world.
SOURCES
O.F. MOSSBERG & SONS, INC.
(203) 230-5300
www.mossberg.com
VORTEX OPTICS
(800) 426-0048
www.vortexoptics.com
MOSSBERG FLEX TOOL-LESS LOCKING SYSTEM
ITEM

FEATURES

RECOIL PADS

0.75, 1.25, and 1.5 inch

PISTOL GRIP

Removable

FIXED STOCKS

12.5-, 13.5-, and 14.5-inch LOP standard in 3 colors

ADJUSTABLE STOCKS

Adjustable tactical/adjustable dual combo in 2 colors

FORENDS

Standard in 3 colors and tactical railed version

BARRELS

Multiple lengths/gauges/profiles/capacities

PLATFORMS

MVP FLEX centerfire rifles
FLEX-22 rimfire rifles
FLEX 500 12- and 20-gauge shotguns