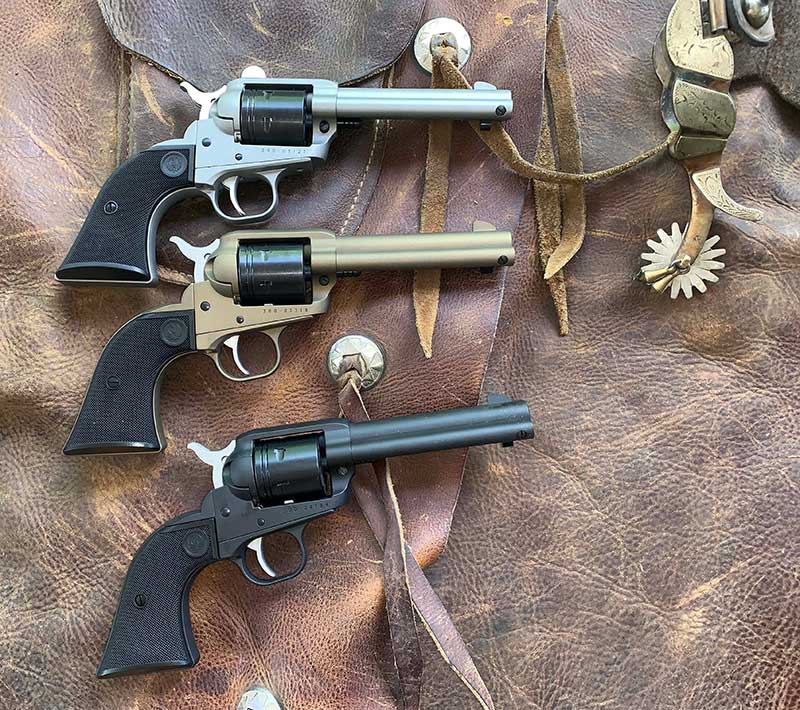 In 1953, the year before I was born, Ruger introduced the Single-Six single-action revolver. Although it was released in an era when double-action revolvers were king among private citizens and peace officers, it performed reliably for thousands of outdoorsmen.
The original Single-Six was in continuous production for two decades. Although a sixgun, savvy pistoleros carried only five rounds with the hammer down on an empty chamber. In 1973 Ruger introduced the New Model Single-Six that added the transfer bar safety, which allowed the user to load and safely carry with all six chambers loaded.
THE WRANGLER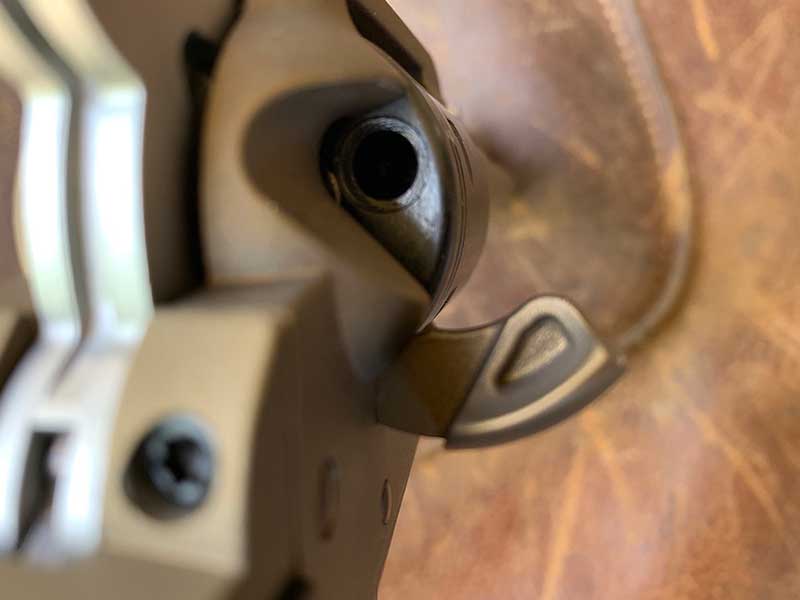 Internally, the new Wrangler is largely a Ruger New Model Single-Six with a couple of changes. One large difference is that the Wrangler has a free-spin pawl. When the loading gate is open, this allows the cylinder to spin both clockwise and counterclockwise. The inside of the loading gate is scalloped, making it easier to open.
With a single-action that does not have a free-spin pawl, if you accidentally go past a chamber while loading or unloading, the cylinder must complete a full rotation. With a free-spin pawl, the cylinder can simply be rotated back to the chamber you need to take action with.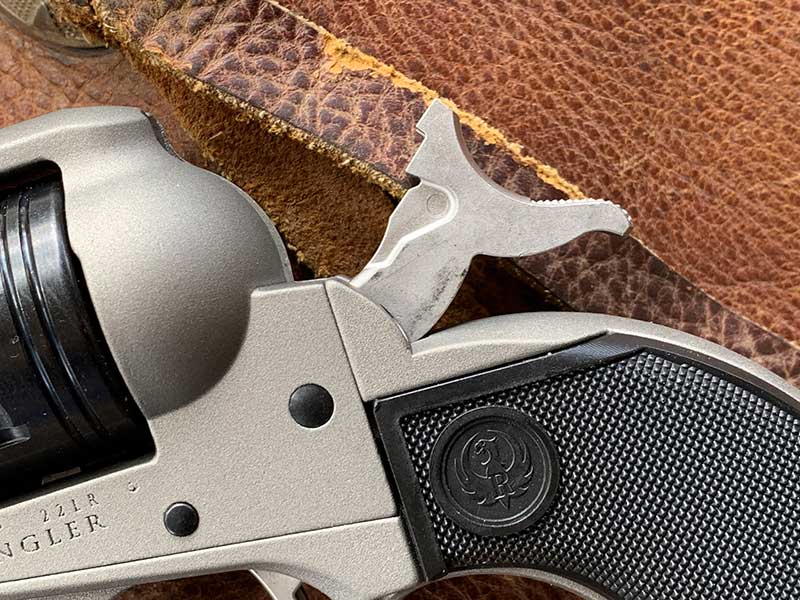 The grip frame, cylinder frame, and ejector rod housing of the Wrangler are made of aluminum, resulting in a lightweight, handy revolver. Cutouts on both sides of the hammer also reduce weight a bit. The cylinder, barrel, and small parts are made of steel.
Most of the revolver is finished in a satin Cerakote, which is handsome and durable and offers protection from rust. Three different colors are available—Black, Silver, and Burnt Bronze. Ruger provided me Wranglers in each color for testing.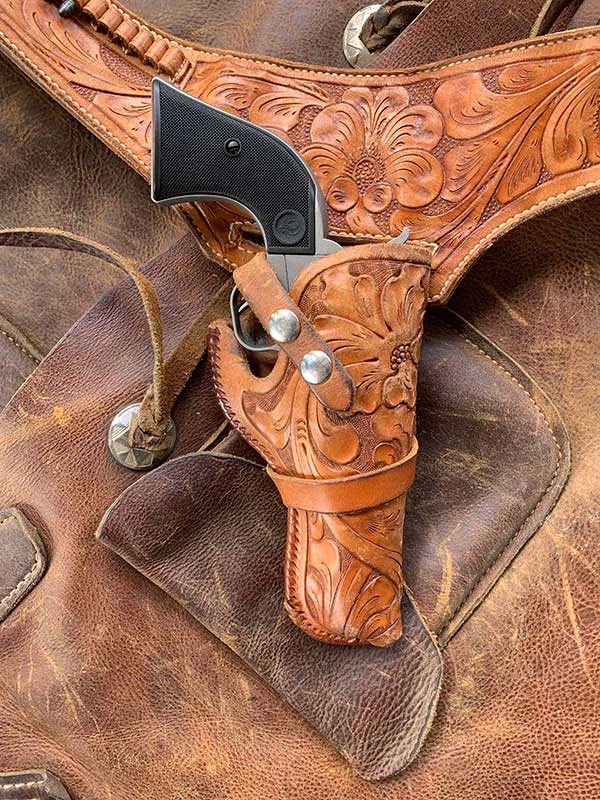 Cylinders are blued steel, as are the base pin, base pin latch, and hammer and trigger pivot pins. This adds an aesthetically pleasing contrast on the Silver and Burnt Bronze guns. The hammer and trigger are satin silver. The black plastic stocks are checkered with the Ruger logo.
Sights are the familiar blade front and integral rear notch as found on most traditional single-action revolvers such as the Ruger Vaquero, Colt Single Action Army, etc.
As measured with a Lyman Electronic Trigger Gauge, at 4.2 pounds the trigger pull was crisp but a bit heavier than I prefer on a single-action revolver.
RANGE TESTING
I tested each Wrangler with six different .22 Long Rifle loads. These ran the gamut from subsonic loads to hyper-velocity rounds. (The Wrangler will, of course, also fire .22 CB Caps, .22 Short, .22 Long, and .22 shotshells, though none of these were included in the evaluation.) The table below shows the average velocity and accuracy results. No sixgun produced substantially better groups or higher/lower velocities than its siblings.
I fired the Wrangler at 20 yards from a rest. While unlikely it will be in the field in this manner, I was curious about how much accuracy I could expect from it. I was not disappointed. Only two rounds went over two inches, which is plenty good to put meat in the pot or make cans jump on the berm.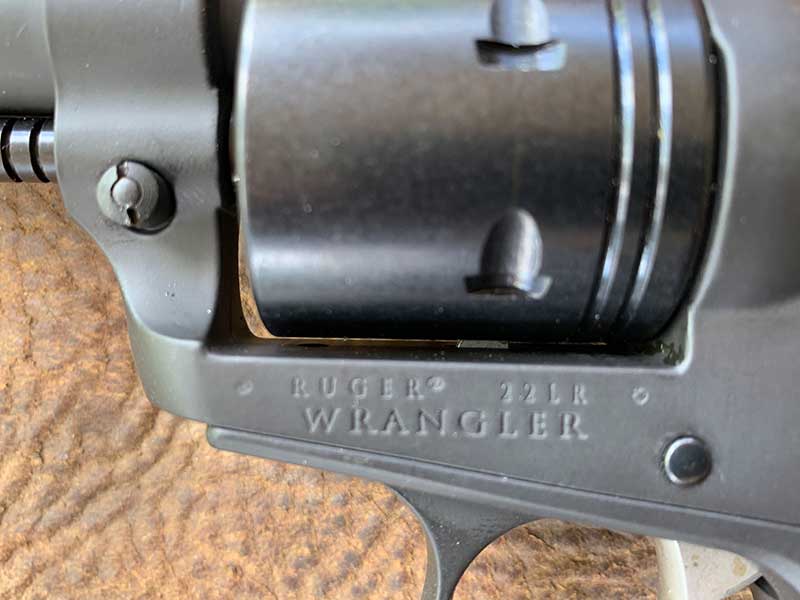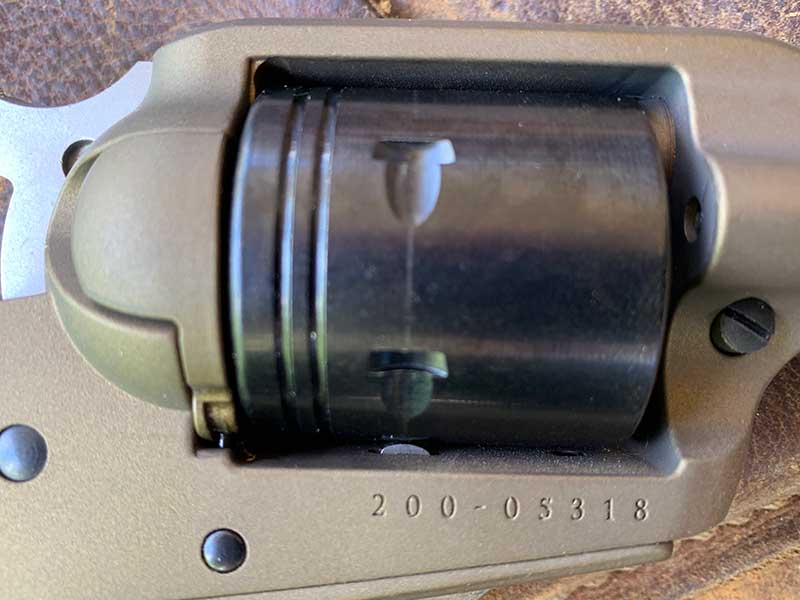 As expected, every round went bang and ejected easily. My only complaint is that the loading gate was initially very stiff, though it became easier to manipulate after using the guns for a while. The scalloping on the inner side of the gate definitely helped open it for loading and unloading.
The Wrangler is a great addition to Ruger's line of single-action revolvers. Even the name conjures up the image of a cowboy horse wrangler on a roundup. But make no mistake, this handgun is not just for cowboys. It will serve with distinction for outdoorsmen and plinkers alike.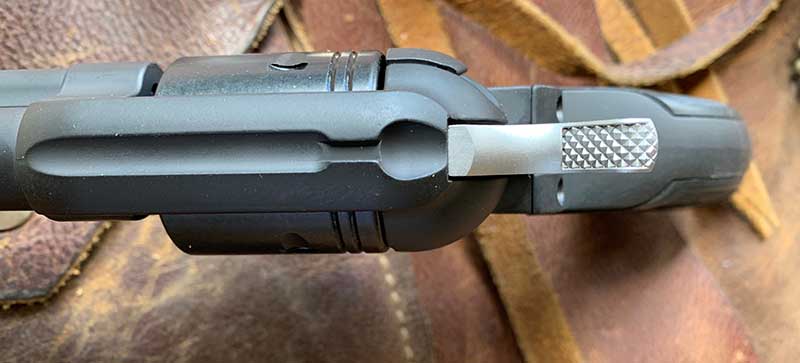 The only bad thing may be that, at a suggested retail of only $249.00, Wranglers probably won't stay on the shelves very long. I ended up purchasing all three I had received for testing.
SOURCES
STURM, RUGER & CO, INC.
(203) 259-7843
www.ruger.com
CCI AMMUNITION
(800) 256-8685
www.cci-ammunition.com
FEDERAL PREMIUM AMMUNITION
(800) 379-1732
www.federalpremium.com
LYMAN PRODUCTS CORP.
(800) 225-9626
www.lymanproducts.com
REMINGTON ARMS COMPANY, INC.
(800) 243-9700
www.remington.com/ammunition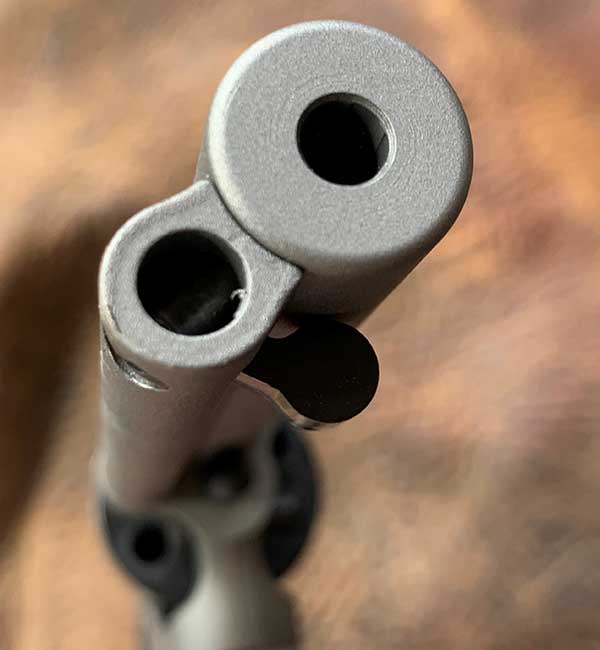 SPECIFICATIONS, RUGER WRANGLER
| | |
| --- | --- |
| MANUFACTURER | Sturm, Ruger & Co, Inc. |
| TYPE | Single-action revolver |
| MODEL | Wrangler |
| CALIBER | .22 Long Rifle |
| CAPACITY | 6 |
| OVERALL LENGTH | 10 inches |
| BARREL LENGTH | 4.61 inches |
| OVERALL HEIGHT | 4.81 inches |
| WEIGHT (UNLOADED) | 30.1 ounces |
| FINISH | Black, Silver, Burnt Bronze |
| SUGGESTED RETAIL PRICE | $249.00 |
AMMUNITION PERFORMANCE
| | | | |
| --- | --- | --- | --- |
| BRAND | LOAD | AVERAGE VELOCITY (fps) | BEST 6-SHOT GROUP (inches) |
| CCI | 32-gr. Stinger | 1,646 | 2.3 |
| CCI | 40-gr. Mini-Mag | 1,230 | 2.1 |
| CCI | 45-gr. Subsonic | 1,048 | 1.7 |
| Federal | 36-gr. Hollow Point | 1,275 | 1.8 |
| Federal | 40-gr. Match Hollow Point | 1,208 | 2.0 |
| Remington | 36-gr. Hollow Point | 1,276 | 1.9 |
Velocity obtained with PACT Professional chronograph, six-round strings with first screen ten feet from muzzle. Groups fired from rest at 20 yards. Elevation 4,843 feet, 74 degrees, 78% humidity.