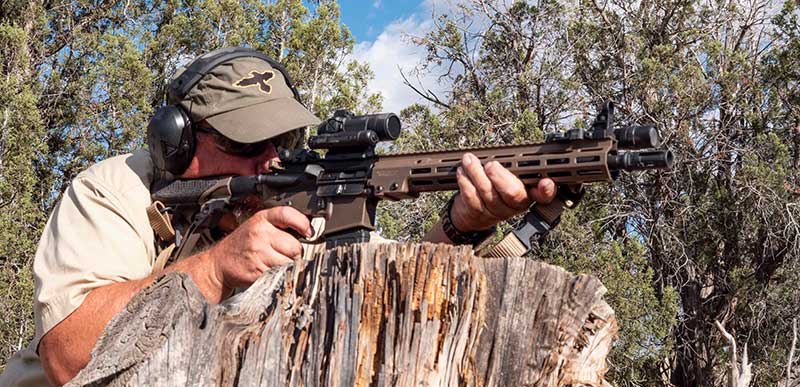 For the last two decades, I have looked at the 5.56mm carbine through the optic of a patrol rifle. It started in 1995 during my first police carbine school, then continued during a remote class Clint Smith taught at my home range shortly afterward. The North Hollywood bank robbery solidified that optic in 1997, when my agency decided a rifle is not such a bad idea. Funny how getting officers shot or the department sued focuses administrators.
That focus continued long after my retirement in 2009. It served one of two purposes: as an entry weapon for the SWAT team, or a rifle for use on the streets. Several years removed from police work, my horizons have broadened a bit, but when a "working gun" comes into view, or one specifically geared toward military or police use, my focus returns there. Such is the case with the Geissele URGI, a near or actual copy of the new USSOCOM (United States Special Operations Command) improved upper.
Police carbines need to be strong, reliable, simple, and accurate without compromising reliability. Light is good, and it needs to be equipped to work from across the room to 100 yards—occasionally longer. For SWAT teams, it must handle the weight of night-vision devices, and work suppressed.
The Geissele URGI (Upper Rifle Group Improved) is a perfect example. Available as a true clone, or a near clone to meet private citizen needs for protection or duty, it is literally designed to go to war.
GEISSELE USRG-I CLONE (OR NEAR CLONE)

Geissele is offering upper receivers that exactly or nearly replicate the USSOCOM issue upper. It's the only way you can currently acquire the handguard and barrel. You can get a complete upper including the bolt carrier group, Geissele charging handle, and flash hider. Stripped uppers are minus the BCG, charging handle, and muzzle device.
They all use the issue Daniel Defense 14.5-inch barrel. Geissele's Super Gas block, pinned and installed to be "bomb proof," sits on the "near clone" models. The Daniel Defense MK12 is used on the clone model, along with the issue four-prong flash hider that will accept a SureFire SOCOM suppressor. For those using a standard lower, the "pinned and welded" version is available, and all NFA rules apply for the rest. Everything but the stripped lower includes their Super 42 buffer and coil spring system.
TESTING
One of my post-sample M16 lowers just happened to be Cerakoted dirt brown, matching what should be the issue rifle. Geissele's Super Select-Fire Trigger was installed, along with Battle Arms Development's Bad Ass ambidextrous safety. Grip and stock are Daniel Defense. The grip uses the extended trigger guard, and both match the dirt-brown receiver and use their rubber treatment.
Geissele's Super 42 buffer and coil spring and Maritime Bolt Catch were installed. SureFire's new closed-tine WARCOMP replaced the four prong. It eliminates pinging and still lets me use the suppressor. Aimpoint's Comp M4S (M68) handled red dot sight (RDS) duty. Battery life is eight years, and the QRP2 mount keeps it in place. Using a 2 MOA dot makes it workable from CQB to longer ranges. Adjustment knobs are big, easier to access, protected, and can be adjusted with a coin. Precision Reflex's fixed front and a Matech rear acted as BUIS.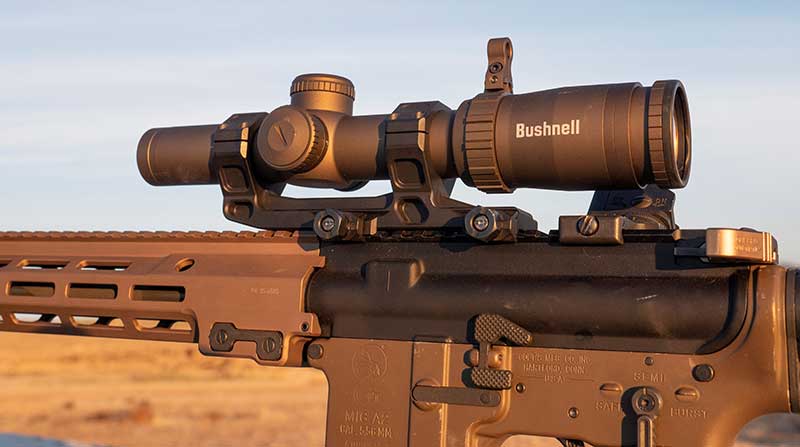 A Bushnell Elite Tactical SMRS II Pro 1-6.5x24mm was mounted in a Weaver mount. Reticle is the CQ BDC (Bullet Drop Compensator) with illuminated center dot and elevation lines out to 500 yards. Mounted in the second focal plane, it is etched in Bushnell's ED (Extra Low Dispersion) glass. Turrets are covered and have a quick-change magnification lever. Magnification is true one power, and coupled with the illuminated dot, it's an RDS.
Crank it up and you get elevation lines with wind holds out to 500 yards. Back-up sights were Dueck Defense Rapid Transition with a Trijicon tritium front. A SureFire M600DF 1500-lumen Scout Light was used, and an LMT Quick Release Bipod.
RANGE
Accuracy was excellent: The Black Hills 55-grain TSX was under an inch at 100 yards using the Comp M4S. It's soft and flat shooting, providing for easy holds out to 300 yards. Zeroed at 50 yards, center hold hits from 50 to 200 yards. Hold a bit high at 25 yards to 300 yards.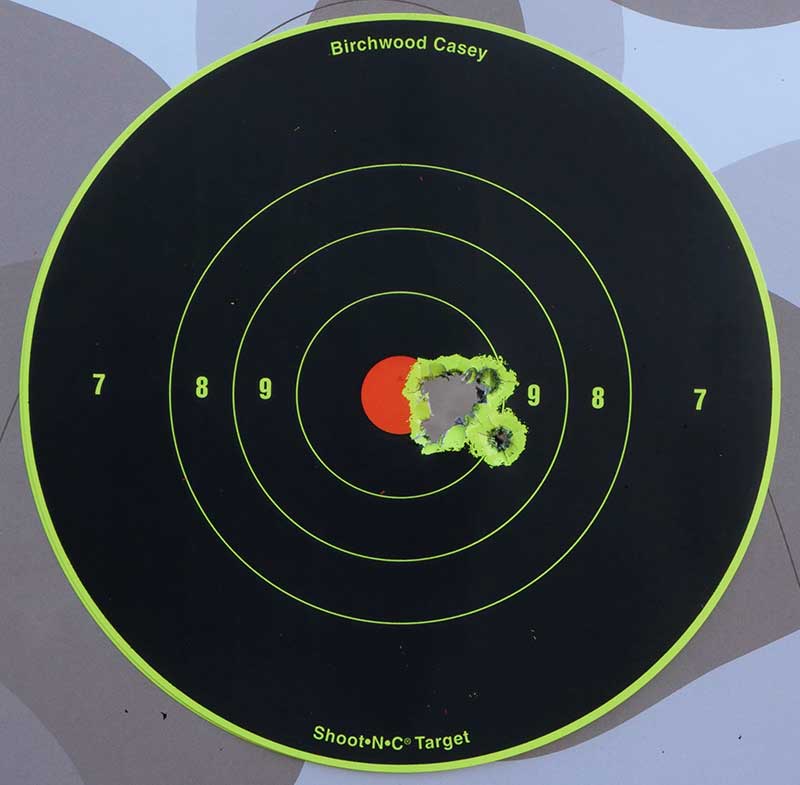 Also excellent were 77-grain rounds with the Bushnell Elite Tactical SMRS II Pro, and the Black Hills Sierra TMK was the best, producing a .50-inch group at 100 yards and several sub-MOA groups at 300 yards. Nothing grouped outside 1.5 inches, and everything other than practice ammunition was at or around an inch.
The glass is bright and clear both at dawn and dusk, with excellent low-light gathering. Zeroed for the 77-grain TMK, the BDC lines were just about dead on out to 500 yards. Holding the line centered on target out to 300 yards, it was pretty much POA/POI.
At 400 and 500 yards, I actually held low on the 12-inch steel plates to get hits. Calibrated for FMJ, the TMK's high ballistic coefficient really kicks in at range. This configuration was flat-out deadly from 50 to 500 yards. Aim, hold on the line, read the wind, and I was on. Anything closer and I used the Dueck Defense irons. These are very natural to use, especially after I spent many years on A2 sights.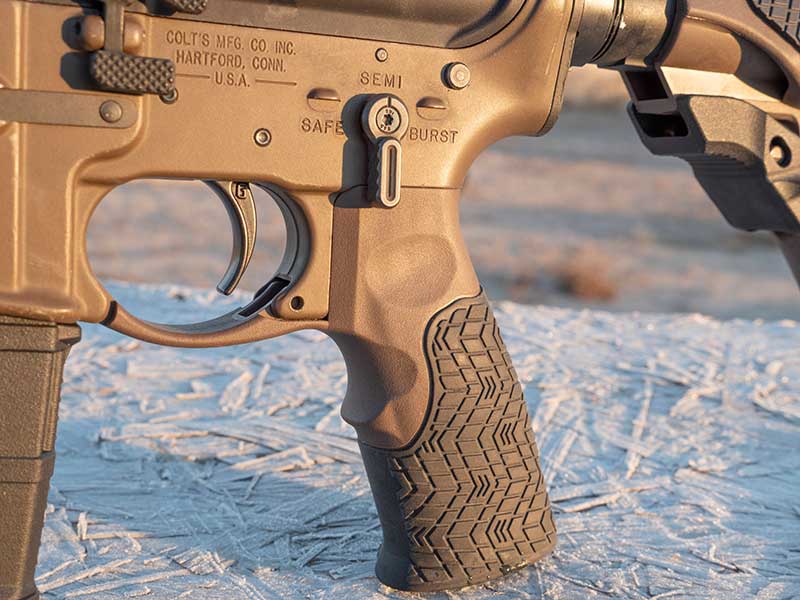 Function was flawless, and in fact was surprisingly well tuned for an issue rifle. Most are grossly over-gassed and harsh. Brass ejected into a neat little pile about six feet from the shooter at exactly 4:00. It did not matter which ammunition, and it was the same on select fire. The SureFire WARCOMP held the barrel steady, and doubles were very tight, even triples on select fire.
Balance is excellent. It is a very easy rifle to shoot. Add the suppressor and that all changed, at least the brass ejection. It worked great, with brass ejection closer to 1:00 and a mass of gas in my face. It's probably fine for combat, maybe even duty, but practice is healthier without a back-pressure-intensive suppressor. Impact shift was almost exactly three inches low suppressed with no horizontal dispersion, but throw it on there and it will work.
OTHER CONSIDERATIONS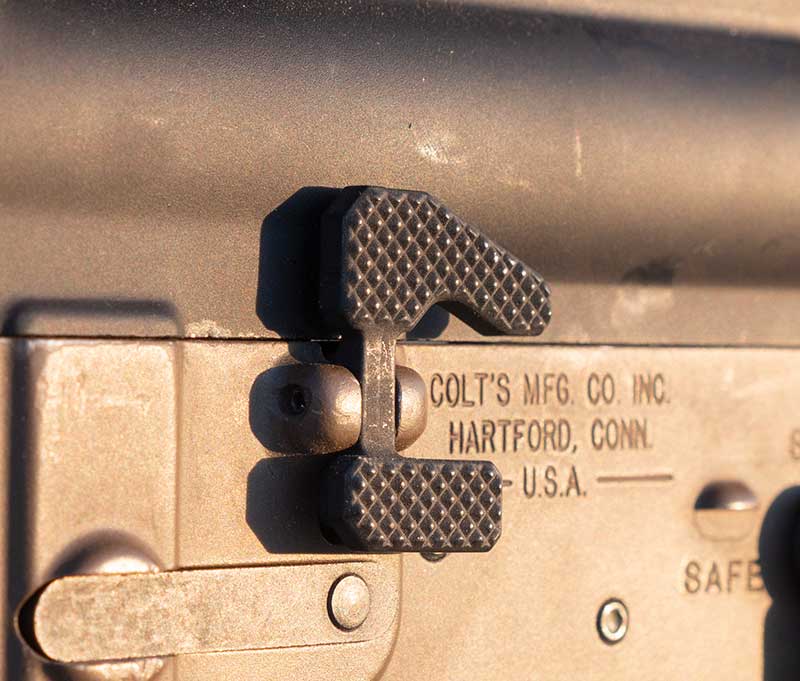 Geissele's SSF (Super Select-Fire) Trigger is the best select-fire trigger available. Fantastic for a warfighter, it should be mandatory for a select-fire police rifle. Having a crisp, clean two-stage trigger is huge for accuracy. If you are suffering with a milspec select-fire trigger, ease your pain and install the Geissele SSF. Their Maritime Bolt Catch is equally as valuable.
Reloads are more defined and it's much easier locking the bolt to the rear, especially with the ambidextrous charging handle. The Battle Arms Developments ambidextrous safety is one of the few still available in select fire and would also be mandatory for me.
Having a super strong yet light handguard is becoming a must, and this Geissele is excellent. The mounting system ensures it will not rotate no matter what and keeps the stress off the barrel extension and receiver. Extending the length of the barrel lets it be used safely on barricades or obstacles without contacting the barrel. It also provides tons of space for night vision, thermals, and lasers. M-LOK has taken over the accessory world, and this accommodates most any you can find or add.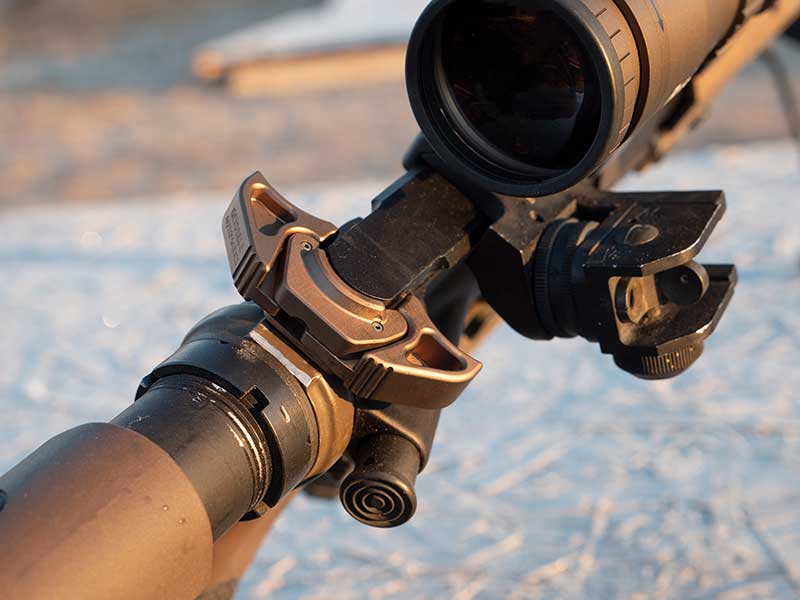 The barrel did not experience excessive heating under select fire or impact changes at range. I put 10 out of 12 rounds on a steel silhouette at 600 yards rapid fire with no obvious swings in impact. It's a moderately heavy contour but not overly heavy. Using a mid-length gas system keeps it cool and soft shooting.
Priced from $979.00 (stripped) to $1,499.00, it's not for those looking to get a replica upper made from cheap parts. The barrel and handguard can only be purchased with this upper right now. Will that change? Probably, but for now it's the only way you match the real-world URGI.
Comparable uppers from Daniel Defense, LWRCI, Noveske, and others are within a couple hundred dollars, and some are more. You pay for quality, and if your or another's life depends on it, the expense is worth it.
BOTTOM LINE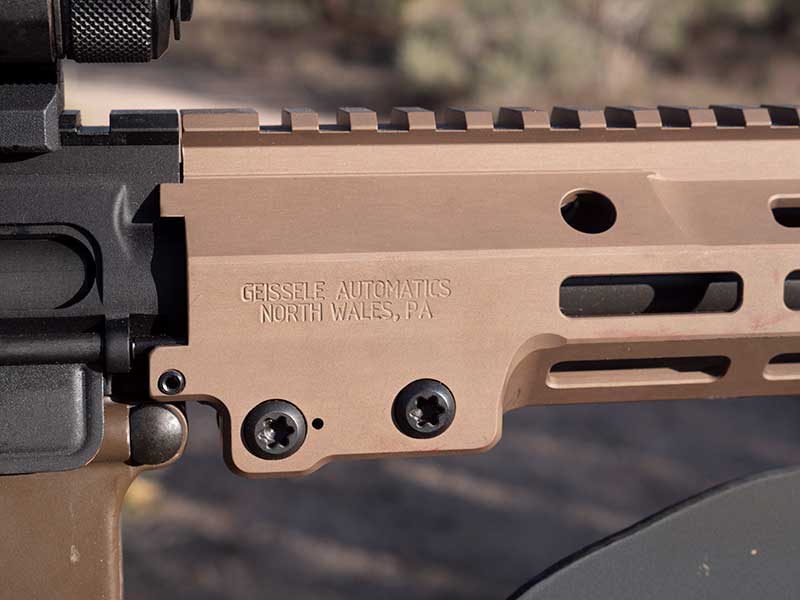 I tested this rifle on the Gunsite Academy Military Crest Range using the Aimpoint Comp M4S. Accuracy out to about 300 yards on silhouette steel was almost boring. Center dot on steel, press, hit center of steel. Maneuvering in and out of trees, shrubs, and other obstacles was fast.
Balance was excellent and allowed for safe maneuvering among obstacles. Weighing in at eight pounds with the Aimpoint, BUIS, and loaded with 20 rounds, it is very handy. Swapping out the Aimpoint for the scope and bipod, it weighed nine pounds, five ounces and was still very manageable and balanced.
Probably the best thing I can say about this set-up is it will stay intact. I call it my "go-to-work rifle." Scopes and mounts may change, but the base rifle never will. I have a few others I can grab for specialized tasks or training. But if I knew I was headed to a fight, this is the rifle I would take, M16 lower and all loaded with Black Hills Ammunition 55-grain TSX or 77-grain TMK.
Why? Because I know it will flat out get the job done no matter the conditions. That is exactly what I want, exactly what USSOCOM ordered, and looks exactly like what we both will get!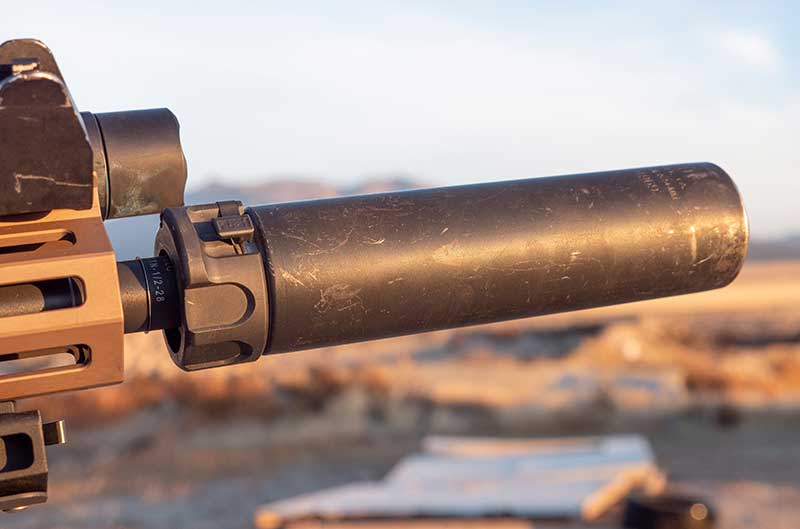 SOURCES
GEISSELE AUTOMATICS
(610) 272-2060
www.geissele.com
AIMPOINT INC.
(703) 263-9795
www.aimpoint.com
BLACK HILLS AMMUNITION
(605) 348-5150
www.black-hills.com
BUSHNELL OUTDOOR PRODUCTS
(800) 423-3537
www.bushnell.com
SPECIFICATIONS, GEISSELE URGI
| | |
| --- | --- |
| MANUFACTURER | Geissele Automatics |
| CALIBER | 5.56mm NATO |
| BARREL | 14.5 inches, 1:7 twist |
| OVERALL LENGTH | 31 inches |
| WEIGHT | 7 pounds |
| SIGHTS | Top rail, no sights provided |
| STOCK AND GRIP | Daniel Defense |
| HANDGUARD | Geissele MK16 13.5-inch M-LOK |
| ACTION | Direct Impingement |
| FINISH | Black receiver, anodized "desert dirt" handguard |
| CAPACITY | Accepts AR-15-based magazines |
| PRICE | $1,499.00 |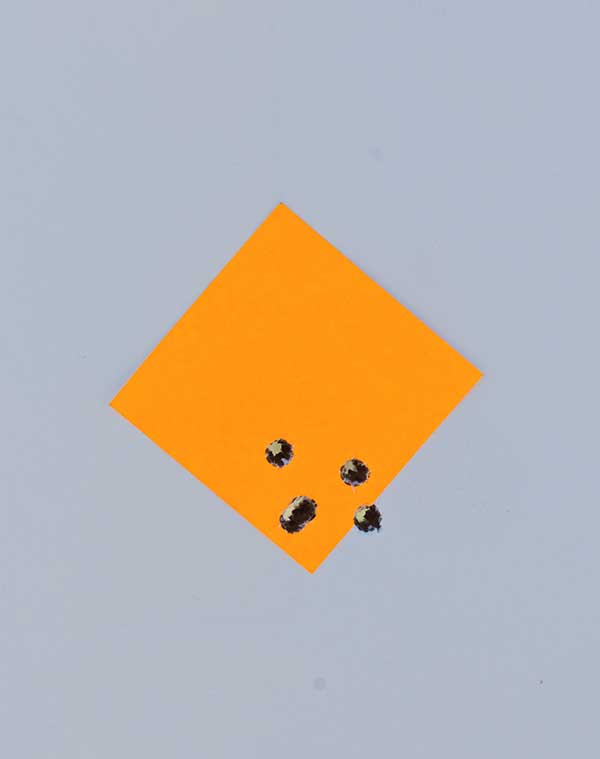 AMMUNITION PERFORMANCE
| | | |
| --- | --- | --- |
| BRAND | VELOCITY (fps) | GROUP SIZE (inches) |
| Black Hills 55-gr. TSX | 3,000 | 0.94 |
| Black Hills 62-gr. TSX | 2,810 | 1.25 |
| Black Hills 77-gr. TMK | 2,600 | 0.50 |
| Hornady 55-gr. PD | 2,900 | 1.00 |
| SIG Sauer 77-gr. OTM | 2,596 | 0.75 |
Groups tested using a bag as rest on hood of vehicle. Best group shown of five, five-shot groups from 100 yards. Velocity measured with Magneto Speed V3.