Professional competition shooters are some of the most skilled weapon handlers in the world—after all, that's what they do for a living—and get to expend copious amounts of time and money on improving their skill levels.
I have seen reports of certain Tier 1 Special Operations units inviting world-class competition shooters to train with them in an effort to wring out any additional kernels of knowledge about running a handgun or rifle more efficiently and ruthlessly in CQB environments. Why wouldn't a rifle configured to perform in competition be viable as well?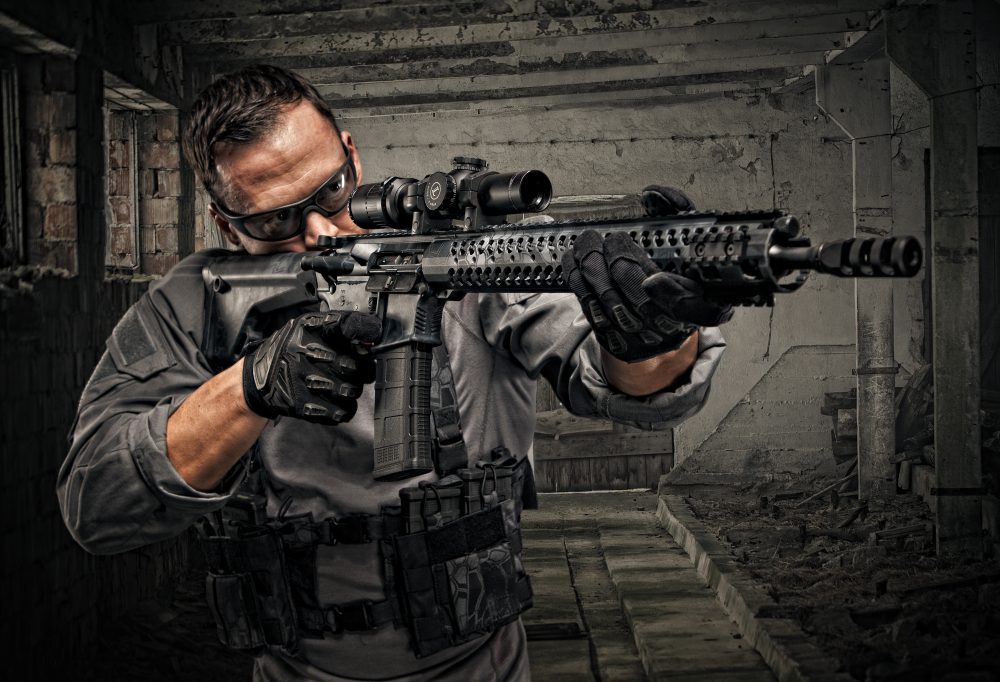 Adams Arms C.O.R. is a good choice for self-defense or competition.
---
Of course, a wary eye must be present to ensure that reliability and ruggedness are not compromised for the sake of "gaming" enhancements. This led me to the Adams Arms C.O.R. (Competition Optic Ready) piston-driven AR.
Colleagues Jerrod Lemieux and C.R. Newlin had the opportunity to handle the Adams Arms C.O.R. AR at the SHOT Show Range Day and insisted I had to experience it for myself. I took their praise as a high compliment since the Adams Arms C.O.R. was the only item so referenced from the entire SHOT Show.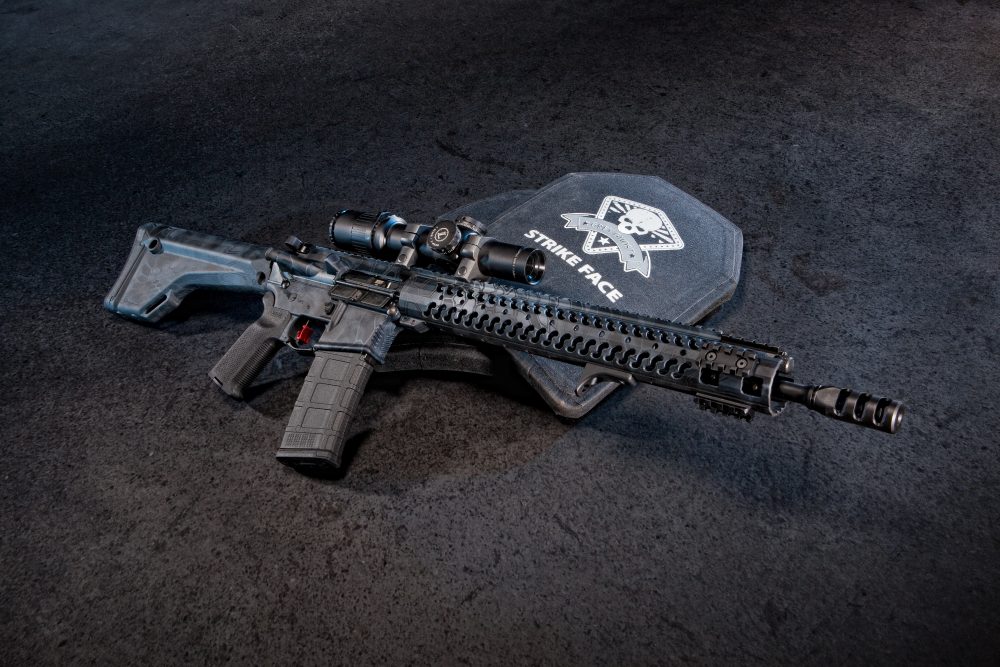 Adams Arms C.O.R. piston-driven AR focuses on increased accuracy, controllability, and handling while maintaining reliability.
---
ADAMS ARMS C.O.R.
Adams Arms advocates the C.O.R. as one of the "softest" shooting, lowest recoil pulse 5.56mm/.223 Rem ARs on the market. Even though the C.O.R. AR is intended more as a sporting or competition weapon from the manufacturer's point of view, it is easy to envision it in a more basic role as a personal-defense/tactical weapon.
The obsessive conservatism associated with duty weapons is justified considering what is at stake. While understandable, it does not take away from the interest in pursuing the topic, while also exploring advantages offered as compared to other AR designs.
Top-tier competition shooters will not accept unreliable weaponry either. The conditions experienced in the tactical world are harsher and more uncontrollable, which needs to be kept in mind when making comparisons or evaluations related to competition versus tactical gear.
The Adams Arms C.O.R. piston-driven AR focuses on increased accuracy, controllability during rapid shot strings, and handling while maintaining reliability. This is accomplished through design intent, fit/finish, sights, trigger, and barrel.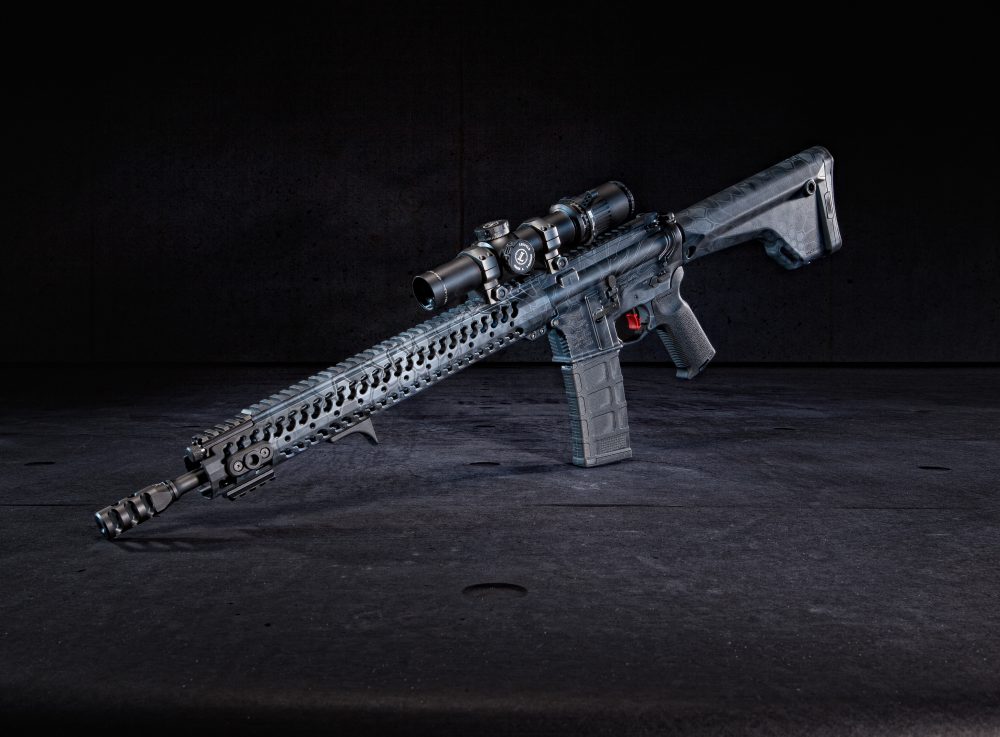 Left side of C.O.R. showing full length top rail and included rail sections.
---
SPECS
Adams Arms starts with their Ultra Lite Voodoo 16.5-inch 1:7 barrel, and guarantees half-inch groups at 100 yards. This 4150 CMV (Chrome Moly Vanadium) match-grade barrel is precision honed with special attention paid to the gas vent hole. A VDI Jet Comp is affixed to the barrel.
Adams Arms then incorporates their patented rifle-length inverted adjustable gas piston system, along with a 20% lighter bolt carrier group. Their low-mass bolt weighs only 7.5 ounces and is machined from 8620 forging material. The longer dwell time offered by the rifle-length piston allows for a smaller gas port, minimizing the amount of energy being applied to the piston to cycle a round. When this is combined with having to move less mass in the low-mass bolt carrier group, a soft recoil pulse is created.
Other detail-oriented components round out the C.O.R. rifle, such as milspec forged 7075-T6 upper and lower receivers Type III hard-coat anodized with beveled mag well, M4 feed ramps, 1913 Picatinny rail flat-top with dry lube internal finish, and laser-engraved T markings.
A Magpul MOE buttstock, Hiperfire HiperTouch 24Competition Fire Control trigger, Magpul K2 pistol grip and forend handstop, Samson free-float lightweight modular rail system with two 2-inch rail sections, and Diamondhead D45 Swing Sites offset iron sights are used on the rifle.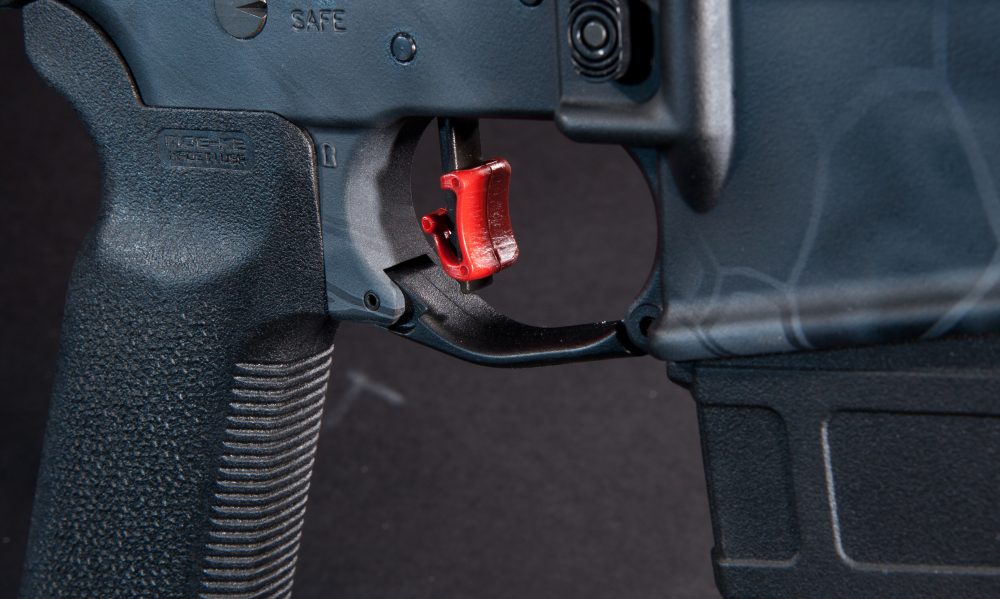 Rifle uses Hiperfire HiperTouch 24Competition Fire Control trigger.
---
IMPROVEMENTS
Adams Arms has sought to engineer a complete solution to the deficits found in the direct-impingement AR family of rifles and carbines and was an early innovator in the piston AR surge, even offering piston retro fit kits for DI ARs.
The principal improvement offered by the Adams Arms gas piston system comes from eliminating the venting of hot, carbon-laden gases into the receiver and bolt carrier group. This reduces the cleaning requirements associated with direct gas-impingement ARs. It also means the bolt carrier group and associated springs are not subjected to the heat of the tapped gasses.
Total forward and rearward movement of the piston is approximately half an inch. At the heart of the Adams Arms short-stroke gas operating system are an operating rod, three-position gas block, and forward-venting gas plug that retains the piston. The piston can be accessed through the front of the gas block without removing the handguard, so optical sights or laser devices do not need to be zeroed during routine maintenance.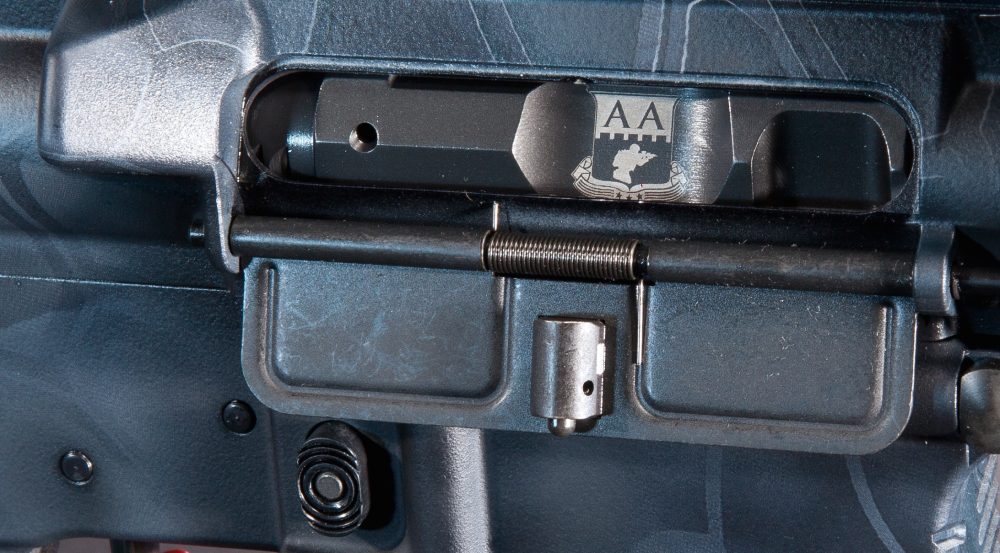 C.O.R. uses Adams Arms low-mass bolt, which weighs only 7.5 ounces.
---
Adams Arms ARs have from the beginning addressed reducing carrier tilt, cam pin wear, and carrier bounce. Their piston system uses a port on the barrel to tap gas to operate their inverted gas piston. The tapped gas is directed into a drive rod sleeve. The gas is harnessed inside the drive rod sleeve and pushes the bolt carrier rearward via an operating rod, using the gas pressure to cycle the action. Then the remaining gases are pushed out the front of the gas block, purging and cleaning the system while keeping the gases out of the user's face and the receiver.
The Adams Arms gas piston components and gas block are Melonite treated, and the bolt carrier is ion bonded for increased parts endurance. All parts that operate the rifle come with a lifetime warranty. The C.O.R. weighs approximately seven pounds and measures 36.5 inches. It's available in Kryptek camouflage Highlander, Nomad, and Typhon patterns. The rifle tested herein used the Kryptek Typhon pattern.
The increasing use of suppressors by private citizens, competition, law enforcement, and military highlights another advantage of piston-driven ARs—the ability to adjust the amount of gas siphoned to operate the action. Suppressor use increases operating pressures a considerable amount, and the ability to turn down the gas vented to the operating rod is a big advantage. The Adams Arms gas block has three settings—normal, suppressed, and closed/single shot.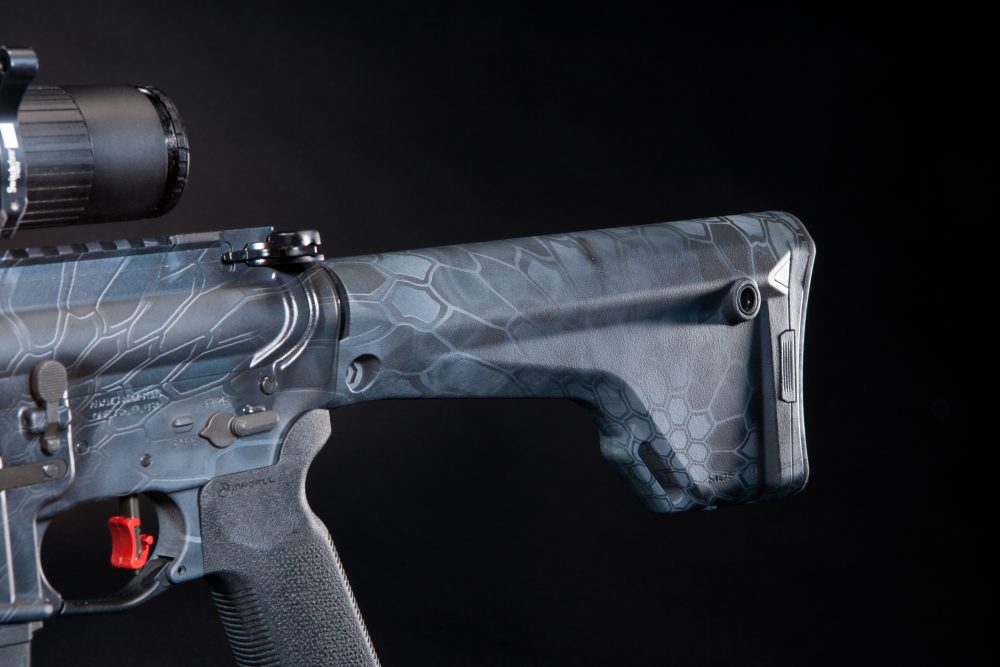 Rifle uses Magpul MOE stock, K2 pistol grip and forend handstop.
---
AMMUNITION
It was important to verify if the C.O.R. was particular in terms of ammunition preference or a finicky, competition-only rifle. A variety of 5.56mm and .223 Rem rated ammunition was tested from Black Hills, Federal, Hornady and Winchester. No reliability issues were encountered.
Accuracy test protocol consisted of three 5-shot groups with each ammunition type. Velocity figures ranged from 2,700 feet-per-second (fps) to 3,000 fps over an RCBS chronograph. The C.O.R. kept all loads tested under one inch at 100 yards, with two Black Hills loads—69-grain OTM and 77-grain OTM—producing near-MOA groups out to 200 yards.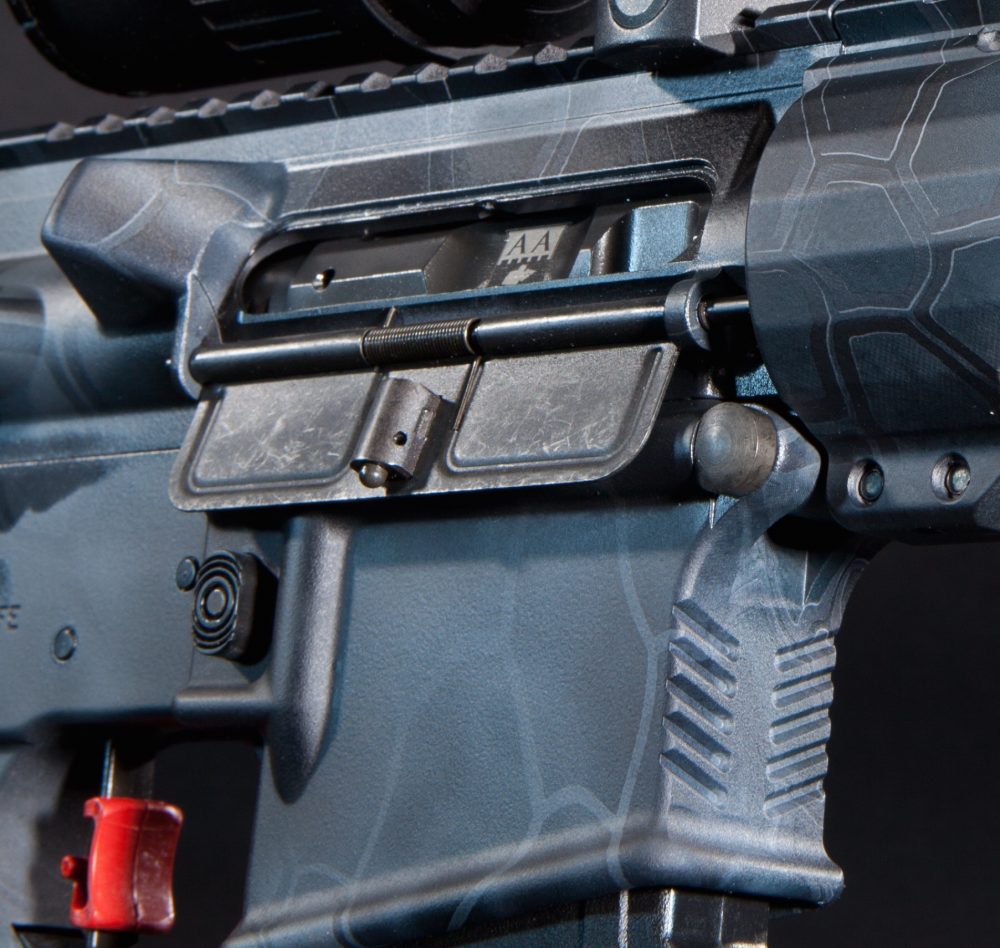 Machined chevrons are on front of mag well, for those who prefer that grip.
---
OPTICS
This accuracy level justifies mounting a magnified optic such as the Meopta MeoStar R2 1-6X scope. Most have no idea what they are missing in terms of riflescope optics offered by Meopta, which produces one of the most diversified and high-performing line-ups of riflescopes on the market.
Many in our community hold strongly to preconceived notions regarding riflescope optics. There are times when one must get past these set beliefs to appreciate what another product may offer. Granted, we all deal with budget pressures, either as individuals or a work entity. This does not change performance ratings, only what we are willing to pay for to best get the job done. Meopta optics may be beyond reach either for reasons of economics or more pressing equipment needs.
The new 30mm MeoStar R2 1-6X24 RD is not only the first in the R2 line but also Meopta's first riflescope with a 6X zoom ratio. The true 1X magnification, wide field of view, edge-to-edge clarity, and illuminated reticle options permit extremely fast and accurate target acquisition. This is an ideal scope for when every split second counts and shot placement is paramount. The Meopta R2 is also versatile and excellent for close-quarter situations on an AR platform and much longer shots depending on the caliber being used and the shooter's proficiency.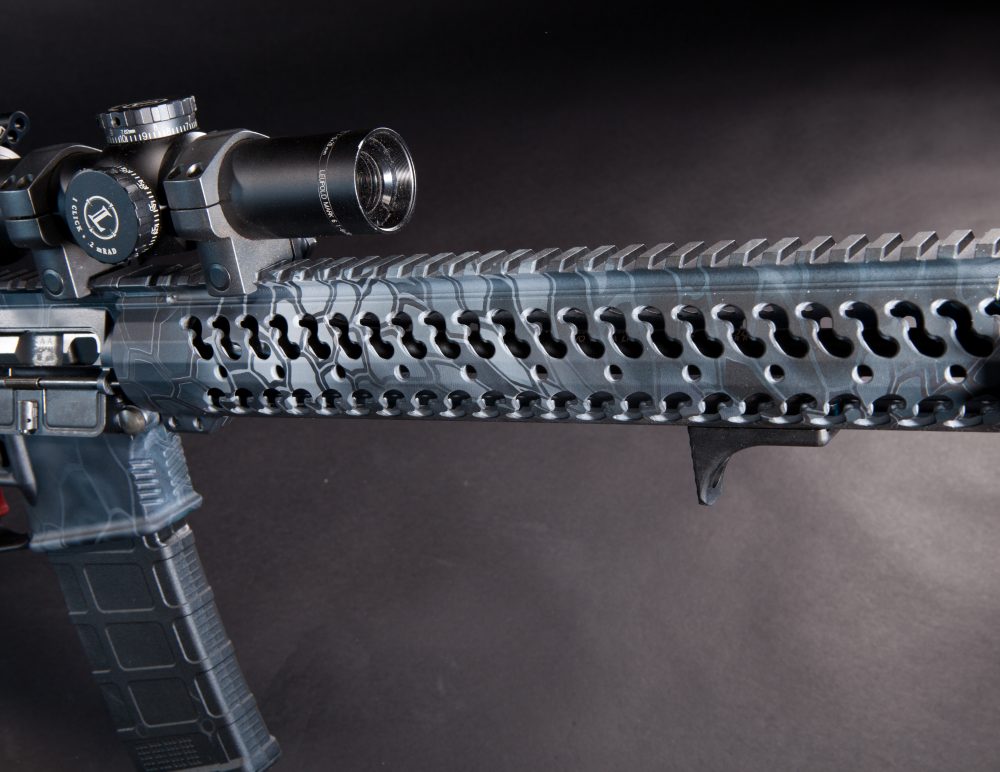 Samson free-float lightweight modular rail system comes with two 2-inch rail sections.
---
FIELD EVALUATION
The Adams Arms C.O.R. was evaluated at Echo Valley Training Center (EVTC), not only within the 125×45-yard bays firing from barricades and engaging multiple targets, but also back at the prepared firing position line with targets placed out to 300 yards.
I decided to utilize drills shot during a Pat McNamara two-day TAPS (Tactical Application of Practical Shooting) course. Numerous drills involving magazine changes and moving among barricades as well as around vehicles put the Adams Arms C.O.R. through its paces. Nothing heats up or puts a rifle under stress like team tactics, where multiple magazines are fired while dynamically moving and communicating with fellow trainees keeping sustained fire on targets.
The Adams Arms C.O.R., with its lightweight barrel and other specialty performance features such as the low-mass bolt group and Hiperfire 24C Match trigger, did not falter when stressed.
A High Speed Gear (HSG) patrol belt configured with their Taco magazine pouches kept the C.O.R. rifle operating. The HSG magazine pouches do not compromise retention for the sake of the convenience of handling so many different magazine configurations.
Steel silhouettes were situated randomly from 20 to 110 yards. The C.O.R. made short work of striking various targets quickly. Firing from the prone position supported via a pack or bipod produced consistent hits out to 250 to 300 yards on steel targets.
The Adams Arms C.O.R. may not be the obvious first choice for a personal-defense AR, and in all fairness it is not marketed as such. Still, many could use it either for self-defense or in competition, where it excels.
SOURCES
ADAMS ARMS
www.adamsarms.net
BLACK HILLS AMMUNITION
(605) 348-5150
www.black-hills.com
ECHO VALLEY TRAINING CENTER
(540) 450-7998
www.echovalleytrainingcenter.com
FEDERAL PREMIUM AMMUNITION
(800) 379-1732
www.federalpremium.com
HIGH SPEED GEAR INC.
(877) 301-2116
www.highspeedgearinc.com
HORNADY MFG. INC.
(800) 338-3220
www.hornady.com
MEOPTA U.S.A., INC.
(800) 828-8928
www.meopta.com
WINCHESTER AMMUNITION
(615) 258-3340
www.winchester.com