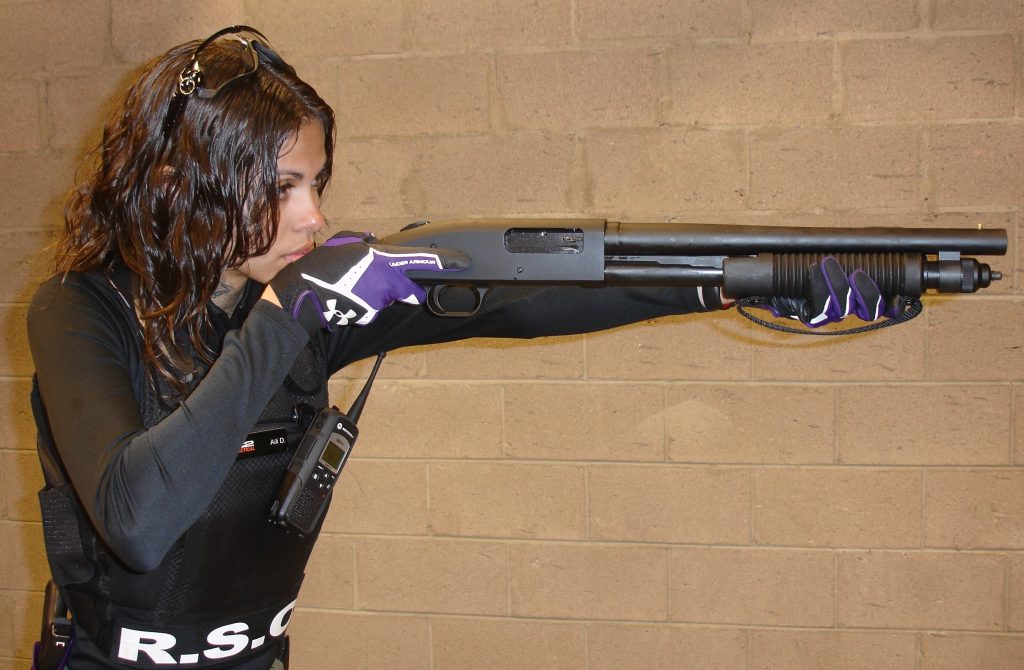 The Mossberg® 590® ShockwaveTM is one of the hottest new firearms to hit the market in 2017. That's not at all surprising, since the Shockwave offers shooters a compact, 14-inch-barreled 12-gauge reminiscent of the legendary Witness Protection Shotgun of the U.S. Marshals Service (USMS) but with no NFA (National Firearms Act) restrictions, as confirmed in a letter to Mossberg from the BATFE (Bureau of Alcohol, Tobacco, Firearms and Explosives).
What makes this possible is the fact that a shotgun that has never had a stock on it isn't technically a "shotgun" but a "firearm" insofar as Federal law goes. And if it has an overall length (OAL) greater than 26 inches (the Shockwave has an OAL of 26.37 inches), it's not considered an NFA Title 1 firearm. Transfers only require the traditional 4473 when purchased from a dealer and, since it's a pistol-gripped firearm, you need to be over 21 years of age to purchase one.
The reason for this is that the BATFE considers an OAL of 26 inches or under to be concealable, which would make a 26-inch or shorter an AOW (Any Other Weapon) and subject to the purview of the NFA. If it meets the mandated OAL to be considered non-concealable, barrel length is irrelevant. Keep in mind this only applies to Federal law. Your state or local laws may differ.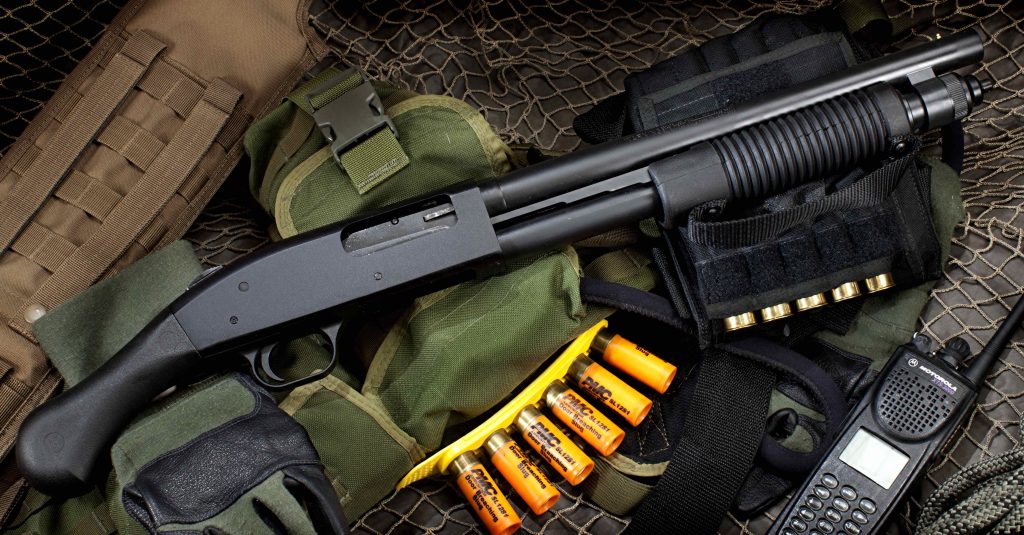 MOSSBERG 590 SHOCKWAVE
The Mossberg 500® platform has been around for more than 50 years, with over ten million produced. It has proven to be one of the most versatile and reliable pump-action shotgun platforms. It's the only pump action to meet the rigorous testing requirements demanded by the U.S. military to be declared milspec. It has seen action in combat around the globe and continues to do so.
The 500 platform features a lightweight anodized aluminum receiver. Dual extractors for reliable extraction, positive steel-to-steel lockup, non-binding twin action bars, and an anti-jam elevator/lifter ensure smooth operation. A top-mounted safety provides for ambidextrous operation. A large ejection port ensures smooth ejection. It has a combined trigger guard and lockplate made of glass-filled reinforced nylon polymer that can be easily removed to allow for limited trigger adjustments.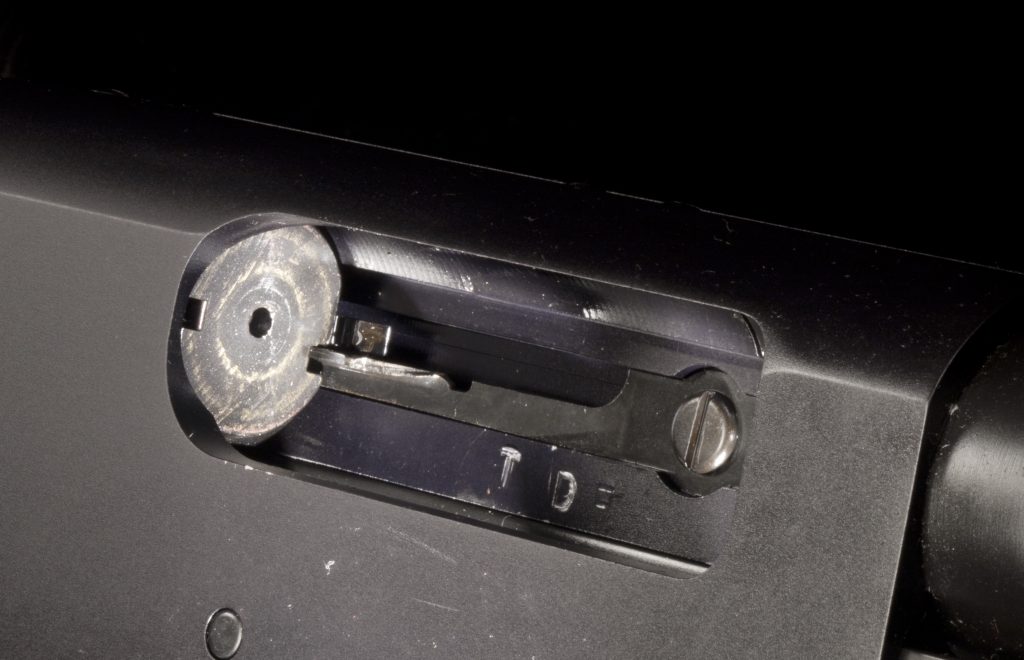 The Shockwave has a matte-blued finish and features a three-inch chambered, heavy-walled 14-inch smooth-bore barrel with a cylinder bore. It also features a convenient clean-out magazine tube with 5+1 capacity with 2.75-inch shotshells, gold bead front sight, and web-strapped forend to keep the shooter's lead hand clear of the muzzle and keep it in place during recoil. Weight is 5.25 pounds.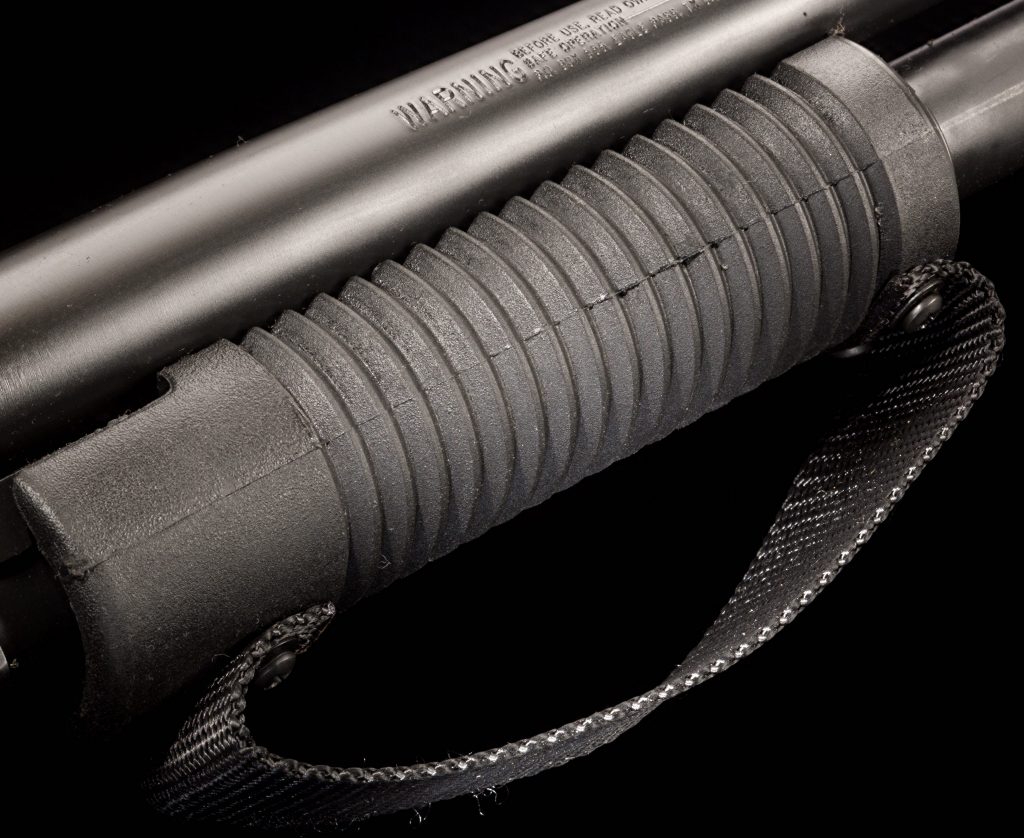 SHOCKWAVE TECHNOLOGIES
The Shockwave features the Shockwave Technologies Raptor® Grip designed for the 500 series. The Raptor Grip is a new bird's head grip developed and manufactured in the USA by Shockwave Technologies. It is molded of tough glass-filled nylon polymer. Reminiscent of the grip developed by Scattergun Technologies for the aforementioned USMS Witness Protection Shotgun but significantly improved, the unique angle of the Raptor Grip minimizes felt recoil and aids in control.
It also brings the OAL of the Shockwave with 14-inch barrel to just over the required BATFE minimum. Both the Raptor Grip and forend feature a non-reflective black finish.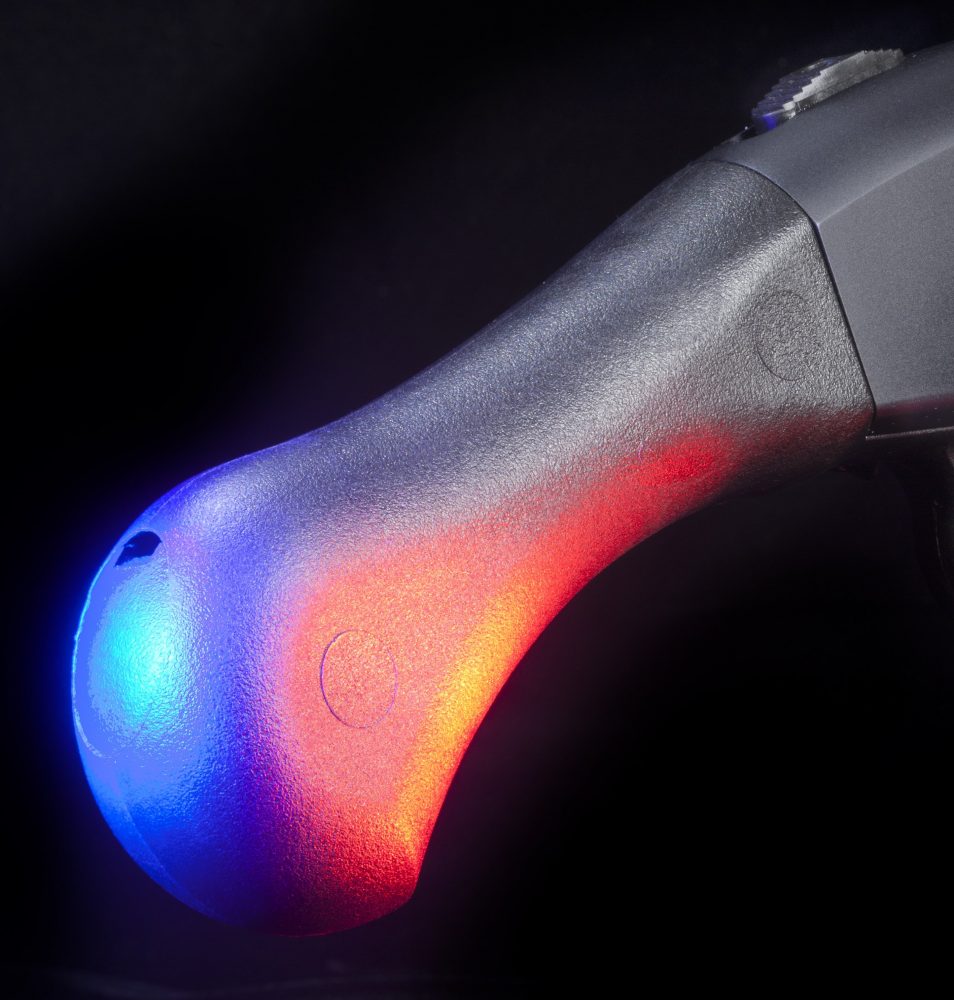 AT THE RANGE
I tested the Shockwave at C2 Tactical in Tempe, Arizona. Located right off the I-10 freeway, C2 Tactical has been voted Best Indoor Range in Arizona. It has a 25-yard state-of-the-art range with 23 air-conditioned shooting lanes, a new state-of-the-art simulator, full retail store (including NFA firearms), gunsmith services, and much more. It also offers numerous training courses. C2 Tactical is an authorized Mossberg dealer. They're great people and have graciously provided use of the range for my evaluations.
Federal and Hornady® generously furnished all the ammo used for testing, including Federal Premium® 00 Police Load, Federal Premium Low Recoil Rifled Slug, Federal Premium Magnum #4 Buck, Federal Premium 00 Buck, Hornady American Gunner® Reduced Recoil® 00 Buck, Hornady one-ounce rifled slug, and Hornady BLACK 00 Buck.
The Raptor Grip and forend strap on the Shockwave did a great job of mitigating recoil. The low-recoil loads were very manageable and pleasant to shoot. The standard loads were controllable, but the additional recoil was noticeable. The magnum loads, as expected, were downright uncomfortable. Low-recoil loads are clearly the way to go in a weapon of this type.
The Federal ammo with its FLITECONTROL wads was the tightest patterning, with 00 patterns averaging around four inches at 50 feet from the Shockwave. The Hornady patterns were just a tad larger but still outstanding. Both companies make excellent ammo. You won't go wrong with either.
Functioning of the Shockwave was smooth and flawless, no surprise as there is no more proven action than the 500. Although I didn't actually measure it, I would guess the trigger pull to be about 6.5 pounds. The ambidextrous tang-mounted safety and Raptor Grip are an ideal combination, as if they were made for each other.
The safety was easily manipulated. I have read reports that some users have found it difficult to get adequate thumb purchase on the Mossberg factory safety, especially when wearing gloves. I haven't had any problems in this regard and prefer the snag-free design of the factory safety.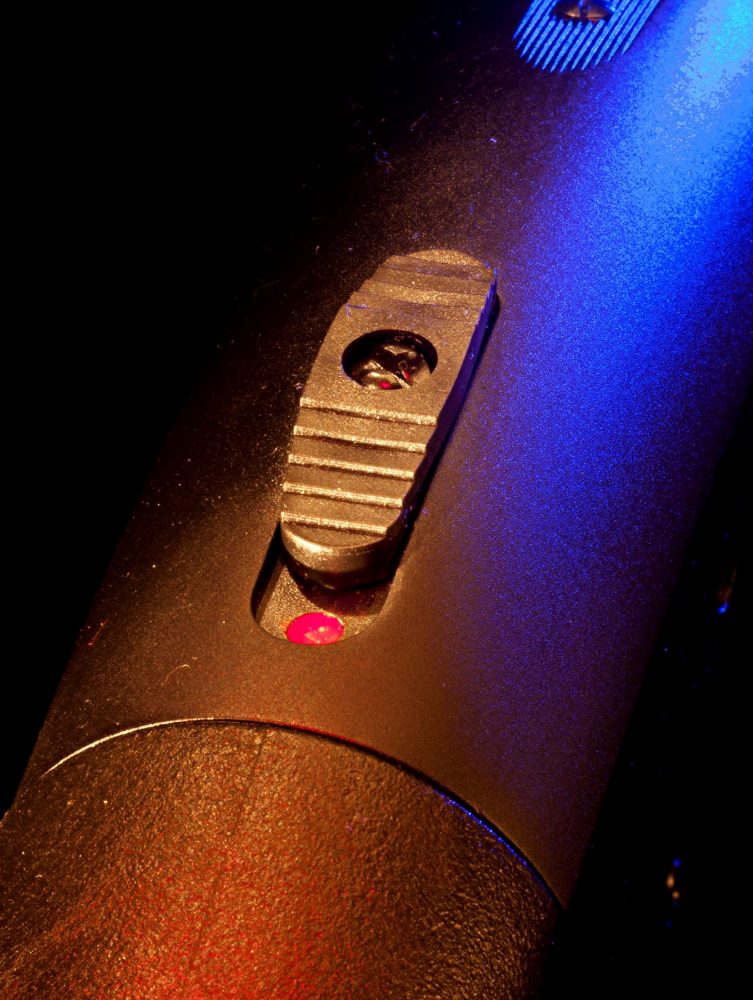 That being said, Brownells® offers a drop-in replacement that will address any concern. The Brownells safety features matte-black oxide-finished hardened all-steel construction and is shaped for no-slip operation with larger grooves. At just under $20, it's inexpensive too.
COMMON MISCONCEPTIONS
A lot of misconceptions exist about firearms like the Shockwave. First, despite what you see in Hollywood action flicks, it isn't designed to be fired from the hip. You can do so, but the correct technique is to bring it up to eye level and use it like a standard shotgun, except it isn't shouldered.
When so employed, the Shockwave is capable of surprising precision at the close ranges it is intended for. We had no difficulty keeping all shots center mass at the 50-foot distance we were shooting at the range. The bead front sight proved more than capable.
Recoil management is different with the Shockwave than it is with a standard shouldered shotgun. You should ride the recoil, not fight it. As mentioned, the Raptor Grip and forend strap help greatly. With reduced-recoil loads, there was no difficulty rapidly emptying the Shockwave into the target. Recoil was noticeably lighter than with the commonly encountered pistol grip.
The Shockwave is designed for close-range applications. Coolness factor aside (it definitely is very cool), it's a niche weapon. It's not a general-purpose shotgun. But within its intended parameters, it's an outstanding weapon.
The Shockwave is a great gun for anyone who needs a compact gun with the punch of the 12-gauge round. It's an ideal firearm for home defense with the proper rounds, and a great car gun where allowed. There are also a variety of professional applications in which a short-barreled 12-gauge such as the Shockwave really shines.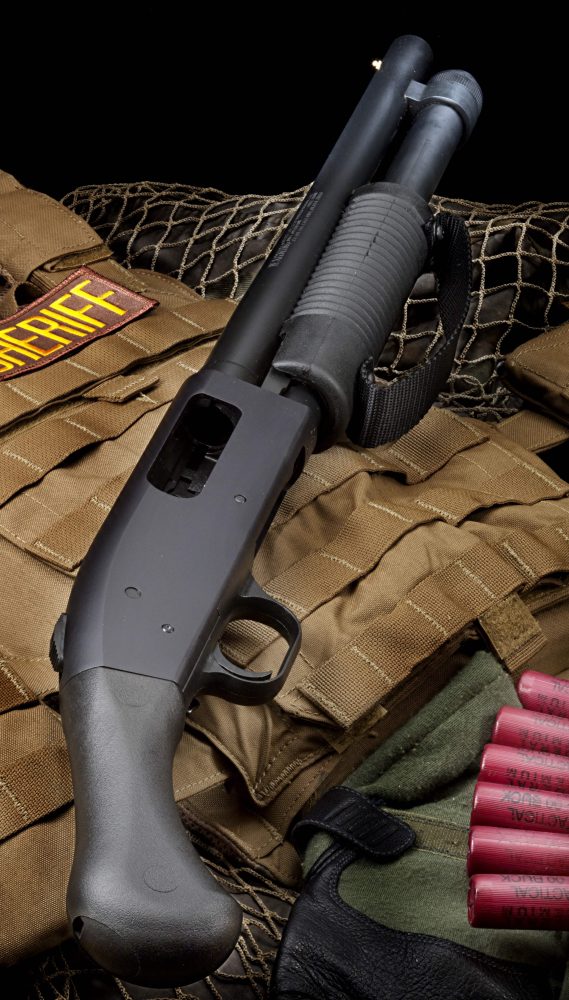 OTHER NEW MOSSBERG SHORT-BARREL OPTIONS
In addition to the non-NFA Shockwave, Mossberg has also come out with two new subcompact NFA shotguns—the 590A1® and 500 Compact Cruiser® AOWs. The 590A1 Compact Cruiser features a 10.25-inch heavy-walled barrel, 3+1 capacity, metal trigger guard and safety button, cleanout magazine tube, and parkerized finish. The 500 Compact Cruiser features a 7.5-inch heavy-walled barrel, 2+1 capacity, and parkerized finish.
As AOWs (Any Other Weapon), the 590A1 and 500 Compact Cruiser only require payment of a $5 transfer tax in addition to the required NFA paperwork. As many of you know, Short Barrel Shotguns (SBS) require payment of a $200 transfer tax. Additionally, unlike an SBS, an AOW can be transported interstate without having to file a Form 5320.20 with BATFE.
NFA versus non-NFA aside, the Shockwave is a much more practical weapon for most applications in which a short-barreled shotgun will be employed. The 590 and 500 Compact Cruiser AOWs are highly specialized weapons designed to serve very limited roles. Definitely a lot of fun, but for most readers not the best choice for personal defense. The Shockwave is a much better option in this regard.
FINAL THOUGHTS
If you've wanted a short-barreled shotgun without the NFA hassle, the Mossberg 590 Shockwave won't let you down. It's a great gun worthy of the Mossberg name. It has an MSRP of $455.00 and comes with a 10-year limited warranty covering defects in material or manufacture.
Eugene Nielsen's background includes protective intelligence investigations and threat management, as well as red teaming security consulting. He has a BA degree from the University of California. He currently owns and operates an investigative and security consulting firm and is licensed in both California and Arizona.
SOURCES
O.F. MOSSBERG & SONS, INC.
(800) 363-3555
www.mossberg.com
BROWNELLS
(800) 741-0015
www.brownells.com
C2 TACTICAL
(480) 588-8802
www.c2tactical.com
FEDERAL PREMIUM AMMUNITION
(800) 379-1732
www.federalpremium.com
HORNADY MANUFACTURING COMPANY
(800) 338-3220
www.hornady.com
SHOCKWAVE TECHNOLOGIES, LLC
(727) 877-8277
www.shockwavetechnologies.com
Photos by Cameron Hopkins