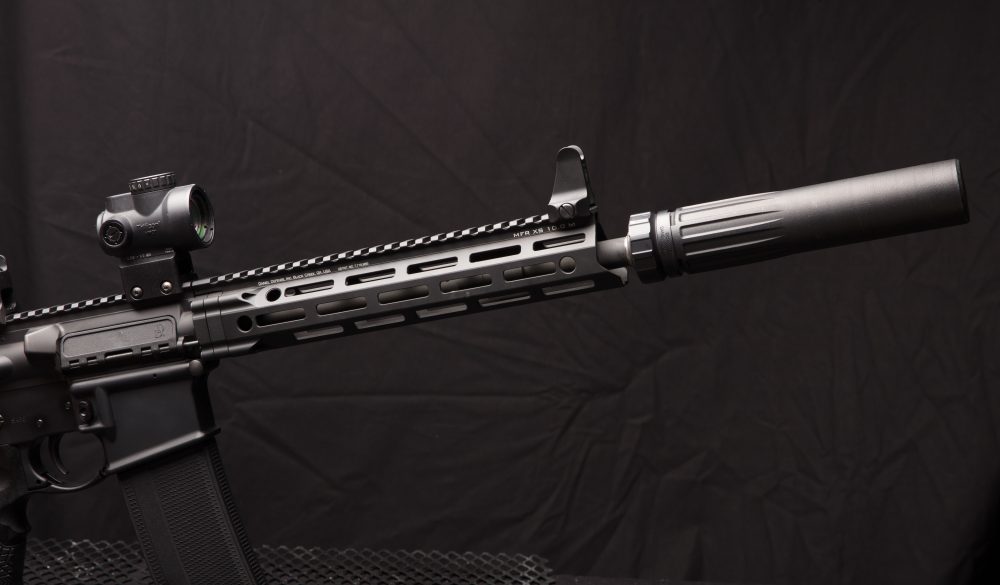 Daniel Defense DDM4V7S features 11.5-inch barrel. DD MFR XS modular handguard features continuous 1913 Picatinny rail on its top for mounting iron sights or optics. M-LOK attachment points at 3, 6, and 9 o'clock positions.
---
GOING MODULAR
Daniel Defense now offers DDM4 carbines with KeyMod and M-LOK modular rail systems, as well as M1913 (Picatinny) quad rails. Modular rail systems eliminate the need for heavier, non-ergonomic Picatinny rails for hard-mounting accessories such as lights, lasers and grips. They also provide superior cooling.
The U.S. Special Operations Command (USSOCOM) recently selected M-LOK for its weapons programs after extensive testing conducted by Naval Surface Warfare Center, Crane Division (NSWC Crane). USSOCOM had tasked NSWC Crane to evaluate modular rail systems and provide a recommendation based on the performance characteristics of each system.
Although all were found adequate, the M-LOK surpassed the performance results achieved by other modular rail systems. As a result, NSWC Crane recommended M-LOK over the alternative systems tested.
The U.S. Marine Corps has also specified M-LOK in a new Sources Sought Notice soliciting proposals from industry for new infantry rifles.
DDM4V7S
The DD MFR XS Rail System is CNC machined from 6065-T6 aluminum and milspec MIL-A-8625 Type III hard-anodized. The MFR XS Rail System features a lightweight free-floating barrel design with uninterrupted milspec Picatinny upper rail and M-LOK attachment slots at 3, 6 and 9 o'clock, as well as configurable sling swivel attachment points integrated into both the right- and left-side rails.
The MFR XS 10.0 on the V7S has seven different M-LOK attachment points. Other features include a patented bolt-up mounting system, milspec fasteners, and a steel barrel nut.
The V7S has all the features we have come to expect from a Daniel Defense DDM4. The upper and lower receivers are CNC machined from 7075-T6 aluminum alloy and milspec MIL-A-8625 Type III hard-anodized.
The lower receiver is milspec and features an enhanced widened and beveled flared magazine well and rear receiver QD attachment point. The lower receiver also incorporates an integral oversized trigger guard that doesn't require a roll pin and covers the gap between the grip and receiver.
The upper receiver is also milspec and has polished M4 feed ramps for smooth feeding. The bolt carrier is full-auto compatible, M16 profile, chrome lined, and has a properly staked gas key.
PERFORMANCE
A Daniel Defense rep flew from Georgia to Arizona with a V7S and WAVE suppressor, and we met at the Rio Salado Sportsman's Club for some trigger time. I had shot a select-fire prototype of the Vs when I was evaluating the DDM4ISR and was anxious to shoot a production V.
After shooting the V7S both suppressed and unsuppressed at 100 yards, I can state that if the shooter does his part, the V7S is a one MOA or better gun with the right ammo. There was no shot-to-shot POI shift with the suppressor. POI shift when mounting the suppressor was minimal.
The V7S showed a clear preference for heavier bullets. The best five-shot group measured 0.61 inch and was shot suppressed with Black Hills 77-grain OTM. Hornady Superformance 75-grain BTHP SPF proved equally accurate, with the best group measuring 0.68 inch shot suppressed.
The DD WAVE suppressor was easy (and quick) to attach and detach. Some suppressors are difficult to remove after firing a few boxes of ammo due to carbon build-up. This was not the case with the DD WAVE. Sound suppression was outstanding. First-round pop was minimal and there was no noticeable muzzle flash.
Although the DD WAVE is designed to minimize backpressure, there was noticeable gas blowback when shooting with the suppressor, but this is to be expected when firing any suppressed DI gun.
Average sound pressure level (SPL) reduction was 26 dB (tested with Black Hills 77-grain OTM) with the DD WAVE on the V7S.
There were no malfunctions. DD 32-round magazines loaded to full capacity were employed for all testing.