Daniel Defense has introduced several new rifles in 2017, including a short-barreled rifle (SBR). The new V7®S is the first SBR in the DDM4 lineup to feature the M-LOK accessory mounting system with the Daniel Defense MFR XS 10.0 rail. The company has also come out with its impressive new DD WAVE sound suppressor that's certain to make waves.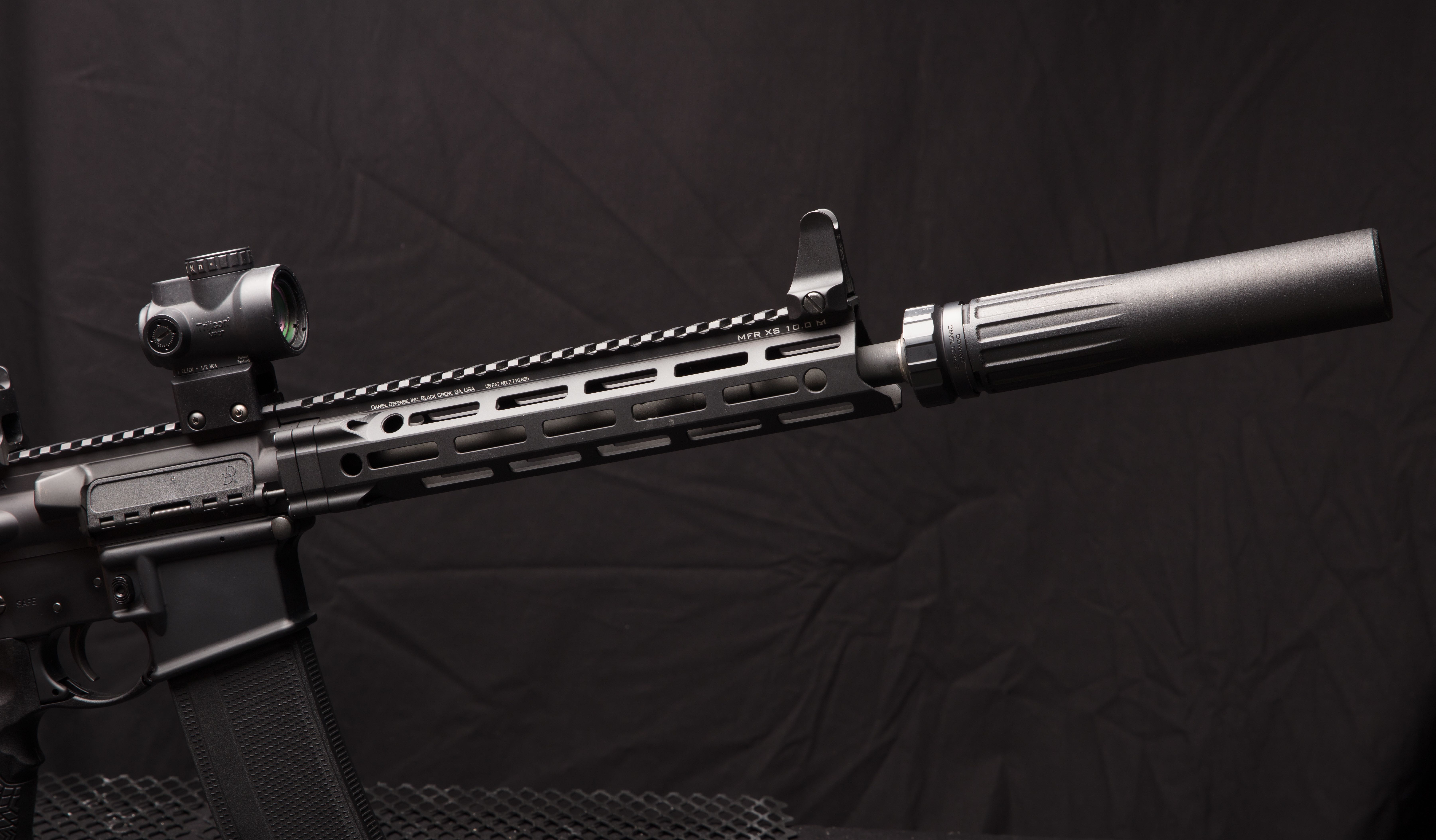 Daniel Defense DDM4V7S features 11.5-inch barrel. DD MFR XS modular handguard features continuous 1913 Picatinny rail on its top for mounting iron sights or optics. M-LOK attachment points at 3, 6, and 9 o'clock positions.
---
GOING MODULAR
Daniel Defense now offers DDM4 carbines with KeyMod and M-LOK modular rail systems, as well as M1913 (Picatinny) quad rails. Modular rail systems eliminate the need for heavier, non-ergonomic Picatinny rails for hard-mounting accessories such as lights, lasers and grips. They also provide superior cooling.
The U.S. Special Operations Command (USSOCOM) recently selected M-LOK for its weapons programs after extensive testing conducted by Naval Surface Warfare Center, Crane Division (NSWC Crane). USSOCOM had tasked NSWC Crane to evaluate modular rail systems and provide a recommendation based on the performance characteristics of each system.
Although all were found adequate, the M-LOK surpassed the performance results achieved by other modular rail systems. As a result, NSWC Crane recommended M-LOK over the alternative systems tested.
The U.S. Marine Corps has also specified M-LOK in a new Sources Sought Notice soliciting proposals from industry for new infantry rifles.
DDM4V7S
The DD MFR XS Rail System is CNC machined from 6065-T6 aluminum and milspec MIL-A-8625 Type III hard-anodized. The MFR XS Rail System features a lightweight free-floating barrel design with uninterrupted milspec Picatinny upper rail and M-LOK attachment slots at 3, 6 and 9 o'clock, as well as configurable sling swivel attachment points integrated into both the right- and left-side rails.

The MFR XS 10.0 on the V7S has seven different M-LOK attachment points. Other features include a patented bolt-up mounting system, milspec fasteners, and a steel barrel nut.

The V7S has all the features we have come to expect from a Daniel Defense DDM4. The upper and lower receivers are CNC machined from 7075-T6 aluminum alloy and milspec MIL-A-8625 Type III hard-anodized.

The lower receiver is milspec and features an enhanced widened and beveled flared magazine well and rear receiver QD attachment point. The lower receiver also incorporates an integral oversized trigger guard that doesn't require a roll pin and covers the gap between the grip and receiver.

The upper receiver is also milspec and has polished M4 feed ramps for smooth feeding. The bolt carrier is full-auto compatible, M16 profile, chrome lined, and has a properly staked gas key.

The V7S has a six-position milspec 7075-T6 lower receiver extension (buffer tube) and heavy (H) buffer. It also has the DD polymer dust cover that is said to be 10 grams lighter and more durable than the older steel design.

The V7S has a chrome-moly vanadium steel cold-hammer-forged 1:7 right-hand twist 11.5-inch government profile barrel. Daniel Defense cold-hammer forges the chamber and bore simultaneously for perfect alignment. The barrel is chrome lined and milspec heavy phosphate coated. The muzzle is threaded with the standard 1/2×28 TPI (Threads Per Inch).

The V7S comes with the DD Flash Suppressor. It's constructed of 17-4 PH stainless steel and salt-bath nitride finished. But the DD Flash Suppressor on the sample V7S was replaced with the DD Muzzle Brake/WAVE Suppressor QA/QD muzzle device. It is also constructed of 17-4 PH stainless steel and salt-bath nitrided.

All Daniel Defense DDM4 carbines employ the Direct Impingement (DI) system. The V7S features a carbine-length gas system that provides smooth and reliable operation under harsh operating conditions. It has a low-profile gas block that is CNC machined of 4140 hardened steel and has a milspec heavy phosphate coating.

The V7S comes with the rugged and distinctive Daniel Defense buttstock and pistol grip. They are constructed of a proprietary blend of glass-infused polymers and feature Soft-Touch® rubber overmolding at strategic points for comfort.

The adjustable buttstock has almost no forward or lateral play, which is an issue with many adjustable buttstocks on the market. The pistol grip shares the grip angle of the classic M1911 pistol, regarded by many shooters as providing the most natural hand position and control.

The sample V7S was equipped with a Trijicon MRO® (Miniature Rifle Optic) red dot sight, as well as a DD Micro Mount and Rail Mounted Front Sight/A1.5 Fixed Rear Sight Combo. The V7S is sold without sights, as are all DDM4s. Sights must be purchased separately. The sample V7S was also equipped with a SureFire® M300 Mini Scout Light® and SR07 Remote Dual Switch.

The V7S has a black milspec hard-anodized finish that looks good and is very durable. The V7S weighs in at 5.8 pounds (unloaded) without accessories. Overall length is 26¾ inches (with stock collapsed) to 29 7/8 inches.
DD WAVE SUPPRESSOR
Muzzle blast is the most significant source of sound generated by a firearm. It is the consequence of shock waves resulting from high-pressure gasses exiting the barrel. If the pressure is reduced immediately before it exits, the weapon's report will be reduced.

Decreasing the velocity of the gasses and either absorbing the sound waves or canceling them by interference with reflected waves coming from the same source also reduce muzzle blast. The new DD WAVE sound suppressor features cutting-edge advanced cascading "wave" baffle geometry, which more effectively attenuates sound than simpler baffle styles.

The DD WAVE is constructed of stainless steel, Inconel® and Titanium. It is salt-bath nitrided and finished with an ultra-durable black Cerakote®-C polymer-ceramic coating capable of withstanding extreme temperatures. These coatings are widely used in the automotive industry as high-temperature exhaust coatings and are ideal for suppressor applications.

Inconel offers a combination of heat resistance, high temperature corrosion resistance, toughness, and strength that makes it ideal for suppressor blast baffles.

The DD WAVE is available with either a no-tools quick-attach/quick-detach (QA/QD) coupling or a direct thread mount. The design of the DD QA/QD coupling prevents carbon lock and securely mounts the suppressor via the DD muzzle device.

The DD WAVE employs a unique one-piece 3D-printed Inconel baffle construction that eliminates the need for welds—typically the weakest point in a traditional suppressor. Inconel is a family of austenitic nickel-chromium-based super alloys made by Special Metals Corporation that are designed for extreme environments.

A QA/QD suppressor does have advantages over a threaded suppressor for certain applications. QA/QD suppressors let the end user more easily switch the suppressor between different weapon platforms, although they generally require the use of proprietary mounts.

The DD WAVE proved to enhance accuracy in our testing. This is common with a good suppressor and mount, since a suppressor acts as a muzzle weight and helps reduce accuracy-robbing barrel harmonics.

When you put on or take off a suppressor, you typically see some point-of-impact (POI) shift. There are two types: POI shift when mounting a suppressor and POI shift from shot to shot. POI shift when mounting a suppressor is more impacted by the threads on the weapon than the suppressor. POI shift is not as much of an issue if it is repeatable, as the shooter can easily correct for the shift. POI shift from shot to shot is most often related to the mounting system of a QA/QD suppressor.

The U.S. military requires suppressors to have minimal and consistent POI shift of no more than 1.5 MOA. In our testing, the DD WAVE not only met but exceeded those requirements.

The DD WAVE is strong, lightweight, and relatively compact. Length (with coupling) is 7.6 inches. The suppressor has a diameter of 1.68 inches at the collar and a tube diameter of 1.59 inches at the ribs and 1.5 inches at the front. It weighs 17.2 ounces.

The DD WAVE is multi-caliber rated up to .300 Win Mag. As of this writing, it is rated to a 10.3-inch barrel but will likely handle shorter. DD is testing to confirm.

Threading on a suppressor is the strongest, most precise method of mounting a suppressor. They are often more accurate and less prone to alignment issues and baffle strikes, although thread-mount suppressors can work themselves loose and out of alignment. They are widely used on precision rifles.
PERFORMANCE
A Daniel Defense rep flew from Georgia to Arizona with a V7S and WAVE suppressor, and we met at the Rio Salado Sportsman's Club for some trigger time. I had shot a select-fire prototype of the Vs when I was evaluating the DDM4ISR and was anxious to shoot a production V.

After shooting the V7S both suppressed and unsuppressed at 100 yards, I can state that if the shooter does his part, the V7S is a one MOA or better gun with the right ammo. There was no shot-to-shot POI shift with the suppressor. POI shift when mounting the suppressor was minimal.

The V7S showed a clear preference for heavier bullets. The best five-shot group measured 0.61 inch and was shot suppressed with Black Hills 77-grain OTM. Hornady Superformance 75-grain BTHP SPF proved equally accurate, with the best group measuring 0.68 inch shot suppressed.

The DD WAVE suppressor was easy (and quick) to attach and detach. Some suppressors are difficult to remove after firing a few boxes of ammo due to carbon build-up. This was not the case with the DD WAVE. Sound suppression was outstanding. First-round pop was minimal and there was no noticeable muzzle flash.

Although the DD WAVE is designed to minimize backpressure, there was noticeable gas blowback when shooting with the suppressor, but this is to be expected when firing any suppressed DI gun.

Average sound pressure level (SPL) reduction was 26 dB (tested with Black Hills 77-grain OTM) with the DD WAVE on the V7S.

There were no malfunctions. DD 32-round magazines loaded to full capacity were employed for all testing.

The DDM4V7S is an outstanding SBR. The DD WAVE is state of the art. They make a perfect combination. All Daniel Defense products are covered by a 100% satisfaction guaranteed warranty.

Eugene Nielsen's background includes protective intelligence investigations and threat management, as well as red teaming security consulting. He currently owns and operates an investigative and security consulting firm and is licensed in both California and Arizona.
SOURCES
DANIEL DEFENSE
(866) 554 GUNS (554-4867)
www.danieldefense.com
BLACK HILLS AMMUNITION
(605) 348-3150
www.black-hills.com
HORNADY MFG. CO.
(800) 338-2525
www.hornady.com
MAGPUL INDUSTRIES
(877) 4MAGPUL (462-4785)
www.magpul.com
RIO SALADO SPORTSMAN'S CLUB
(480) 984-9610
www.rsscaz.com
SUREFIRE, LLC
(800) 828-8809
www.surefire.com
TRIJICON, INC.
(800) 338-0563
www.trijicon.com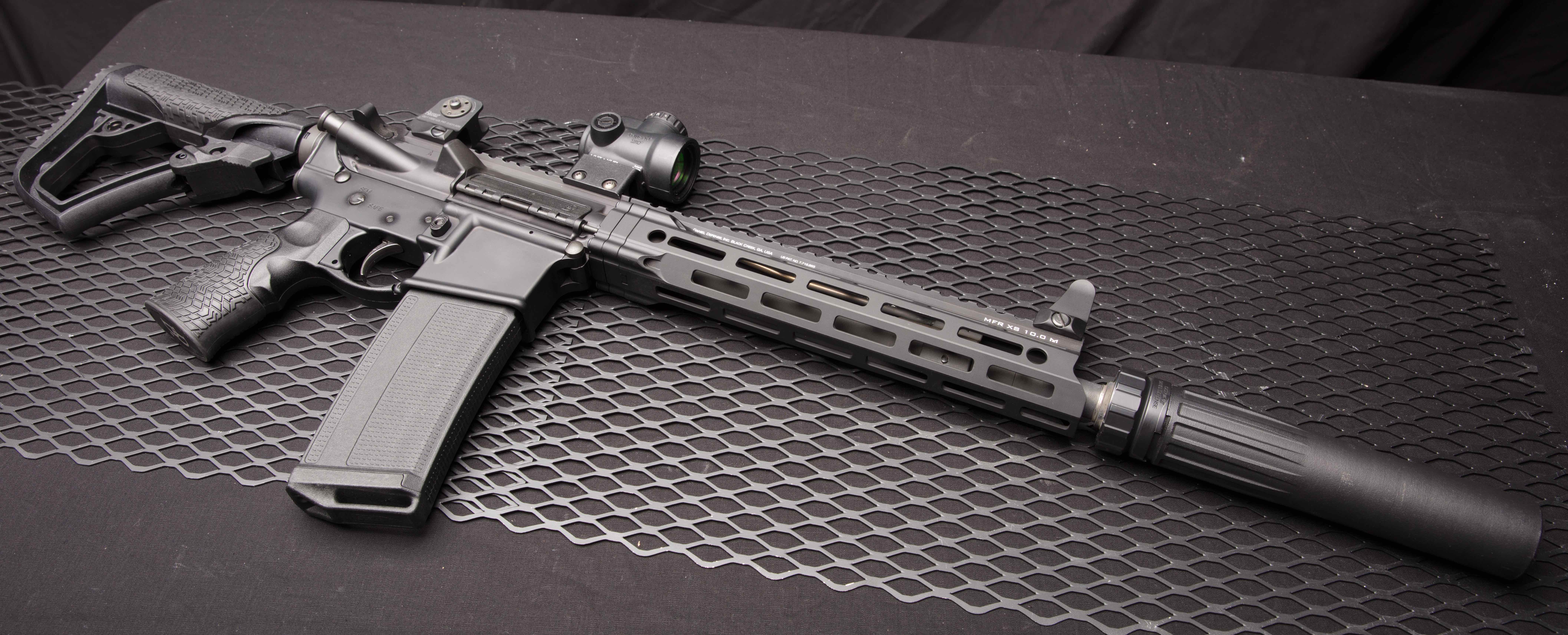 Daniel Defense DDM4V7S and DD WAVE suppressor are an outstanding combination suited for tactical applications.
---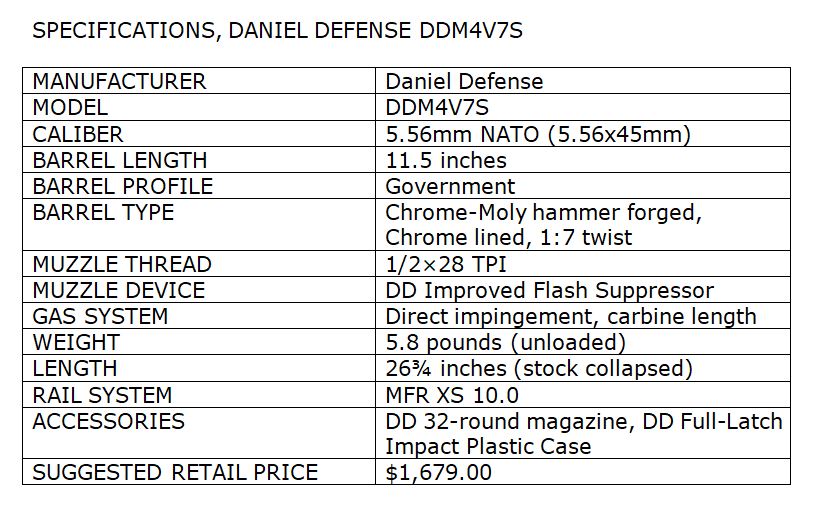 Photos by Thomas Carlson