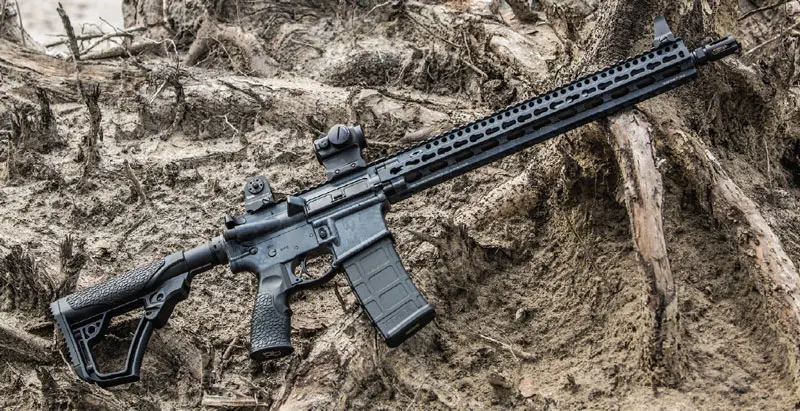 Daniel Defense has gone Kryptek®. Kryptek camo, that is. The Daniel Defense MK12 SPR, which features an 18-inch cold-hammerforged stainless steel barrel, and the Daniel Defense M4V11, with 16-inch chrome moly vanadium steel barrel and mid-length gas system, are now both offered in the Kryptek Typhon™ pattern finish.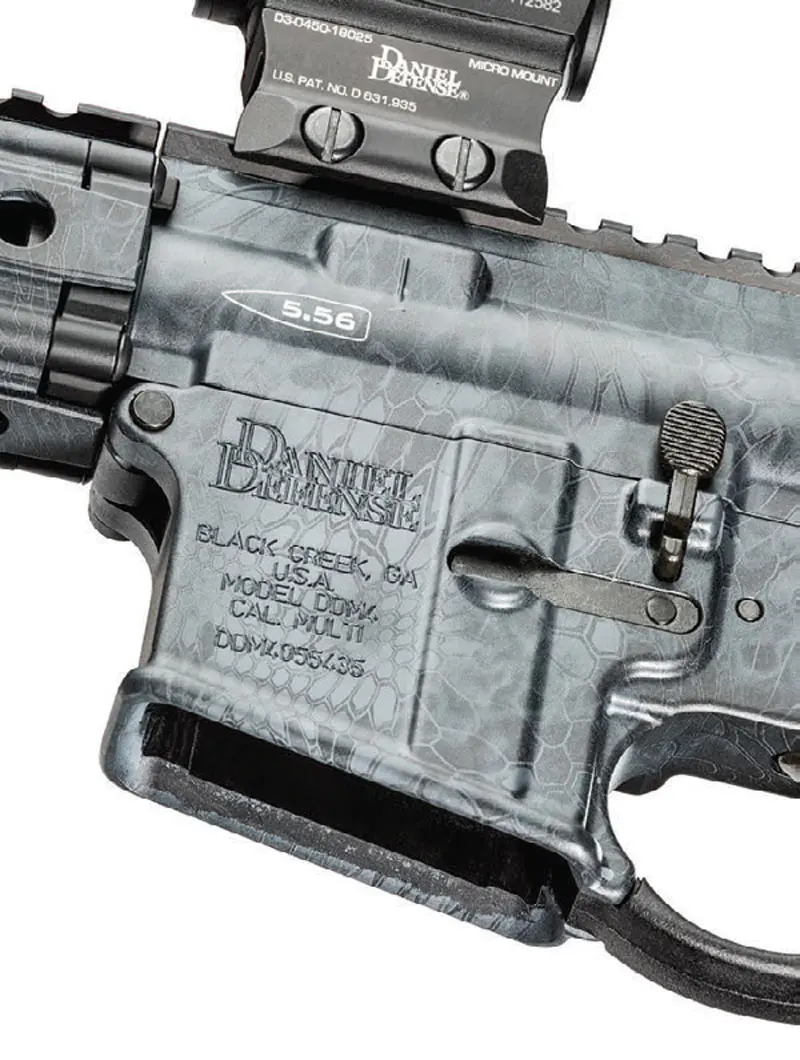 THE FINISH
The water-transfer printing process—also known as hydro-graphics or immersion printing—employed for this finish provides a durable uniform coating that holds up well and is resistant to even the harshest environments.
Kryptek Typhon was developed for night-time urban operations and definitely rates high on the coolness scale. Kryptek patterns share a common geometry, but with color palettes that are designed to complement a specific environment or range of environments. Kryptek was one of the finalists in the U.S. Army's recent search for such a family of camouflage patterns.
Here's what Kryptek Outdoors says on how the camo works: "Kryptek utilizes a multi-directional design to effectively conceal in a multitude of terrains that have lateral or vertical flows. The bi-level layering of the patterns incorporates background transitional shading and sharp random geometrical foregrounds to create a three-dimensional effect, ensuring the utmost in concealment at both close and long ranges. These components, combined with colorations selected and matched based on input from testing and observations from operators in the field, make Kryptek patterns optimal for many different environments."

C2 TACTICAL
When Thomas Carlson, Director of Marketing for Daniel Defense, offered me the opportunity to evaluate the new Daniel Defense DDM4V11 Typhon, I jumped at the chance. I immediately arranged to have a sample sent to the FFL dealer I often work with, C2 Tactical Indoor Shooting Range in Tempe, Arizona.
C2 Tactical opened in 2013 and has an amazing array of offerings for the modern shooter. This 23- lane indoor range offers an automated target retrieval system from Meggit that allows individuals to self-pace their activity on the range and not have the traditional waiting times seen in outdoor facilities.
The class offerings are second to none, with over 25 classes available, including ladies only courses and a Women of Steel™ program that is amazing for first-time ladies in the sport. Whether you are brand new or a shooting sports veteran, you will find something that meets your fancy.
C2 also has an impressive number of firearm rentals, including some very special full-auto shooting packages.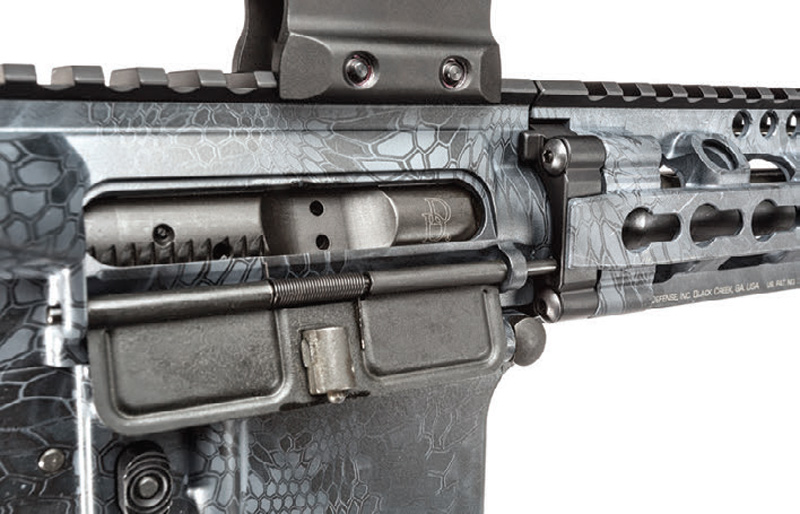 THE CARBINE
Daniel Defense has been building M4-style carbines for a number of years. They have established a well-deserved reputation as a manufacturer of top-tier firearms and accessories. The company has been featured multiple times in Inc. Magazine's top 5,000 list of fastest-growing private companies in the United States and has acquired such prestigious customers as USSOCOM and the UK's Ministry of Defence.
The DDM4V11 is designed for shooters who prefer the benefits of the KeyMod system integrated in the new Daniel Defense SLiM (Slim Lightweight Modular) Rail™ free-float handguard. KeyMod is a universal direct attachment system for mounting accessories that eliminates the need for heavier, non-ergonomic M1913 (Picatinny) rails for hardmounting accessories such as grips, lights, and lasers.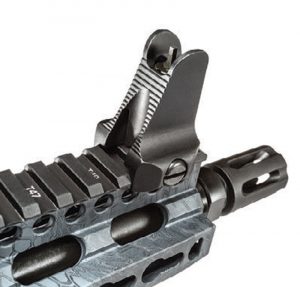 Originally developed by VLTOR® Weapon Systems, the KeyMod system is growing in popularity, and more major manufacturers are offering direct-attach accessories for it. It is now seeing competition from the more recently developed M-LOK system developed by Magpul® as a successor to its popular MOE system. Both are freely licensed platforms.
The SLiM Rail 15.0 is the first forend design from Daniel Defense to incorporate the KeyMod attachment system. CNC machined from 6061-T6 aluminum and milspec Type III Hard Coat Anodized, it features a continuous 12 o'clock Picatinny rail and KeyMod slots at 3, 6 and 9 o'clock. The long 15-inch rail allows the support hand to be extended out closer to the muzzle, so the gun can be driven with greater precision.
The upper and lower receivers of the DDM4V11 are CNC machined of 7075- T6 Aluminum, Type III Hard Coat Anodized. The lower receiver is milspec with an enhanced widened and beveled flared magazine well and rear receiver QD swivel attachment point.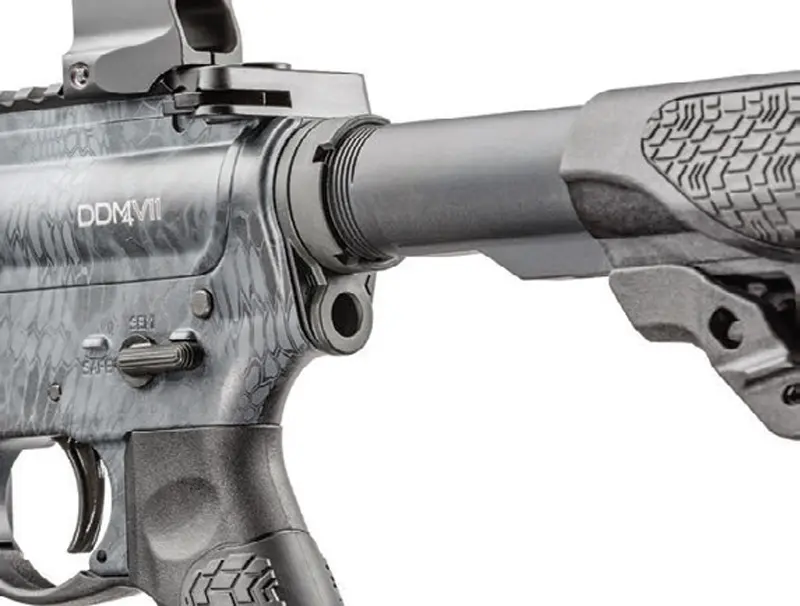 The lower also incorporates an integral oversized trigger guard that covers the gap between the grip and the lower receiver and doesn't require a roll pin.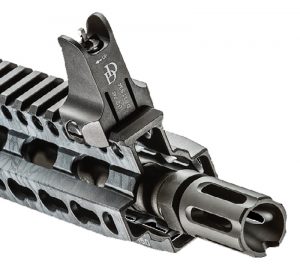 The upper receiver is milspec with polished M4 feed ramps for smooth feeding. The bolt carrier group is fullauto compatible, M16 profile, chrome lined, and has a properly staked gas key. The DDM4V11 has a six-position milspec 7075-T6 aluminum receiver extension and H buffer.
The DDM4V11 has a chrome moly vanadium steel cold-hammer-forged, 1:7 twist 16-inch government profile barrel. Daniel Defense cold hammer forges the chamber and bore simultaneously for perfect alignment. The barrel is chrome lined and milspec heavy phosphate coated. The muzzle is threaded in the normal ½x28 TPI.
The muzzle device is a DD standardlength flash suppressor constructed of 17-4 PH stainless steel and salt bath nitride finished. The flash suppressor is compatible with Advanced Armament Omni, Gemtech Halo, and KAC NT-4 QDSS sound suppressors.
The carbine features a mid-length direct-impingement gas system. It has a low-profile gas block that is CNC machined of 4140 hardened steel and a milspec heavy phosphate coating. The midlength gas system provides smoother operation, less felt recoil impulse, and is easier on the parts than would be the case with a carbine-length gas system on equivalent barrel lengths due to the reduced dwell time (distance from the gas port to the end of the barrel).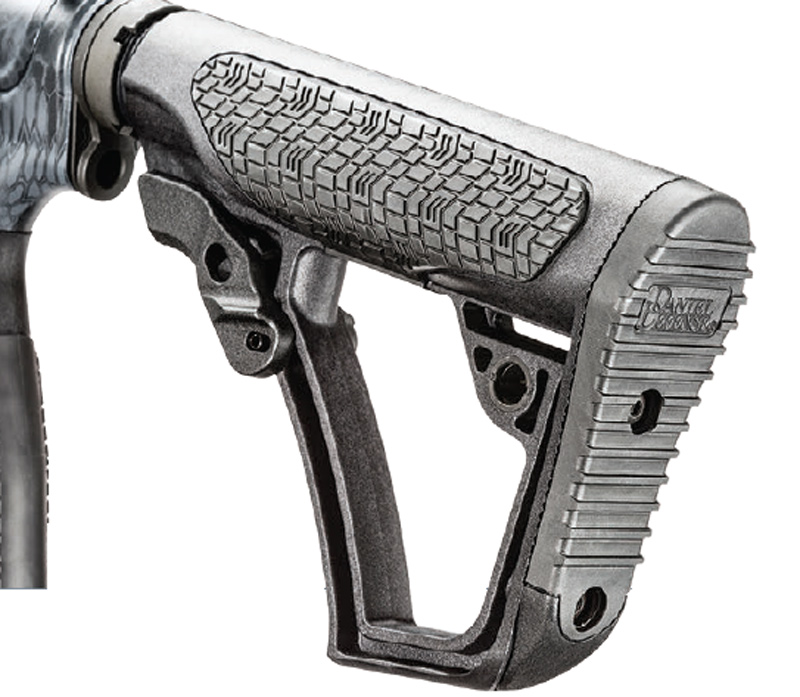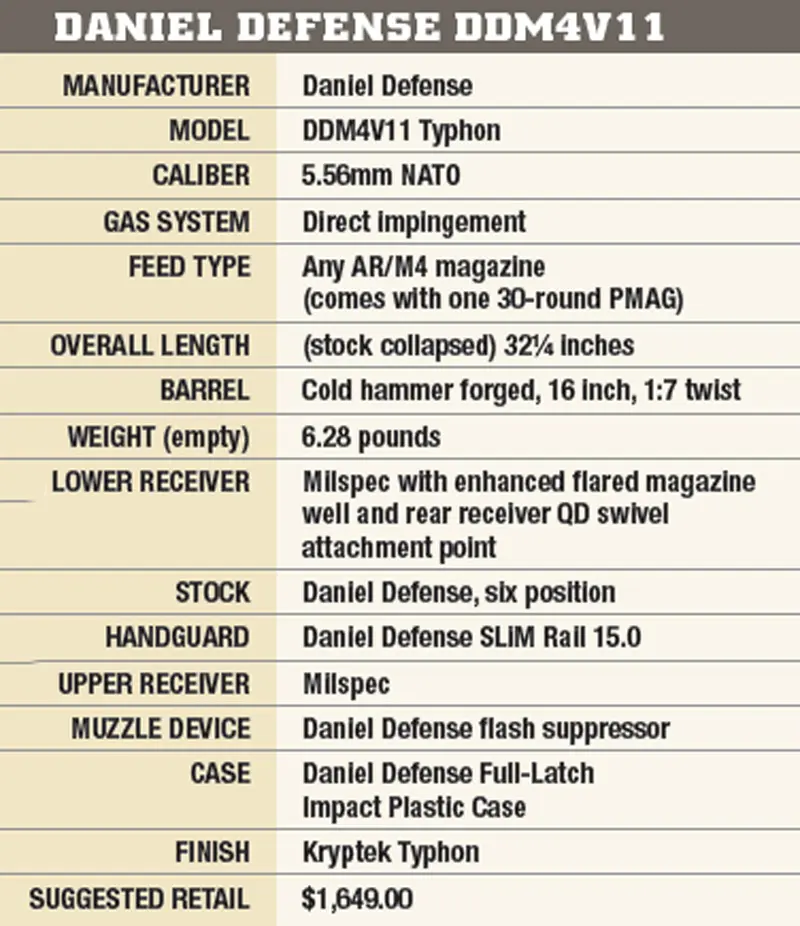 The DDM4V11 has a DD buttstock and pistol grip that are constructed of a proprietary blend of glass-infused polymers and feature soft-touch rubber overmolding at strategic points. The adjustable buttstock has very little forward or lateral play, which is an issue with many buttstocks on the market. The pistol grip shares the angle of the classic 1911 pistol for the most natural hand position and control.
The sample DDM4V11 was equipped with an Aimpoint® Micro T1 red dot sight with DD Micro Mount and Rail Mounted Front Sight/A1.5 Fixed Rear Sight Combo. The DDM4V11 is sold without sights; they must be purchased separately.
Total weight without accessories is 6.28 pounds. Overall length is 32¼ inches with stock collapsed. That coupled with the SLiM Rail makes for a sweet-handling AR.
ON THE RANGE
Black Hills Ammunition provided me with 500 rounds of 5.56mm ammunition for the evaluation: 69-grain Sierra TMK, 77-grain OTM and 77-grain TMK. Black Hills ammo has a consistency that makes it the choice for testing by a number of major firearm manufacturers.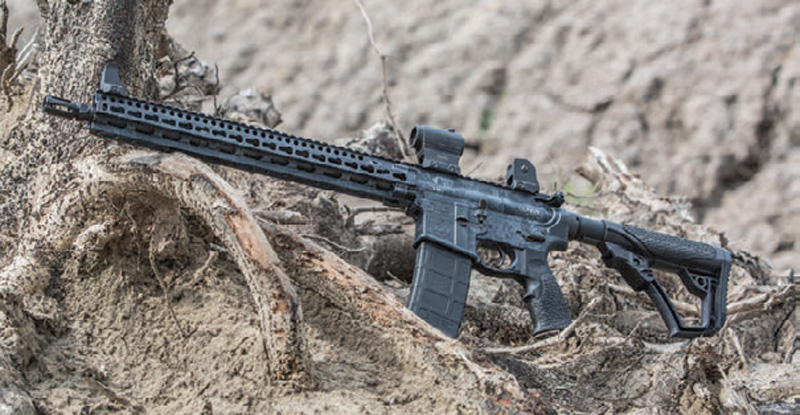 To avoid any magazine-related issues, Magpul® PMAG® 30 AR/M4 GEN M3™ mags were used exclusively throughout our testing.
Mag/ammo management was provided by Haley Strategic Partners excellent Disruptive Environments™ Chest Rig with optional MP2 Magazine Pouch Inserts—in Kryptek Typhon, of course.
Testing was conducted at Rio Salado Sportsman's Club/Usery Mountain Shooting Range in Mesa, Arizona and at C2 Tactical. The DDM4V11 performed flawlessly throughout our testing. The DDM4V11 has a milspec single-stage trigger that's a bit heavy but better than most milspec triggers.
Fired from a rest, the carbine grouped under an inch at 100 yards with all ammo tested. The heavier Black Hills 77-grain OTM and 77-grain TMK provided the best accuracy, with a number of three-shot groups under half an inch.

The DDM4V11 Typhon is available for purchase from authorized Daniel Defense dealers or directly from DD. Suggested retail price is $1,649.00. It comes with a Daniel Defense Full- Latch Impact Plastic Case, 30 round Magpul PMAG, and operator manual. All DD products carry a 100% lifetime satisfaction guarantee against defects in original materials and workmanship.

Although I had to send the sample Daniel Defense M4V11 back when I'd finished the testing, it's definitely at the top of my list for purchase. The Kryptek Typhon finish is icing on the cake.