Building upon the success of its award-winning SF Ryder™ 22-A sound suppressor, SureFire® has come out with a battle-ready version of the Ryder sound suppressor for 9mm pistols, submachine guns, and carbines.
The new SF Ryder 9Ti ("Ti" being the periodic table symbol for titanium) features an ultra-light titanium tube, front plate, and rear plate that help minimize the overall weight without any sacrifice in strength.
The Ryder 9Ti is designed for both recreational shooting and tactical applications. It is built to the same standards as SureFire's battle-proven SOCOM Fast-Attach® sound suppressors. S.W.A.T. was the very first to get an actual "hands on" with the SF Ryder 9Ti new sound suppressor.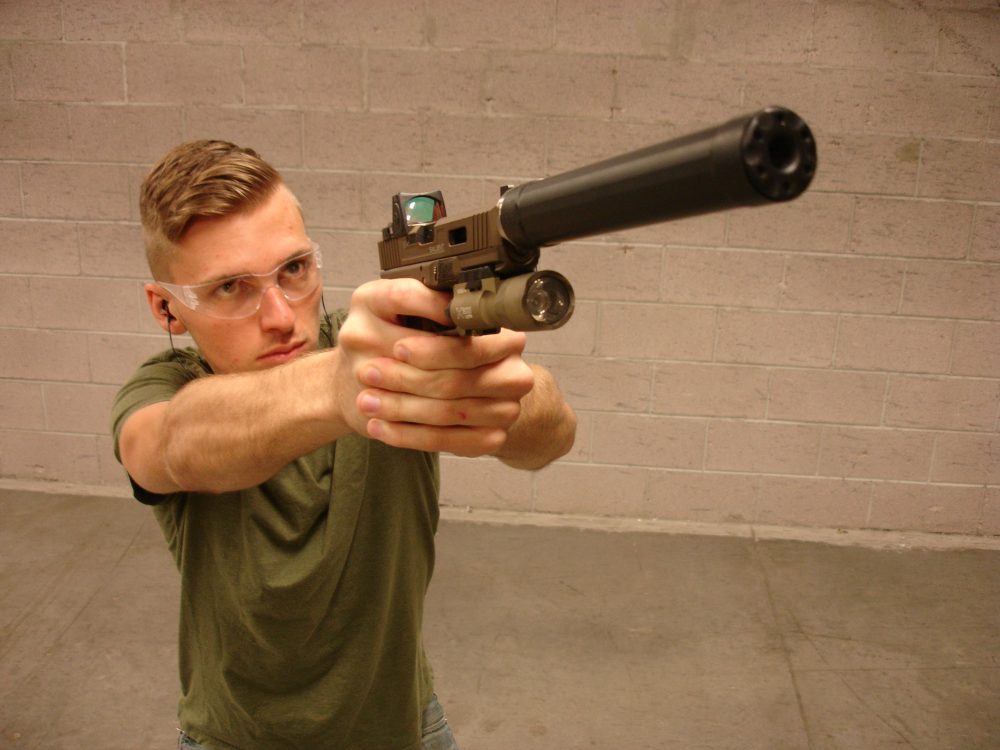 Daniel Graham fires Salient Arms International G17 Tier 1 with SureFire Ryder 9Ti suppressor at C2 Tactical Range. SF Ryder 9Ti's performance greatly impressed all in attendance.
---
LET'S GET TO THE RANGE
I met with SureFire Public Relations Specialist Thomas Carlson and Western Regional Sales Manager Tom Kane, along with weapons expert Daniel Graham, at the C2 Tactical Range for some range time with the SF Ryder 9Ti.
In the interest of full disclosure, at the time of our testing, the SF Ryder 9Ti had not yet entered production, so the sound suppressor we tested was the final pre-production prototype. The production Ryder 9Ti will be identical in all respects.
Located right off the I-10 freeway in Tempe, C2 Tactical was voted Best Indoor Range in Arizona. It has 23 air-conditioned shooting lanes, a new state-of-the-art simulator, full retail store—including NFA and Class III items—gunsmith services, and much more. It also offers numerous training courses. C2 Tactical is an authorized SureFire sound suppressor dealer.
Thomas Carlson also brought along a Daniel Defense M4 Carbine equipped with a SureFire SOCOM556-RC Fast-Attach sound suppressor for us to play with at the range. More toys always equal more fun!
As an aside, although not the subject of this article, the SOCOM556-RC is a very impressive sound suppressor to be sure. It is no wonder that U.S. Special Operations Command (USSOCOM) adopted the SOCOM556-RC after the most extensive and rigorous sound suppressor testing ever conducted. It left all competitors in the dust. It also received the USSOCOM official safety verification in support of fielding.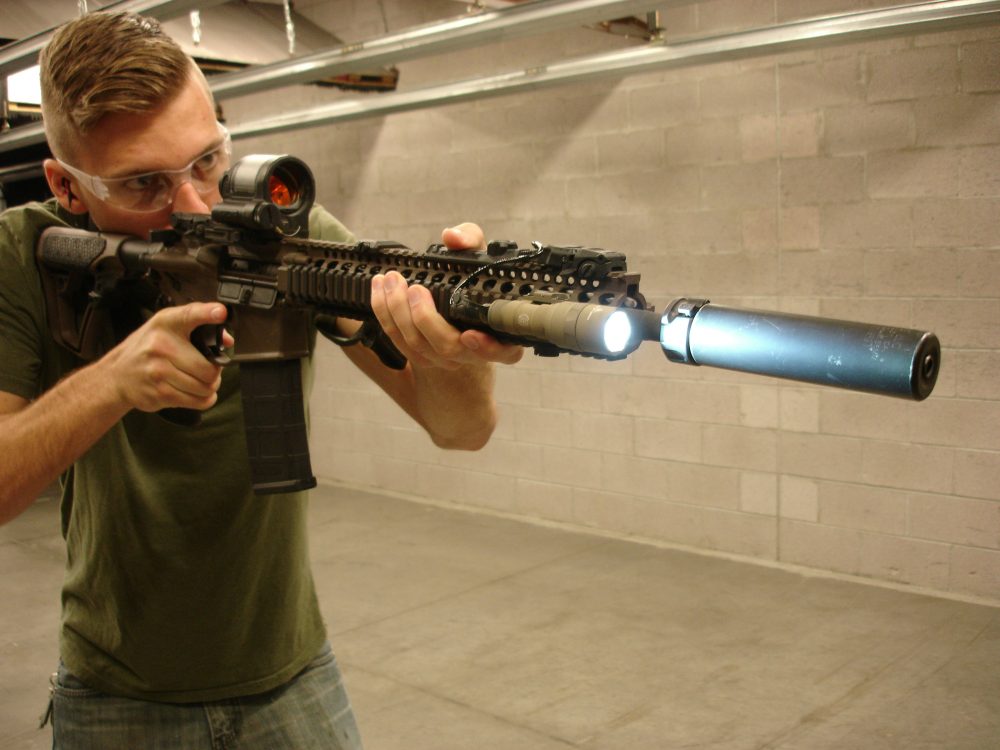 Daniel Graham with Daniel Defense M4 Carbine equipped with SureFire SOCOM556-RC Fast-Attach sound suppressor at C2 Tactical Range. SF Ryder 9Ti is built to the same standards as battle-proven SOCOM556-RC.
---
BUT FIRST, HOW DOES IT WORK?
The SF Ryder 9Ti employs proprietary pig-nose baffles like those in the SF Ryder .22 sound suppressor upon which it is based. The baffles in the SF Ryder 9Ti are made of U.S. mil-certified heat-treated stainless steel bar stock. It is durable, corrosion resistant, and handles heat well.
The ingenious pig-nose design provides superior sound attenuation and reduces muzzle blast by precisely directing gasses from fired rounds. The baffles also make cleaning the sound suppressor a simple process. Built-in spacers help reduce carbon buildup between the baffles and the sound suppressor tube.
As a sound suppressor accumulates fouling during firing, its effectiveness deteriorates. Maintenance requirements differ depending on the sound suppressor. The SF Ryder 9Ti is exceptionally easy to maintain.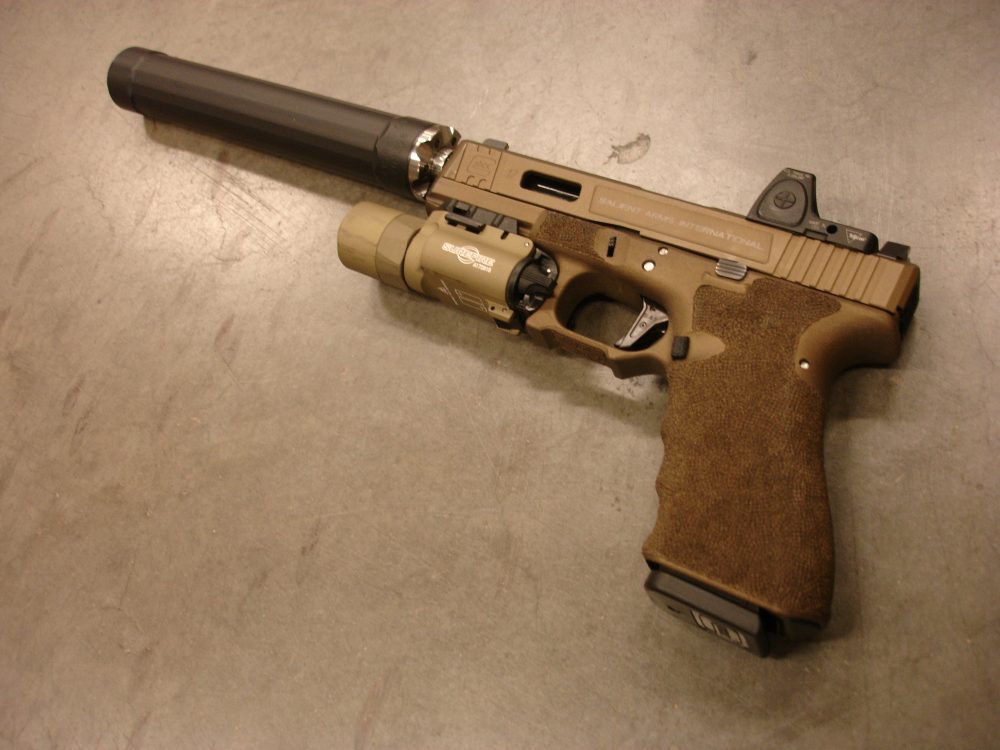 Salient Arms International G17 Tier 1 with Trijicon RMR and SureFire X300 Ultra (shown) was employed for testing, along with a SIG P226 Combat. Pistols functioned flawlessly with SF Ryder 9Ti suppressor.
---
Every baffle is indexed and individually numbered for foolproof disassembly and reassembly. An assembly/disassembly tool that makes it easy is included with the suppressor.
Suppressing a weapon can significantly increase backpressure, too much of which will increase the cyclic rate, cause weapon malfunctions and increased fouling, reduce the service life of the weapon, and spit gasses back into the face of the operator.
Sound suppressors such as the SF Ryder 9Ti, which are designed to control the gasses rather than simply trap them, can eliminate the backpressure created by traditional sound suppressors to a great degree—up to a 95% reduction is claimed. These suppressors with improved gas flow dynamics can also largely eliminate the first round pop and flash common with traditional designs, where the first round is often louder than subsequent rounds and there may be a slight flash.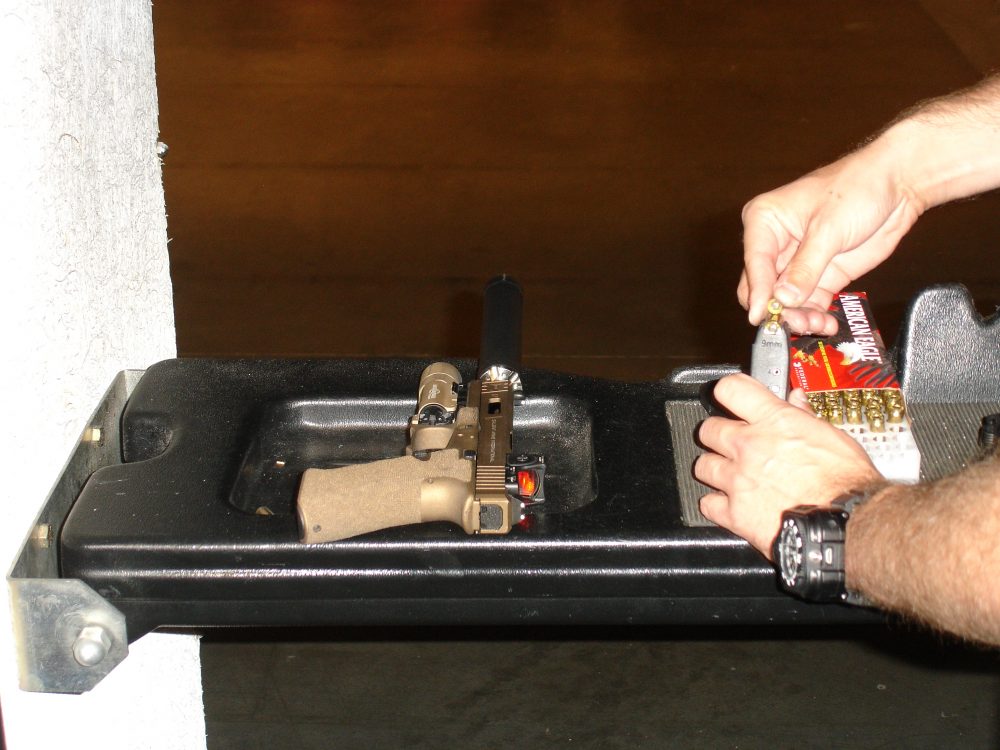 Wide range of 9mm ammo was employed during our testing of SF Ryder 9Ti. Sound data averages 131 db from the SF Ryder 9Ti when subsonic ammo is employed.
---
RYDER 9Ti SPECS
The SF Ryder 9Ti is exceptionally lightweight, weighing in at only 9.5 ounces. The use of high-grade titanium for the tube keeps weight to a minimum and provides increased strength. Titanium is often used where precision is important. Weight is further reduced through an outer tube design that features rounded edges and fluting on the tube and the front and rear plates. This clever fluted design also makes it easier to get an accurate sight picture with the sound suppressor attached.
The semiautomatic functioning of short-recoil operated pistols (typically Browning-type tilting barrel unlocking systems) may be impaired by the weight of the sound suppressor on the barrel. This is not an issue with the SF Ryder 9Ti, which also employs a recoil booster in addition to its lighter weight. A recoil booster uncouples the weight of the sound suppressor from the barrel, allowing the pistol to function properly by boosting the recoil energy of the barrel.
The functioning of the pistols that we employed for our testing, a Salient Arms International G17 Tier 1 and a SIG P226 Combat, was flawless with the Ryder 9Ti attached. Several hundred rounds were fired during our time at the range.
The tube on the SF Ryder 9Ti is only 1.25 inches in diameter, much less than most competitors. This is a big plus as it eliminates the need for outrageously high suppressor sights that make finding holsters a problem. The length of the 9Ti is 7.6 inches. It is a thread-on sound suppressor that securely attaches via single-point cut threads, and is available in either ½X28 or M13.5X1 thread sizes. To attach the sound suppressor, screw it on to a compatibly threaded 9mm barrel until hand tight.
You need look no further than SureFire for threaded barrels for your Glock. ZEV Technologies is manufacturing match-grade drop-in threaded chromium stainless steel (416R) barrels for the G17 and G19 exclusively for SureFire. ZEV barrels feature extremely tight tolerances, making them among the most precise in the industry.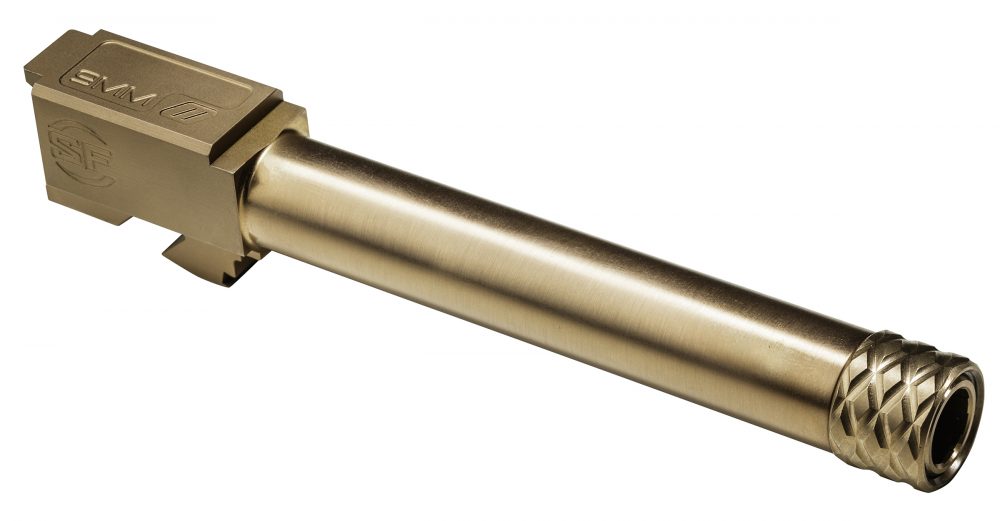 ZEV drop-in threaded barrels for Glock 17 and Glock 19 are available from SureFire in Black DLC and Burnt Bronze. Photo: SureFire
---
SOUND SUPPRESSION
Sound data averages 131 db from the Ryder 9Ti when subsonic ammo is employed. This is outstanding performance, especially when one considers its compact size.
Three possible sources of sound from the discharge of a firearm need to be considered when "silencing" it: the weapon's report, e.g. muzzle blast; the "crack" caused by a supersonic bullet passing the sound barrier; and the sound from cycling the firearm's action.
The muzzle blast of a firearm is the result of high-pressure gasses suddenly escaping into the atmosphere when the bullet exits the barrel. The muzzle blast is the most significant source of sound that's generated by a firearm. Muzzle sound suppressors are more versatile than integral sound suppressors, in that they can easily be removed when sound suppression is not necessary. If subsonic ammunition is employed, muzzle sound suppressors are often every bit as quiet as integral suppressors.
Because they do not reduce the velocity of a bullet, higher terminal velocities are possible for applications in which a sonic crack is not an important tactical consideration.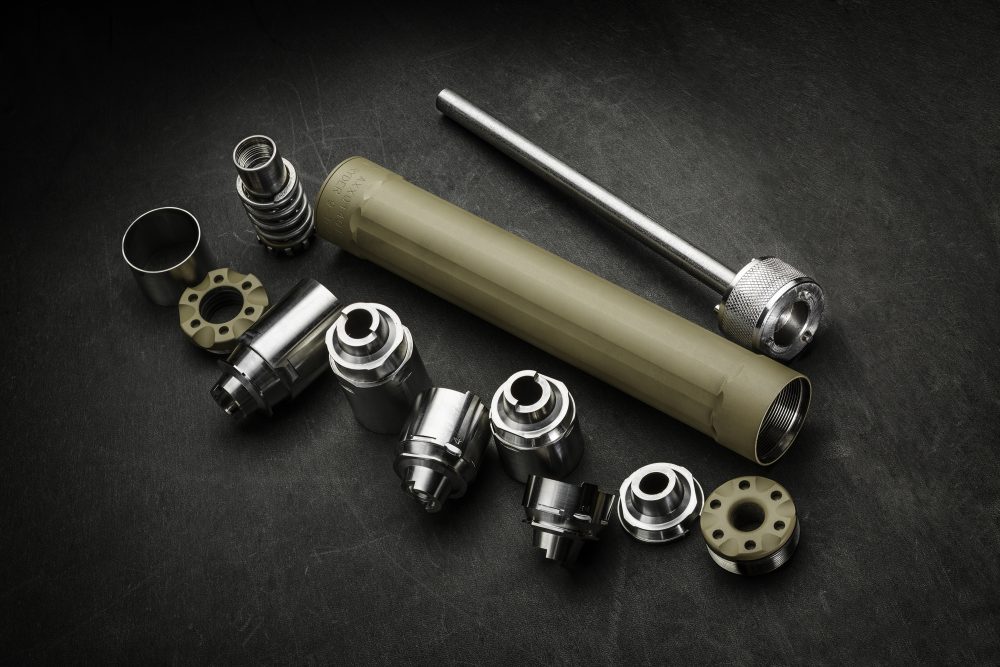 SF Ryder 9Ti baffles are indexed and numbered to permit easy disassembly, simple cleaning, and foolproof reassembly. Photo: SureFire
---
COSMETICS
The SF Ryder 9Ti features a tough, attractive Cerakote™ finish. Cerakote is a high-temperature ceramic coating that has been proven to outperform competitive gun coatings in both laboratory settings and in the real world.
The SF Ryder 9Ti is available in three colors—Black, Dark Earth, and Wolf Gray—making it ideal for most any application, whether tactical or recreational. It is available for purchase through authorized SureFire sound suppressor dealers. MSRP is $799. A three-lug adaptor for the H&K MP5 and a special mounting plate for 9mm carbines are expected to be available shortly.
Eugene Nielsen's background includes protective intelligence/investigations and threat management, as well as red teaming/security consulting. He is a Licensed Private Investigator in both California and Arizona. He has written almost 1,000 articles.
SOURCES
SUREFIRE, LLC
(800) 828-8809
www.surefire.com
C2 TACTICAL
(480) 588-8802
www.c2tactical.com
DANIEL DEFENSE
(866) 554-4867
www.danieldefense.com
GLOCK INC.
(770) 432-1202
www.glock.com
SALIENT ARMS INTERNATIONAL
(805) 983-1200
www.salientarmsinternational.com
SIG SAUER INC.
(603) 772-2302
www.sigsauer.com
TRIJICON INC.
(248) 960-7700
www.trijicon.com
ZEV TECHNOLOGIES
(805) 486-5800
www.zevtechnologies.com