My grandnephew David lives in Massachusetts and loves guns and shooting. But his mother and the liberals in his community frown upon things that make loud noises and hit other things. But shooting is in his DNA, and when he visits Uncle Bob, we really put a hole in my ammo supply.
He has a good eye and during one summer, he consistently put .22-caliber slugs through the neck of a bottle without touching the surrounding glass. Mom finally relented a little and, after a few years of interpersonal Nerf gun and later Airsoft combat, I thought he was ready for the next step.
AMERICAN ICON AND NATIONAL SECURITY
I consider myself a decent shot, and Colonel Jeff Cooper awarded me Gunsite's coveted Expert certificates a number of times when I completed his classes. The best part of that accolade was that Colonel Cooper and his professional cadre of instructors announced that they would want you with them if the lead began to fly.
While exposed to some of the finest firearms instruction in the Marine Corps and FBI, I really established a firm foundation in marksmanship with my Red Ryder (RR) BB gun—and many before and after me did the same. For almost 130 years, The Daisy Company and its extensive line of air-powered rifles have contributed immeasurably to this country's national security and should receive the Presidential Medal of Freedom instead of some of the recent crop of recipients.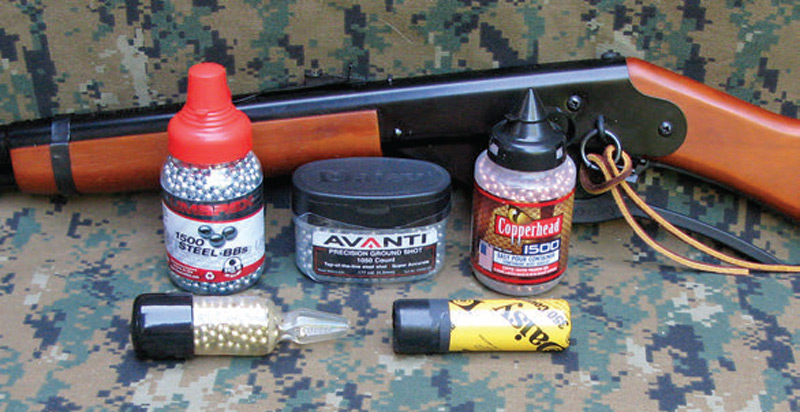 RITE OF PASSAGE
For most youngsters, getting a Daisy Red Ryder BB gun was a rite of passage, because its possession told you in the strongest of terms that your parents trusted you and were willing to give you some serious responsibilities. Receiving a Daisy meant far more than just having fun.
As a result of its societal status, Daisy Red Ryder guns were featured in movies such as A Christmas Story and also established a synergy between comic strip and comic book.
From time to time, Daisy offers cosmetically upgraded anniversary and commemorative models that have included stock embedded medallions, compasses and sundials. They are highly prized by collectors.
MODELED AFTER THE WINCHESTER 1894
I knew David was properly schooled in firearms safety, and the local Walmart had a sale on today's iteration of the RR carbine on sale, so it was a no brainer. Modeled after the ultra-successful Winchester 1894 .30-30 lever-action carbine—which was the first long gun to use smokeless powder with its .30 WCF (Winchester Center Fire) round— it has become so popular that over 7,500,000 have been made to date.
With its RR logo-engraved wooden stock, today's rifle has an almost identical profile to the gun's 1940s image. I also purchased a generous supply of BBs, but instead of the old copper-coated pellets, these were zinc-plated steel pellets.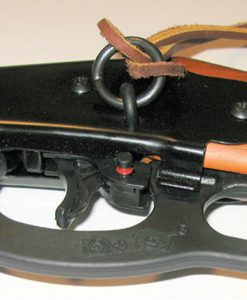 SOME PRACTICAL CHANGES
After my nephew and I made life miserable for a variety of natural and manmade backyard and field targets, I got the idea to conduct a full T&E on the rite of passage rifle, and contacted S.W.A.T. Editor Denny Hansen.
Denny is huge on kids learning to shoot safely and also embraces the economy of shooting with sub-caliber firearms. With his blessing, I contacted Mr. Joe C. Murfin, Vice President Public Relations, Daisy Outdoor Products.
Mr. Murfin provided me with a 1938 B model of the RR carbine. It was, as they say, the "spittin' image" of the original carbine, but unfortunately, like a myriad of other American products, made in China. But there were some noticeable differences: Sights have been upgraded to an adjustable U-notch rear and removable post front, cross-bolt trigger safety, and top-side viewing slot for loaded BB indicator.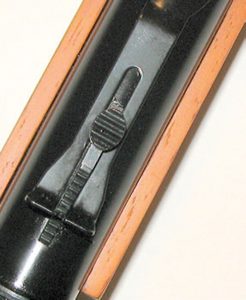 Cocking levers over the years have been die-cast aluminum, cast metal and plastic. My sample appears to be rugged plastic. When cocking via the lever, it has several internal intercept notches to prevent snap back and hand injury if the lever is not fully cocked.
OLD BREED, NEW BREED
When the Red Ryder carbine made its public debut, it could be purchased for $2.95 and a tube of BBs was a mere nickel. Its siblings like the 500 Shot Carbine, Buck Jones Special, and Pump Gun would set you back $2.50, $3.50 and $4.50 respectively.
The Red Ryder in those days had no safety and a smaller front sight, but had a rear sight with double notch, one for precision and the other for snap shooting.
MYTH EXPLODED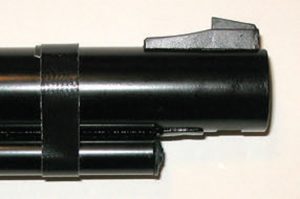 There were lots of kids in my neighborhood, and we played with an older guy who had a Daisy M25 pump gun. We were in awe of that rifle, because we were under the impression that it was much more powerful than the RR and Plain Jane M105 Buck version.
But while touring Daisy's website, I was surprised to learn that the muzzle velocities for all these 4.5mm guns were the same 350 feet-per-second (fps).
AIR RIFLE COMPETITION
Since 1948, it's been Daisy's goal to teach America to shoot with its Shooting Education Program. In many states, it became part of the education system's physical education program. In addition, in 1966 the company started and continues to sponsor annual BB gun bull's eye competition on a national level. Winners receive many valuable prizes including college scholarships.
I was also pleasantly surprised when I learned that the 460 Rowland folks were conducting BB gun action matches in an effort to get youngsters involved and for folks to save money while reaping the benefits of competition.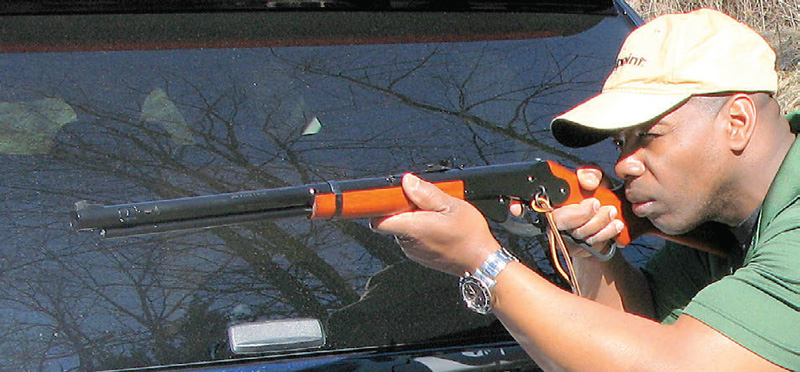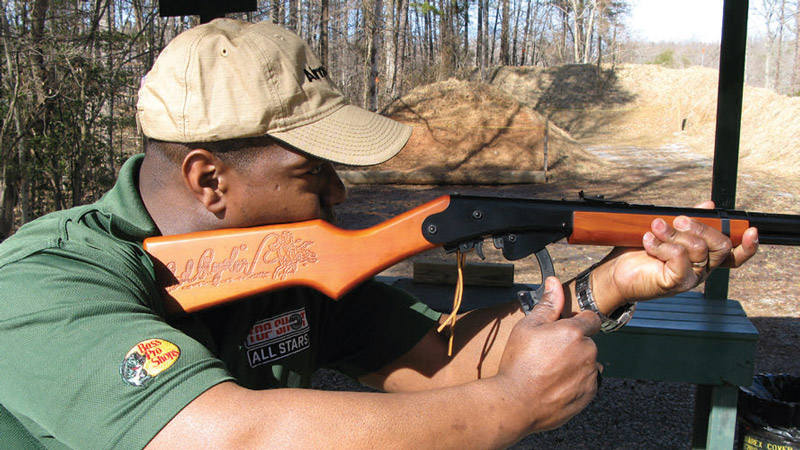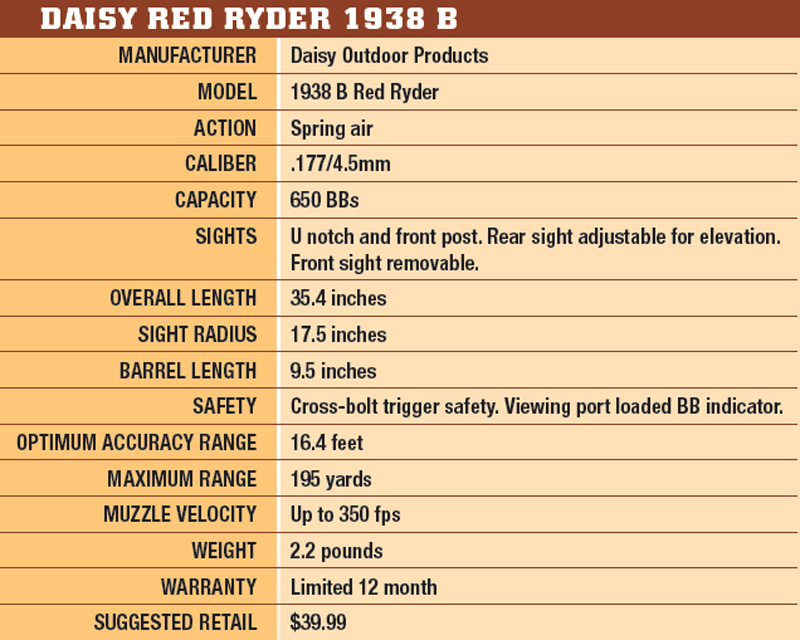 AMMUNITION EVOLUTION
In my day, copper-coated BBs were the only available "rounds" sold in hardware and some variety stores. But like the carbine, its ammunition has gone through a series of changes.
1933-1934: Steel balls were copper plated to prevent rusting and were marketed as "Copprotect."
1964: BBs were bright silver in a silver tube and marked "Lube Coated."
Mid 1965: "Golden Bulls Eye BBs" were zinc plated with orange dye added to achieve a gold color.
1985: The dye was eliminated and the rounds were called "Quick Silver."
Current: Daisy BBs are named "MaxSpeed" and "PrecisionMax."
All BBs are made of steel, cut from steel wire and rounded through a heading process. Today, copper-coated BBs or "Copperheads" are only offered by the Crosman Corporation. Golden BBs can be obtained from Marksman and Firepower. For velocity and accuracy tests, I obtained several manufacturers and types of BBs:
Crosman Copperhead Premium BBs
Daisy Avanti Precision Grade Match BBs
Daisy Premium Zinc Plated Ultra Smooth Steel shot
Marksman Premium Match Grade BBs
Umarex USA Steel BBs

GREASING THE TUBE
If you want to squeeze as much velocity out of your RR as possible, try lightly lubricating its bore to reduce friction. I ran a cotton swab impregnated with Militec–1, a synthetic metal conditioner, and bumped up the velocities of the Avanti BB by 21.7 fps with a Standard Deviation (SD) of 0.7 and increased Daisy's zinc-plated BB velocity by 22.4 fps with an SD of 2.9. However, Daisy prefers 30 weights, non-detergent motor oils for "O" ring preservation. Daisy advised that Militec is for metal-to-metal contact and not recommended.
ACCURACY AND PENETRATION
At three feet, a steel Daisy BB broke the surface but failed to penetrate a block of Clear Ballistic test media. At ten meters, Top Shot All Stars finalist and former Double Distinguished USMC marksmanship competitor William Bethards fired the RR for its accuracy trials at MOA dots. The BBs inconsistently penetrated the target's cardboard face. The resultant five-round groups were good for a smooth-bored recreational air rifle with its heavy trigger and open sights.
Like millions of other patriots, William started his distinguished shooting career with an RR. For the Corps, he has competed internationally with precision rifled air rifles that routinely produce sub MOA groups. A flood of precious youthful memories returned as he lined up the RR's sights and pressed its trigger.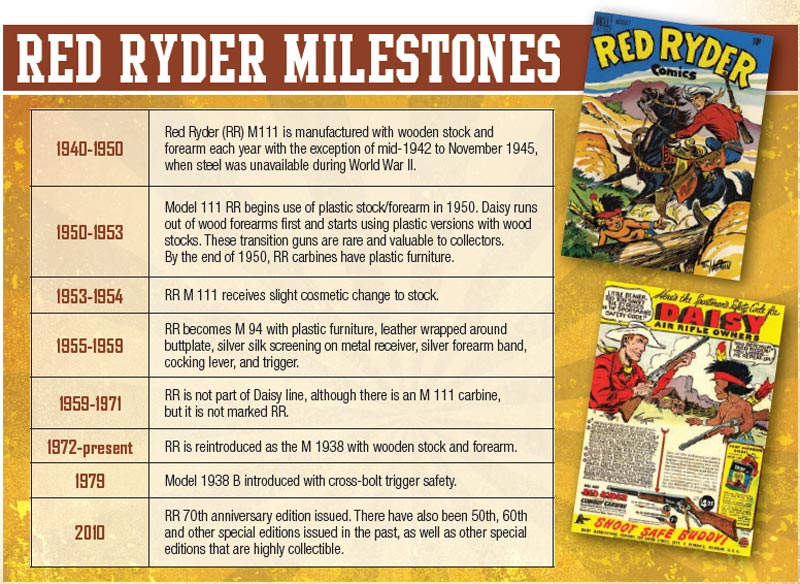 YOUR MOTHER WAS RIGHT
Ballistician John Ervin determined through ballistic research at what distance a BB gun is capable of inflicting eye damage. His data point of 349 fps muzzle velocity is quite optimistic, but it was derived from a paintball gun and he used it as a baseline.
He then bracketed the performance that can be reasonably expected of the BB gun under consideration, which is about 1/3 from the upper limits of the data and then made many measurements along the practical velocity ranges—all the way down to some metric where the gun would otherwise be effective. The minimum velocity and maximum distance calculated to inflict eye injury were 255 fps and 110 feet.
In 2004, Messrs. Powley, Dahlstrom, Atkins and Fackler determined that at ten feet, the V-50 velocity of a BB that was required to penetrate the cornea of a 230-pound pig was 246 fps. Every Daisy must be treated like any firearm: safety must be introduced at the outset of ownership and continuously emphasized.
SHOULDER COCKING
Most RR shooters have to dismount the RR and recock the Daisy by its long throw lever. This is time consuming and you break your sight picture and gun mount for repeat shots. William, an adult, could keep the stock in his shoulder, in spite of its shape, which encouraged the stock to slide downward and operate the lever, therefore speeding up the cyclic rate of fire. To prevent the stock from slipping, the toe of the stock can be placed on top of the shoulder and anchored there. But by not elevating the muzzle skyward, BBs periodically would not feed and misfires would occur.
CONCLUSIONS
Many older adults love to restore or purchase vintage vehicles that represent their youth or special times in their lives in an effort to relive those wonderful days. The Daisy Company's air rifles— and especially its Red Ryder carbine— helped William and me to recall similar events and our youthful rite of passage.
The BB gun represented more than plinking fun. With it came responsibility, adult trust, patriotism, and the American way.
If your deserving young son or daughter has an interest in guns and shooting, do not deprive them of this character- and skill-building experience. Surprise them with a Red Ryder this Christmas.