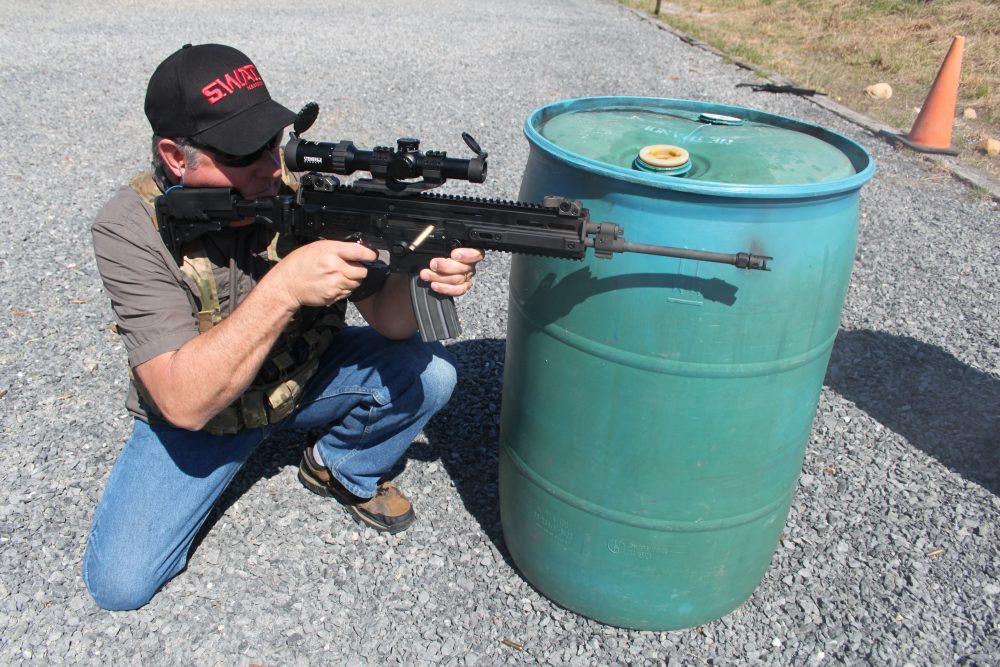 CZ 805 used in field-expedient firing position at EVTC. Rifle can be viewed as an amalgamation of some of the better improvements made in rifle design.
---
Finally arriving on dealer shelves in quantity is the CZ-USA 805 Bren S1 (CZ 805) rifle. Numerous appearances at trade shows of the CZ 805, adopted by the Czech Army in 2010 after an extensive evaluation, had consumers obsessing over when the CZ-USA subsidiary would finally introduce it. But complying with import regulations associated with anything firearms related is no easy task.
The CZ 805 originated in response to the Czech military wanting to replace their aging Vz58 rifles. The Czechs are rightfully proud of their indigenous capability to produce their own military firearms. They even resisted the Soviet Empire by fielding a non-AK rifle in the Warsaw Pact alliance.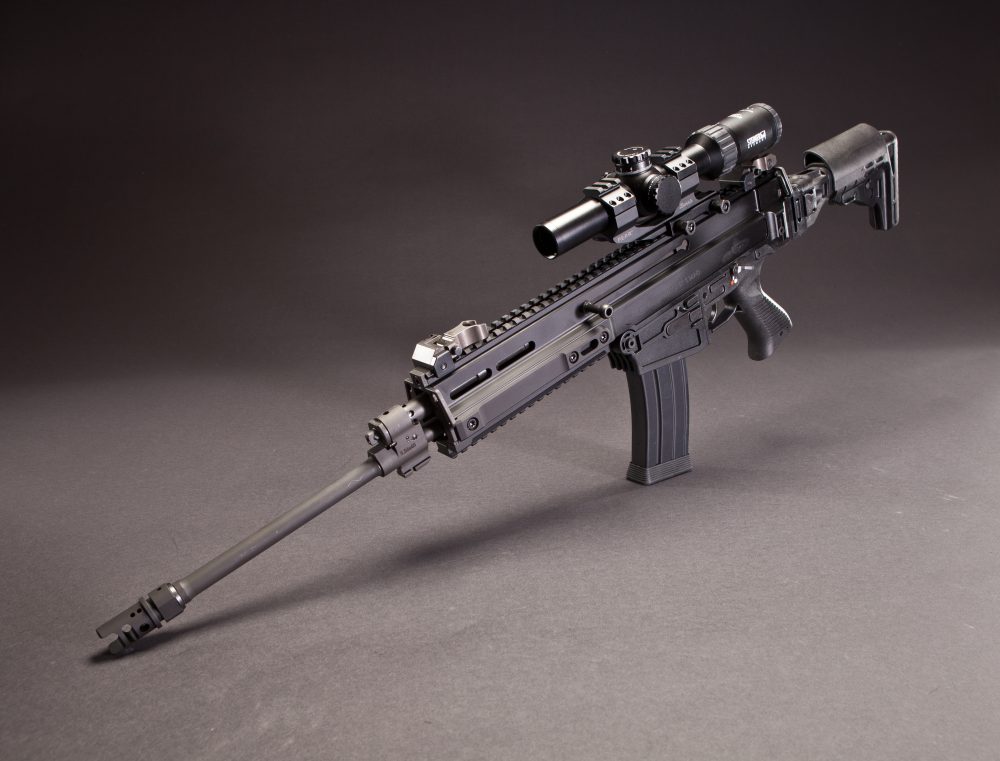 CZ 805 weighs eight pounds without optics and measures 39 inches with folding stock deployed and 28.5 inches folded. Rifle features 16.2-inch cold-hammer-forged barrel with 1:7 twist.
---
INFLUENCES
The CZ 805 is recognized as the current epitome of modern rifle designs, which is why knowledgeable U.S. firearms enthusiasts wanted access to it. But the rifle did not erupt fresh off the CZ engineers' design computers. To a certain extent, all firearms pay homage to their predecessors and select contemporaries.
The FN SCAR is often pointed to as an influence on the CZ 805. While comparisons between the FN SCAR and CZ 805 are hard to avoid when viewing the rifles' external aesthetics, field stripped, and timing of their respective appearances, closer examination reveals important differences that distinguish each as their own distinct designs. The CZ 805 is a refined rifle including its own unique blend of features, especially in terms of modularity, ergonomics, and reliability. The Czechs know how to build effective weapons.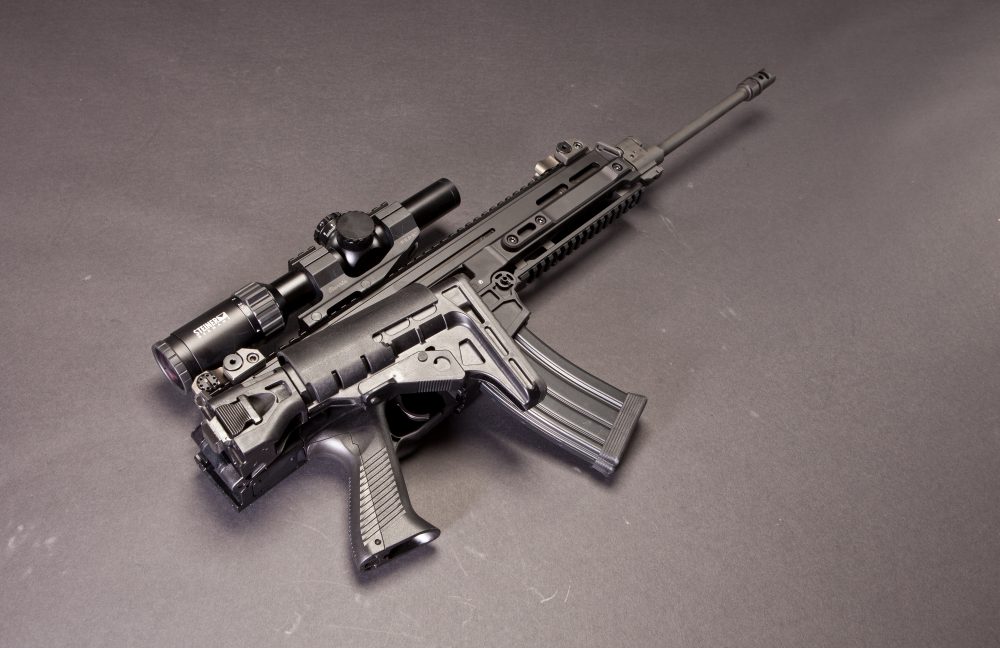 CZ 805's stock can be folded for storage, but rifle can still operate with it folded.
---
The CZ 805 can be viewed as an amalgamation of some of the better improvements made in rifle design since the field became dominated by the AK and AR designs. The CZ 805 operates via the short-stroke gas piston system. As the bullet passes the gas port in the barrel, a portion of propellant gases is routed through the gas regulator to the gas piston. The gas pushes rearward against the piston, which drives the bolt group assembly rearward to eject the fired case and load a new cartridge from the magazine.
The short-stroke gas piston's advantage is that heat, soot and carbon from propellant combustion are not routed into the bolt or chamber, keeping these critical areas cooler and cleaner for greater reliability—especially with the increasing use of suppressors. Several manufacturers are making piston-driven ARs in lieu of Stoner's original direct-impingement design in an effort to make the AR platform more robust. CZ chose to go with a more complete approach with the CZ 805 versus just taking an AR-based platform and making it piston driven.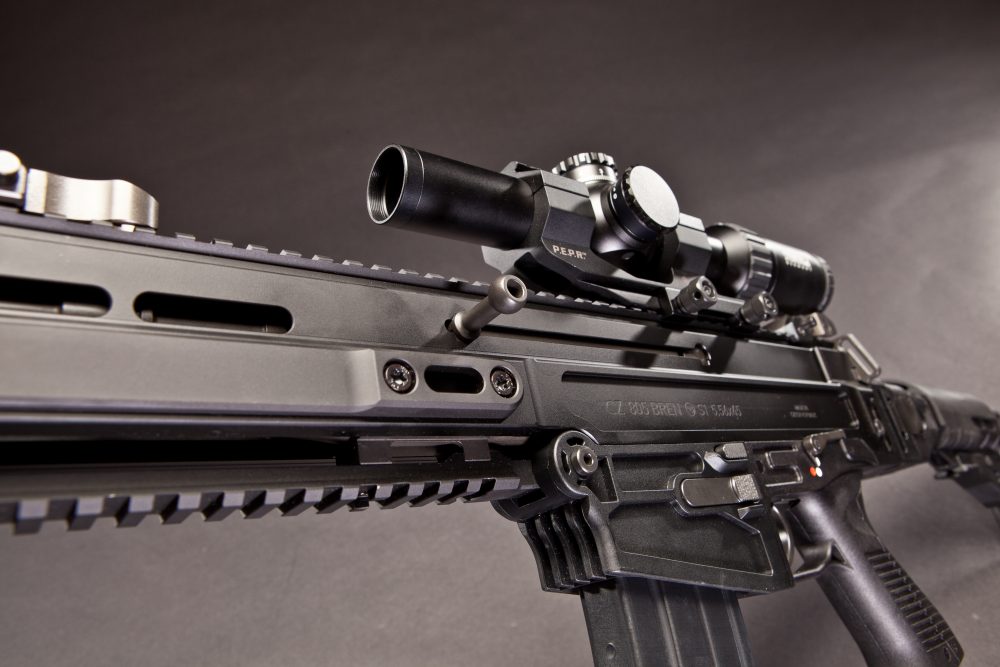 CZ 805 operates with a reciprocating charging handle that can be moved to either side.
---
OPERATION
The CZ 805 features an adjustable gas regulator, with the first position for normal operation and the second position for when using a sound suppressor. The CZ 805 was designed from the beginning to accommodate suppressors, an obvious reflection of its adaptation to current trends in fighting rifles.
The CZ 805 operates with a reciprocating charging handle that can be moved to either side. The mechanical advantage of the charging handle is that it helps ensure its multi-lug bolt seats consistently into battery. The charging handle can be used as a forward assist if the rifle fails to go into battery for some reason.
Because of the reciprocating charging handle, a user must mind his hand placement on the forend. This is a self-correcting problem in that it usually only happens once, with the user quickly finding another method. The charging handle's location is not as far forward as that on other rifles, leaving plenty of space on the forend to accommodate hand placement.
Anecdotally, my young son had no issue operating the CZ 805's charging handle with either hand; something that, given his age, cannot be said of numerous other designs. This is a credit to the location of the charging handle and overall smoothness of the rifle.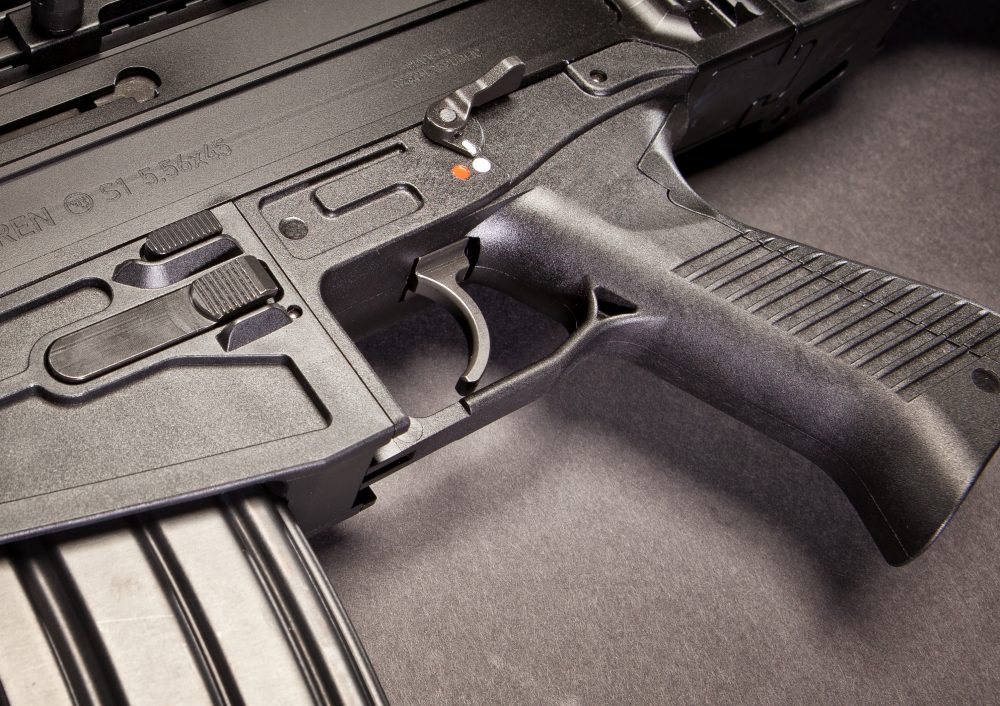 Rifle features ambidextrous safety and magazine releases.
---
COMPONENTS
The CZ 805 S1 breaks down into four major components: upper receiver, moving parts assembly (gas piston, bolt, and bolt carrier), lower receiver, and buttstock module.
The lower receiver is divided into two parts: trigger mechanism housing with pistol grip, and the magazine well. Both are made of polymer and connected by a T-rail and corresponding pinned slot.
The upper receiver is aircraft-grade aluminum billet and is the serialized part of the firearm. It houses the complete barrel assembly and features a MIL-STD-1913 (Picatinny) rail on the top and bottom of its free-floated forend. The top section of rail is uninterrupted the entire length of the upper receiver for maximum flexibility in mounting optics. The lower rail extends back to the magazine well.
Included on the CZ 805's upper rail is a set of removable folding iron sights. The front sight is adjustable for elevation. The rear sight is adjustable for windage and elevation, with two aperture options.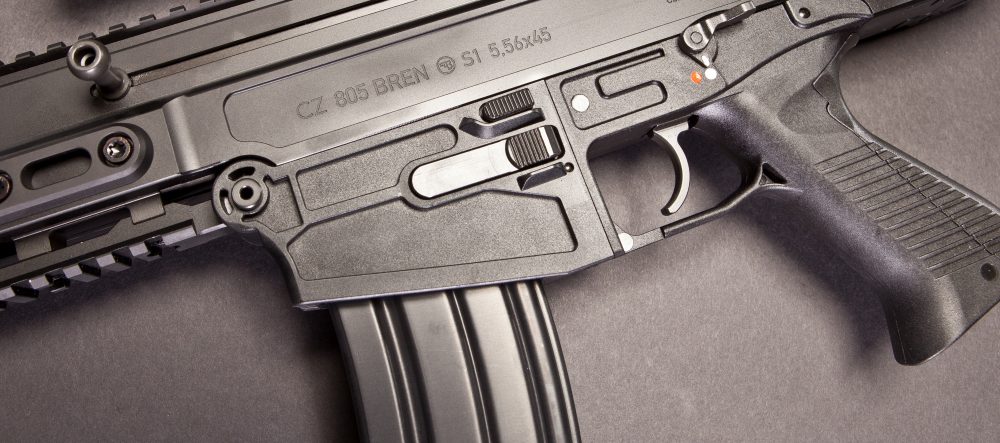 Button on left side of receiver is a bolt hold open device, not a release.
---
The trigger module is manufactured from composite polymer. It features a removable pistol grip.
The rifle's folding/collapsing buttstock is also of composite polymer and features four adjustment positions for length of pull, with a total range of three inches. This buttstock is well executed. The rifle will operate with the stock folded. All adjustments are positive, stable, and relatively noise free. The CZ 805 has ambidextrous sling attachment points.
The CZ 805 weighs in at eight pounds and measures 39 inches with the folding stock deployed and 28.5 inches folded. The 16.2-inch cold-hammer-forged barrel features a 1:7 twist. The CZ 805 has a 5.56mm chamber, enabling it to fire both 5.56mm and .223 Rem loads.
The rifle is equipped with a two-port muzzle device using ½"x28 threads. The CZ 805 utilizes AR magazines, greatly adding to its viability in the U.S. market.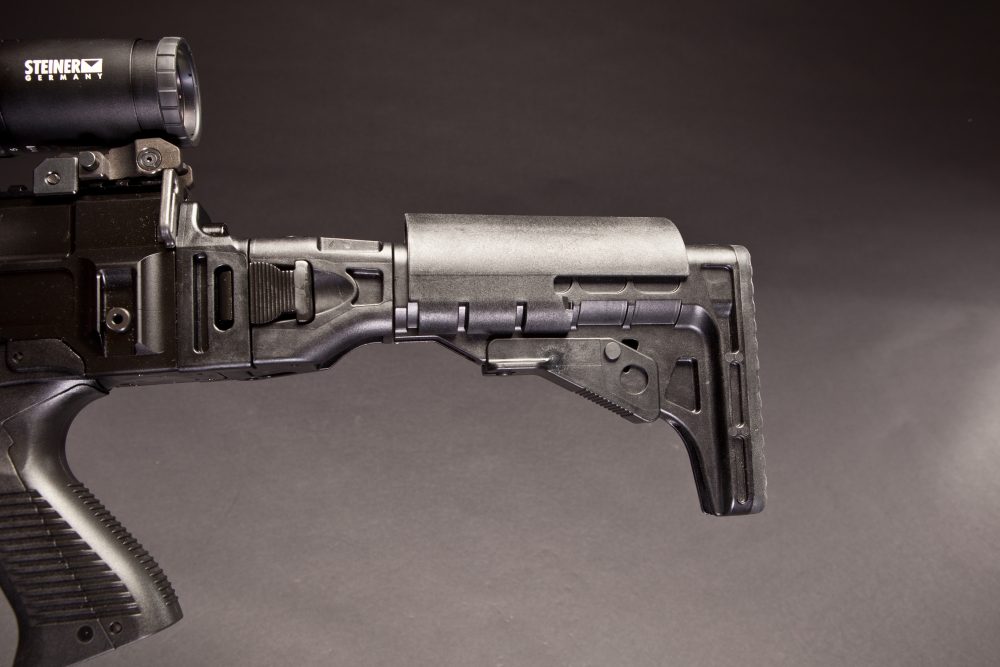 Composite polymer stock features four adjustment positions for length of pull. Total range is three inches.
---
GEAR FOR TESTING
I tested the CZ 805 with a variety of magazines, including the 3rd Generation Magpul PMAG AR-15 magazine. The PMAG 30 GEN M3 Window is a 30-round 5.56mm polymer magazine for AR-15/M4-compatible weapons. It features transparent windows to allow rapid visual identification of the approximate number of rounds remaining.
A Steiner M5Xi 1-5X with illuminated reticle was used with the CZ 805. The M5Xi is designed for both instinctive close-range/low-magnification situations with variable intensity red illuminated reticle, yet thanks to the 5X capability, it still allows shooters to engage targets with greater precision at longer ranges. The Steiner's 1-5X power range and reticle configuration eliminate the need for using multiple optics as tactical scenarios change.
The Steiner M5Xi 1-5X is ideal for modern rifle platforms, with true eyes-open 1X illuminated dot capability and 5X zoom to locate targets at longer distances. The 30mm tube has a Rapid Dot reticle calibrated to 5.56mm.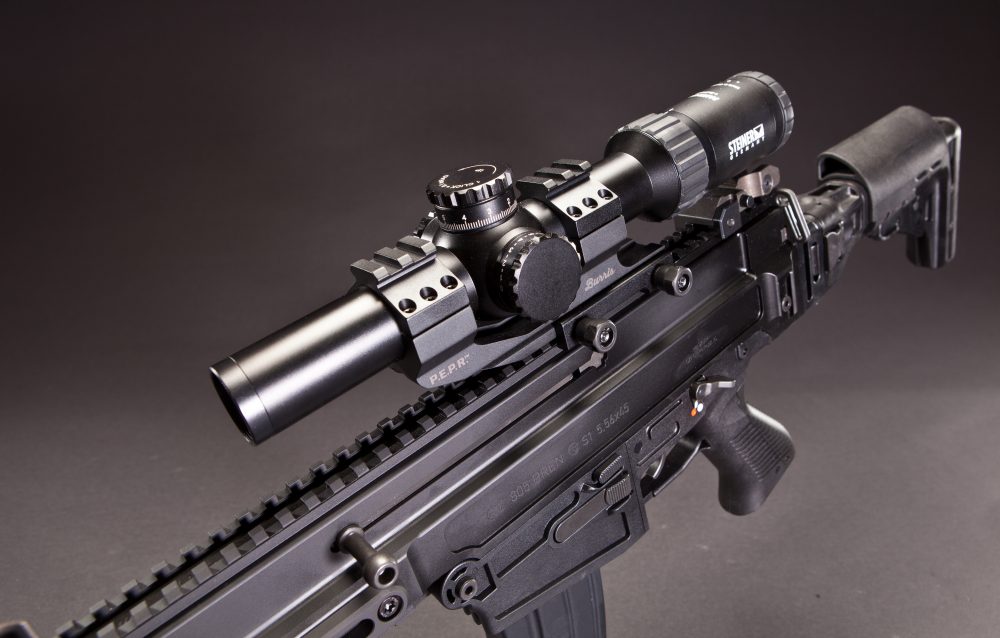 CZ 805 was evaluated with Steiner M5Xi 1-5X in Burris PEPR mount.
---
Ammunition used in the evaluation was a combination of multiple 5.56mm/.223 Rem loads from Black Hills Ammunition, Hornady and Federal.
The rifle's trigger was superior to all other milspec triggers I have experienced. It is a two-stage affair with a clean break once first-stage slack is taken up. My RCBS trigger scale had it breaking at five pounds.
No load tested produced greater than two-inch groups at 100 yards. With that said, groups did not shrink much below 1.5 inches, no matter if premium load or FMJ. The CZ 805 is a fighting rifle—not a match target rifle affair. Several magazines' worth of ammunition was spent engaging plate racks and man-sized steel targets with the CZ 805. Drills quickly moved past stand-and-deliver drills to more dynamic drills involving movement, magazine reloads, and firing from behind cover.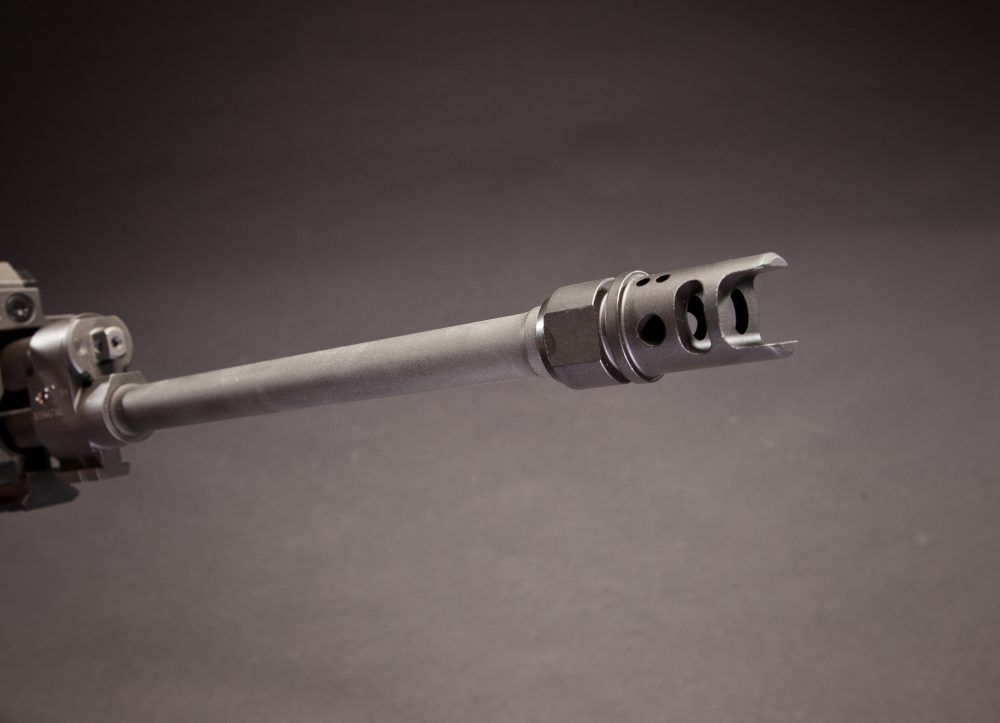 CZ 805 is equipped with two-port muzzle device using standard ½x28 threads.
---
IDIOSYNCRASIES
The CZ 805 has some idiosyncrasies in terms of manipulation, especially to shooters used to the AR platform. The bolt locks open after the last round is fired. There is no bolt release, necessitating the charging handle to be slightly retracted and released. It takes longer to read the description given than it takes to do this. The button found on the left side of the receiver is a bolt hold open device, not a release.
Also discovered during range time was that the bolt cannot be operated if the trigger is pulled and the rifle put on safe. Why this would be done in the first place makes this a non-issue, in my opinion.
Ambidextrous safety and magazine releases are used with the CZ 805. The safety is easily flicked off with the shooting-hand thumb. Re-engaging the safety is not as intuitive, often necessitating the shooter to move his hand off the pistol grip and use the index finger on the safety lever on the right side of the frame. This does not concern me, as releasing the safety is more important than getting it back on during a critical situation.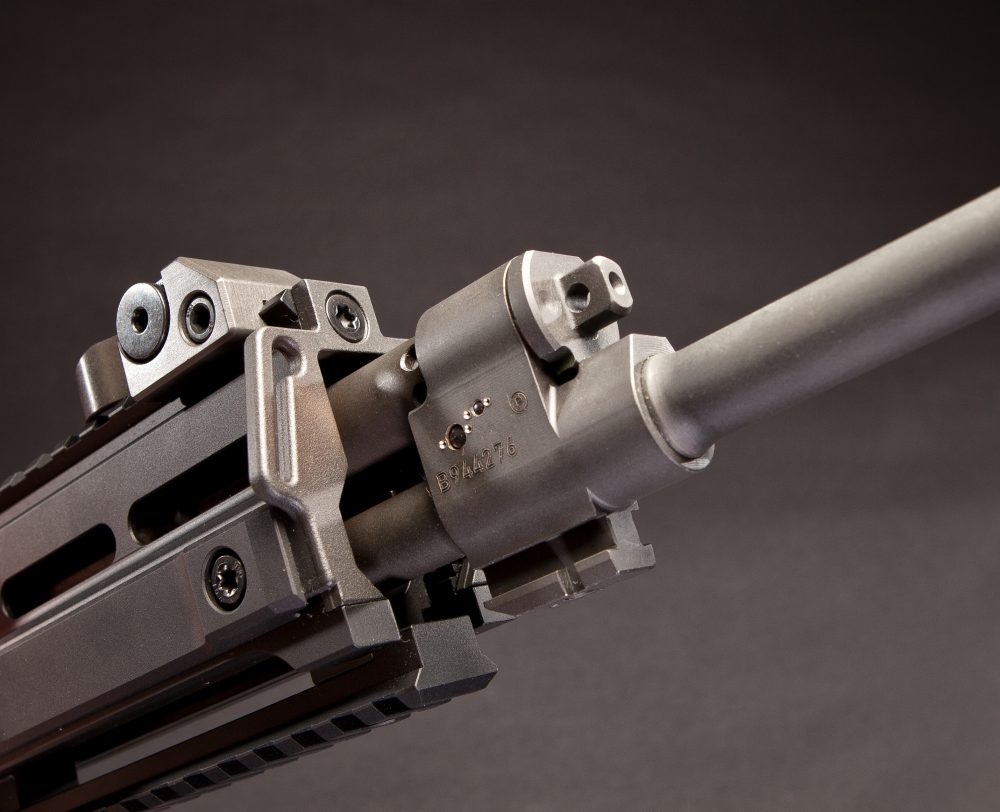 Regulator with first position is for normal operation. Second position is for use with a suppressor.
---
DRILLS
We concentrated on using the CZ 805 S1 in training scenarios involving team tactics and patrolling to contact through Echo Valley Training Center's (EVTC) 360 and Jungle Walk ranges. This allowed the rifle to shine in terms of firepower, handling and combat accuracy.
Firing from unorthodox positions while working around obstacles and range vehicles showed the CZ 805's potential in tight dynamic settings. The reciprocating charging handle was not a hindrance. The CZ 805's brass ejection pattern allowed for seamless shoulder transitions when working around barricades.
While recoil and 5.56mm in the same sentence is oxymoronic, after years of firing AR-pattern rifles, I found the CZ 805's impulse decidedly different in a positive way. Smoother and more subtle are two descriptions that come to mind.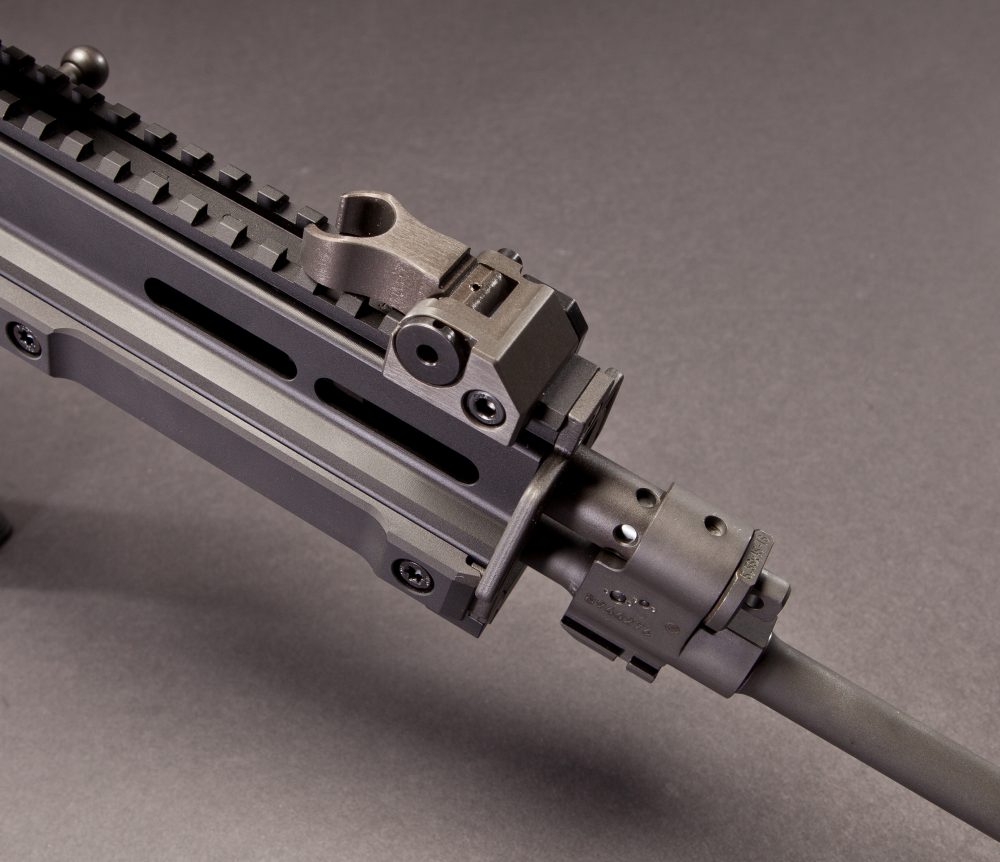 Rifle comes equipped with flip-up front and rear sights.
---
CONCLUSIONS
CZ's decision to design the CZ 805 around an improved short gas-piston operating system, along with other tweaks including a sleeker rail system and folding adjustable rear stock, is sound. While unlikely to unseat the AR-pattern rifle here in the U.S., it's nice to experience another take on how best to send 5.56mm rounds downrange.
Law enforcement agencies should consider using this rifle, as well as private contractors and defense-minded citizens. This is a positive reflection on the rifle's reliability, handling and ergonomics.
The CZ-USA 805 offers users a chance to own and use a rifle different than the prototypical AR- or AK-pattern rifles so common today.
A certain satisfaction will be gained by knowing the CZ heritage in arms development that stands behind the CZ-USA 805 Bren S1.
SOURCES
CZ-USA
(800) 955-4486
www.cz-usa.com
BLACK HILLS AMMUNITION
(605) 348-5150
www.black-hills.com
ECHO VALLEY TRAINING CENTER
(540) 450-7998
www.echovalleytrainingcenter.com
FEDERAL PREMIUM AMMUNITION
(800) 379-1732
www.federalpremium.com
HORNADY MFG. CO.
(800) 338-3220
www.hornady.com
STEINER OPTICS
(888) 228-7747
www.steiner-optics.com