One nice thing about AR-type rifles is that owners can customize them to their own wants/needs. No other weapon—except possibly the 1911 pistol—has so many aftermarket parts available for it.
Some of these accessories are worthwhile, some marginally so, and some worthless for a fighting rifle. The best have almost always been expensive—until now.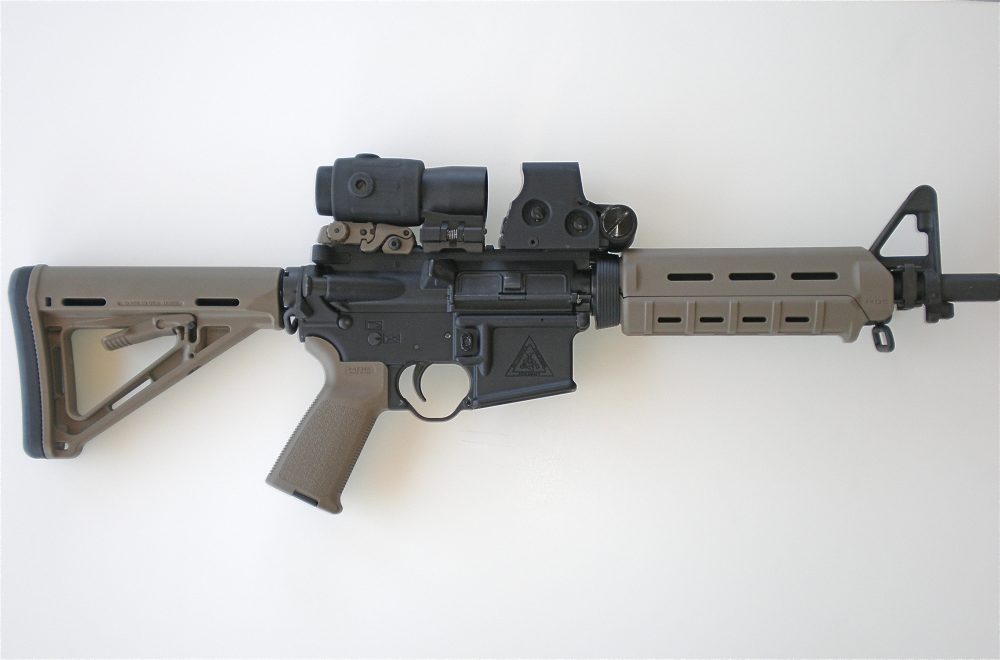 SLR-15 carbine with MOE parts from Magpul, including stock, MBUS, pistol grip and handguard. Optic is new EOTech XPS in front of EOTech 2nd Gen 3X Magnifier.
---
Magpul recently introduced their MOE (Magpul Original Equipment) line to their other fine firearm accessories. Still featuring the same quality that you have come to expect from Magpul, the new parts are intended as low-cost alternatives to standard weapon parts. In addition to private sales, the line is offered to manufacturers as OEM for firearms. Of note is the Smith & Wesson M&P15-MOE carbine that is available with either flat dark earth or black Magpul parts.
New accessories in the MOE line include a carbine stock, front and rear folding Magpul Back-Up Sights (MBUS), two different pistol grips, an oversized polymer trigger guard, and a two-piece handguard. All are available in flat dark earth, foliage green, olive drab and, of course, black.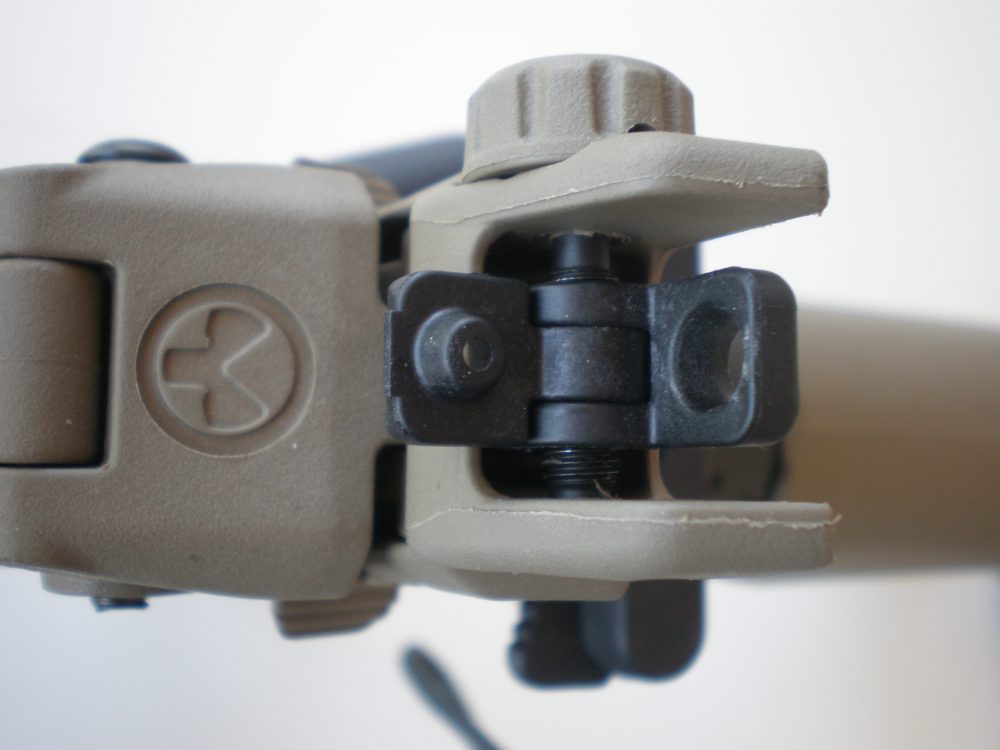 MBUS aperture flips down for large hole or up into itself for small hole.
---
I recently installed several of these parts on an SLR-15 carbine and am very happy with them.
The MOE Carbine Stock is available for both milspec and commercial receiver extensions. Light in weight, it features a sturdy A-frame design. The release lever is easy to operate, yet is in a protected position. Suggested retail is $59.95.
The MBUS will fit any weapon with a Picatinny rail, but are specifically designed for the AR-15/M16 family of firearms. The aperture in the sight is of a unique design in that the portion of the sight with the small hole fits inside the large hole. The main advantage of this over most sights is that the sight will be on the same plain, thus giving the same point of aim/point of impact using either aperture. Suggested retail for the front MBUS is $39.95 and $59.95 for the rear MBUS.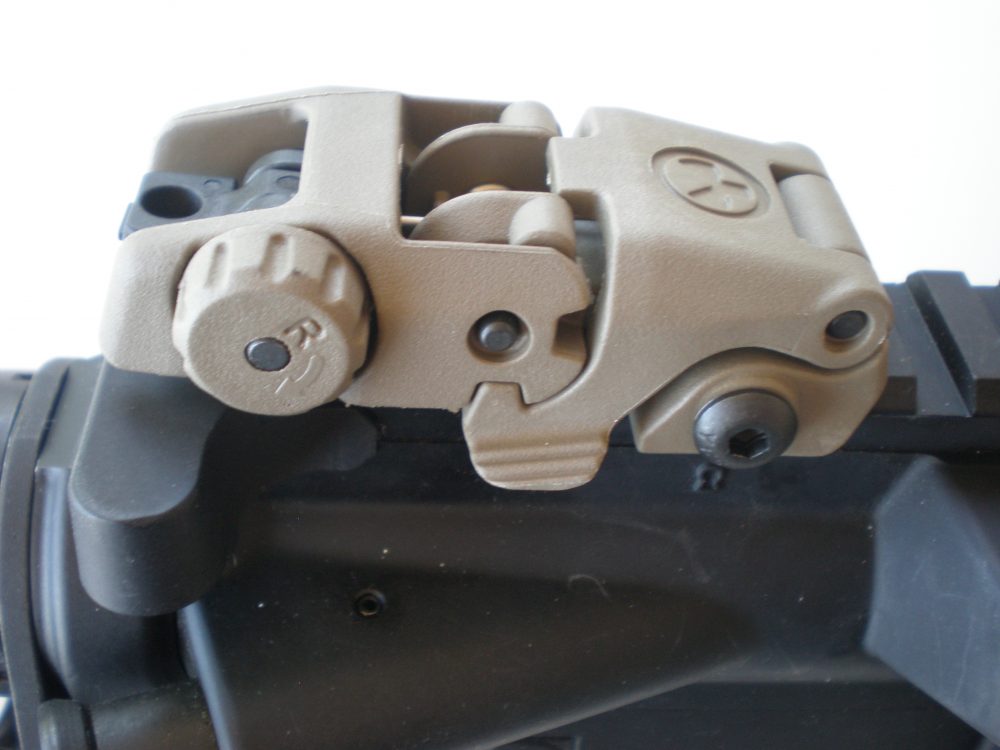 MBUS shown folded. Depressing lever will cause sight to flip into up position.
---
I installed the MOE Grip that has aggressive texturing molded in. I did not try the MOE Plus Grip, which has over-molded rubber on the grip. Both have a cap on the bottom of the grip, allowing small spare parts, extra batteries, etc. to be carried in the grip. Suggested retail for the MOE Grip is $20.95 and $23.95 for the MOE Plus Grip.
Moving forward on the carbine, I installed an MOE Handguard. This lightweight handguard has molded-in slots at the ten, six and two o'clock positions for adding an optional section of rail for other accessories. There are slots for cooling at the five, seven and 12 o'clock positions. Suggested retail is $29.95.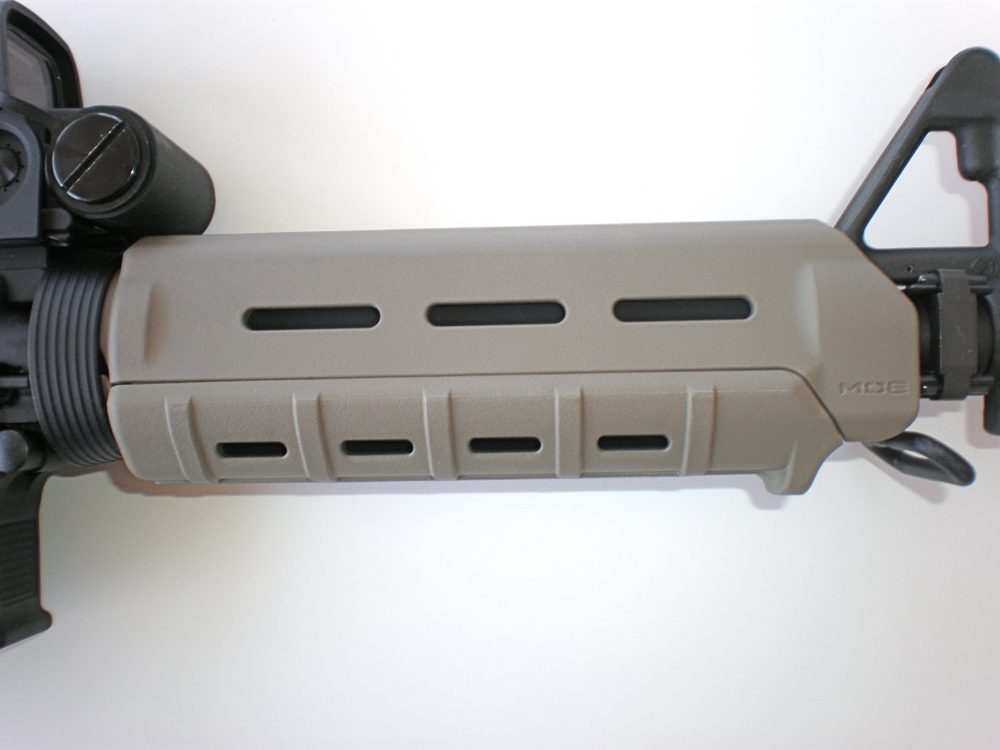 Slots in MOE handguard are designed to accommodate optional rails for adding other accessories, like vertical foregrips and lights.
---
At press time, I had been using the above items for almost six months. As can be expected from a company like Magpul, these accessories have performed as advertised.
In these times of economic hardship, the MOE line from Magpul represents very good buys: quality parts at reasonable prices.
One can't ask for more than that.
SOURCE:
Magpul Industries Corp.
Dept. S.W.A.T.
400 Young Court
Erie, CO 80516-8440
(877) 462-4785
www.magpul.com